A group of young, Pinoy swimmers have just won big at a swimming meet held in Dubai! They participated in the 2018 Hamilton Aquatics Winter Long Course Swimming Championships, which was held recently at the Hamilton Aquatics Center in Dubai, The Philippine Star reported.
ALSO READ: Filipino Athletes Join 9th Special Olympics MENA Regional Games in Abu Dhabi
Competing with more than 500 swimmers from 22 countries, members of the Philippine Swimming League (PSL) bagged a total of 27 gold, 22 silver, and five bronze medals during the two-day championships. This is a huge win, not just for the team, but for the entire Philippines!
Philippine Swimming League Wins Big at Dubai Meet
One swimmer, Micaela Jasmine Mojdeh, broke her own national junior record at the 200-m butterfly. Registering 2 minutes, 22.31 seconds, she broke her record of 2:25.82, which she made at the 2018 Middle East Open Swimming Championship, also held in Dubai last February.
Mojdeh also bagged gold medals in the 50-m breaststroke (36.34), 100-m butterfly (1:05.17), and 400-m individual medley (5:23.49). A student of The Immaculate Heart of Mary College – Parañaque, she happens to be the reigning most bemedalled athlete at the Palarong Pambansa.
PSL President Susan Papa commented that Mojdeh has been really improving from time to time — an indication that their training program is really working. She also remarked that she wouldn't be surprised if Mojdeh makes it to the Olympics at a very young age!
Meanwhile, the reigning Swimmer of the Year, Marc Bryan Dula of Masville Elementary School – Parañaque, also bagged several gold medals, including: 50-m freestyle (28:00), 50-m butterfly (30.37), 100-m backstroke (1:11.92). 400-m freestyle (5:00.85). He placed second in the 200-m individual medley (2:36.71), making him the most bemedalled swimmer at the meet.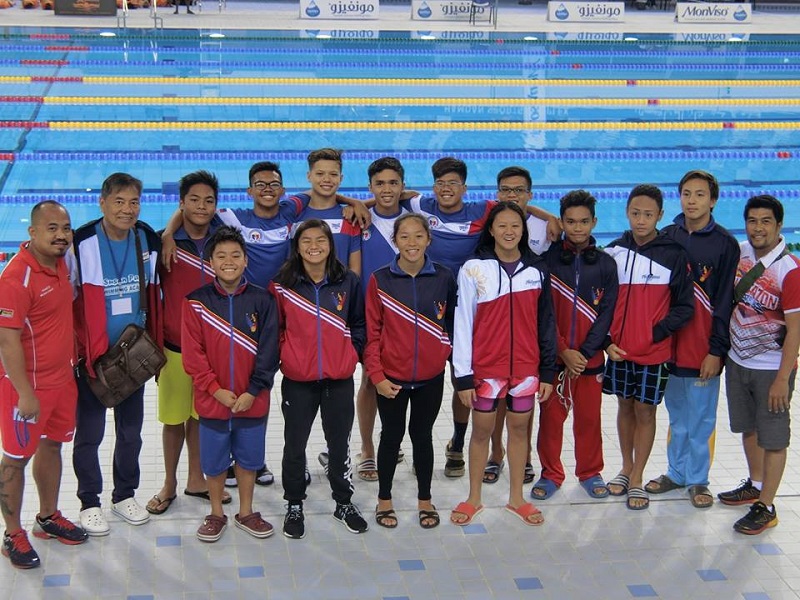 Aside from Mojdeh and Dula, other notable achievements by Pinoy swimmers include:
Jia Angela Talosig – two golds (200-m freestyle, 100-m freestyle) and one silver (50-m breaststroke) in the girls' 12-year division
John Alexander Talosig – one gold (400-m freestyle) and one silver (200-m individual medley) in the boys' 14-year division
Francisco Cordero III – two silvers (50-m butterfly, 200-m breaststroke) in the boys' 12-year division
Marcus De Kam – one silver (400-m freestyle) in the boys' 13-year division
Yohan Mikhaik Cabana – one silver (100-m backstroke) in the boys' 13-year division
Cyryll Vallar – one silver (400-m freestyle) in the boys' 15-year division
Aishel Cid Evangelista – two bronzes (100-m backstroke, 200-m individual medley) in the boys' 8-year division
Albert Sermonia II – one bronze (200-m individual medley) in the boys' 13-year division
Papa shared that they are overwhelmed with the results and dedicates PSL's latest victory to the Philippines. She commended the young swimmers for all their hard work, and thanked the Filipino community in Dubai, especially Francis Segui, PSL Director for Dubai Chapter.
Handling the 14-member Philippine delegation at the swimming championships held in Dubai were Coaches Virgie De Luna, Marlon Dula, Bob Palacios, and Alex Papa. They were also joined by PSL NCR Director Joan Mojdeh and PSL Operations Manager Stephanie Sablan.
ALSO READ: Calling on Filipinos to Join Pageant, Contests at "Bayanihan Festival 2018"
Congratulations to the Philippine Swimming League for your outstanding performance at the Dubai meet! Indeed, we are proud of your swimmers, who have accomplished so much at such a young age. We are definitely looking forward to hear more about them in the future!