Dubai restaurants and cafes are now allowed to operate and cater to dine-in customers. This is according to a recent announcement, the Supreme Committee of Crisis and Disaster Management has partially eased restrictions on movement in Dubai beginning April 24 – Friday.
Also Read:
– Dubai Shopping Malls & Retail Outlets Now Open to Public
– Dubai Allows Public to Exercise Outdoors but with Limitations
– Dubai Metro and Dubai Buses to Resume Operations starting April 26
One of the major updates include restaurants and cafes now allowed to serve dine-in customers. However, they are not allowed to serve shisha or buffets and should only accommodate 30% of their capacity.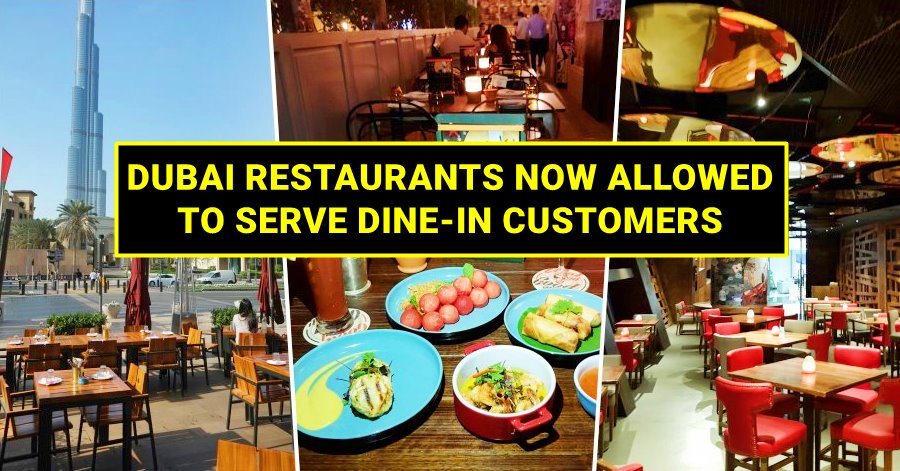 Restaurants and Cafes Now Allowed to Serve Dine in Customers Starting April 24
The ease in restrictions for food establishments have coincided with the first day of Ramadan. However, be advised that there are important policies you should be aware of when dining out.
Strict rules on physical distancing should be observed in these establishments. There should be a 2-meter distance maintained between people and everyone is required to wear face masks.
Please see more rules and things you need to know about restrictions for restaurants and eating outside
Restaurants and Cafes
Restaurants and cafés are allowed to operate normally but are not permitted to serve shisha and buffet. Dine-in customers are allowed but should occupy only a maximum of 30% of the outlet's capacity.
A two-metre physical distance should be strictly maintained between individuals. All diners and staff should wear masks.
Only single-use cutlery can be used at restaurants and cafes.
Restaurants are allowed to provide food delivery services between 10.00 pm and 6.00 am.
Below are some more updates shared by Dubai Media Office about FAQs:
The Supreme Committee of Crisis and Disaster Management announces a partial reduction in the restrictions on movement in the emirate starting from Friday 24 April. Here are some updates on the rules and regulations… pic.twitter.com/pK8zDzCLBv

— Dubai Media Office (@DXBMediaOffice) April 23, 2020