Sbarro is here! I live near Bur Dubai area and I've been waiting for the Sbarro restaurant to open. For months, there was only a sign outside indicating "SOON TO OPEN", but now it has finally introduced to the Dubai market. This is their first branch in Dubai and it's good to have a pizza place other than Pizza Hut (of which I also love).
Restaurant: Sbarro Pizza in Bur Dubai
Location: Al Musalla Tower, Bur Dubai – near Al Fahidi station

Sbarro in Bur Dubai area
Being a pizza fanatic, I've been wanting for a slice of Sbarro's stuffed pizzas for quite some time. Knowing it was just near where I'm staying made the craving more intense as each day passed.

Italian pizza SBARRO now in Dubai!
Sbarro in Musalla Tower, Bur Dubai
We went inside the restaurant after 12 midnight to get grab a bite to eat. So glad that they close late at night – or should I say, early in the morning at 3am! It's a small restaurant and fans of Sbarro are sure to get their cravings of Italian food. The location seems to be great due to Bur Dubai being a busy area.

cozy place that closes late at night!
I noticed that the crews were all Filipinos. Only the manager was of a different nationality. Only shows how many Pinoys are much desired in the service industry.
I'm feeling I'm going to have more memories in Sbarro in the next few months. At least now I have another option to grab that late night snack!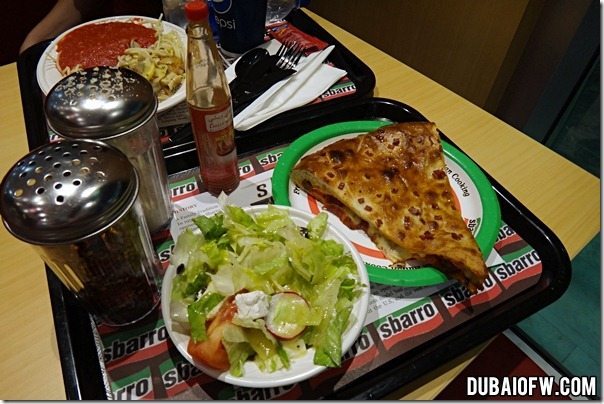 stuffed pizza! Yes! 🙂
How to Get There:
Restaurant: Sbarro Pizza Place
Location: Musalla Tower and Mall – Ground Floor, Khalid Bin Waleed Road, Bur Dubai
Metro: Stop at Al Fahidi Station – Green Line
Other Sbarro Contact Details:
Telephone Number: 04 3962093
Website: www.sbarro.ae