Who's up for an Asian food tour, right here in Dubai? There's a new restaurant in town, and it serves Ramen, Bulgogi, Nasi Goreng, Pad Thai, and other Asian favourites. Brace yourself for a gastronomic experience at Sizzling Wok in Citymax Hotel Business Bay.
Sizzling Wok offers Pan-Asian cuisine, featuring famous dishes from China, Japan, Korea, India, Singapore, Vietnam, and Thailand. It is the signature restaurant of Citymax Hotel, with branches in Bur Dubai, Sharjah, and more recently, Business Bay. Currently, Sizzling Wok has a lunch set menu for just AED 49… let's get to know more about it!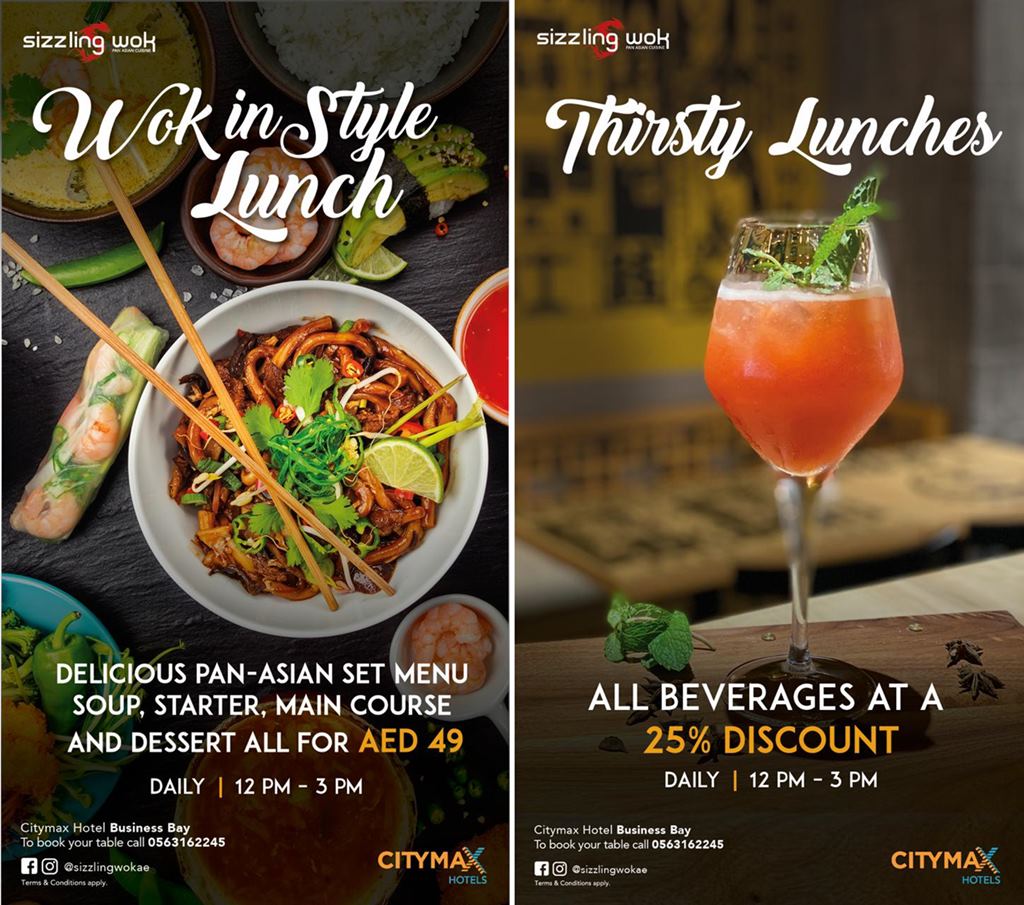 49 Dirham Lunch Set – Soup, Starter, Main Course, Dessert
This restaurant is offering a daily lunch deal where you can savour a delicious Pan-Asian set menu inclusive of Soup, Starter, Main Course and Dessert all for AED 49! And if you'd like to quench your thirst whilst enjoying the lunch all beverages are at a 25
percent discount between 12 pm and 3 pm. Terms and conditions apply.
Sizzling Lunch Set offer is valid from 21st Jan to 30th Jun 2021 from 12:00 pm – 03:00 pm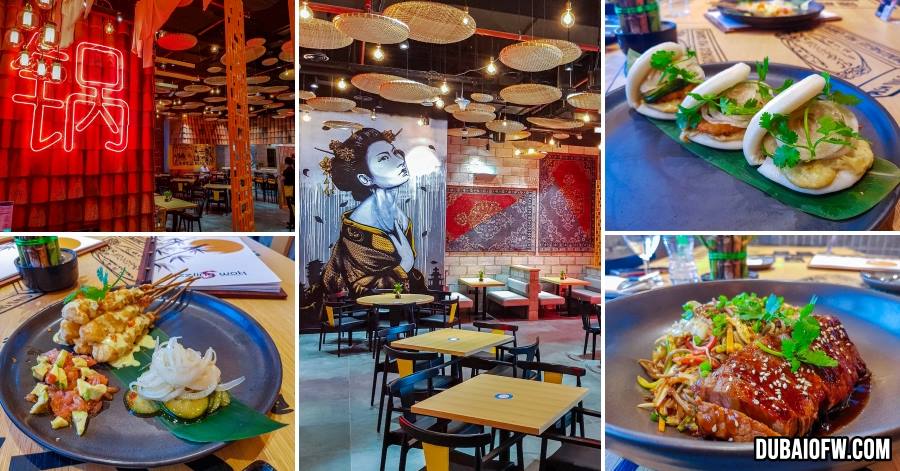 Pan Asian Food Cravings at Sizzling Wok Citymax Hotel Business Bay
The restaurant features a relaxed yet exciting vibe. The Vietnamese-inspired lighting, dramatic wall art, and upbeat K-pop music will definitely give you those Asian "feels." Sizzling Wok's eclectic design also complements the wide variety of food on the menu!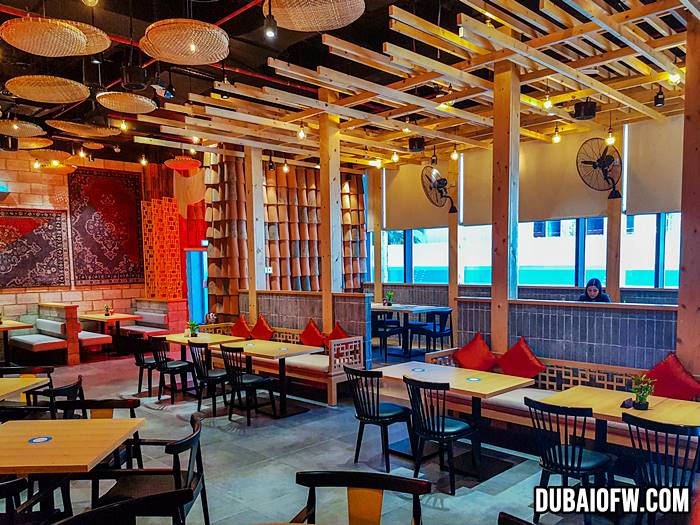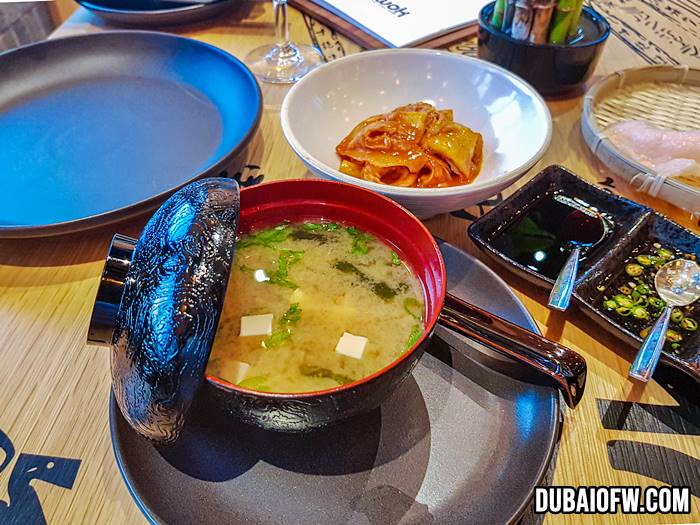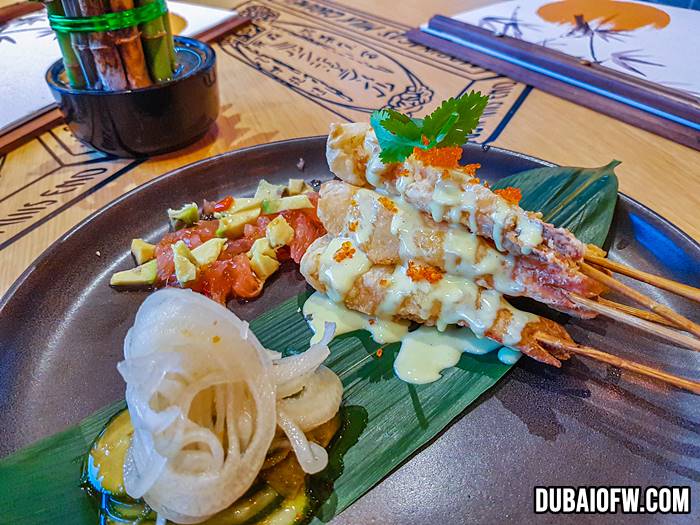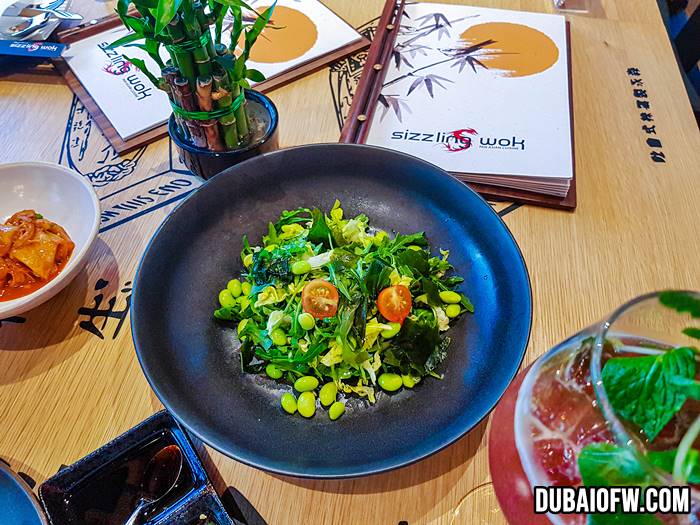 For starters, try the Yum Talay Ruam Mit (spicy Thai seafood salad), Green Papaya Salad, or Yasai Salad (mixed Asian greens). Steamed buns such as the Teriyaki Beef Ribs Bao and the Katsu Bao (choice of tofu or chicken) are also on the menu. Pair these up with a hot bowl of Asian Dumpling Soup, and you'll find yourself ready for the next dish!
Whether you're craving for rice, noodles, meat, or chicken — Sizzling Wok's chefs are ready to serve! The Nasi Goreng is a top choice, along with the Gochujang Lamb Chops, Tangra Chilli Chicken, and Singapore Beef with Black Pepper. There's also a "Stir Fried to Your Delight" option, where you can choose ingredients (beef, chicken, fish, prawn, or vegetables) and spices (chilli garlic, sweet and sour, oyster sauce, or black pepper).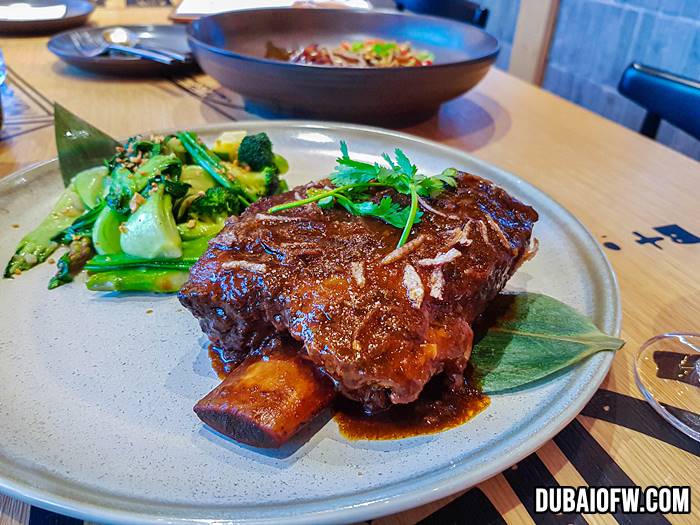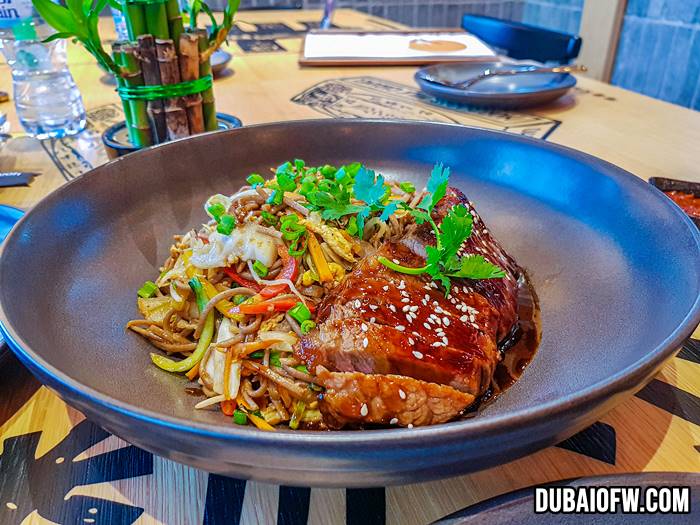 As for dessert, the restaurant serves Pandan Creme Brulee, Mochi, Matcha Cheesecake, and Darsaan, which combines flat crispy noodles with vanilla ice cream and honey sesame seeds. Sounds yummy!
The restaurant serves non-alcoholic and alcoholic beverages. Coffee, tea, canned juices, iced tea, sparkling water, and sodas are available. You can order red wine, white wine, beer, whisky, vodka, tequila, and "traditional Asian spirits" like Japanese sake or Korean soju. There are cocktails and mocktails as well, with names such as The Shanghai Swizzle, Nihonshu Daisy, Watermelon Yuzu, Lychee Passion, and Batik Punch. Cool!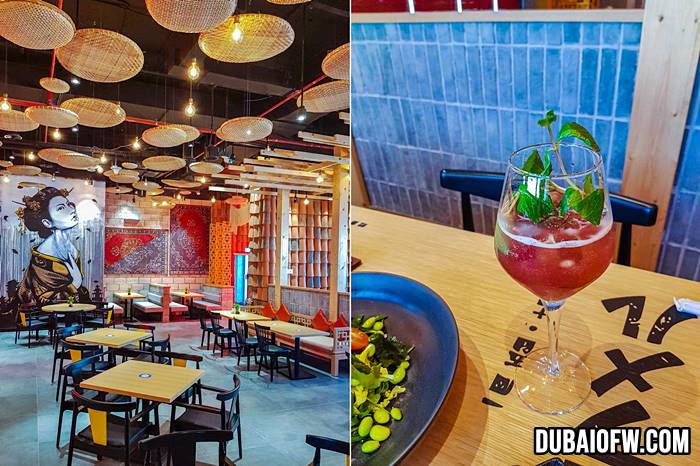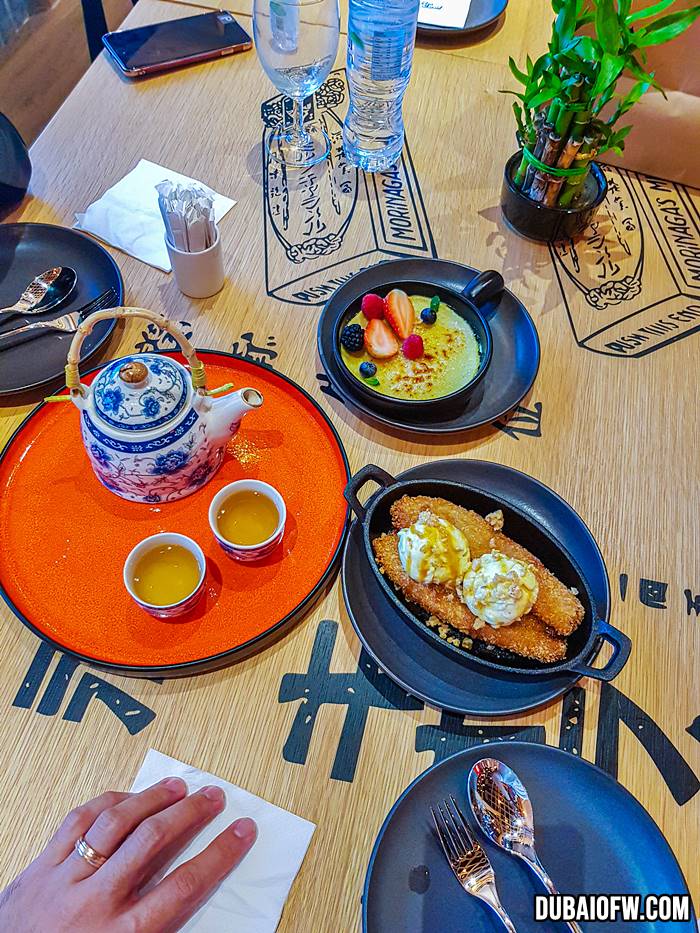 Video – Sizzling Wok Restaurant
In case you're wondering how Sizzling Wok looks like, here's a video featuring the eye-catching decor and awesome food at the restaurant, as shared via their Facebook page:
One great thing about living in Dubai is the wide range of food you can try — traditional Arabic dishes, Western cuisines, and Asian favourites. There is never a dull moment because of the many great restaurants, including Sizzling Wok and it's culinary delights!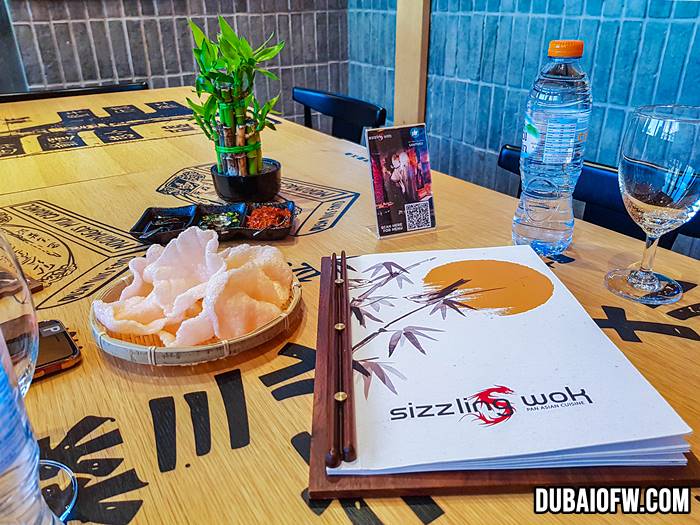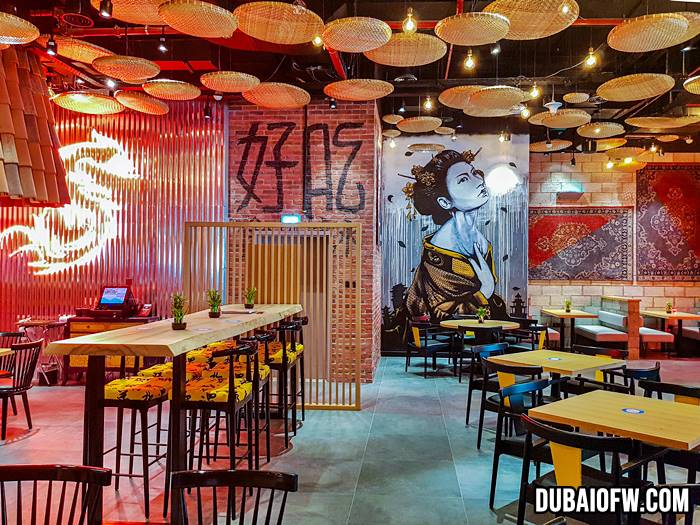 Opening Hours and Prices
Sizzling Wok Restaurant at Citymax Hotel Business Bay is open daily, between 12:00 pm and 3:00 pm (lunch), and from 7:00 pm to 11:00 pm (dinner).
On average, you can expect to spend around AED 200 for two persons, though you can save by taking advantage of their promos! For only AED 49, you can enjoy the Lunch Set Menu, which includes a soup, starter, main course, and dessert! All beverages are 25% off from 12:00 pm to 3:00 pm, so go ahead and have a hearty lunch with drinks!
Contact Information – Sizzling Wok Restaurant
Address: Al Amal St., Plot No. 3460148, Dubai (Opposite Safeer Tower 2, behind Empower)
Telephone: +971 56 316 2573
Email: info@citymaxhotels.com
Website: https://www.citymaxhotels.com/dining/sizzling-wok
Facebook: https://www.facebook.com/SizzlingWokAE
Google Map Location
Here is the location of Sizzling Wok on Google Maps, for your reference: