Dubai Economy on Wednesday, September 9, said that it has shut down a department store and issued an AED 50,000 fine against it for failure to adhere to COVID-19 measures.
A large crowd reportedly was seen gathering inside the store due to a discount sale.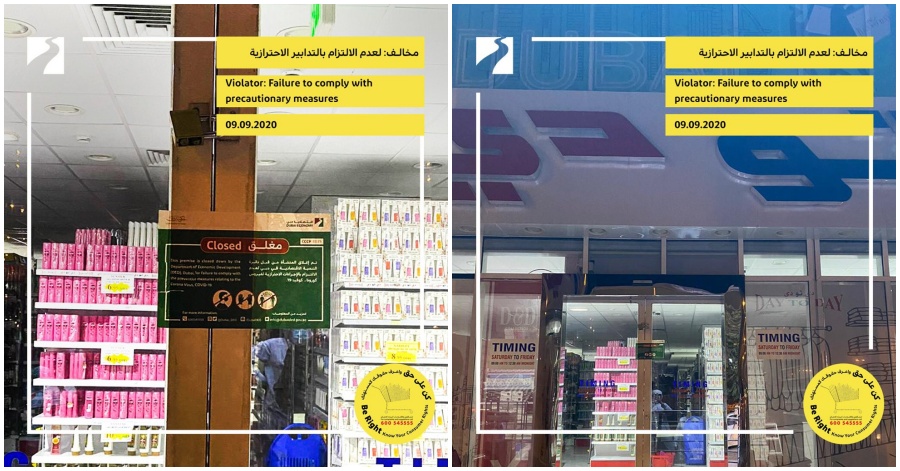 Dubai Store Shut Down, Fined AED 50,000 for Not Adhering to COVID-19 Measures During Discount Sale
"Dubai Economy recently summoned the management of a department store that failed to comply with the precautionary measures against Covid-19, most notably physical distancing, during a discount sale. The sale had seen visitors thronging the store, ignoring the risk of physical contact," the Dubai Media Office reported.
Dubai Economy shuts down a department store and issued a AED 50,000 fine against it for not adhering to the COVID-19 precautionary measures. pic.twitter.com/cbqX5gw5fz

— Dubai Media Office (@DXBMediaOffice) September 9, 2020
Moreover, the Dubai Economy noted that all stores and outlets, as well as customers, must strictly observe the precautionary measures set by the government, specifically during discount sales and similar promotional campaigns.
It noted that merchants and shop owners can refer to the commercial compliance manual available on the Consumerrights.ae website to know about the terms and conditions governing the launch of sales and promotions. 
Dubai Economy emphasises the need for all stores in Dubai to commit to the precautionary measures when launching any promotions or discounts. Recently, Dubai Economy summoned the management of a department store that didn't commit to the precautionary measures

— Dubai Economy (DET) (@Dubai_DED) September 9, 2020
In line with this, Dubai Economy urged consumers to report any negative practices through the Dubai Consumer App available on Apple, Google and Huawei stores, or by calling 600545555 or through the website Consumerrights.ae.
Dubai, along with the other emirates in the UAE, have imposed their own safety and precautionary measures against the spread of COVID-19 within their respective jurisdictions.
This is in adherence to the national government's warning of potentially reinstating the National Sterilization Program if the number of COVID-19 cases continues to rise. This is after the UAE government was able to effectively curb the spread of the virus among communities.
This time, though, residents- both expats and nationals, are expected to comply with the strict measures set in place by authorities to sustain the nation's efforts in keeping everyone safe as it progressively opens up the economy, starting with businesses, transportation, and eventually, tourism.
ALSO READ: UAE Among the World's Lowest COVID-19 Death Rates at 0.5%