We were checking out the restaurants in Karama as we have not explored other cuisine other than Pinoy food for quite some time. We figured to eat at Thai Terrace restaurant to try some Thailand cuisine.
Thai Terrace is located opposite Spinney's supermarket or Max's restaurant in Karama area. We went inside the food shop and didn't really expect much. It's a quaint place and feels like it's been there for quite some time.
Restaurant: Thai Terrace Restaurant
Location: Karama, Dubai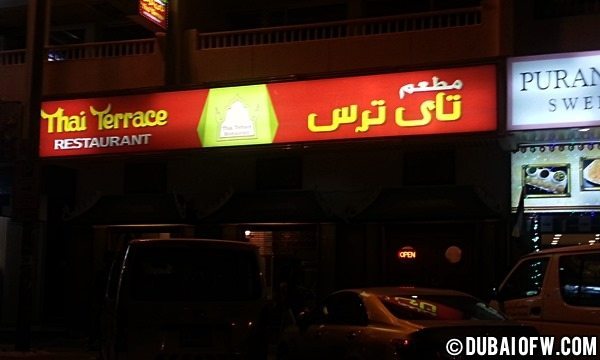 Thai Terrace sign
Thai Food in Dubai at Thai Terrace Restaurant – Karama
We checked the menu prices and found out that the price of the food cost around 50 AED minimum! This is good for 2 persons but it's a bit of off our budget. But the waitress mentioned that their food is good. We decided to try it out and ordered some red curry and stir-fried seafood.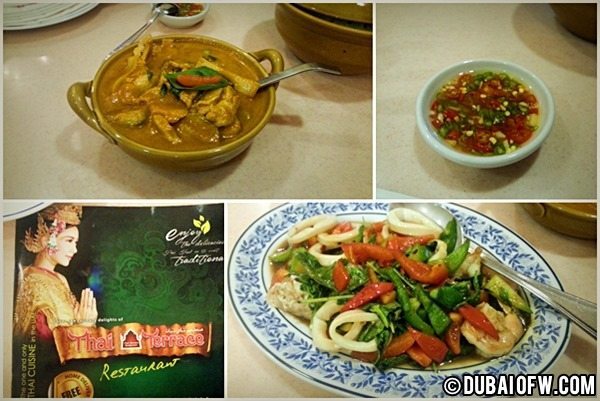 Thai food in Dubai!
The food was actually good! I've been to Thailand before and the Thai cuisine always fascinates me because for me, it's one of the best cuisines out there. The spicy kick that it offers and the infusion of flavors is very distinct and tasty. If you're looking for Thailand food in Dubai, I suggest check this place out.
Poh Taek Haeng
Stir Fried Spicy seafood shrimp, crab, squid with chili – 52 AED
Gaeng Phed
Thai Spicy Red Curry – Chicken
Red curry paste with coconut milk, bamboo shoot, baby eggplants, and swet basil leaves – 48 AED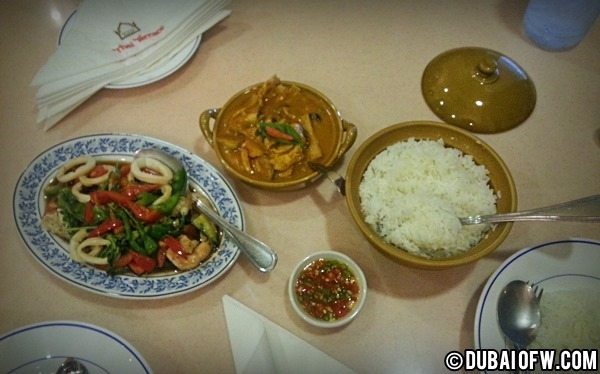 Thai food with spice! as how Thai food normally are 🙂
"Just what is Thai Food? Similar to chinese and to south Indian Food.  After their escape from China a long time ago, the Thais combined what they knew of Chinese and Indian food to form their own distinctive cuisine – Thai cuisine."

Taken from the Thai Terrace menu.

Thai Terrace restaurant – quaint resto located in Karama area
How to Get There
Take the Dubai metro Red Line and stop at Karama metro station. Ask around where the Spinney's supermarket is as this is the side opposite of Spinney's supermarket. (You can also stop at Burjuman metro station and walk towards the restaurant). Other restaurants beside Thai Terrace are Burger King and KFC.
Nearest metro station: Karama Metro station – Red Line
Thai Terrace: The one and only Thai Cuisine in the UAE
Telephone Number: (04) 396 9356/ (04) 396 3114
050 939 249744