Another milestone will be achieved by Dubai when its AED 2.5-billion project is completed by September, before the beginning of the highly-anticipated Expo 2020.
The emirate's prestigious project was created to drain rainwater in the Airport City and Expo 2020 areas, with Dubai authorities confirming that the project, which is the first of its kind in the Middle East and "one of the most prominent specialized tunnels in the world" is now 65 percent complete.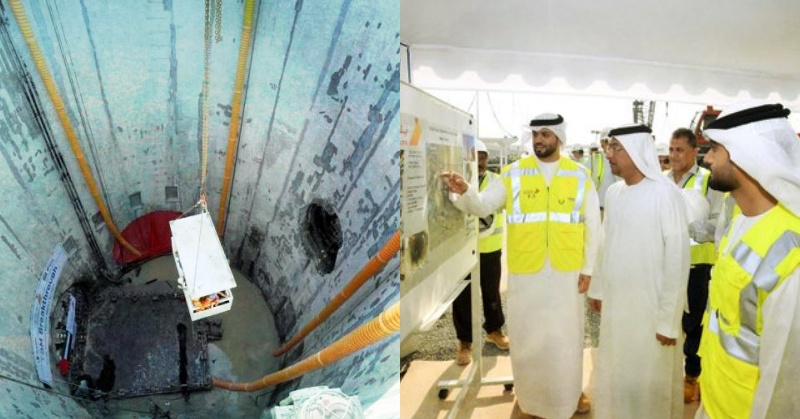 Dubai's AED 2.5-bn Tunnel Project to be Finished Before Start of Expo 2020
Work on-site runs on 24 hours a day, seven days a week, with a total of four million man hours spent to date. Two giant drilling machines, which are the largest in the Middle East region, are also being used for the project.
According to Fahd Al Awadhi, director of Drainage Projects Department at Dubai Municipality, the giant drilling machine reached the 8th intersection on Sheikh Zayed Road, where it will be extracted, dismantled and reassembled to move to the 7th intersection to begin the final stage of drilling the tunnel.
Dawood Al Hajiri, Director General of Dubai Municipality inspects work progress at the deep water tunnel project which is on track for September 2020 completion. 65% of the work is completed during 4 million hours. #Dubai pic.twitter.com/yBgEzirdYz

— Dubai Media Office (@DXBMediaOffice) September 24, 2019
The project is expected to reach the pumping station, located in the reclaimed land opposite Dubai World Ports at the sea, early next year, Al-Awadhi noted.
All in all, the project covers a length of 10.5km, which serves an area of 490 km including the Expo area.
Al Awadhi explained, "The work continues on two tasks, the first tunnel, which has reached about 4.5 km so far, and the second task will be the construction of the main pumping station, in a parallel system."
"The three final foundation stages will see the use of about 55,000 cement pieces in the tunnel, each weighing two tonnes, along with the installation of 4,400 huge metal rings, ensuring the immunity and strength of the deep tunnel," he explained.
For his part, Dawoud Al Hajri, director-general of the Municipality, shared that the project will have a major impact in developing the infrastructure for rainwater or groundwater drainage for the Al Maktoum City area in general and the Expo area and the Airport City in particular.
This infrastructural feat will greatly benefit Dubai residents not only in time for the Expo 2020 but even further into the future since the UAE is known to get very unpredictable rains and weather conditions, which could pose a problem to residents because of flooding.
ALSO READ:  Meet the Mascots of Expo 2020 Dubai