The Philippines and the United Arab Emirates have recently inked the Memorandum of Understanding on their cooperation in combating human trafficking during the sidelines of the General Assembly of the United Nations in New York last Thursday, September 26, 2019.
The agreement solidifies the resolution that affirms the cooperation between two countries in the prevention and suppression of human trafficking.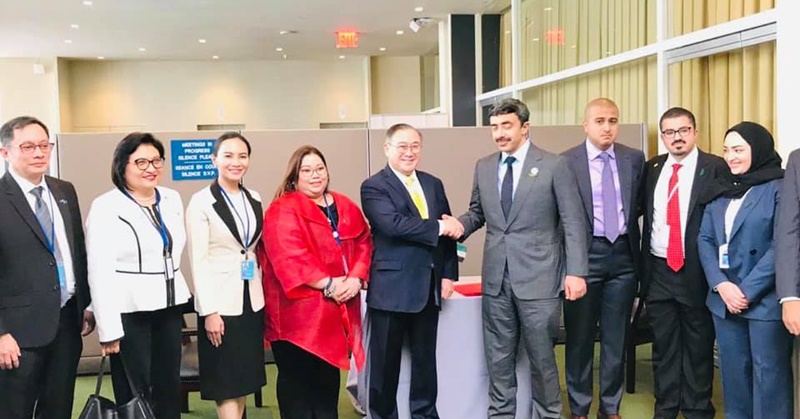 UAE and Philippines Partner in Campaign Against Human Trafficking
Present at the New York event were Philippine Ambassador to the UAE, H.E. Ambassador Hjayceelyn Quintana together with His Highness Sheikh Abdullah bin Zayed Al Nahyan, UAE Minister of Foreign Affairs and International Cooperation, who signed the crucial document in addressing the widespread problem of human trafficking across the world today.
Also in attendance during the momentous signing as well were Philippine Ambassador to the UAE, H.E. Ambassador Hjayceelyn Quintana, Undersecretary Sarah Lou Arriola, the Office of the Undersecretary for Migrant Workers' Affairs (OUMWA) together with fellow diplomats and members of from UAE and the Philippines.
According to the MoU, both parties have acknowledged that human trafficking 'is caused by a combination of factors, including organized criminal group and the demand side' that eventually leads to exploitation of individuals that lead to the crime.
Furthermore, the MoU maintains that the Philippines and the UAE will adopt procedures to combat human trafficking, share best practices, exchange information, promote human rights, and provide assistance in the protection, rescue, repatriation, recovery, and rehabilitation of trafficking victims in accordance with domestic laws.
Of note, the signing of the MOU also seeks to strengthen the bilateral relations and cooperation between the Philippines and the UAE. Both countries have ratified the UN Convention against Transnational Organized Crime (UNTOC) and the Protocol to Prevent, Suppress and Punish Trafficking in Persons, Especially Women and Children (Palermo Protocol).
The Philippines as a country of origin has been at the forefront of the fight against human trafficking. By forging international cooperation and arrangements, the Philippines aims to further intensify the government's efforts to help prevent and stamp out this global problem.
In a report shared by the International Labor Organization (ILO), around 40.3 million people fall victims in modern-day slavery or human trafficking. A large majority (24.9 million) of which were exploited for labor whereas around 15.4 million were forced into marriage.
Taking up a cause to fight a global epidemic such as human trafficking requires the power and commitment of not just one country, but all, because every minute, a person somewhere in the world helplessly become a victim of stolen opportunities and abuse at the hands of others.
The Philippines and UAE's signing of this MoU reflect their commitment in addressing the roots and spread of human trafficking starting in their own territories and scope of authority.
ALSO READ: UAE Strengthens Legal Course Against Human Trafficking