As an important date approaches in the history of the UAE in the field of space technology and science, the Emirati astronauts along with the rest of the nation are patiently waiting for history to be made.
And as expected, the preparation for the space mission will be anything but substandard, and as a confirmation to this, the UAE Space Agency and NASA have committed to an arrangement that outlines cooperation across a range of areas related to space exploration and human spaceflight.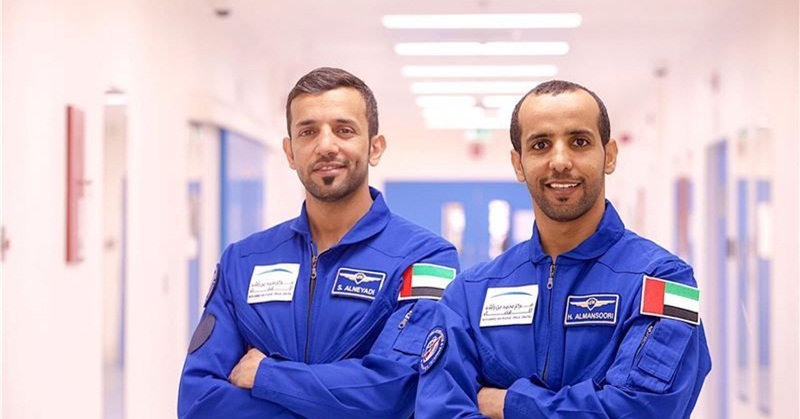 Emirati Astronauts Undergo Training at NASA Space Centre for ISS Space Mission
In relation to this, Emirati astronauts Hazzaa Al Mansoori and Sultan Al Neyadi began a new training at Nasa's Lyndon B Johnson Space Center (JSC), as shared in a report by WAM.
The two-week programme will cover training on various units and components of the US segment of the International Space Station (ISS), which includes the Japan Kibo laboratory and the Columbus Laboratory, to conduct scientific research in cooperation with NASA.
And as mentioned, the training is part of the preparations for the first Emirati astronaut to travel to the ISS, in about 10 weeks from now, aboard the Russian Soyuz-MS 15.
For their part, NASA also held a press conference for the mission's main crew, which is set to travel on Sept.25.
The mission's main crew is composed of flight leader Cosmonaut Oleg Scripochka and Nasa Astronaut Jessica Meir.
The arrangement is part of the commitment between the Mohammed Bin Rashid Space Centre (MBRSC) and NASA to conduct a series of training for the two Emirati astronauts at the Lyndon B JSC and to conduct scientific research suited to short-term missions to the ISS.
Part of the training under which the Emirati astronauts will be part of includes receiving an overview on NASA equipment and devices on board the space station, in addition to handling emergency situations, especially ammonia gas leakage and depressurisation, among others.
Furthermore, Al Mansoori and Al Neyadi will get to learn more about the ISS through a complete model of the station located at the NASA headquarters, which is composed of Russian and American segments.
Meanwhile, the NASA training programme will cover scientific experiments that will be conducted by the mission's crew.
Of note, the research will examine the impact of space on humans in a micro-gravity environment.
Salem Al Marri, Assistant Director General for Science and Technology Sector, Head of UAE Astronaut Programme, said: "By sending the first Arab astronaut to the ISS, the UAE contributes to enriching scientific experiments that study microgravity, including its impact on the human body."
ALSO READ: [LOOK] Logo of First Emirati Space Mission Pays Tribute to Sheikh Zayed