The UAE government has announced its decision through Smart Dubai to mandate the UAE PASS as the only digital identity to be used by citizens and residents to access government services in Dubai.
Work is still ongoing when it comes to the implementation of the UAE PASS in both local and federal systems across the country, which will address several challenges in government operations, such as the absence of a digital signature mechanism and the multiplicity of login information to services' platforms.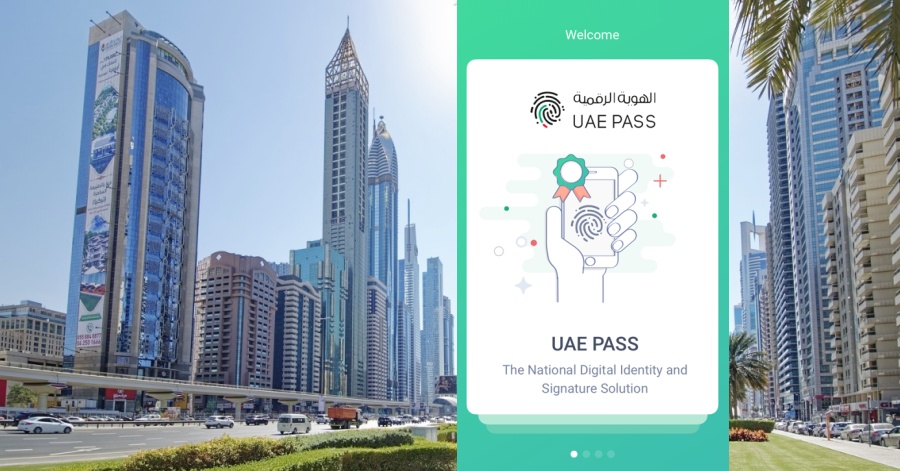 What is the UAE Pass?
The UAE Pass is a joint effort between Smart Dubai, the Abu Dhabi Digital Authority (ADDA), and the Telecommunications Regulatory Authority (TRA). It was launched during the GITEX Exhibition in 2018, and is dubbed as the first ever "national digital identity" in the country.
Basically, the UAE Pass serves as a digital ID that represents a person or an entity. Through this multi-purpose pass, a person can access more than 5,000 government e-services anytime, anywhere! Pretty soon, the UAE Pass will be replacing the Dubai ID and the Smart Pass systems.
Previously, the Dubai ID was launched for Dubai residents by the Dubai Smart Government (DSG) and the Emirates Identity Authority (EIDA), whereas the Smart Pass was launched for residents in Abu Dhabi and the northern emirates. Both of these systems served as a unified login credential for government e-services, such as utility bills payment and residence visa application. They could be accessed online, using a mobile phone or a computer.
What Can I Do with a UAE Pass?
With the UAE Pass, you can do the following activities:
Prove or authenticate your identity;
Request for an official document;
Digitally sign a document;
Verify a signed document; and
Avail of over 5,000 government e-services.
Since the UAE Pass serves as your unified digital identity or "digital signature," you don't need to come up with multiple user names and passwords for different services. Another great thing about the UAE Pass is that it is free to download and use… absolutely FREE of charge!
As for security, rest assured that the UAE Pass is totally secure and protected. It uses the SHA-256 hashing algorithm, which was built by the National Security Agency (NSA) in the United States. This algorithm has a "one-way cryptographic function," meaning it cannot be decrypted back to the original text, and it protects your digital identity in the best way possible!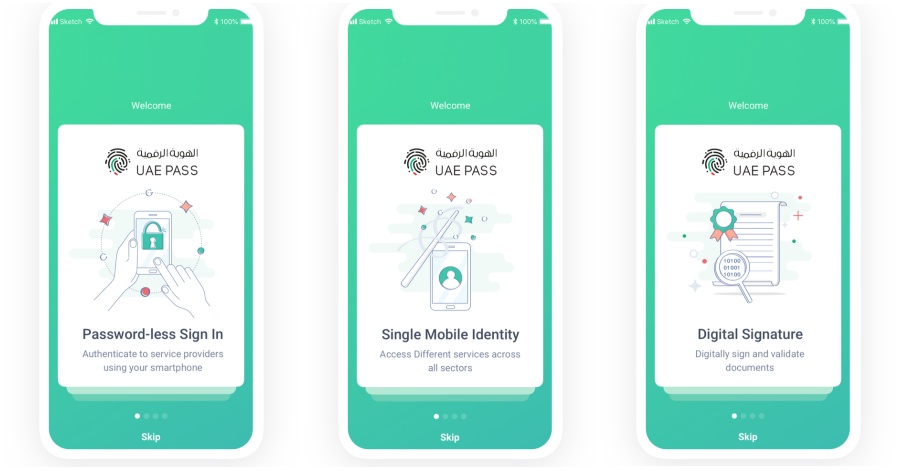 How Can I Apply for a UAE Pass?
Applying for a UAE Pass involves two major steps: (a) online registration; and (b) physical verification at a UAE Pass Kiosk. Be guided by the specific steps, as follows:
Download UAE PASS on your mobile phone. This app is available on the App Store and Google Play Store.
Start the verification process by scanning your original Emirates ID.
Verify the information and set up a PIN number. (NOTE: Do not share this with anyone!)
Go to the nearest UAE Pass Kiosk for final verification.
Insert your Emirates ID in the self-service machine. Follow the onscreen instructions.
Scan your fingerprint to acquire your UAE Pass login credentials. That's it!
Where Can I Find a UAE Pass Kiosk?
As cited earlier, getting a UAE Pass involves physical verification in a kiosk. Fortunately, there are numerous UAE Pass Kiosks in various locations across the country, including:
Abu Dhabi. Abu Dhabi Cooperative Society, Al Safeer Centre, Bateen Mall, Deerfields Mall, and Abu Dhabi Police – IT and Telecommunications Department
Al Ain. Al Ain Municipality Building, LuLu Hypermarket – Al Foah Mall, Department of Transport, and Alam Supermarket
Dubai. DEWA Offices, Dubai Municipality Offices, Smart Dubai Government – Dubai Design District, and Directorate of Residency and Foreigners Affairs
Sharjah. Tasheel Centre Sharjah Samnan, Safeer Mall, KM Trading Shopping Centre, Nesto Al Wafa General Trading, and Awqaf – Sahara Centre
Ajman. Ajman Department of Economic Development, Ajman Markets and Cooperative Society, Palm Centre, and Safeer Hypermarket
Fujairah. Fujairah Dibba Municipality, Fujairah Municipality, FEWA Offices, LuLu Hypermarket – LuLu Mall, and Choithrams
Ras Al Khaimah. Ras Al Khaimah Department of Economic Development, Al Aswaq RAK National Markets, RAK Mall, Safeer Mall, and FEWA Offices
Umm Al Quwain. Carrefour Market, FEWA Offices, and LuLu Centre
What will Happen to My Dubai ID/Smart Pass?
Your Dubai ID should be converted into the UAE Pass as soon as possible. Meanwhile, your Smart Pass can be used until December 31, 2020. After this date, it will need to be upgraded into the UAE Pass. Watch this video to learn how to upgrade your Smart Pass into a UAE Pass:
What are the UAE Pass Service Providers?
Your UAE Pass can be used to access over 80 public and private entities online. These include the following service providers:
Abu Dhabi Digital Authority (TAMM)
Ajman Department of Municipality and Planning
Ajman Police General Headquarters
Department of Economic Development (DED)
Department of Tourism Development
Dubai Electricity and Water Authority (DEWA)
Dubai Health Authority (DHA)
Dubai Land Department (DLD)
Dubai Municipality
Dubai Police
Emirates Authority for Standardization and Metrology (ESMA)
Emirates Development Bank (EDB)
Emirates Post Group (EPG)
Etisalat
Federal Authority For Identity and Citizenship (ICA)
Federal Customs Authority (FCA)
Federal Electricity and Water Authority (FEWA)
Fujairah Police
Fujairah Port
General Authority of Islamic Affairs and Endowments (GAIAE)
General Pension and Social Security Authority (GPSSA)
Ministry of Climate Change and Environment (MoCCAE)
Ministry of Education (MoE)
Ministry of Health and Prevention (MOHAP)
Ministry of Human Resources and Emiratisation (MOHRE)
Ministry of Interior (MOI)
Ras Al Khaimah Police General Headquarters
Roads and Transport Authority (RTA)
Sharjah Airport International Free Zone (SAIF Zone)
Sharjah Municipality
Smart Dubai
Social Services Department
Umm Al Quwain Smart Government Department
Video: Get to Know the UAE Pass
Check out this video introducing the UAE Pass, as shared by Smart Dubai through its YouTube channel:
When it comes to digital technology, there is no doubt that the UAE is always one step ahead of its peers. And now, with the implementation of the UAE Pass, we can all look forward to accessing government e-services quickly and efficiently, along with greater ease and convenience!
UAE to Consolidate Services Offered Under UAE PASS
Under the initiative of His Highness Sheikh Mohammed Bin Rashid Al Maktoum, Vice President and Prime Minister of the UAE, and Ruler of Dubai, Smart Dubai had put in motion an initiative called 'The Digital Future,' developed as part of its 100-day plan for the 'Government Development Track' – one of the six tracks announced by the Dubai Council, which was inaugurated at the beginning of 2020, as shared in a report by the Gulf News.
The initiative aims to streamline the rate of adoption of UAE PASS by citizens and residents, which will lay the foundations for a digital future across the government and private sectors. In line with this, the Strategic Affairs Council had adopted the UAE PASS policy in the Emirate of Dubai as of May 1, 2020, as one of the Dubai Councils' initiatives.
This development comes from the system's potential to drive development across the government service ecosystem; enhance communication between local and federal entities on one hand, and the private sector on the other, and grant citizens and residents access to government and private-sector services.
With the UAE PASS, residents and citizens will no longer have to physically visit customer service centers and submit paper identification documents. The UAE PASS will provide an authorized digital ID through smartphones, and includes a digital signature feature allowing users to sign official documents. Users can access more than 5,000 government services by using a single username and password.
Smart Dubai's primary objective in launching the Digital Future initiative is to save time and effort for individuals in the city, helping them lead happier lives. Also, through this initiative, Smart Dubai seeks to keep up with technological advancements, support the emirate's digital transformation, and drive the transition towards a digital government.
With the UAE PASS' digital signature feature and its ability to provide access to countless government services with a single set of login credentials, the digital ID provides an added layer of trust to digital government transactions. More than 200,000 individuals in Dubai have already adopted the new service as of May 2020.   
According to Dr. Aisha Bint Butti Bin Bishr, Director General of Smart Dubai, the Strategic Affairs Council's decision to mandate the use of UAE PASS by all individuals and government entities in Dubai will considerably accelerate its adoption across the entire Dubai community and promote its use for various transactions in the UAE.
Dr. Aisha shared: "The project demonstrates the effectiveness of collaboration between government entities across the country, and its ability to create innovative tools that drive the transition towards fully automated smart systems."
Keep on reading to learn more about the UAE Pass, and how it will change the way you access various e-government services!
DISCLAIMER: The above guide is presented for information-sharing purposes only. To learn more about how to apply for a UAE Pass, how to upgrade your existing Smart Pass, how to access the different government e-services through the app, and other details, please visit the official websites of UAE Pass, Smart Dubai, and the UAE Government Portal. You can also contact the UAE Pass help desk by calling 600 560 000.
READ NEXT: A Visit to the "World's First Smart Park" in Dubai