UAE authorities have reported that the number of violations committed using social media has risen by over 56% from 357 in 2018 to 512 cases in 2019. 
In line with this, officials continue to warn the public about the consequences of posting defamatory and insulting comments and/or messages online. They emphasized that such violations warrant a fine of up to AED 500,000 according to UAE law.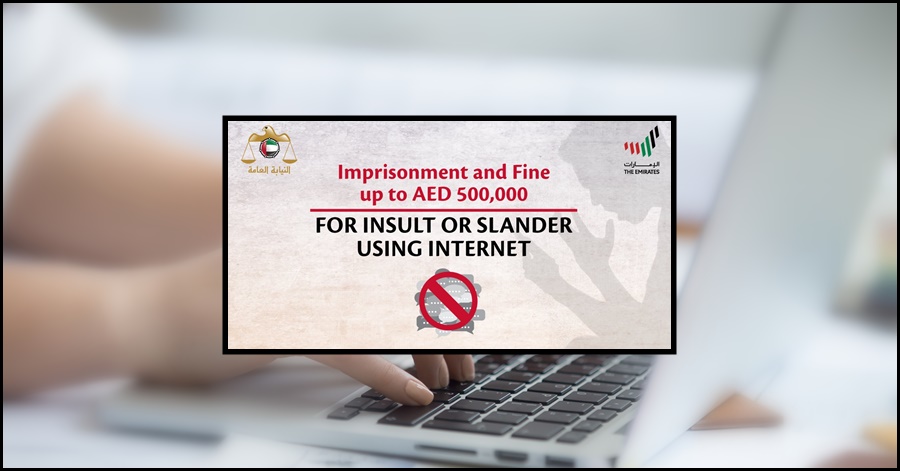 Posting Malicious Comments Against Others On Social Media Can Be Fined By Up to AED 500,000
In line with this, the Federal Public Prosecution issued a warning to caution UAE residents against committing such violations and its corresponding consequences. 
"The law imposes a penalty of imprisonment and/or a fine of between Dh250,000 to Dh500,000 on whoever posts insulting comments online or sends slanderous and defaming messages to others via the Internet," the Public Prosecution said. 
"Article 20 of the Federal Law No. 5 2020 on combating cybercrimes stipulates that a person is subject to punishment if he/she carries out the crimes by using the Internet or any forms of information technology," the prosecution added.
Among the major violations committed between 2018-2019 include publishing and spreading false information; posting and spreading insulting, abusive comments; online harassment; extortion, threats and blackmail; posting fake ads and rumours; swearing, defamation and inciting others to commit crimes; encroaching on the privacy of others; and fraud.
It can be recalled earlier this year that the Philippines' Department of Foreign Affairs through Undersecretary for Migrant Workers' Affairs Sarah Lou Arriola, issued a warning for Filipinos in the Middle East, noting that Gulf nations impose stiff punishments to purveyors of fake news as well as those who tarnish the reputation of their citizens and country.
That said, it's best to not post anything that could potentially offend or malign anyone while residing in the Middle East to avoid any complications or even getting fined or jailed for such acts. 
ALSO READ: Dubai Ruler Warns Against Tarnishing UAE Image on Social Media