ISO 9001:2015 Certification is often overlooked by Small and Medium Companies(SMEs) as a very complex Certification Standard beyond the scope of SMEs.
Let's look at how ISO 9001:2015 can help small businesses in streamlining their daily business operations and adhere to the internationally accepted ISO quality practices.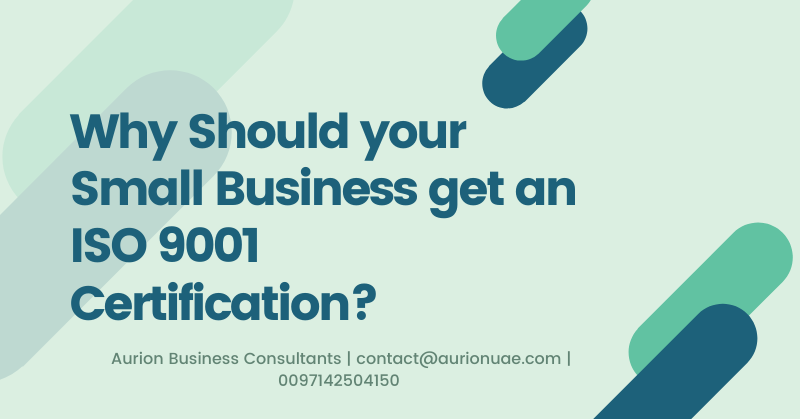 To know more on ISO 9001:2015 Certification, read: https://www.aurioninternational.com/iso-9001-certification.html
ISO 9001 Certification for Small Businesses in Dubai
ISO 9001 Certification is of great importance for the Small Businesses in Dubai as getting certified with ISO 9001 and implementing the best practices will enhance the business process quality, employee productivity, brand image, and client trust.
Also as Dubai is a hub of multi-national businesses from all over the world. The ISO Certification for an organization will truly set the bar high and be prominent among the competition.
Also, quality is given utmost priority in all projects initiated in Dubai, ISO Certification will give you an edge among competitors and enhance your project portfolio. Many of the top brands of the world only work with ISO Certified partners to maintain quality levels.
General Perception of ISO 9001 Certification among Small Businesses
Small and Medium Enterprise (SME) management has a perception for ISO 9001 Certification as a strict compliance standard that if found non-complaint will fail you in the certification.
In reality, the process works differently. There are internal auditors who will assist the SMEs to prepare the business process documents, other documents as required by the ISO Standard and also help implement practices that are compliant to ISO 9001 Standard.
Once it's all in place, the external auditors from the certification body will come for audit and pass your company if the system is compliant to the ISO Standard requirements.
If not, the company will be given time to review and fix the issues for achieving compliance and then receive your certificate ultimately.
ISO 9001 implementation if executed perfectly, will give businesses to conduct process review and business improvements at a new level.
The 2015 revision of ISO Standard has made it very flexible for SME to implement the system with less complex processes and documentation. It offers a set of guidelines that a small company can follow to achieve business excellence.
Experienced ISO Consultants will help you keep your costs low and implement the ISO 9001 system in your company in a hassle-free way without disrupting your daily business operations.
ISO 9001 Standard Certification – Requirements
The starting point for ISO 9001 Certification is to define the company's Quality Management System (QMS).
There is a set of specific documents that must be prepared to describe how the company applies the ISO 9001 requirements.
Once the business process documentation and other relevant documents are prepared, proceed to the implementation and maintenance of the QMS.
All the employees must support the ISO 9001 implementation efforts for success. To oversee the implementation of QMS, the top management must conduct format management review meetings at least once a month.
As the QMS is active and employees are actively involved in the new business process optimizations, conduct an internal audit to verify the QMS is in place and is effective.
The internal audits are conducted by the ISO consultants or a trained internal employee. The internal audit could be leveraged to look at specific processes or problems to be reviewed.
The results of internal audits are used in the management review to ensure the corrections are made.
Once the internal audit is performed, the required corrective actions are to be carried out and then must proceed to the ISO Certification Audit from an Accredited Certification Body.
The ISO Consultants would be able to assist you in choosing the right Certification partners who are globally recognized and authorized by ISO to issue the certificates after conducting and approving the QMS process through an audit.
How ISO 9001 Certification help Small Businesses?
Small and Medium companies as the business operations are more transparent and easily traceable are more likely to benefit from the ISO 9001 implementation.
SME's can see evident results almost immediately provided the ISO 9001 implementation is done right and practices as per the Standards requirements.
ISO 9001Certification helps in transforming the current business process to a more goal-oriented one and to embrace the practice of continuous improvement.
ISO 9001 standard implementation enables the companies to better execute daily business operations, enhance employee engagement, deliver exceptional customer support and so on.
It is important that your Quality Management System is designed to suit your business rather than implementing a generic solution to achieve the certification.
ISO 9001 Certification –  Business Process Quality Enhancements for Small Organizations
ISO 9001 Certification will significantly help in streamlining the daily business operations of a small scale industry. It enables SMEs to get more business due to the increased brand image and credibility.
ISO 9001 Certification helps SMEs to gather valuable business information and data according to the requirement of the ISO Standard requirement. E.g. Risk management, customer feedback & reviews, Internal audits, management reviews, etc.
ISO 9001 certification requires the business to ensure all raw materials purchased from the supplier is passing the material quality criteria.
Suppliers are to be re-evaluated based on the criteria at a regular interval to ensure quality is maintained consistently across the business operations.
Small businesses are quite stressful to lead. A lot of activities are being executed by a few people. The daily work scope is spread across obtaining government regulations, legal clearances, production, sales, supply chain, financial issues, quality problems, workforce management, and more.
Consistency in workflows, quality, and process will allow small businesses to achieve sustainability. ISO 9001 Certification helps Small businesses to attain business excellence in a limited time and in reduced operations cost.
So in a nutshell, ISO 9001 Certification will transform small and medium businesses to enhance their business operational performance, reduce operating expenses, and enhance the quality of service delivery.
To know more about ISO Certification, talk to our experts right away!
https://www.aurioninternational.com/contact.html