What's the difference between working abroad and working back home? This is the main question tackled in today's feature video by Boy Dubai blogger Ion Gonzaga and HR expert Lance Japor of DuBlog .
If you are wondering whether to work in Dubai or stay in the Philippines, be sure to watch this video first. Listen as Boy Dubai and Japor talk about the repercussions of moving to another job while staying abroad, being unhappy at work, and how to deal with "toxic" co-workers.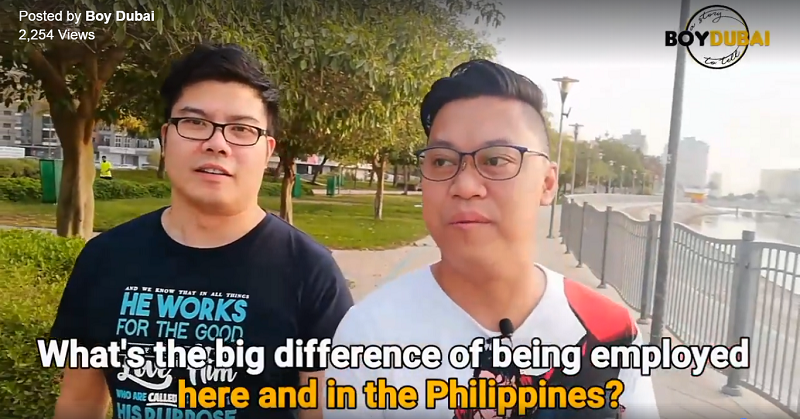 Differences Between Working Abroad & Working Back Home
Today's video presents Boy Dubai during a "Walk In" interview with Lance Japor, the founder of DuBlog. Japor is a recruitment specialist, public speaker, and host of "HR Corner." He also happens to be a New Media Personality Nominee in this year's The Filipino Times Awards.
According to Japor, one of the differences between working abroad and working back home is with regard to "commitment." He mentioned that workers in the Philippines often jump from one job to another without worrying about visas and other legal matters.
"But here [in Dubai], as soon as you start working and your visa is processed, it means you are liable for something," Japor explained. He reminded everyone that employers shoulder visa costs and "invest" in their employees. Hence, leaving your job has certain repercussions… cancellation of visa leading to a "ban," for example.
Japor also addressed two questions commonly asked by workers: What if I'm not happy with my job? What if I'm surrounded by toxic people at work? Based on his experience in the HR field, he shared some precious insights, including: "Communication is always the key to everything."
How about you? Have you ever thought what it's like to work abroad? Have you ever felt unhappy at work and wondered how to deal with toxic colleagues? If so, then catch the full video below, shared by Boy Dubai on Facebook:
You can also watch the video on Boy Dubai's YouTube channel:
For questions about work and HR concerns, you may contact Lance Japor through his DuBlog Facebook page. Meanwhile, for more interesting videos about life in Dubai, visit Ion Gonzaga's page, Boy Dubai on Facebook.
Speaking of Boy Dubai videos, here is another insightful video by Ion Gonzaga, featuring the question: Does the name of my school matter to land a job in Dubai? If you have always wondered about this as well, be sure to check out his video!