If you're looking to travel from Abu Dhabi to Fujairah, whether for leisure or business purposes, it's essential to have accurate information about the bus timings. Navigating the distance between these two vibrant cities has become more convenient than ever, thanks to the well-organized bus service. With the provided Abu Dhabi to Fujairah bus timings, you can plan your journey with ease and confidence.
Whether you're a tourist exploring the stunning landscapes or a professional attending meeting, knowing the precise schedule of the Abu Dhabi to Fujairah bus route will ensure a smooth and hassle-free travel experience. Discover the schedules that cater to your needs and embark on a seamless journey across these captivating Emirates. Let's get started!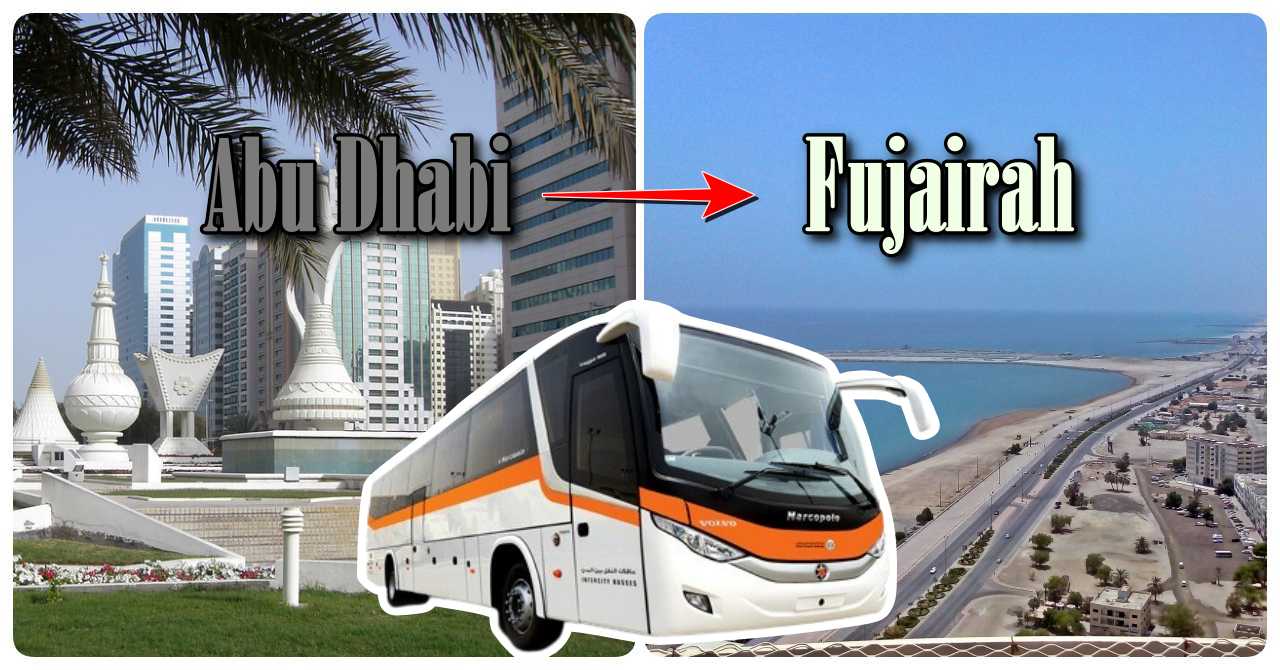 Fujairah, with its unique natural beauty, stands as a captivating destination that contrasts the bustling cityscapes of Abu Dhabi and Dubai.
Nestled amidst rugged mountains, lush valleys, and adorned with cascading waterfalls and serene oases, Fujairah offers a refreshing escape for travelers seeking respite from the heat.
The presence of hot, cold, and mineral springs further enriches the region's allure.
Unlike the scorching temperatures of Abu Dhabi and Dubai, Fujairah's easterly location brings a more moderate climate, making it an ideal weekend getaway for those yearning for tranquility and a cooler ambiance.
The enchanting Wadi Al Wurayah waterfalls and the captivating Ain Al Madhab Gardens beckon nature enthusiasts, while history buffs can explore the intricacies of the Al Bidya Mosque and immerse themselves in the rich heritage showcased at the Heritage Village.
In this serene haven, Fujairah offers an experience that complements the convenience of the Abu Dhabi to Fujairah bus journey, inviting visitors to bask in its beauty and cultural treasures.
Map
Here's the map of the route you may take from Abu Dhabi to Fujairah. By land, this looks intimidating as it certainly is a long drive (more than two hours, at least – tiring and expensive!).
And so, taking public transportation is a good alternative, but it will roughly take 7 hours to complete this route with only 1 transfer, depending on weather and traffic conditions. Still, if you prefer a relaxed and economical option, this is one of your best options!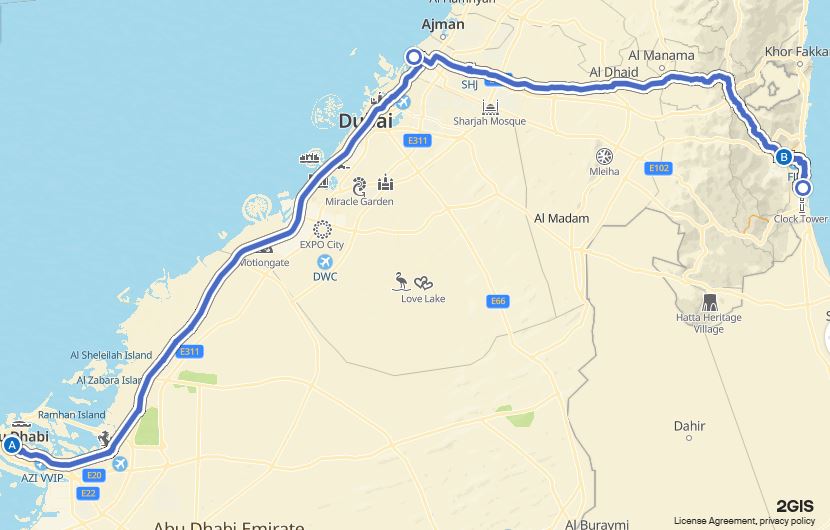 Route
1. Abu Dhabi Central Bus Station
Address: Al Wadha Terminal, Hazza Bin Zayed Street, Abu Dhabi
Nearby Landmarks: Al Wahda Mall, Al Nahyan Stadium
>> Take Bus 117
2. Al Jubail Bus Terminal
Address: Al Jubail Bus Terminal, Al Mina, Abu Dhabi, United Arab Emirates
Nearby Landmarks:
Mina Port: Just a stone's throw away from the terminal, Mina Port stands as a significant maritime gateway, offering a glimpse into Abu Dhabi's maritime history and vibrant trade activities. Its proximity adds a touch of maritime charm to your journey.
Fish Market: Immerse yourself in the local culture by visiting the vibrant Fish Market. Experience the bustling atmosphere as fishermen display their catches of the day. It's an authentic slice of Abu Dhabi life you won't want to miss.
Sheikh Zayed Heritage Festival: For a dose of Emirati heritage and culture, make your way to the Sheikh Zayed Heritage Festival. This sprawling cultural extravaganza is a celebration of local traditions, art, and cuisine, providing a memorable experience right at the outskirts of the city.
Emirates Palace: A true architectural marvel, the Emirates Palace is an opulent landmark that reflects the grandeur of the region. Marvel at its stunning design and indulge in its luxurious amenities, making it a must-visit icon within reach.
3. Sharjah, Al Jubail Bus Station 2
Address: Al Jubail Bus Station 2, Sharjah, United Arab Emirates
Nearby Landmarks: Al Jubail Fish Market, Sharjah Vegetable & Fish Market, Al Jubail Park, Sharjah Cricket Stadium
>> Take Bus E303
4. Union Square Bus Station 5
Address: Union Square Bus Station 5, Sharjah, United Arab Emirates
Nearby Landmarks: Sahara Centre Mall, Al Nahda Pond Park, Ansar Mall, Expo Centre Sharjah
>> Take Bus E700
5. Fujairah, Choithrams Supermarket 1
Address: Choithrams Supermarket 1, Fujairah City, United Arab Emirates
Nearby Landmarks: Fujairah City Center Mall, Fujairah Museum, Sheikh Zayed Mosque Fujairah
Bus Schedule and Timings
Bus 117
Bus route 117 offers a convenient and reliable transportation option for commuters traveling between Abu Dhabi and Sharjah.
With a total of four stops along its route, starting from Abu Dhabi's Central Bus Station and concluding at Al Jubail Bus Stop in Sharjah, this bus service ensures seamless connectivity between these two bustling emirates.
Travelers can rely on this service every day of the week, from Monday to Sunday, with buses operating from 6:00 AM to 12:00 AM.
Bus E303
The E303 bus operates its services from 12:00 AM on Sunday, Monday, Tuesday, Wednesday, and Saturday. If you're wondering about its end time, the E303 bus concludes its operations at 11:00 PM on Friday. These timings provide a convenient schedule for your travel needs throughout the week.
Bus E700
The E700 bus provides a convenient and accessible transportation option between Fujairah and Dubai. Operating from 05:15 AM to 10:45 PM, this bus ensures reliable service throughout the week. Whether you're planning an early morning journey or a late evening trip, the E700 bus has you covered with its regular timings.
Bus Fare and Other Features
Bus Fare Details:
Bus 117

Fare: AED 33
Operator: Sharjah Roads and Transport Authority (SRTA)
Ticket Purchase: Passengers can buy regular tickets directly from booths at the station. No bus card is required.
Reasonable Pricing: The AED 33 fare for the Sharjah to Abu Dhabi route offers a cost-effective option compared to other modes of transport.

E303

Fare: AED 10
Route: Union Square Bus Station in Dubai to Al Jubail Bus Station in Sharjah
Stops: Includes Salah Al Din Metro Station and the Reef Mall.
Frequency: Buses run every day from early morning to late at night.
Travel Time: Approximately 50 minutes under normal traffic conditions.

E700

Fare: AED 25
Ticket Payment: The fare is paid using a Nol Card.
Cost-Effective: The AED 25 fare from Dubai to Fujairah is significantly cheaper than a taxi or car hire.
Nol Card Payment: Make sure to check your Nol card balance before boarding the bus.
Additional Features:
Comfortable Buses: Buses on these routes are comfortable MCV600 Mercedes buses, fully air-conditioned for your comfort.
Entertainment and Relaxation: The buses come with TV screens, allowing you to stay entertained during your journey. The journey might be long, but the comfort of the bus provides an opportunity for a relaxed nap.
Segregated Sections: The buses also feature segregated sections for families, women, and commuters with special needs, ensuring a safe and accommodating environment for all travelers.
Whether you're commuting for work, leisure, or any other purpose, knowing the fare details and the features offered by these bus services can make your journey seamless, enjoyable, and cost-effective. So, take advantage of these reliable bus services to explore and travel between Sharjah and Dubai with ease.
Tips for Traveling Between Abu Dhabi to Fujairah
Choose the Right Transportation:
Bus Option: Opt for the cost-effective bus services available between Abu Dhabi and Fujairah. Check the bus schedules, fares, and routes to plan your journey efficiently.
Car Rental: If you prefer flexibility and convenience, consider renting a car. The drive offers picturesque views, and you can explore various attractions along the way.
Plan Your Route:
Study the route before embarking on your journey. Familiarize yourself with major landmarks, rest stops, and potential detours to navigate effectively.
Check Weather Conditions:
The weather can vary between Abu Dhabi and Fujairah, so be prepared for changes in temperature and conditions. Pack accordingly, especially if you plan to explore outdoor attractions.
Pack Essentials:
Keep essential items such as water, snacks, sunscreen, a hat, sunglasses, and a first aid kit. These supplies will come in handy during the journey, especially if you're driving.
Stay Hydrated:
Drink plenty of water, especially during the warmer months. Proper hydration is crucial for your well-being, especially when traveling in a desert climate.
Plan Rest Stops:
If you're driving, plan regular rest stops to stretch your legs, use restroom facilities, and grab a quick bite. Many service stations are available along the route.
Travel Documents:
Ensure you have your identification, driving license, and any necessary travel permits, if applicable.
Entertainment and Connectivity:
Bring along entertainment options, such as books, music, or podcasts, to make the journey more enjoyable. Also, ensure your phone is fully charged or has a car charger for navigation purposes.
Respect Local Customs:
Both Abu Dhabi and Fujairah have distinct cultural norms and etiquettes. Respect local customs, dress modestly, and be mindful of your behavior.
Explore Along the Way:
Take advantage of the journey and explore attractions en route. Consider visiting places like Al Ain, Hatta, or the Al Hajar Mountains to enhance your travel experience.
Road Safety:
If driving, adhere to speed limits, wear seatbelts, and follow traffic rules at all times. Safety should be a top priority.
Embrace the Journey:
Whether you're traveling for leisure or business, embrace the journey itself. Enjoy the changing landscapes, capture stunning photographs, and create lasting memories.
By following these tips, your journey between Abu Dhabi and Fujairah will be both enjoyable and hassle-free. Whether you're seeking adventure, relaxation, or cultural exploration, this travel experience promises to be a memorable one.
Frequently Asked Questions
1. What are the bus timings from Abu Dhabi to Fujairah?
The bus timings from Abu Dhabi to Fujairah may vary based on the specific bus route and schedule. It's recommended to check with the relevant transportation authorities or websites for the most up-to-date and accurate information.
2. How long is the bus journey from Abu Dhabi to Fujairah?
The duration of the bus journey from Abu Dhabi to Fujairah depends on the route, traffic conditions, and any stops along the way. On average, the journey may take up to 7 hours.
3. Are there direct buses from Abu Dhabi to Fujairah?
Direct buses from Abu Dhabi to Fujairah are not yet available. It's advisable to inquire with the transportation providers for the latest details. Meanwhile, you may refer to the bus options and route provided in this guide.
4. What is the bus fare from Abu Dhabi to Fujairah?
The bus fare from Abu Dhabi to Fujairah can vary based on the bus service and the type of ticket you choose. Check with the relevant authorities or websites for accurate fare information.
5. How frequently do buses run from Abu Dhabi to Fujairah?
Bus frequencies from Abu Dhabi to Fujairah may vary based on the route and schedule. Buses may run multiple times a day, but it's recommended to verify the schedule beforehand.
6. Can I buy bus tickets online for the Abu Dhabi to Fujairah route?
Online ticket booking options may be available for the Abu Dhabi to Fujairah bus route. Check with the relevant transportation providers such as the SRTA and Dubai RTA for details on online ticketing.
7. Are the buses air-conditioned and comfortable?
Many buses on the Abu Dhabi to Fujairah route are air-conditioned and designed for passenger comfort. Some buses may offer amenities such as reclining seats and entertainment options.
8. Are there any stops or landmarks along the Abu Dhabi to Fujairah bus route?
Depending on the specific route, there may be stops or landmarks along the Abu Dhabi to Fujairah bus route. Common stops could include cities, towns, rest areas, and attractions.
Summary
In conclusion, embarking on a journey from Abu Dhabi to Fujairah has been made remarkably convenient through the well-structured bus service.
Whether you're a traveler seeking to explore picturesque landscapes or a professional with important commitments, having accurate information about the bus timings is pivotal.
The detailed Abu Dhabi to Fujairah bus timings provided here empower you to plan your trip confidently and effortlessly.
By aligning your schedule with the bus timings, you can ensure a seamless and stress-free travel experience, whether you're embarking on an adventure or fulfilling your professional responsibilities.
Safe travels and enjoy the remarkable experiences that await you!
READ NEXT: Places to Visit in Fujairah, UAE