In one of our previous posts, we took a look at the bus timings from Abu Dhabi to Fujairah. Now, let's shift our focus to the reverse journey and take a look at Fujairah to Abu Dhabi bus timings. The convenience of bus travel continues as we explore the schedules and timings for this route.
For non-native English speakers, understanding and planning these trips is made easier with clear and concise information. That being said, let's delve into the details of this long yet scenic route, providing you with the essential information you need for a seamless and enjoyable journey between these two vibrant emirates. Keep on reading to learn more!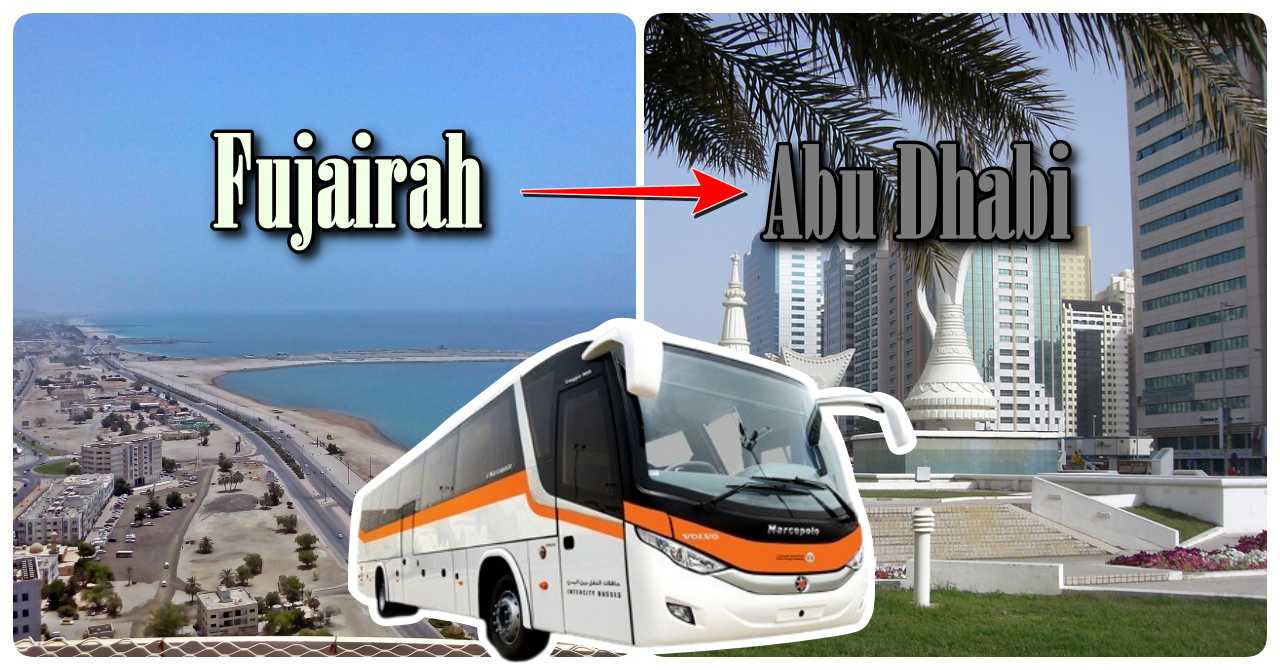 Timeless natural beauty is a hallmark of Abu Dhabi, enriching the travel experience for all who visit. The emirate's landscape is a captivating mosaic of deserts, mountains, beaches, parks, and wildlife, weaving together a breathtaking tableau that never fails to inspire awe.
Amidst this natural splendor, pristine beaches bask in year-round sunshine, while the city's architectural wonders stand as a testament to human creativity.
For those who seek more than just sun and sand, Abu Dhabi's allure extends to its cultural and historical treasures. Unveil the layers of its past at various heritage sites and delve into the diverse landscapes of Al Dhafra and Al Ain.
And let's not forget the excitement of world-class events, such as the globally renowned Abu Dhabi Grand Prix at the iconic Yas Marina Circuit. Abu Dhabi beckons, promising a journey that resonates with both tranquility and exhilaration.
Map
Here is the map of the route taken by buses from Fujairah to Abu Dhabi. The entire trip will take about 7 hours and 28 minutes (fastest), which includes only one bus transfer.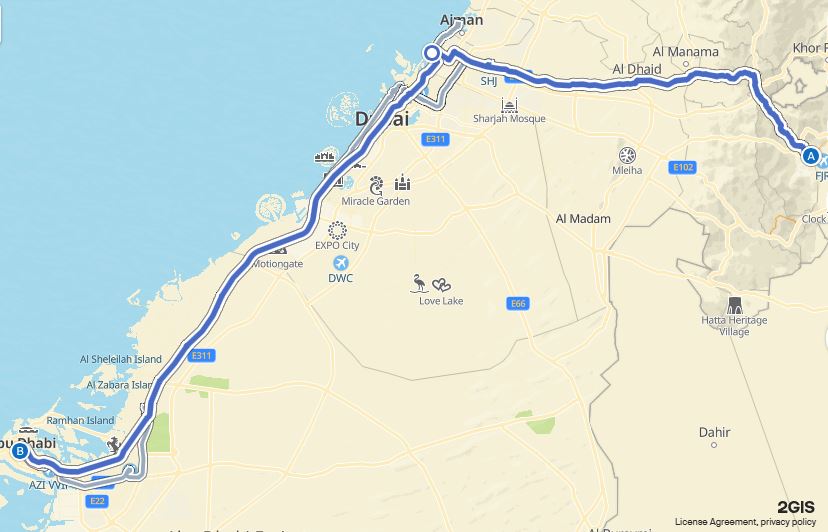 Route
1. Fujairah Bus Station
Address: Fujairah Bus Station, Fujairah, UAE
Nearby Landmarks: Fujairah Lulu Hypermarket, Sheikh Khalifa Bin Zayed Road
2. Take Bus 116 / 611
3. Masafi, Police Station
Address: Masafi Police Station, Masafi, Fujairah, UAE
Nearby Landmarks: Masafi Friday Market, Masafi Park
4. Dhaid, Central Region Department
Address: Dhaid Central Region Department, Dhaid, Sharjah, UAE
Nearby Landmarks: Al Hisn Park, Dhaid Fort
5. Dhaid, Post Office
Address: Dhaid Post Office, Dhaid, Sharjah, UAE
Nearby Landmarks: Al Dhaid Cultural and Sports Club, Dhaid Heritage Village
6. Sharjah Airport Terminal
Address: Sharjah Airport Terminal, Sharjah, UAE
Nearby Landmarks: Sharjah Airport Free Zone, Sharjah Aviation Services
7. Al Jubail Bus Terminal 4
Address: Al Jubail Bus Terminal 4, Sharjah, UAE
Nearby Landmarks: Al Jubail Fish Market, Sharjah Gold Center
8. Walk 110 m to the next terminal
Nearby Landmarks: King Faisal Mosque, Sharjah Heritage Area
9. Al Jubail Bus Terminal 1
Address: Al Jubail Bus Terminal 1, Sharjah, UAE
Nearby Landmarks: Sharjah Art Museum, Al Jubail Souq
10. Take Bus 117
11. Abu Dhabi Central Bus Station, Main bus terminal
Address: Abu Dhabi Central Bus Station, Al Wahda, Abu Dhabi, UAE
Nearby Landmarks: Al Wahda Mall, Al Wahda Sports Club
Bus Schedule and Timings
Bus 116 / 611:
The 116 bus offers a consistent and reliable travel option for those journeying from Sharjah to Fujairah throughout the week.
Commencing its operations in the early hour of 5:30 AM, the service remains accessible until 11:00 PM, allowing passengers to plan their trips with flexibility and convenience.
With its frequent departures every 30 minutes, this bus ensures that travelers have multiple opportunities to embark on their journey, whether it's for work, leisure, or exploration.
Regardless of the day, whether it's a Monday or a Sunday, the 116 bus schedule remains consistent, reinforcing the commitment to providing a dependable mode of transportation between Sharjah and Fujairah.
Bus 117:
Bus Route 117 presents a practical and dependable choice for commuters journeying between the vibrant cities of Abu Dhabi and Sharjah.
Encompassing a total of four designated stops along its well-mapped route, the journey embarks from the Central Bus Station in Abu Dhabi and concludes its route at the Al Jubail Bus Stop in Sharjah.
This well-organized bus service establishes a fluid and uninterrupted link between these two bustling emirates, catering to the travel needs of individuals seamlessly.
With operational hours spanning the entire week, from the early hours of 6:00 AM to the late evening at 12:00 AM, passengers can confidently rely on this service for their daily commutes, ensuring their travel experience is both convenient and efficient.
Bus Fare and Other Features
Bus 117

Fare: AED 33
Operator: Sharjah Roads and Transport Authority (SRTA)
Ticket Purchase: Passengers can buy regular tickets directly from booths at the station. No bus card is required.
Reasonable Pricing: The AED 33 fare for the Sharjah to Abu Dhabi route offers a cost-effective option compared to other modes of transport.
Bus Fares:
Bus 116 (Fujairah to Abu Dhabi): With a fare of AED 27, Bus 116 provides an economical way to connect between Fujairah and Abu Dhabi, ensuring that your travel budget remains intact.
Bus 117 (Sharjah to Abu Dhabi):

Fare: AED 33
Operator: Sharjah Roads and Transport Authority (SRTA)
Ticket Purchase: Regular tickets can be conveniently purchased directly from booths at the station. No bus card is required, simplifying the boarding process.
Reasonable Pricing: The AED 33 fare for the Sharjah to Abu Dhabi route offers a pocket-friendly alternative in comparison to other transportation options.
Additional Features:
Comfortable Buses: Embark on your journey aboard MCV600 Mercedes buses, designed for your utmost comfort. These buses are fully air-conditioned, ensuring a pleasant and enjoyable travel experience regardless of the weather outside.
Entertainment and Relaxation: Buses along these routes are equipped with TV screens, adding an entertainment dimension to your ride. Whether you're catching up on your favorite shows or simply enjoying the view, the journey becomes an opportunity to unwind. Plus, the comfortable seating provides the perfect environment for a relaxed nap during longer rides.
Segregated Sections: Inclusivity is a priority, and these buses reflect that commitment. Dedicated sections for families, women, and commuters with special needs guarantee a safe and accommodating environment for all passengers. This thoughtful design ensures that everyone can travel comfortably and confidently.
Whether you're seeking an affordable fare, a comfortable journey, or a travel experience tailored to diverse needs, the bus routes between Abu Dhabi and Sharjah deliver on all fronts.
Other Transportation Options
While the drive between Fujairah and Abu Dhabi is a considerable distance spanning 252 km, with an approximate travel time of 2 hours and 23 minutes, there are various transportation options to consider for this journey. Whether you're seeking convenience, local experiences, or a balance between cost and comfort, here's a guide to exploring alternative ways of traveling on this route:
Hotel-Organized Tours: Many hotels in Fujairah offer guided tours between cities. These organized tours often provide a hassle-free experience, complete with a knowledgeable guide, comfortable transportation, and potentially insightful stops along the way. Inquire at your hotel's concierge desk to learn about available tour options that cater to your preferences and schedule.
Taxi Services:
Fujairah Taxi to Abu Dhabi: Opt for the convenience of taxi services. Begin your journey by hiring a taxi from Fujairah to Abu Dhabi, allowing you to relax and enjoy the scenery. Be sure to negotiate the fare or ensure the meter is used before starting the ride.
Abu Dhabi Taxi Back: To return to Fujairah, you can easily hail a taxi in Abu Dhabi. Taxis are readily available and can be a straightforward way to travel back.
Private Hire Car or Driver: Consider arranging a private hire car or driver for the day in Abu Dhabi. This option provides you with the flexibility to explore the city at your own pace and convenience. Engaging a private driver allows you to enjoy the journey without the stress of navigating unfamiliar roads and traffic.
Tips for Traveling Between Fujairah to Abu Dhabi
Optimal Transportation Choices:
Bus Option: Select the economical bus services connecting Fujairah and Abu Dhabi. Thoroughly review bus schedules, fares, and routes to strategically plan your trip.
Car Rental: If you prioritize adaptability and ease, contemplate renting a car. The scenic drive offers picturesque vistas, granting opportunities to explore various attractions en route.
Plot Your Course:
Prior to embarking, familiarize yourself with the route. Acquaint yourself with significant landmarks, pit stops, and potential deviations for effective navigation.
Weather Check:
Be prepared for weather fluctuations between Fujairah and Abu Dhabi. Pack accordingly, especially if you intend to explore outdoor sites.
Essential Packing:
Keep essentials like water, snacks, sunscreen, a hat, sunglasses, and a first aid kit. These provisions prove invaluable during the journey, especially if you're driving.
Prioritize Hydration:
Consume ample water, particularly during warmer periods. Adequate hydration is pivotal for well-being, especially when traversing desert terrain.
Strategize Breaks:
For drivers, strategize regular breaks to stretch, use restroom facilities, and grab a quick snack. Numerous service stations dot the route.
Travel Documents:
Ensure you have your identification, driving license, and any pertinent travel permits if required.
Entertainment and Connectivity:
Bring along diversions like books, music, or podcasts for an enhanced journey. Confirm your phone is adequately charged or has a car charger for navigation.
Cultural Respect:
Both Fujairah and Abu Dhabi uphold unique cultural norms. Observe local customs, dress modestly, and exhibit considerate conduct.
Explore En Route:
Make the most of the trip by exploring attractions along the way. Consider visiting destinations such as Al Ain, Hatta, or the Al Hajar Mountains to enrich your travel experience.
Road Safety Priority:
If driving, adhere to speed limits, use seatbelts, and adhere to traffic regulations consistently. Safety remains paramount.
Embrace the Voyage:
Whether for leisure or business, cherish the journey itself. Savor evolving landscapes, capture captivating snapshots, and forge enduring memories.
By adhering to these guidelines, your journey between Fujairah and Abu Dhabi promises to be not only seamless but also gratifying. Whether you seek adventure, relaxation, or cultural exploration, this travel venture is poised to be unforgettable.
Frequently Asked Questions
1. What are the bus timings from Fujairah to Abu Dhabi?
Bus timings from Fujairah to Abu Dhabi are subject to variations based on specific routes and schedules. For the most current and precise information, consulting relevant transportation authorities or websites is advisable.
2. How long is the bus journey from Fujairah to Abu Dhabi?
The duration of the bus journey from Fujairah to Abu Dhabi hinges on the route, traffic conditions, and any halts. Typically, the trip could extend up to 7.5 hours on average.
3. Are there direct buses from Fujairah to Abu Dhabi?
Direct buses from Fujairah to Abu Dhabi may not be available at present. Inquiries with transportation providers are recommended for the latest updates. In the meantime, you can refer to the provided bus options and routes in this guide.
4. What is the bus fare from Fujairah to Abu Dhabi?
The bus fare from Fujairah to Abu Dhabi may vary depending on the bus service and type of ticket selected. To ensure accurate fare details, consult relevant authorities or websites.
5. How frequently do buses operate from Fujairah to Abu Dhabi?
Bus frequencies between Fujairah and Abu Dhabi may differ based on routes and schedules. Buses might run multiple times a day, but confirming the schedule beforehand is prudent.
6. Can I purchase bus tickets online for the Fujairah to Abu Dhabi route?
Online ticket booking options could be accessible for the Fujairah to Abu Dhabi bus route. Consult pertinent transportation providers like the SRTA and Dubai RTA for insights into online ticketing.
7. Are the buses air-conditioned and comfortable?
Many buses operating along the Fujairah to Abu Dhabi route are air-conditioned and designed for passenger comfort. Some buses may offer amenities such as reclining seats and entertainment provisions.
8. Are there any stops or landmarks along the Fujairah to Abu Dhabi bus route?
Depending on the specific route, the Fujairah to Abu Dhabi bus journey could encompass stops or landmarks. Common stopping points might include cities, towns, rest areas, and attractions.
Summary
In conclusion, embarking on a bus journey from Fujairah to Abu Dhabi, despite its extended duration, remains a beacon of accessibility and affordability for travelers navigating the landscapes of the UAE.
The road less traveled, while it may span a distance, offers a window into the heart of the Emirates, showcasing its diverse facets and vibrant character.
As you traverse the route, you're not merely covering miles; you're immersing yourself in the rhythm of the nation, connecting with the stories etched into its terrain.
From the shores of Fujairah to the grandeur of Abu Dhabi, the bus ride transcends its practicality to become a unique passage of exploration and discovery, one that embodies the essence of this remarkable land.
READ NEXT: 12 Things to Do in Abu Dhabi