Planning your long travels is much easier when you have access to reliable and convenient transportation options. If you're looking to journey from Fujairah to Ras Al Khaimah, understanding the bus timings can greatly simplify your trip.
In this guide, we'll break down the timings, routes, and essential details to ensure your journey is both smooth and enjoyable. Whether you're a tourist exploring the beauty of Fujairah and Ras Al Khaimah or a resident seeking hassle-free travel, our aim is to equip you with the information you need to make your commuting experience as hassle-free as possible. Let's get right into the details and embark on this informative journey together!
Exploring the captivating emirate of Ras Al Khaimah promises an enriching experience that spans across millennia. As you consider your journey from Fujairah to Ras Al Khaimah, the historical treasures and natural wonders of this region beckon to be discovered.
With a history dating back a staggering 7,000 years, Ras Al Khaimah unveils a tapestry of the past through its archaeological sites and ancient port city of Julfar, once a bustling hub of trade and renowned for its exquisite pearls.
The remnants of this vibrant past are evident in the well-preserved 18th century Dhayah Fort, standing proudly atop a hill, and the traditional fishing village of Al Jazirah Al Hamra, offering a glimpse into the emirate's maritime heritage.
Beyond its historical allure, Ras Al Khaimah boasts a diverse topography that ranges from majestic Hajar mountains to serene beaches, rolling sand dunes to lush mangroves.
The emirate's commitment to preserving its natural beauty is evident in its inclusion of numerous sites on the 'UNESCO Tentative List for World Heritage'.
As you traverse its varied landscapes, you'll find sulfur springs nestled near mountain areas and encounter a fascinating array of wildlife, including foxes, jerboas, and a vibrant avian population.
Ras Al Khaimah's emergence as a tourism hub is undeniable, offering a harmonious blend of history, nature, and adventure, making it a compelling destination for travelers seeking a truly immersive experience.
Map
Here's a map of the route taken by buses from Fujairah bus station to Al Hamra bus station in Ras Al Khaimah. Unfortunately, there is no direct bus service between these emirates. And so, travelers will need to make bus transfers along this route, making for a complete trip of 5 hours and 15 minutes on average.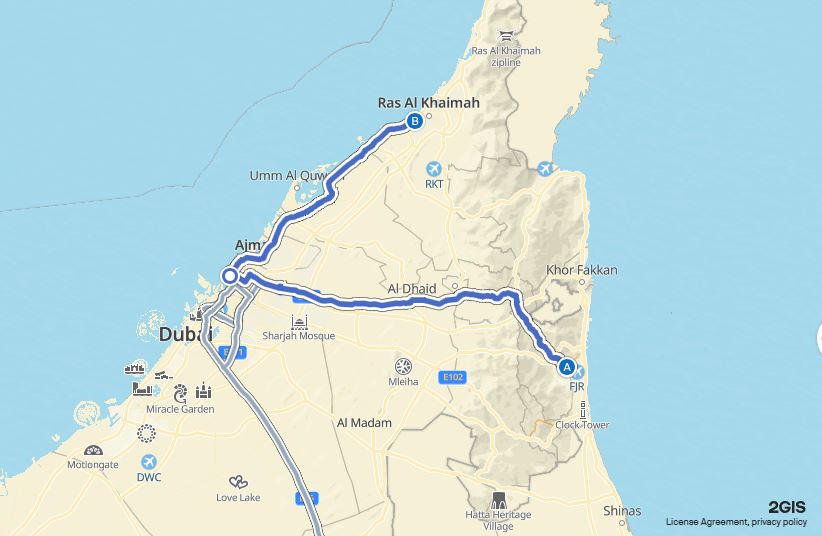 Route
1. Fujairah, Bus Station
Address: Fujairah Bus Station, Fujairah, UAE
Notable Landmarks: Nearby attractions include Fujairah Fort, Fujairah Corniche, and Al Hayl Castle.
>>Board Bus 116 or 611 here.
2. Masafi, Police Station
Address: Masafi Police Station, Masafi, Fujairah, UAE
Notable Landmarks: Look out for the Masafi Friday Market and the stunning Hajar Mountains surrounding the area.
3. Dhaid, Central Region Department
Address: Central Region Department, Dhaid, Sharjah, UAE
Notable Landmarks: Explore the charm of Dhaid Souq and the Dhaid Palace Museum.
4. Dhaid, Post Office
Address: Dhaid Post Office, Dhaid, Sharjah, UAE
Notable Landmarks: Nearby, you'll find the picturesque Dhaid Lake and the captivating Al Hisn Fort.
5. Sharjah Airport Terminal
Address: Sharjah International Airport, Sharjah, UAE
Notable Landmarks: Enjoy the convenience of being close to Sharjah Aviation Services and the Sharjah Airport Mosque.
>>Get off the bus after reaching this point.
6. Al Jubail Bus Terminal 4
Address: Al Jubail Bus Terminal 4, Sharjah, UAE
Notable Landmarks: Nearby, you can explore Al Jubail Fish Market and Al Jubail Park.
7. Al Jubail Bus Terminal 3
Address: Al Jubail Bus Terminal 3, Sharjah, UAE
Notable Landmarks: Visit Al Jubail Souq and the vibrant Al Jubail Vegetable & Fish Market.
>>Transition to Bus 115 at Al Jubail Bus Terminal 3. This change will continue your route toward Umm Al Quwain.
8. Umm Al Quwain
Address: Umm Al Quwain, UAE
Notable Landmarks: Discover the beauty of Dreamland Aqua Park and Umm Al Quwain Fort.
>>Disembark after Umm Al Quwain
9. Ras Al Khaimah Bus Station
Address: Ras Al Khaimah Bus Station, Ras Al Khaimah, UAE
Notable Landmarks: Explore the historic Dhayah Fort and the breathtaking Jebel Jais mountain range.
Bus Schedule and Timings
Bus 116:
Start Time: The first bus, Bus Number 116, departs from Sharjah at 5:30 AM. It marks the beginning of your journey toward the scenic destination of Fujairah.
Frequency: Bus 116 operates at a regular interval of every 30 minutes. This consistent schedule allows you to plan your travel with ease, knowing that you won't have to wait long for the next bus to arrive.
End Time: The last bus of the day departs from Sharjah at 11:00 PM. This provides you with ample time to explore Fujairah and its attractions before heading back to Sharjah.
Bus 115:
The 115 bus operates every day, offering a reliable mode of transportation throughout the week. The regular schedule hours for this route are from 5:17 AM to 10:11 PM. Whether you're an early riser or prefer to travel later in the day, the 115 bus provides a range of timings to suit your needs.
The total trip duration for bus 115 is approximately 58 minutes. This means that from the moment you board the bus at its initial stop, Sultan Bin Zayed St / Khalifa St, to your final destination at St 17 / Emirates Driving School, you can expect a comfortable and timely journey that takes less than an hour.
Bus Fare and Other Features
Bus 115:
The fare for this intercity route is AED 27, making it an affordable choice for your travels.
Bus 116:
The bus fare for this route is a wallet-friendly AED 27.
Air Conditioning: Say goodbye to discomfort as you bask in a cool and refreshing environment. The buses come with state-of-the-art air conditioning systems, ensuring that the temperature inside remains just right. No matter the outside weather, you can enjoy a pleasant journey that keeps you relaxed and at ease.
Information Screens: Stay well-informed and up-to-date during your travels with the help of information screens strategically placed within the bus. These screens provide valuable information about upcoming stops, route details, and travel updates. Whether you're a local or a first-time visitor, these screens ensure you never miss a beat.
Priority Seating: Creating a safe and welcoming atmosphere for everyone is a top priority. That's why designated priority seating areas are available for women and children. These seats offer a comfortable and secure space, allowing families and individuals to travel with confidence. Your journey becomes a seamless experience where inclusivity and comfort go hand in hand.
Special Needs Facilities: Every passenger's journey is important, and that's why special needs facilities are thoughtfully integrated into the bus design. Passengers with special requirements can travel comfortably and with ease, thanks to accessibility features like ramps and designated spaces. These accommodations ensure that everyone can enjoy the convenience of intercity travel.
As you embark on your intercity bus journey, rest assured that these modern amenities are designed to enhance your travel experience in every way.
Whether you're a frequent traveler or embarking on a new adventure, these features ensure that your journey is comfortable, informative, and accessible for all.
So sit back, relax, and let the bus features transform your travel into an enjoyable and memorable experience.
Other Transportation Options
When planning your journey from the captivating emirate of Fujairah to Ras Al Khaimah in the United Arab Emirates, an array of transportation alternatives beyond bus travel awaits your exploration.
Whether you prioritize convenience, swiftness, or adaptability, there exists a travel mode perfectly aligned with your desires.
Let's delve into the diverse avenues for making this voyage and delve into the vital particulars of each choice.
Private Car: For those who treasure autonomy and privacy, a private car ensures the liberty of journeying on your own schedule. The approximate travel duration covers about 112.9 kilometers in roughly 1 hour and 26 minutes. Be sure to factor in potential tolls and fuel expenses into your financial plan.
Ride-Sharing Services: Ride-sharing platforms present a convenient and comfortable solution for inter-emirate travel. Secure a ride through a ride-sharing app, relishing an effortless expedition with the added advantage of sidestepping parking concerns.
Car Rental: Opting for car rental affords you the liberty to explore both emirates at your own leisure. A plethora of car rental choices awaits, proving especially advantageous if you intend to uncover the myriad attractions of Ras Al Khaimah and Fujairah.
Shuttle Services: Certain operators extend shuttle services tailored to intercity travel, furnishing a cozy and structured mode of commuting between Ras Al Khaimah and Fujairah.
Considerations:
– Cost Estimation: Keep in mind that expenses may fluctuate contingent on variables like fuel prices, tolls, and potential supplementary charges linked to your chosen mode of transport.
– Advance Booking: Depending on your favored means of transportation, it's prudent to secure reservations in advance, particularly during peak travel periods.
– Local Regulations: Familiarize yourself with regional driving statutes, parking amenities, and any specific requisites pertaining to the utilization of distinct transportation alternatives.
As you embark on your journey, these insights into various travel options will empower you to make an informed decision that aligns seamlessly with your travel preferences, ensuring a delightful and well-organized expedition from Fujairah to Ras Al Khaimah.
Tips for Inter-emirates Travel in the UAE
Exploring the diverse emirates of the United Arab Emirates as you journey from Fujairah to Ras Al Khaimah opens up a world of captivating landscapes, cultures, and experiences. Whether your adventure is leisurely or part of your daily routine, these invaluable suggestions will help ensure a seamless and delightful inter-emirates travel:
Prepare in Advance: Before setting out, conduct thorough research on your route, bus timetables, and fares for a well-organized journey. Take note of significant landmarks and stops along the route. This proactive approach allows you to manage your time effectively and prevent any unexpected surprises.
Verify Timetables: Inter-emirates buses operate on established schedules. Being aware of departure and arrival times, as well as potential delays, is vital. This ensures you arrive at your destination promptly, whether it's for work, leisure, or exploration.
Secure the Right Fare: Prior to boarding, ensure you possess the correct fare or a suitable payment method (such as a prepaid card). This minimizes disruptions and guarantees a smooth boarding process.
Carry Identification: Always have a valid form of identification, such as your Emirates ID or passport, when traveling between emirates. This is crucial for security and verification purposes.
Stay Hydrated and Comfortable: Inter-emirates buses offer air-conditioned comfort, so be prepared for fluctuating temperatures. Bring a water bottle to stay hydrated during your trip. Dress comfortably and pack essentials like a light sweater or reading materials.
Embrace Local Customs: Each emirate boasts its own cultural norms and traditions. While journeying, exhibit respect for local practices. This enhances your travel experience and cultivates a harmonious environment for all passengers.
Respect Timetables: Arrive at bus stops punctually. Buses adhere to strict schedules, and missing your bus could lead to unnecessary delays. Arriving a few minutes ahead of time ensures you catch your ride.
Safeguard Your Belongings: Keep your possessions secure during the voyage. Opt for backpacks or bags that can be properly fastened, and keep valuable items close and within sight.
Stay Informed: Stay abreast of any alterations to schedules, routes, or travel advisories. Monitor official transport authority social media accounts or utilize transportation apps for real-time updates.
Embrace the Journey: Traveling between emirates offers an opportunity to relish the UAE's diverse landscapes, from bustling urban centers to tranquil coastal retreats. Immerse yourself in the scenery, capture memorable photographs, and fully immerse yourself in the Emirates' natural beauty.
Frequently Asked Questions
1. What are the bus timings for the Fujairah to Ras Al Khaimah route?
Bus timings for the Fujairah to Ras Al Khaimah route vary, with buses generally operating from the early morning hours (starting as early as 5:15 am) until late in the evening (up to 11:00 pm). For precise timings, it is advisable to consult the relevant transportation authority or utilize their official website or applications to access accurate and current information.
2. How frequently do buses run from Fujairah to Ras Al Khaimah?
Buses plying the Fujairah to Ras Al Khaimah route typically follow regular intervals throughout the day. The frequency of buses may fluctuate based on demand and the time of day. To obtain the most up-to-date schedule, refer to the official sources offered by the transportation authority.
3. Is there a direct bus service between Fujairah and Ras Al Khaimah?
Currently, there is no direct bus service in operation between Fujairah and Ras Al Khaimah. In the meantime, commuters can anticipate traveling directly between the two emirates by making a few bus transfers.
4. How much time does a bus journey from Fujairah to Ras Al Khaimah take?
The duration of a bus journey from Fujairah to Ras Al Khaimah may fluctuate depending on traffic conditions and road factors. On average, the trip takes around 5 hours and 15 minutes. It is advisable to plan your travel while considering potential factors that could impact travel time.
5. Are there any stops or significant landmarks along the Fujairah to Ras Al Khaimah bus route?
Indeed, the bus route from Fujairah to Ras Al Khaimah may encompass stops or notable landmarks along the way. Certain buses might halt at popular attractions or significant sites. To acquaint yourself with specific stops, consult the official bus route map or the route details provided in this guide.
6. What is the bus fare cost for the Fujairah to Ras Al Khaimah route?
The bus fare cost for traveling from Fujairah to Ras Al Khaimah is subject to alterations and may differ based on the pricing provided by the relevant transportation authority. For the most accurate and current information concerning bus fares, consult the authoritative sources provided by the respective authority.
7. Do bus timings differ on weekends or holidays for this particular route?
Bus timings could exhibit variations on weekends and holidays. Certain routes might adjust their schedules to accommodate fluctuations in demand. It is advisable to confirm any potential divergences in bus timings on weekends or holidays by referring to the official website or getting in touch with the transportation authority.
8. Can I access the Fujairah to Ras Al Khaimah bus schedule online?
Certainly, you can generally access the Fujairah to Ras Al Khaimah bus schedule online via the official website of the relevant transportation authority.
Summary
In conclusion, embarking on a journey from Fujairah to Ras Al Khaimah becomes an effortless and rewarding endeavor when armed with the knowledge of reliable bus timings.
We hope that this guide has shed light on the various ways you can enjoy a hassle-free trip, unraveling the intricacies of routes and schedules to ensure your travel is comfortable and convenient every time.
Whether you're a curious traveler uncovering the allure of Fujairah and Ras Al Khaimah or a local resident seeking stress-free transportation, our commitment remains unwavering – to empower you with the insights required for a hassle-free commute.
READ NEXT: Places to Visit in Ras Al Khaimah, UAE