If you're planning to visit Ras Al Khaimah from Sharjah, you'll be pleased to know that there are convenient bus timings available to make your journey smooth and hassle-free. Whether you're a resident looking to explore a neighboring emirate or a tourist seeking to uncover the charms of Ras Al Khaimah, the bus service between these two destinations offers a comfortable and cost-effective way to travel.
Let's unpack the essential information about Sharjah to Ras Al Khaimah bus timings, allowing you to plan your trip with ease. Discover the schedules, routes, and other valuable details to ensure a pleasant and memorable travel experience between these two vibrant emirates. Let's get started!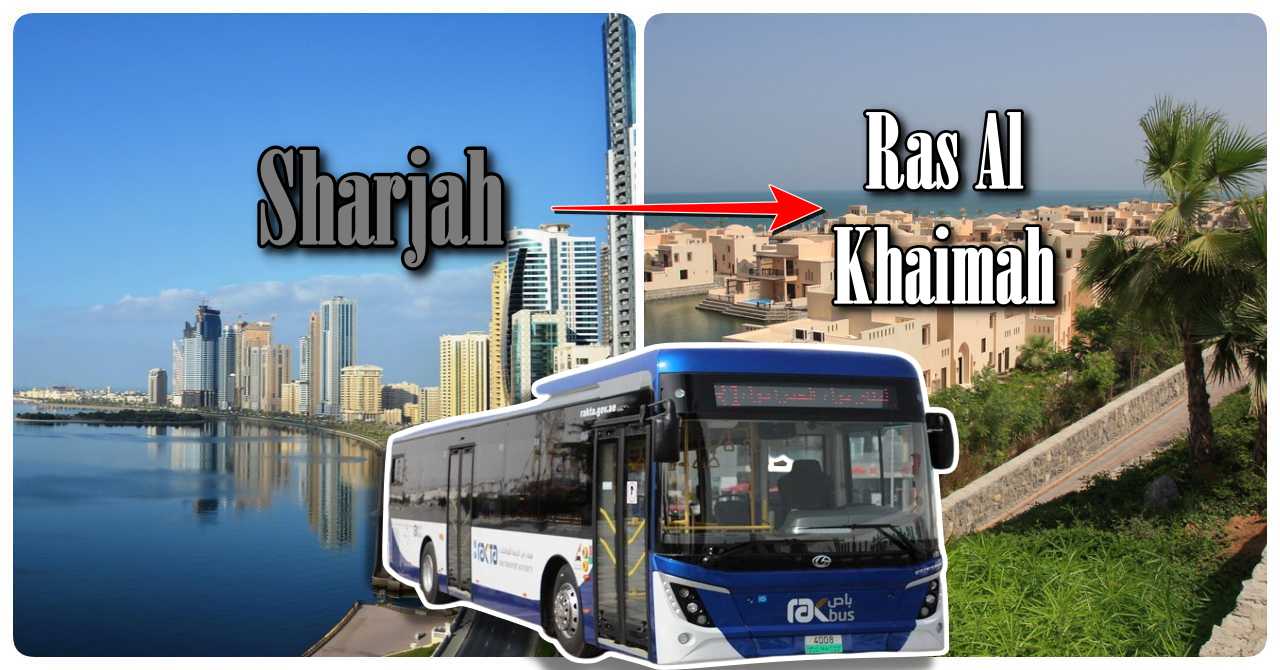 Considering the allure of Ras Al Khaimah as an emerging tourism hub, the journey from Sharjah becomes an enticing opportunity for both residents and visitors.
Ras Al Khaimah's captivating appeal lies in its diverse and picturesque landscapes, a stark contrast to the urban surroundings of Sharjah.
From the rolling sand dunes that evoke a sense of adventure to the tranquil coastal strips, salt flats, and enchanting mangroves, every step in Ras Al Khaimah unveils a unique facet of nature's beauty.
The presence of sulfur springs nestled near the mountain areas adds a touch of natural mystique, creating an ideal destination for those seeking relaxation and rejuvenation.
What's more, the emirate's rich biodiversity, home to a variety of wildlife including foxes, jerboas, and a plethora of bird species, offers an immersive experience in nature that is both educational and awe-inspiring.
By embarking on the journey from Sharjah to Ras Al Khaimah, travelers open the door to a world of exploration, where the charm of the natural world beckons with every passing mile.
Map
Here's a map of the route taken by the bus service plying between Ras Al Khaimah and Sharjah. This route takes approximately 2 hours to complete, depending on the road and weather conditions.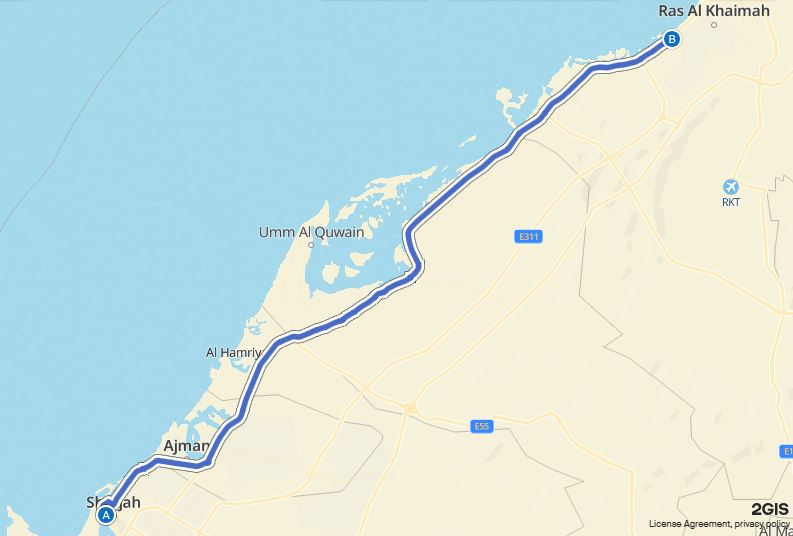 Route
1. Al Jubail Bus Terminal 3
Address: Al Jubail Bus Terminal 3, Corniche Road, Sharjah, UAE.
Nearby Landmarks:
Sharjah Maritime Museum: Delve into Sharjah's maritime history and seafaring traditions.
Al Noor Mosque: Admire the stunning architecture and serene ambiance of this beautiful mosque.
Al Majaz Waterfront: A bustling leisure destination with scenic views, restaurants, and recreational facilities.
Sharjah Aquarium: Explore the wonders of marine life and aquatic ecosystems at this educational attraction.
Take Bus 115
2. Ras Al Khaimah Bus Station
Address: Ras Al Khaimah Bus Station, Al Nakheel, Ras Al Khaimah, UAE.
Nearby Landmarks:
Al Hisn Fort: A historic fort that stands as a testament to the emirate's heritage.
RAK National Museum: Immerse yourself in Ras Al Khaimah's history and culture at this informative museum.
Al Naeem Mall: A prominent shopping destination with a diverse range of stores and eateries.
Bus Schedule and Timing
Frequency and Departure Intervals: When traveling from Sharjah to Ras Al Khaimah, the bus departs from Jubail Station with intervals of 30 to 45 minutes. This frequent schedule offers you the flexibility to plan your journey according to your convenience, ensuring you can catch a bus that aligns with your preferred timing.
Timetable Convenience Through Smart Application: To access accurate and current information about the bus station timetable for the Sharjah to Ras Al Khaimah route, you can rely on the RTA Sharjah smart application. This application provides real-time updates on bus schedules, enabling you to meticulously plan your trip. By downloading the app, you'll gain access to the most recent data about bus departure times, stops, and any potential modifications.
Daily Operations: The 115 bus route operates every day of the week, ensuring that you have dependable transportation available whenever you require it.
Consistent Operating Hours: The 115 bus route follows a regular schedule from 5:35 AM to 10:35 PM. This extensive timeframe guarantees that you can organize your travel plans across a broad range of hours, catering to diverse schedules and activities.
Bus Fare and Other Features
Fare and Journey Duration: Embarking on a trip from Sharjah to Ras Al Khaimah using Bus 115 guarantees an estimated travel time of approximately 2 hours.
The advantage of this relatively brief excursion is accompanied by an economical price, with the fare fixed at AED 27.
This reasonable cost ensures that you can cover the distance between these dynamic emirates without straining your finances.
Alternative Cost-effectiveness: If you're looking for a wallet-friendly choice, you might consider the inter-emirate buses that connect Sharjah and RAK. These buses present a budget-conscious substitute to the standard fare of Bus 115.
Dedication of Sharjah Transport: The Sharjah Transport Authority, responsible for Bus 115, takes great pride in delivering exceptional service to its passengers.
With a fleet exceeding 200 public buses, including those servicing intercity routes, you can have confidence in a seamless and cozy journey.
The buses are fully equipped with air conditioning, guaranteeing a comfortable experience even during the hottest months.
Furthermore, Sharjah Transport is committed to inclusivity, as demonstrated by the incorporation of specialized ramps and amenities tailored for People of Determination.
Other Transport Options
Car: Embarking on a journey from Sharjah to Ras Al Khaimah by car provides you with the chance to explore independently. The drive, which typically spans around 51 minutes, empowers you to dictate your own speed and relish the picturesque sights en route. The cost of the excursion ranges between AED 30 and AED 50, contingent upon variables like fuel costs and tolls. The liberty to pause at your discretion and savor unplanned detours introduces an element of impromptu delight to your travel escapade.
Taxi: Opting for a taxi offers a personalized and direct service, ensuring convenience. If your destination is Sharjah Airport from Ras Al Khaimah, the journey lasts approximately 60 minutes. Although the fare might be slightly higher compared to other alternatives, beginning at AED 125 (84 USD), the ease and luxury are undeniable. Booking a taxi in advance guarantees a smooth experience – simply specify your departure details and time, and the driver will meet you, aid with your luggage, and ensure a comfortable and stress-free ride.
Tips for Traveling by Bus from Sharjah to Ras Al Khaimah
Prepare in Advance: Prior to embarking on your journey, it's wise to plan ahead. Take a moment to review the bus schedule and timings, taking into account variables like traffic and potential delays. This thoughtful approach will enable effective time management and ensure you catch your desired bus without any last-minute hustle.
Stay Informed: Download the RTA Sharjah smart application or rely on other trustworthy sources to access real-time updates regarding bus schedules and routes. Remain informed about any modifications or interruptions that could impact your travel plans, empowering you to make necessary adjustments.
Opt for Cashless Transactions: While cash might be accepted on some buses, it's advisable to utilize a prepaid card or mobile app for seamless payment. This eliminates the need for exact change and expedites the boarding process.
Essential Comforts: Pack essential items for a pleasant journey, including a reusable water bottle, light snacks, a travel pillow, and any personal entertainment you may desire. These minor conveniences can significantly enhance your bus ride, particularly during lengthier trips.
Timeliness Matters: Ensure you reach the bus stop a few minutes prior to the scheduled departure time. Being punctual guarantees you won't miss the bus and provides the opportunity to secure a favorable seat.
Embrace Local Etiquette: Familiarize yourself with local customs and manners. Dress modestly, exhibit respectful behavior, and adhere to any rules or guidelines stipulated by the bus service.
Safeguard Your Possessions: Keep your belongings secure at all times. Utilize the designated storage areas for larger items within the bus and maintain vigilance over your personal belongings, especially in crowded surroundings.
Consider Alternatives: While Bus 115 remains a popular choice, it's worth exploring other transportation options such as taxis or private car services if you prioritize convenience, privacy, or specific scheduling.
Frequently Asked Questions
1. What is the frequency of buses from Sharjah to Ras Al Khaimah?
Buses from Sharjah to Ras Al Khaimah operate at 30-45 minute intervals, providing a frequent and convenient mode of transportation between the two emirates.
2. How long does the bus journey take from Sharjah to Ras Al Khaimah?
The entire bus journey from Sharjah to Ras Al Khaimah takes approximately 1 hour and 45 minutes, offering a relatively efficient way to travel between the two destinations.
3. How much does it cost to travel by bus from Sharjah to Ras Al Khaimah?
The bus fare for the journey from Sharjah to Ras Al Khaimah is AED 27, providing an affordable option for travelers seeking to explore these emirates.
4. Are the bus timings the same every day?
Yes, the bus route operates on an everyday basis, ensuring consistent service for travelers throughout the week.
5. Where can I find the exact bus timings for Sharjah to Ras Al Khaimah?
To access the precise and up-to-date bus timings for the Sharjah to Ras Al Khaimah route, you can refer to the RTA Sharjah smart application, which provides real-time information on bus schedules.
6. Are the buses air-conditioned?
Yes, the buses on the Sharjah to Ras Al Khaimah route are fully air-conditioned, ensuring a comfortable and pleasant journey, especially during warmer months.
7. Are there any special facilities for passengers with disabilities?
Absolutely, the buses are equipped with special ramps and facilities to cater to People of Determination, ensuring accessibility and inclusivity for all passengers.
8. Can I use cash to pay for the bus fare?
While some buses may accept cash, it's recommended to have a prepaid card or a mobile payment app for a smoother transaction process. These payment methods are more convenient and efficient.
Summary
In conclusion, embarking on a journey from Sharjah to Ras Al Khaimah has never been more convenient and appealing.
The availability of well-planned and frequent bus timings ensures a seamless and enjoyable travel experience, whether you're a local resident seeking new horizons or a curious traveler eager to explore the wonders of Ras Al Khaimah.
The bus service not only provides a comfortable mode of transportation but also presents an economical option for those looking to make the most of their journey.
READ NEXT: 12 Things to Do in Ras Al Khaimah