One of the best things about visiting the UAE is its connectivity, which allows travelers to explore the diverse landscapes and cultures that make up this remarkable nation. For those seeking to traverse the Emirates with ease, the bus routes and timings between Ras Al Khaimah and Sharjah offer a convenient and efficient mode of transportation.
Whether you're a first-time visitor exploring the UAE or a local resident looking to embark on a new adventure, understanding the Ras Al Khaimah to Sharjah bus timings will undoubtedly enhance your journey. In this guide, we'll delve into the details of these bus schedules, ensuring that you can navigate this route effortlessly and make the most of your time in the Emirates. Let's begin!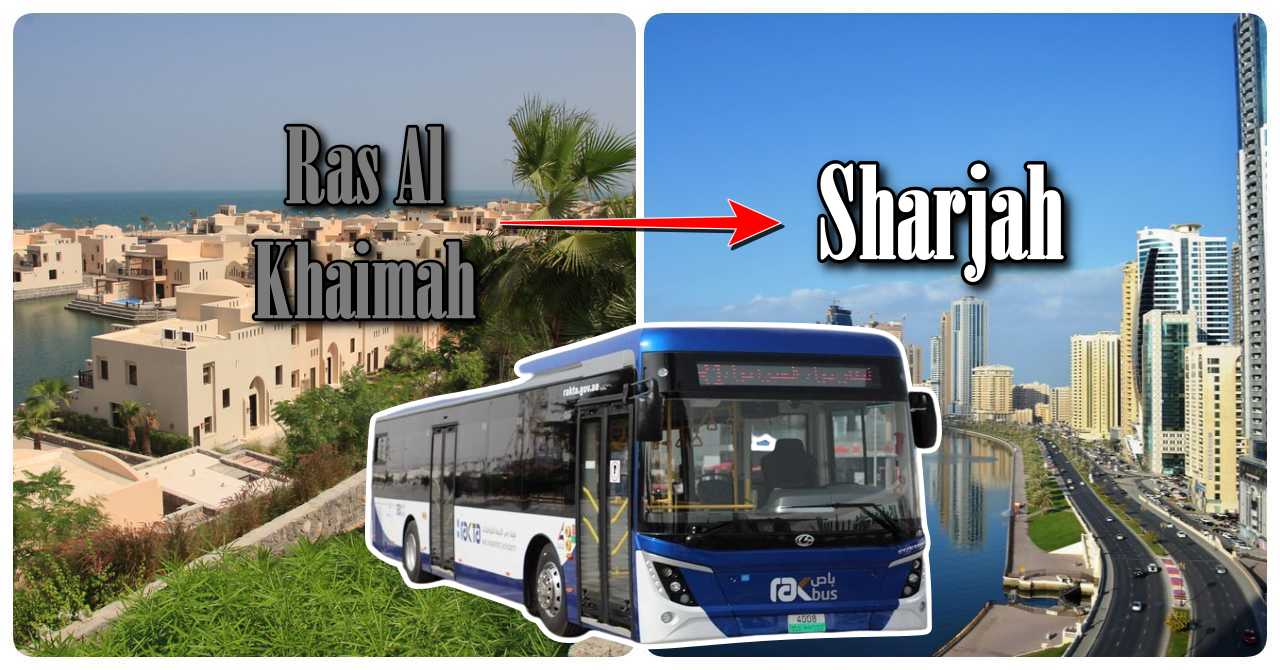 When considering a visit from Ras Al Khaimah to Sharjah, the allure of Sharjah's rich architectural heritage and cultural treasures cannot be ignored.
As mentioned earlier, one of the best aspects of exploring the UAE's connectivity is the opportunity to delve into diverse landscapes and cultures, and Sharjah epitomizes this idea.
With its historical gems such as the Heart of Sharjah, where echoes of the past resound through well-preserved structures, to the contemporary allure of Al Qasba and Al Majaz waterfront, this emirate offers a dynamic blend of history and modernity.
For first-time travelers and locals alike, Sharjah presents an enriching experience that allows you to immerse yourself in the tapestry of the UAE's heritage while basking in the vibrancy of its present.
Map
Here is the map of the route taken by buses from Al Hamra Bus Station in Ras Al Khaimah to Al Jubail Bus Terminal in Sharjah. This is serviced by a direct bus service (Bus 115) which takes approximately 1 hour and 50 minutes to complete without any stops.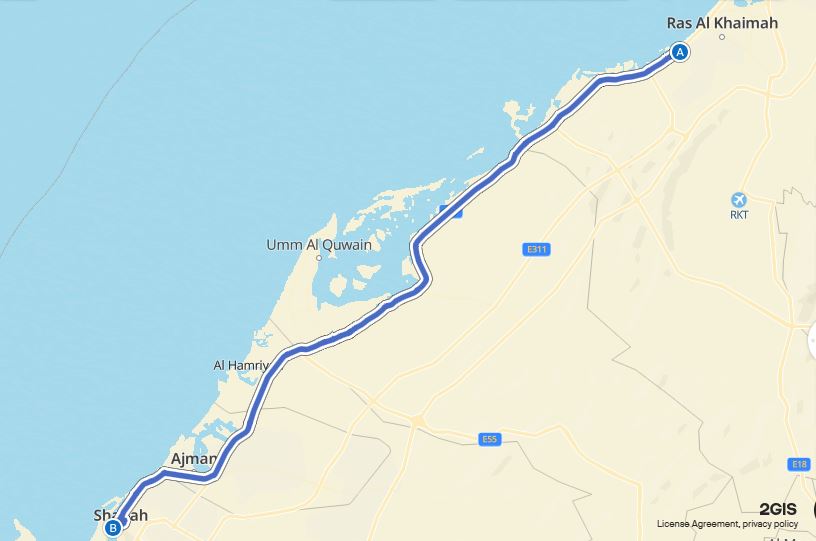 Route
1. Ras Al Khaimah Bus Station
Address: Ras Al Khaimah Bus Station, Al Nakheel, Ras Al Khaimah, UAE.
Nearby Landmarks:
Al Naeem Mall: A prominent shopping destination with a diverse range of stores and eateries.
RAK National Museum: Immerse yourself in Ras Al Khaimah's history and culture at this informative museum.
Al Hisn Fort: A historic fort that stands as a testament to the emirate's heritage.
>> Take Bus 115
2. Al Jubail Bus Terminal 3
Address: Al Jubail Bus Terminal 3, Corniche Road, Sharjah, UAE.
Nearby Landmarks:
Sharjah Aquarium: Explore the wonders of marine life and aquatic ecosystems at this educational attraction.
Al Majaz Waterfront: A bustling leisure destination with scenic views, restaurants, and recreational facilities.
Al Noor Mosque: Admire the stunning architecture and serene ambiance of this beautiful mosque.
Sharjah Maritime Museum: Delve into Sharjah's maritime history and seafaring traditions.
Bus Schedule and Timing
Frequency and Departure Intervals: The bus to Ras Al Khaimah departs from Jubail Station in Sharjah at 30-45 minute intervals. This frequent schedule ensures that you have flexibility in planning your travel, making it easier to catch a bus that suits your preferred timing.
Smart Application for Timetable: For precise and up-to-date information regarding the Sharjah to Ras Al Khaimah bus station timetable, you can rely on the RTA Sharjah smart application. This app provides real-time updates on bus schedules, allowing you to plan your journey with accuracy. Simply download the app, and you'll have access to the latest information about bus departure times, stops, and any potential changes.
Everyday Operations: The 115 bus route operates every day of the week, ensuring that you have access to this convenient mode of transportation whenever you need it.
Regular Schedule Hours: The regular schedule hours for the 115 bus route are from 5:35 AM to 10:35 PM. This extensive operating window ensures that you can plan your travel within a wide range of hours, accommodating various schedules and activities.
Bus Fare and Other Features
Fare and Journey Duration: Embarking on the journey from Sharjah to Ras Al Khaimah with Bus 115 promises an approximate travel time of one hour and 45 minutes.
The convenience of this relatively short journey comes at an affordable cost, with the fare set at AED 27.
This reasonable pricing ensures that you can traverse the distance between these two vibrant emirates without breaking the bank.
Alternative Affordability: For those seeking a budget-friendly option, consider the inter-emirate buses connecting Sharjah and RAK. These buses offer a cost-effective alternative to the regular fare of Bus 115.
Sharjah Transport's Commitment: The Sharjah Transport Authority, responsible for Bus 115, takes pride in providing top-notch service to its passengers.
With a fleet of over 200 public buses, including those operating on intercity routes, you can rest assured of a smooth and comfortable journey.
The buses are fully air-conditioned, ensuring a pleasant experience even during the hottest months.
Additionally, Sharjah Transport is dedicated to inclusivity, as evidenced by the presence of special ramps and facilities designed for People of Determination.
Other Transport Options
Car: Driving from Ras Al Khaimah to Sharjah presents an opportunity for independent exploration. The journey, which typically takes around 51 minutes, lets you set your pace and take in the scenic views along the way. The cost of the trip varies between AED 30 and AED 50, depending on factors like fuel prices and tolls. Having the freedom to stop at your leisure and enjoy detours adds a layer of spontaneity to your travel experience.
Taxi: For more personalized and door-to-door service, taxis offer a convenient option. If you're traveling from Ras Al Khaimah to Sharjah Airport, the journey takes approximately 60 minutes. While the fare may be higher than other options, starting from AED 125 (84 USD), the convenience and comfort are undeniable. Booking a taxi in advance ensures a hassle-free experience – simply specify your departure time and location, and the driver will meet you, assist with your luggage, and ensure a comfortable ride.
Tips for Traveling by Bus from Ras Al Khaimah to Sharjah
Plan Ahead: Before embarking on your journey, take some time to plan. Check the bus schedule and timings, and consider factors like traffic and potential delays. This will help you manage your time effectively and ensure you catch your desired bus without any last-minute rush.
Real-Time Updates: Download the RTA Sharjah smart application or use other reliable sources to access real-time updates on bus schedules and routes. Stay informed about any changes or disruptions that might affect your journey, allowing you to adjust your plans accordingly.
Cashless Payment: While some buses might accept cash, it's advisable to have a prepaid card or mobile app for seamless payment. This eliminates the need for exact change and speeds up the boarding process.
Comfort Essentials: Carry essential items for a comfortable journey, such as a refillable water bottle, light snacks, a travel pillow, and any personal entertainment you might need. These small comforts can make your bus ride more enjoyable, especially on longer journeys.
Be Punctual: Arrive at the bus stop a few minutes before the scheduled departure time. Being punctual ensures you don't miss your bus and allows you to secure a good seat.
Respect Local Customs: Familiarize yourself with local customs and etiquette. Dress modestly, adhere to respectful behavior, and follow any rules or guidelines set by the bus service.
Secure Your Belongings: Keep your belongings secure at all times. Use the bus's designated storage areas for larger items and always keep an eye on your personal belongings, especially in crowded spaces.
Explore Alternatives: While Bus 115 is a popular choice, consider exploring other transport options like taxis or private car services if you value convenience, privacy, or specific timing.
Frequently Asked Questions
1. What is the frequency of buses from Ras Al Khaimah to Sharjah?
Buses from Ras Al Khaimah to Sharjah operate at 30-45 minute intervals, providing a frequent and convenient mode of transportation between the two emirates.
2. How long does the bus journey take from Ras Al Khaimah to Sharjah?
The entire bus journey from Ras Al Khaimah to Sharjah takes approximately 1 hour and 45 minutes, offering a relatively efficient way to travel between the two destinations.
3. How much does it cost to travel by bus from Ras Al Khaimah to Sharjah?
The bus fare for the journey from Ras Al Khaimah to Sharjah is AED 27, providing an affordable option for travelers seeking to explore these emirates.
4. Are the bus timings the same every day?
Yes, the bus route operates on an everyday basis, ensuring consistent service for travelers throughout the week.
5. Where can I find the exact bus timings for Ras Al Khaimah to Sharjah?
To access the precise and up-to-date bus timings for the Ras Al Khaimah to Sharjah route, you can refer to the RTA Sharjah smart application, which provides real-time information on bus schedules.
6. Are the buses air-conditioned?
Yes, the buses on the Ras Al Khaimah to Sharjah route are fully air-conditioned, ensuring a comfortable and pleasant journey, especially during warmer months.
7. Are there any special facilities for passengers with disabilities?
Absolutely, the buses are equipped with special ramps and facilities to cater to People of Determination, ensuring accessibility and inclusivity for all passengers.
8. Can I use cash to pay for the bus fare?
While some buses may accept cash, it's recommended to have a prepaid card or a mobile payment app for a smoother transaction process. These payment methods are more convenient and efficient.
Summary
In conclusion, the UAE's exceptional connectivity opens up a world of exploration, inviting travelers to immerse themselves in the diverse wonders of this extraordinary nation.
The seamless bus routes and well-structured timings between Ras Al Khaimah and Sharjah provide a gateway to this immersive experience.
Whether you're a curious newcomer eager to uncover the UAE's treasures or a seasoned local seeking fresh perspectives, mastering the Ras Al Khaimah to Sharjah bus timings enriches your journey.
READ NEXT: 12 Things to Do in Sharjah