In one of our previous posts, we looked at the Al Ain to Fujairah Bus Timings, providing you with essential information for your travel needs. In this installment, we shift our focus to the reverse journey, exploring the convenient Fujairah to Al Ain Bus Timings.
Whether you're a traveler seeking to explore the historical charm of Al Ain or a resident of Fujairah planning a visit to the bustling city, understanding the bus schedules can greatly enhance your journey. Join us as we delve into the details of these bus timings, ensuring a smooth and enjoyable travel experience, even for first-time travelers.
When journeying from Fujairah to Al Ain, you open the door to a captivating world of cultural treasures and natural wonders.
As you venture into Al Ain city, you'll find yourself immersed in a lush oasis paradise, where ancient palms and serene pathways invite leisurely strolls.
The echoes of history resonate through the air as you explore historical forts and archaeological parks, each unveiling tales of a bygone era through precious artifacts.
Immerse yourself in the grandeur of old-world palaces, a testament to the city's rich heritage and regal past.
For those seeking an authentic Emirati experience, the charming camel market and bustling souks present an array of locally crafted treasures, aromatic spices, exquisite carpets, alluring perfumes, and much more.
The journey from Fujairah to Al Ain becomes not just a mere trip, but a captivating odyssey through time and culture, perfect especially for first-time visitors seeking enriching encounters.
Map
Here is a map of the route taken by buses plying from Fujairah to Al Ain. This trip requires bus transfers, and the total travel time is 7 hours and 20 minutes, depending on the road and weather conditions.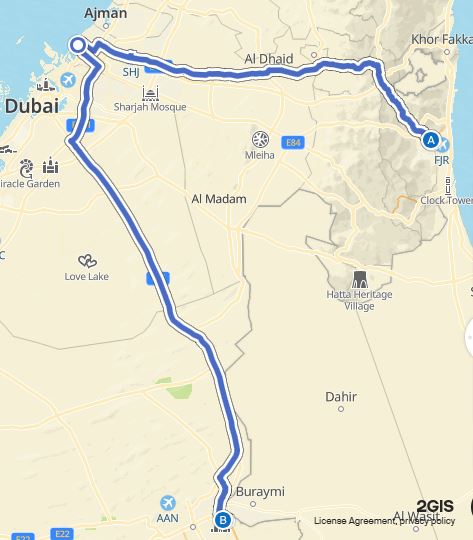 Route
1. Fujairah Bus Station, External:
Address: Fujairah Bus Station, Fujairah, United Arab Emirates
Notable Landmarks: Located in the heart of Fujairah city, near commercial and residential areas. Close to Fujairah's central market and shopping districts.
>> Take Bus 116 / 611
2. Masafi, Police Station:
Address: Masafi Police Station, Masafi, Fujairah, United Arab Emirates
Notable Landmarks: Situated in the town of Masafi, near the iconic Masafi Friday Market and the Masafi Water Factory. Easily accessible from major roads.
3. Dhaid, Central Region Department:
Address: Central Region Department, Dhaid, Sharjah, United Arab Emirates
Notable Landmarks: Found in Dhaid, a historic town in Sharjah, close to the Dhaid Fort and Dhaid Palace. Positioned along the main road connecting Fujairah and Sharjah.
4. Dhaid, Post Office:
Address: Dhaid Post Office, Dhaid, Sharjah, United Arab Emirates
Notable Landmarks: Located near Dhaid's central market and prominent government buildings. Easily identifiable from the main road.
5. Sharjah Airport Terminal:
Address: Sharjah International Airport, Sharjah, United Arab Emirates
Notable Landmarks: A major international airport offering a range of services and facilities. Well-connected to the city of Sharjah and neighboring areas.
>> Get off after «Sharjah Airport Terminal»
6. Al Jubail Bus Terminal 4:
Address: Al Jubail Bus Terminal 4, Sharjah, United Arab Emirates
Notable Landmarks: Situated in the Al Jubail area of Sharjah, close to the Al Jubail Fish Market and Al Jubail Souq. Easily accessible from the main road.
>> Transfer to the next terminal
7. Al Jubail Bus Terminal 2:
Address: Al Jubail Bus Terminal 2, Sharjah, United Arab Emirates
Notable Landmarks: Positioned in the Al Jubail area of Sharjah, near the Khalid Lagoon and the Sharjah Art Museum. Conveniently located for travelers.
>> Take Bus 118 then get off at the next stop
8. Al Ain Central Bus Station:
Address: Al Ain Central Bus Station, Al Ain, United Arab Emirates
Notable Landmarks: Located in the heart of Al Ain city, near the Al Ain Mall and the Al Ain Oasis. A key transportation hub in the city.
Bus Schedule and Timings
Bus 116
Route: Fujairah to Sharjah
Operating Hours: The bus operates from 5:30 AM to 11:00 PM, offering a substantial window for travel.
Frequency: With a commitment to your convenience, Bus 116 operates at a regular interval of every 30 minutes. This well-planned schedule ensures that you have multiple opportunities to embark on your journey, allowing for flexibility in your travel plans.
Bus 118
Route: Sharjah to Al Ain
Early Morning Run (3:45 AM – 6:00 AM): Start your day with a convenient ride on Bus 118 during this window. The bus operates at an interval of every 45 minutes, allowing you flexibility for your early morning commutes. Whether you're catching an early flight or embarking on an adventure, Bus 118 ensures you have reliable transportation.
Daytime Travel (6:00 AM – 11:00 PM): Throughout the day, from 6:00 AM to 11:00 PM, Bus 118 runs at a steady interval of every 60 minutes. This consistent schedule caters to various travel needs, whether you're heading to work, exploring the city, or simply enjoying your day.
Bus Fare and Other Features
Bus 116
Affordable Bus Fare: For those who value economical travel without compromising on quality, Bus 116 stands as an excellent choice. The current fare for a single journey along this captivating route is a mere 27 AED.
This budget-friendly option makes it an attractive selection for individuals seeking to explore the beauty of the city while being mindful of their expenses. Whether you're a local resident or a curious traveler, Bus 116 ensures that you can revel in the journey without breaking the bank.
Enhanced Amenities for Unmatched Comfort: The Sharjah Roads and Transport Authority (SRTA) has left no stone unturned in ensuring your comfort and convenience during your voyage on Bus 116. Prepare to be captivated by an array of thoughtful amenities that redefine your travel experience:
Cooling System: Step aboard Bus 116 to find yourself enveloped in a refreshing ambiance. The state-of-the-art onboard air conditioning system ensures that you remain comfortable and at ease throughout your journey, regardless of the external weather conditions. Say goodbye to discomfort and hello to a relaxing atmosphere that accompanies you every step of the way.
Information Displays: Stay engaged and well-informed as you travel with the aid of strategically placed information screens. These displays provide real-time updates on the route, upcoming stops, and other essential details. This interactive feature ensures that you remain connected to your journey, making every moment an opportunity for discovery and engagement.
Priority Seating for Women and Children: Bus 116 is considerate of the diverse needs of its passengers. For the comfort and security of women and children, dedicated priority seating is thoughtfully provided. This ensures a safe and comfortable space for those who require it, adding an extra layer of care to your travel experience.
Special Accommodations: Inclusivity is a core principle embraced by SRTA, and Bus 116 exemplifies this commitment. Passengers with special needs are catered to through meticulously designed amenities. Access ramps and designated seating zones are available to comprehensively address the unique requirements of all travelers, ensuring that no one is left behind.
Bus 118
Affordable One-Way Fare: Traveling has never been more cost-effective. Bus 118 offers a pocket-friendly one-way ticket price of just 33 AED, making it an economical choice for budget-conscious travelers.
Well-Equipped Stations: With a commitment to passenger comfort, Bus 118 boasts 17 fully equipped stations strategically located for easy access. These stations provide a seamless transition between routes, enhancing the overall travel experience.
Timely Information: Stay well-informed throughout your journey. Most bus stops are equipped with comprehensive information regarding bus timings and schedule dates, allowing you to plan your travel with confidence.
Continuous Comfort: Experience a comfortable ride every time. Bus 118 boasts air-conditioned buses that operate seamlessly throughout the day, ensuring a pleasant environment for passengers regardless of the weather.
Convenient Cafeteria & Vending Machines: Hunger and thirst are no longer concerns on your journey. Cafeteria and vending machines are available at all main bus stops, providing quick and convenient refreshment options.
E-Card Machines for Easy Tagging: Efficiency is key, and Bus 118 makes it simple. E-Card machines allow you to tag in and out effortlessly, streamlining the boarding process and ensuring a hassle-free travel experience.
Accessibility for All: Bus 118 is committed to inclusivity. The service provides facilities for people of determination, including designated spaces for wheelchairs and other special needs.
Information Screens for Guidance: Stay informed and up-to-date. Multiple information screens are positioned at key bus stops, offering detailed bus stop information and general notifications.
Other Transport Options
Taxi: When time is of the essence, a taxi can be your go-to choice. With an estimated travel time of just 1 hour and 54 minutes, taxis offer the fastest way to reach your destination. While it's a speedy option, it's important to note that convenience comes at a cost. Taxi fares typically range from AED 390 to 480, making it a premium choice for those prioritizing speed.
Driving: If you prefer to maintain control over your travel experience, driving yourself is an appealing choice. Covering a distance of 179.5 km, the drive can be completed in approximately 1 hour and 54 minutes – the same as a taxi. While you'll have the convenience of your own vehicle and the flexibility to set your schedule, it's important to consider fuel costs, tolls, and potential parking fees. The estimated cost for this option ranges from AED 73 to 106.
Tips when Taking Intercity Buses in the UAE
Plan in Advance and Check Timetables
Prior to embarking on your intercity bus expedition, allocate some time for trip planning. Conduct research on bus routes, schedules, and designated stops to gain a clear comprehension of your expedition. Note down departure and arrival times, along with potential layovers or required transfers.
Arrive Ahead of Schedule
Ensuring an early arrival at the bus terminal or stop allows you ample time to locate your bus, stow your baggage, and settle in comfortably. Punctuality also mitigates unwarranted stress and facilitates the bus's punctual departure.
Carry Valid Identification
When journeying via intercity bus, it is imperative to carry valid identification, such as a passport or Emirates ID. These credentials may be necessitated for ticket verification and security protocols.
Pack Necessities
Assemble a compact travel kit containing essentials like water, snacks, a travel pillow, a jacket (as buses can become chilly), an electronic device charger, and any requisite medications for the duration of the excursion.
Adhere to Regulations
Abide by the rules and regulations outlined by the bus company. This entails complying with assigned seating, refraining from smoking or partaking in prohibited substances on board, and treating co-passengers and staff members with courtesy.
Maintain Connectivity
Ensure your mobile phone remains charged and keep a portable power bank within reach to sustain connectivity. This proves especially advantageous if you require access to information, maps, or contact particulars during your voyage.
Cultivate Cultural Sensitivity
The UAE boasts a rich cultural heritage, warranting a show of reverence for local customs and traditions while utilizing intercity buses. Dress modestly and exercise prudence in your conduct, fostering a positive experience for yourself and fellow travelers.
Familiarize Yourself with Your Destination
Acquire a general familiarity with your intended destination and notable landmarks in the vicinity. This aids in recognizing your impending stop and averts any potential confusion.
Stay Well-Informed
Remain apprised of any possible alterations in service, route deviations, or delays. Employ official bus company websites, applications, or customer service helplines to receive real-time updates.
By adhering to these tips, you will be suitably equipped to embark on your intercity bus sojourn within the UAE. Whether you are an inhabitant exploring novel locales or a guest immersing yourself in the nation's vibrant culture, intercity buses provide a convenient and enriching mode of travel.
Frequently Asked Questions
1. How long is the bus journey from Fujairah to Al Ain?
The bus journey from Fujairah to Al Ain typically takes approximately 7 hours and 20 minutes depending on traffic and other factors.
2. How frequently do the buses operate on the Fujairah to Al Ain route?
Buses on the Fujairah to Al Ain route usually operate with a frequency of 30-60 minutes, providing convenient options for travelers.
3. Are the buses air-conditioned?
Yes, all buses on the Fujairah to Al Ain route are air-conditioned, ensuring a comfortable and pleasant travel experience regardless of the weather.
4. Where can I find information about bus timings and schedules?
You can easily access information about Fujairah to Al Ain bus timings and schedules through various channels, the RTA website, social media pages, mobile apps, or customer service helpline.
5. Do I need to make a reservation in advance for the bus?
Reservations are not required for the Fujairah to Al Ain bus route. Buses operate on a first-come, first-served basis, allowing you to board based on the available seats.
6. Are there any stops or notable landmarks along the way?
Along the Fujairah to Al Ain bus route, noteworthy stops and landmarks include Masafi Police Station, situated near the iconic Masafi Friday Market and Water Factory. In Dhaid, discover the historic Dhaid Fort and Palace, while Sharjah Airport Terminal offers international connectivity. Al Jubail Bus Terminal 4 connects to the vibrant Al Jubail Fish Market and Souq. Transfer to Al Jubail Bus Terminal 2 near Khalid Lagoon and Sharjah Art Museum. Finally, Al Ain Central Bus Station, nestled by Al Ain Mall and Oasis, serves as a central transportation hub.
7. Can I bring luggage to the bus?
Yes, you can bring your luggage with you on the bus. There is usually a designated space for luggage storage within the bus.
8. Are there any special facilities for passengers with disabilities?
Buses on this route often provide facilities for passengers with disabilities, including wheelchair-accessible spaces and other accommodations to ensure a comfortable journey for all travelers.
Summary
In conclusion, our journey from Fujairah to Al Ain provided us some valuable information for your convenience.
Whether you're an adventurer uncovering Al Ain's historical allure or a Fujairah local embarking on a city escapade, comprehending these bus schedules becomes paramount.
By delving into these details, you can benefit from seamless and delightful travel experiences, catering to both the seasoned explorer and the first-time traveler alike.
READ NEXT: 7 Places to Visit in Al Ain City