There are a few things that can surely make a trip go wrong, and one of them is not having reliable transportation options. Fortunately, the UAE isn't one of those places. So, if you're looking to explore the scenic journey from Al Ain to Fujairah, understanding the bus timings is essential.
Whether you're a traveler seeking to immerse yourself in the natural beauty of the UAE's landscapes or a resident planning a weekend getaway, having access to accurate and up-to-date bus schedules can significantly enhance your travel experience. In this guide, we'll look into the details of the Al Ain to Fujairah bus timings, ensuring that your journey is not only hassle-free but also filled with anticipation for the adventures that await you along the way. Let's get started!
With its rugged mountains, valleys, waterfalls, oases, and expansive sandy beaches, Fujairah presents an enticing destination that beautifully complements the journey from Al Ain.
As mentioned earlier, the Al Ain to Fujairah bus timings provide a convenient way to access this stunning region. Fujairah's unique geography, including the mesmerizing Wadi Al Wurayah waterfalls and the serene Ain Al Madhab Gardens, beckons travelers to immerse themselves in its natural wonders.
Moreover, the historic Al Bidya Mosque and the enriching Heritage Village offer glimpses into the rich cultural heritage of the area.
What makes Fujairah particularly appealing is its more moderate climate compared to the urban heat of Abu Dhabi and Dubai.
This climatic contrast entices weekend explorers seeking refuge from high temperatures, allowing them to unwind and relish in Fujairah's tranquil and rejuvenating ambiance.
As you plan your journey from Al Ain to Fujairah, consider the wealth of attractions and experiences that await you, promising a captivating getaway amidst nature's beauty and cultural treasures.
Map
Here is a map of the route taken by buses from Al Ain's Al Madina Petrol Station to Masafi Police Station Bus Stop in Fujairah. This trip will require you to take the Metro as well as transfer buses, for a total travel time of 5 hours and 50 minutes, depending on traffic and weather conditions.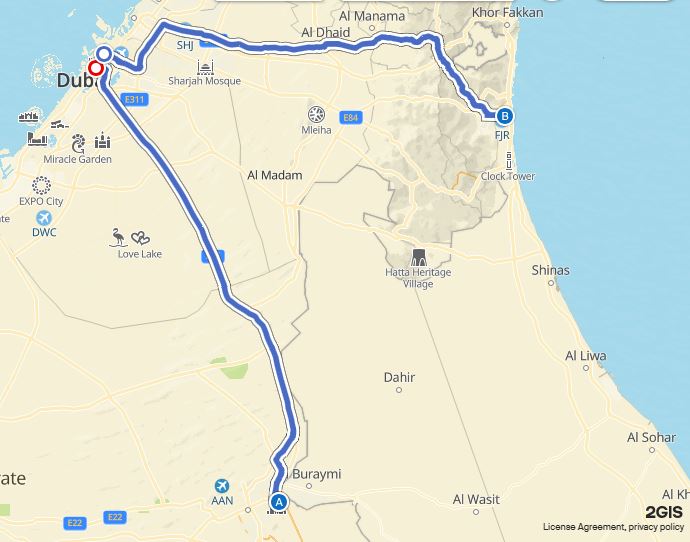 Route
1. Al Madina Petrol Station 2
Address: Al Wuheida Road, Hor Al Anz, Deira, Dubai
Notable Landmarks: Hor Al Anz Park, Abu Hail Center
>> Take Bus E201
2. Max Metro Bus Stop Landside
Address: Al Nahda Street, Al Qusais Industrial Area 3, Al Qusais, Dubai
Notable Landmarks: Al Qusais Pond Park, Al Bustan Centre
>> Take the Max Metro bus or the MRed to Union Metro
3. Max Metro Station 1
Address: Damascus Street, Al Qusais Industrial Area 2, Al Qusais, Dubai
Notable Landmarks: Al Twar Mall, Dubai Police General Headquarters
4. Union Metro Station 1
Address: Union Square, Deira, Dubai
Notable Landmarks: Al Ghurair Centre, Reef Mall, Deira Twin Towers
>> Transfer to the next station
5. Union Square Bus Station 6
Address: Baniyas Road, Deira, Dubai
Notable Landmarks: Gold Souk, Spice Souk, Dubai Creek
>> Take Bus E700
6. Masafi, Police Station 1
Address: Al Ghubaiba Road, Masafi, Fujairah
Notable Landmarks: Friday Market (Souq Al Juma), Masafi Park
Bus Schedule and Timings
Bus E201
Timing: The E201 bus service operates from 05:30 am, providing an early-morning option for those looking to start their day early. The service continues until 12:00 am, allowing you to travel until midnight.
Frequency: During peak hours, buses depart every 30 minutes, ensuring a consistent and reliable schedule for commuters and travelers. This frequent service is particularly beneficial for those with time-sensitive travel plans.
Dubai Buses
Operating Hours: Dubai Bus operates from 04:00 in the morning until 01:00 on the next day. This extensive window of operation allows you to travel comfortably during various parts of the day.
Frequency: Buses are scheduled to run every 60 minutes. This regular interval ensures that you can rely on a consistent and predictable timetable, making your travel planning hassle-free.
Whether you're an early riser seeking to start your day with an adventure, a commuter heading to work, or an explorer looking to experience Dubai's vibrant nightlife, the Dubai Bus schedule caters to your diverse needs.
Bus E700
Weekdays Schedule (Sunday to Thursday):
The bus service kicks off at 06:35 am, offering an early start for commuters and travelers.
Throughout the day, buses operate at regular intervals, providing frequent options for your convenience.
The last bus departs at 09:35 pm, ensuring you have ample time to complete your journeys.
Weekend Variations (Friday and Saturday):
Please note that the bus timings on weekends may differ slightly from weekdays. It's recommended to check with the official service provider or refer to updated schedules for accurate timings.
Special Monday Schedule:
On Mondays, the bus service caters to early risers, commencing at 05:30 am.
The service continues throughout the day, providing consistent transportation options.
The last bus of the day leaves at 12:00 am, ensuring you're covered for late-night travels as well.
Bus Fare and Other Features
Bus E201
Affordable Bus Fare: The bus fare from Dubai to Al Ain is incredibly wallet-friendly, costing just 25 AED (£5.35, €6.26, $6.81). This fare offers exceptional value, especially when compared to the expenses of taking a taxi or renting a car for the journey.
Nol Card Convenience: To make your journey seamless, Bus E201 and other public transportation options operate on the Nol Card system, a contactless travel card. Nol Cards can be easily obtained and topped up at Dubai Metro stations and Dubai Bus stations. These versatile cards allow you to pay for both bus and metro fares, streamlining your travel experience.
Easy Fare Payment: Paying your bus fare is a breeze with the Nol Card. Simply tap your card on the reader as you board and disembark from the bus. The fare will be automatically deducted from your card balance, offering a quick and efficient way to manage your travel expenses.
Comfort and Connectivity: While Bus E201 might not be the fastest option for traveling between the two cities, it certainly stands out as the most budget-friendly alternative. Despite its affordable fare, the bus doesn't compromise on comfort and amenities. Passengers can enjoy complimentary WiFi and access to power outlets during the journey, ensuring that you remain connected and entertained throughout.
Quick and Direct Route: Bus E201 offers a direct route set up by the Road and Transport Authority (RTA) and the Department of Transportation (DoT), making it an efficient choice for navigating Al Ain and its surroundings. The bus ensures that you reach your destination promptly, without the stress of transfers or complicated routes.
Ideal for Budget Travelers: For individuals seeking to make the most of their travel budget, Bus E201 is the ideal solution. With its affordable fare, comfortable amenities, and straightforward fare payment process, it's the perfect option for those looking to explore Al Ain without breaking the bank.
Dubai Buses
NOL Card for Easy Fare Payment
The NOL Card is your gateway to hassle-free fare payment on Dubai's buses. With different card types such as Red, Silver, Gold, or Personalised, you can choose the one that best suits your needs and preferences.
Whether you're a regular commuter or an occasional traveler, the NOL Card streamlines your fare payment process, allowing you to focus on your journey.
Fare Calculation Based on Card Type and Zones
Remember, the fare you pay for your Dubai bus ride depends on your choice of NOL Card and the zones you traverse. As you embark on your journey, keep in mind that the fare calculation takes these factors into account.
The more zones you cross, the higher your resulting bus fare.
In this case, the bus fare from Max Metro Bus Stop to Max Metro Station 1 is between AED 3 – AED 6.
This flexible fare system ensures that you're charged appropriately for the distance you travel, making it a fair and equitable way to pay for your rides.
Zones: Affecting Your Bus Fare
Dubai's bus fare structure is zone-based. This means that the city is divided into different zones, and the fare you pay varies based on the number of zones you pass through during your journey.
Whether you're traveling within a single zone for a quick errand or crossing multiple zones to explore different parts of the city, the fare calculation takes into consideration the extent of your travel.
Features that Enhance Your Bus Experience
Dubai's public bus system goes beyond affordability—it's designed to make your journey comfortable and efficient.
Air-conditioned bus stations provide respite from the heat, ensuring a pleasant wait for your bus.
Additionally, separate compartments for women and families prioritize safety and convenience, creating a welcoming environment for all passengers.
Bus E700
Bus Fare and Payment
The bus fare for the E700 route from Fujairah to Dubai is 28 AED.
To pay for your fare, you can use the convenient Nol Card.
Before boarding the bus, remember to check your Nol card balance to ensure you have sufficient funds for your trip.
The Nol Card makes payment hassle-free and ensures a seamless transition onto the bus.
Comfortable and Accessible Seating
All buses on the E700 route are equipped with air-conditioning to provide a comfortable journey, especially during warmer days.
The seats are designed for passenger comfort, making your ride from Fujairah to Dubai a pleasant experience.
Moreover, passengers with special needs are catered to with reserved seating areas, ensuring inclusivity and accessibility for everyone.
Inclusive Amenities
Bus E700 prides itself on being inclusive and accommodating.
Reserved spots for people of determination further enhance the accessibility of the service.
Passengers with specific needs can rest assured that their comfort and convenience are priorities on this route.
Other Transportation Options
Taxi – Fast and Convenient
Duration: 1 hour 52 minutes
Cost: AED 390–470 (approximately)
Opting for a taxi provides you with a direct and hassle-free journey from Fujairah to Dubai. Taxis offer the advantage of door-to-door service, ensuring you reach your destination without any detours. While it might be a relatively higher-cost option, the convenience and comfort make it a popular choice for those seeking a quick transit.
Driving – Flexibility and Scenic Drive
Distance: 177.1 km
Duration: 1 hour 52 minutes
Cost: AED 72–104 (approximately)
Driving yourself from Fujairah to Dubai offers the flexibility to set your own pace and enjoy the scenic route along the way. With well-maintained roads and clear signage, the drive can be an enjoyable experience. Additionally, this option gives you the freedom to explore points of interest or make stops en route, adding a personalized touch to your journey.
Both taxi and driving options share the same travel time of 1 hour 52 minutes, making them equally efficient in terms of duration. While taxis are convenient and cater to those who prefer not to drive, driving yourself offers more control over your journey and potentially lower costs.
Whichever option you choose, rest assured that you'll be able to travel swiftly and comfortably between Fujairah and Dubai. Consider your budget, preferences, and the experience you wish to have, and then select the mode of transportation that aligns best with your travel goals.
Tips when Taking Intercity Buses in the UAE
Plan Ahead and Check Schedules
Before you embark on your intercity bus adventure, take some time to plan your trip. Research the bus routes, schedules, and stops to have a clear understanding of your journey. Make note of departure and arrival times, as well as any layovers or transfers that may be required.
Arrive Early
Arriving at the bus terminal or stop a bit early ensures you have ample time to find your bus, store your luggage, and settle in comfortably. Being punctual also helps prevent unnecessary stress and allows the bus to depart on time.
Carry Valid Identification
When traveling by intercity bus, it's essential to carry valid identification, such as a passport or Emirates ID. These documents may be required for ticket verification and security checks.
Pack Essentials
Prepare a small travel kit with essentials like water, snacks, a travel pillow, a jacket (as buses can get chilly), a charger for your electronic devices, and any medications you might need during the journey.
Respect the Rules
Follow the rules and guidelines set by the bus company. This includes adhering to seat assignments, refraining from smoking or consuming prohibited substances onboard, and treating fellow passengers and staff with respect.
Stay Connected
Keep your phone charged and have a power bank handy to stay connected. This is especially important if you need to access information, maps, or contact details during your journey.
Respect Local Customs
The UAE has a rich cultural heritage, and it's important to respect local customs and traditions while using intercity buses. Dress modestly and be mindful of your behavior to ensure a positive experience for yourself and others.
Know Your Destination
Have a general idea of your destination and landmarks in the area. This will help you recognize when you're nearing your stop and prevent any confusion.
Stay Informed
Stay informed about any potential service changes, route diversions, or delays. Utilize official bus company websites, apps, or customer service helplines to receive updates.
By following these tips, you'll be well-prepared to embark on your intercity bus journey in the UAE. Whether you're a resident exploring new places or a visitor immersing yourself in the country's vibrant culture, intercity buses offer a convenient and enriching way to travel.
Frequently Asked Questions
1.  How often do buses run from Al Ain to Fujairah?
Buses from Al Ain to Fujairah operate at regular intervals, typically every 30 minutes to a few hours. The exact frequency may vary based on the day of the week and specific timings.
2.  What is the approximate travel time between Al Ain and Fujairah by bus?
The travel time between Al Ain and Fujairah by bus is approximately 5 hours and 48 minutes, considering factors such as traffic and road conditions.
3.  Are there any stops or layovers during the journey from Al Ain to Fujairah?
Yes, some bus routes may have intermediate stops or layovers along the way. You may refer to the bus route provided in this guide to determine if there are any stops or landmarks along this route.
4.  How much does it cost to travel from Al Ain to Fujairah by bus?
Bus fare for the Al Ain to Fujairah route range from AED 53 – 74. This is much more affordable and convenient to pay than using taxi services or driving a  car.
5.  Can I use my Nol Card to pay for the bus fare from Al Ain to Fujairah?
Nol Cards are primarily used for public transportation in Dubai. Different bus routes may have different payment methods, so it's advisable to check with the specific bus service regarding accepted payment options.
6.  Are there any discounts available for students or senior citizens traveling from Al Ain to Fujairah by bus?
Yes, there are discounts available for students, senior citizens, and Persons of Determination traveling from Al Ain to Fujairah by bus. If you fall into any of these categories, you can obtain discounts on your bus or Metro fares by applying for a Nol Blue card. This card provides special fare rates and benefits for eligible individuals, making your journey more affordable and accessible.
7.  How can I stay updated on Al Ain to Fujairah bus timings and any changes in the schedule?
You can stay informed about bus timings and schedule changes by using the RTA website, social media pages, mobile apps, or contacting their customer service helpline. Additionally, third-party transit apps might provide real-time updates.
8.  Can I make a reservation for a specific bus departure from Al Ain to Fujairah?
No, there is no option for advance ticket reservations as of the moment for the buses plying between Al Ain and Fujairah. However, rest assured that buses on this route are frequent, ensuring that you have multiple departure options throughout the day. While reservations may not be available, the frequent schedule allows for flexibility in your travel plans, making it convenient to catch a bus at a time that suits your itinerary.
Summary
In the vibrant landscape of the UAE, where reliable transportation is a cornerstone of a successful trip, your journey from Al Ain to Fujairah is set to be an exceptional experience.
Whether you're an intrepid traveler seeking to weave through the breathtaking landscapes or a local planning a rejuvenating weekend escape, the realm of accurate and up-to-date bus timings unveils itself as a key to unlocking remarkable adventures.
As you embark on this venture, the promise of a hassle-free journey and the allure of remarkable discoveries along the way await you.
READ NEXT: 12 Things to Do in Fujairah