In one of our previous posts, we looked at the bus timings for those traveling from Ras Al Khaimah to Abu Dhabi. With the UAE's excellent intercity bus network, it's now time to turn our attention to the return journey. If you're planning a trip from Abu Dhabi to Ras Al Khaimah and are curious about the bus timings, you're in the right place.
Whether you're a resident looking for a convenient way to explore neighboring emirates or a tourist eager to soak in the diverse landscapes of the UAE, understanding the bus schedules can make your travel plans smoother. Let's delve into the details of the Abu Dhabi to Ras Al Khaimah bus timings and how this efficient mode of transportation can enhance your journey.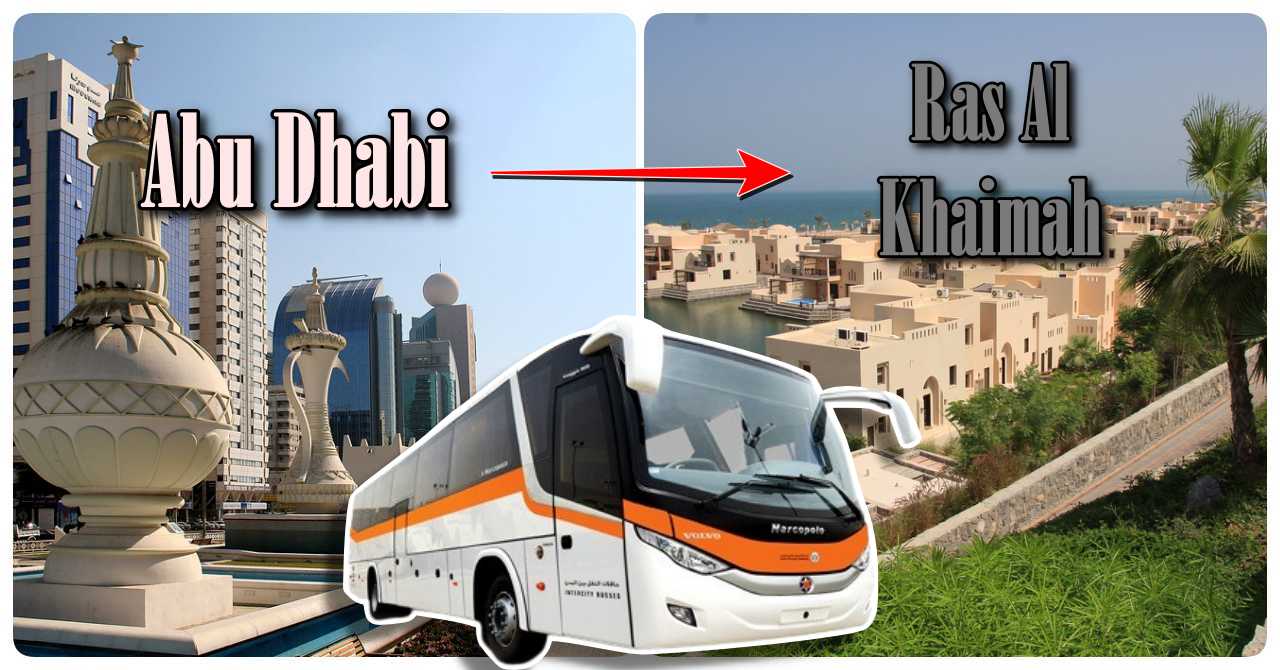 Exploring Ras Al Khaimah from Abu Dhabi presents a captivating opportunity to uncover the lesser-known gems of the United Arab Emirates.
Situated near the northernmost point of the country, Ras Al Khaimah beckons with its unique blend of history, culture, and natural beauty.
As the capital of its emirate, Ras Al Khaimah boasts a fascinating duality between its western old town and the eastern Al Nakheel district, separated by a charming creek.
Beyond the city, this emirate offers a tapestry of towns like Al Jazirah Al Hamra, Digdaga, Khatt, and Masafi. Notably, Masafi stands at the crossroads of Ras Al Khaimah and Fujairah, famed for its pristine mineral water.
For those seeking a slice of paradise, Al Marjan Island, a cluster of four man-made coral-shaped islands, graces the emirate's southern shores, promising an array of hospitality, residential, and lifestyle attractions.
With Ras Al Khaimah's rich history, diverse landscapes, and unique offerings, the journey from Abu Dhabi to this emirate becomes an enriching and unforgettable adventure.
Map
Ready to get on that bus trip to RAK? Here's the map of the route to be taken by buses plying this route. The entire trip will take about a little over 6 hours with only one transfer needed.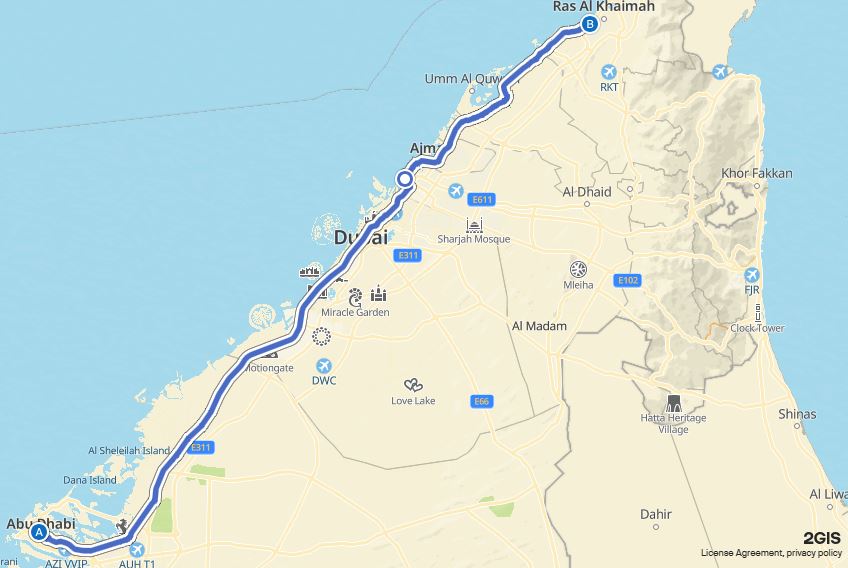 Route
1. Abu Dhabi Bus Station
Address: Al Wahda, Abu Dhabi, UAE
Nearby Landmarks: Al Wahda Mall, Al Nahyan Stadium, Al Hosn Palace
>> Take Bus 117
2. Sharjah, Ithihad Road, Ansar Mall
Address: Al Ithihad Road, Sharjah, UAE
Nearby Landmarks: Ansar Mall, Sahara Center, Al Qasba Canal
>> Get off after «Sharjah, Ithihad Road, Ansar Mall»
3. Al Jubail Bus Terminal 1
Address: Al Jubail, Sharjah, UAE
Nearby Landmarks: Sharjah Aquarium, Al Jubail Souq, Al Jubail Park
4. Al Jubail Bus Terminal 3
Address: Al Jubail, Sharjah, UAE
Nearby Landmarks: Sharjah Maritime Museum, Al Jubail Souq, Al Mamzar Beach Park
>>Take Bus 115
5. Umm Al Quwain
Address: Umm Al Quwain, UAE
Nearby Landmarks: Dreamland Aqua Park, Umm Al Quwain Corniche, UAQ National Museum
>> Get off after «Umm Al Quwain»
6. Ras Al Khaimah Bus Station
Address: Al Nakheel, Ras Al Khaimah, UAE
Nearby Landmarks: RAK Mall, Al Qawasim Corniche, National Museum of Ras Al Khaimah
Bus Schedule and Timings
Bus 117
The bus service for route 117 is designed to cater to both early risers and travelers with specific time requirements.
Commencing its operations at 03:45 am, the first bus departing from Sharjah to Abu Dhabi ensures an early start for those looking forward to a day of exploration.
For those seeking a full day's worth of activities, rest assured that bus 117 continues its service until 08:00 pm, allowing you ample time to make the most of your visit.
Throughout the day, the frequency of buses may exhibit slight variations, generally spanning from 30 to 45 minutes between departures.
This adaptability in scheduling guarantees a convenient and flexible experience for passengers, catering to the diverse demands of different periods.
Travel Duration: While the estimated travel time from Sharjah to Abu Dhabi hovers around two-and-a-half hours, it's crucial to account for potential fluctuations.
During peak traffic hours, the journey could extend slightly due to heightened congestion on the roadways. To optimize your travel, it's advisable to embark on your journey during non-peak hours.
This strategic choice not only assists in circumventing delays related to traffic but also fosters a more comfortable and leisurely travel environment.
Planning and Resources: For efficient trip planning, accessing the Sharjah to Abu Dhabi bus schedules and timings can be done conveniently through the official website of the Sharjah Roads & Transport Authority.
Relying on this trustworthy source of information guarantees that you possess accurate and up-to-date particulars about bus timings, ultimately ensuring a smooth and hassle-free travel experience.
Connecting to Dubai: Should your journey encompass an exploration of Dubai, it's important to note that bus 117 does not have a designated stop within the city.
Nonetheless, connecting to Dubai is easily achievable by opting for the Abu Dhabi to Dubai bus route, which opens up additional avenues for discovery and adventure.
Bus 115
From Monday to Sunday, Bus 115 operates with the following schedule:
Commencing at 6:00 AM
Concluding at 11:00 PM
Here's a detailed breakdown of the timings:
During the span of 6:00 AM to 8:00 AM, the bus operates every hour.
Between 8:00 AM and 8:00 PM, the bus is available every 45 minutes.
From 8:00 PM until 11:00 PM, the bus maintains an hourly frequency.
Bus Fare and Other Features
Bus 117
Fare and Ticketing
The cost of riding Bus 117 from Sharjah to Abu Dhabi is AED 33, making it an economical choice for both regular commuters and travelers seeking affordability.
Unlike some other bus services, there's no need for a specialized bus card to board this route.
Travelers can conveniently purchase standard tickets at the station's ticket booths prior to embarking on their journey.
Comfortable MCV600 Mercedes Buses
Exclusively designated for the Bus 117 route, the MCV600 Mercedes buses are not only dependable but also guarantee a comfortable travel experience.
The interiors are fully air-conditioned, ensuring a pleasurable ride regardless of external temperatures.
In addition, these buses are equipped with television screens to provide entertainment throughout the journey.
Segregated Sections for Enhanced Convenience
Bus 117 is tailored to accommodate a diverse range of passengers, which is evident in its considerate design.
The buses feature segregated sections to ensure the safety and comfort of all riders.
Specifically designated areas cater to families, women, and passengers with special needs, ensuring a secure and pleasant travel environment.
Entertainment and Restful Journey
Despite the journey's duration, the vehicle's comfort ensures a relaxed atmosphere.
Passengers can unwind and stay entertained with onboard TV screens, or take advantage of the cozy seats for a well-deserved nap.
While the journey may be lengthy, the bus is thoughtfully designed to maintain passenger ease throughout.
Customer Queries and Complaints
Should you have any inquiries, concerns, or feedback about your experience on Bus 115, the Sharjah government offers a direct communication channel.
You're encouraged to send an email to info@sharjah.ae to express your queries or grievances.
Given that the bus service is operated by the Sharjah government, all customer input is given careful consideration to enhance the overall travel experience.
Bus 115
Fare and Ticket Cost: One of the most appealing aspects of Bus 115 is its cost-effectiveness. The fare for a one-way journey along this route is only 27 AED, presenting a budget-friendly option for your travel requirements.
Comfort and Ease
SRTA ensures the utmost comfort for passengers on all its inter-city buses, including Bus 115.
These buses are meticulously maintained to provide a smooth and pleasant ride.
As you step onto the bus, you'll immediately notice the welcoming air-conditioned atmosphere, offering relief from outdoor conditions.
Whether you're commuting or embarking on a leisurely trip, the comfortable seating and adjustable temperature settings ensure a delightful journey from start to finish.
Modern Facilities
Bus 115 is tailored to meet the preferences of contemporary travelers.
The bus comes equipped with cutting-edge amenities to enhance your travel experience.
Stay entertained throughout your ride with television screens that offer a variety of content for your enjoyment.
Inclusive and Comfortable:
SRTA recognizes the significance of offering an inclusive travel environment.
Bus 115 includes dedicated areas for families, women, and individuals with disabilities, ensuring that all passengers can travel with comfort and security.
This considerate design makes the bus service family-friendly and accessible to everyone.
Convenient Route:
Linking Sharjah and Ras Al Khaimah, Bus 115 establishes a seamless connection between these dynamic cities.
Whether you're commuting to work, exploring new destinations, or visiting loved ones, this bus service provides a practical and uncomplicated way to reach your desired location.
Other Transport Options
Bus via Al Karama:

Route: Begin by taking the bus from Abu Dhabi's Central Bus Station 1 to Max Metro Bus Stop Landside E100. From there, catch another bus from Dubai Union Bus Station to Ras Al Khaimah.
Fare Range: AED 94 – AED 120

Bus via Jebel Ali:

Route: Commence your trip by boarding the bus from Abu Dhabi's Central Bus Station 1 to Ibn Battuta Bus Station 8 E101. Proceed by taking a bus from Dubai Union Bus Station to Ras Al Khaimah.
Fare Range: AED 95 – AED 123

Taxi:

Duration: Approximately 2 hours and 17 minutes
Route: Opt for the convenience of a taxi ride from Abu Dhabi to Ras Al Khaimah (Station), covering a distance of 244.3 km.
Fare Range: AED 410 – AED 490

Drive:

Duration: Approximately 2 hours and 17 minutes
Route: If you prefer driving, embark on a journey from Abu Dhabi to Ras Al Khaimah (Station), covering a distance of 244.3 km.
Cost Estimate: AED 95 – AED 150
Quickest Way: Driving is the quickest mode of transportation.
Cheapest Option: Driving also offers the most economical option.
These alternative options provide you with the flexibility to choose the mode of transportation that aligns best with your schedule, budget, and preferences.
Whether you're looking for an affordable bus journey or the convenience of a taxi, each option offers its own advantages to enhance your travel experience.
Remember to consider factors such as time, cost, and comfort as you decide on the most suitable option for your Abu Dhabi to Ras Al Khaimah journey.
Tips when Traveling Using Intercity Buses in the UAE
Plan Ahead: Before setting off on your journey from Abu Dhabi to Ras Al Khaimah, take time to research the bus routes, timetables, and fares. Familiarizing yourself with departure and arrival times will allow you to effectively organize your day and prevent any last-minute rush.
Check the Timetable: Keep in mind that intercity bus schedules can vary depending on the day of the week and the time. It's wise to check the timetable well in advance so you're well informed about the available departure options.
Arrive Early: Arriving at the bus station a bit earlier than the scheduled departure time is a good practice. This way, you can secure your seat and ensure a smooth boarding process without any hassles.
Prepare Cash: Although some bus stations may accept card payments, having cash on hand is recommended. Being prepared with both cash and card options ensures you can purchase your ticket without any complications.
Respect the Line: Given the potential busyness, particularly during peak hours, it's important to respect the queue and patiently wait your turn when boarding the bus.
Stay Hydrated and Snack: It's a good idea to bring a water bottle and some light snacks, especially if your journey is longer. Staying hydrated and having a small snack can contribute to a more comfortable travel experience.
Carry Essentials: Essential items like identification, a ticket copy, a mobile charger, and any necessary medications should be readily accessible during your journey.
Follow Local Customs: When traveling within the UAE, it's important to observe local customs and traditions. Dress modestly and maintain appropriate behavior to ensure a positive and respectful experience.
Appreciate the Scenery: The intercity bus routes in the UAE offer picturesque views of the country's landscapes. As you travel between Abu Dhabi and Ras Al Khaimah, take a moment to relax, unwind, and enjoy the scenic beauty around you.
Stay Informed: Stay updated about any changes in schedules or routes. Make use of official websites, apps, or seek information at the bus station to stay current.
Keep Noise Levels Down: Show consideration for fellow passengers by keeping noise levels low during the journey. Maintaining a peaceful and comfortable atmosphere on the bus benefits everyone.
Practice Patience: Unforeseen traffic and delays can occur. Maintain a patient outlook and understand that certain delays are beyond control.
Respect the Environment: Dispose of your waste properly to help maintain a clean bus environment. Contributing to the cleanliness of shared spaces is a collective responsibility we should all uphold.
Frequently Asked Questions
1. What is the duration of the bus journey from Abu Dhabi to Ras Al Khaimah?
The bus journey from Abu Dhabi to Ras Al Khaimah takes approximately over 6 hours, depending on factors such as traffic and weather conditions.
2. How frequently do buses operate on this route?
Buses on the Abu Dhabi to Ras Al Khaimah route typically operate with a frequency of around 30 to 60 minutes, but it's recommended to check the official schedule for the most up-to-date information.
3. Do bus schedules vary on weekends and holidays?
Yes, bus schedules can vary on weekends and holidays. It's advisable to verify the schedule in advance, especially during weekends and public holidays, as there might be adjustments.
4. Is there a night bus service available between Abu Dhabi and Ras Al Khaimah?
Generally, night bus services are limited between these two cities. It's recommended to check with the bus service provider for any available night service options.
5. What is the cost of a bus ticket from Abu Dhabi to Ras Al Khaimah?
The cost of a one-way bus ticket from Abu Dhabi to Ras Al Khaimah typically ranges from AED 50 to AED 70. Prices may vary based on the type of service and any discounts offered.
6. Are there any stops or interchanges along the way?
Yes, there are several stops and interchanges along the Abu Dhabi to Ras Al Khaimah bus route. Common stops include Sharjah, Umm Al Quwain, and other key points, which may vary depending on the specific bus service.
8. Is there Wi-Fi available on these buses?
Some buses may offer Wi-Fi services, but it's advisable to check with the specific bus service provider for availability. Keep in mind that amenities like Wi-Fi can vary depending on the bus type and company.
Summary
In conclusion, with the UAE's robust intercity bus network, we've addressed the inquiries of those planning to travel from Abu Dhabi to Ras Al Khaimah.
Whether you're a resident seeking an expedient way to discover neighboring emirates or a visitor eager to immerse yourself in the captivating landscapes of the UAE, grasping the intricacies of the bus schedules can undoubtedly streamline your travel arrangements.
The insights provided here have illuminated the Abu Dhabi to Ras Al Khaimah bus timings, shedding light on an efficient transportation option that has the potential to elevate your overall journey experience.
READ NEXT: 12 Things to Do in Ras Al Khaimah