Buses prove to be great means of transportation, especially for those seeking to explore the picturesque route from Umm Al Quwain to Fujairah. Catering to the needs of both residents and tourists, the bus timings between these two captivating Emirates offer a convenient and cost-effective travel option.
Whether you're a first-time traveler or a local resident, this guide will provide you with comprehensive information about the Umm Al Quwain to Fujairah bus timings, making your journey a seamless and enjoyable experience. Let's get right into the details of this well-connected bus service that bridges the gap between two distinct yet equally enchanting Emirates.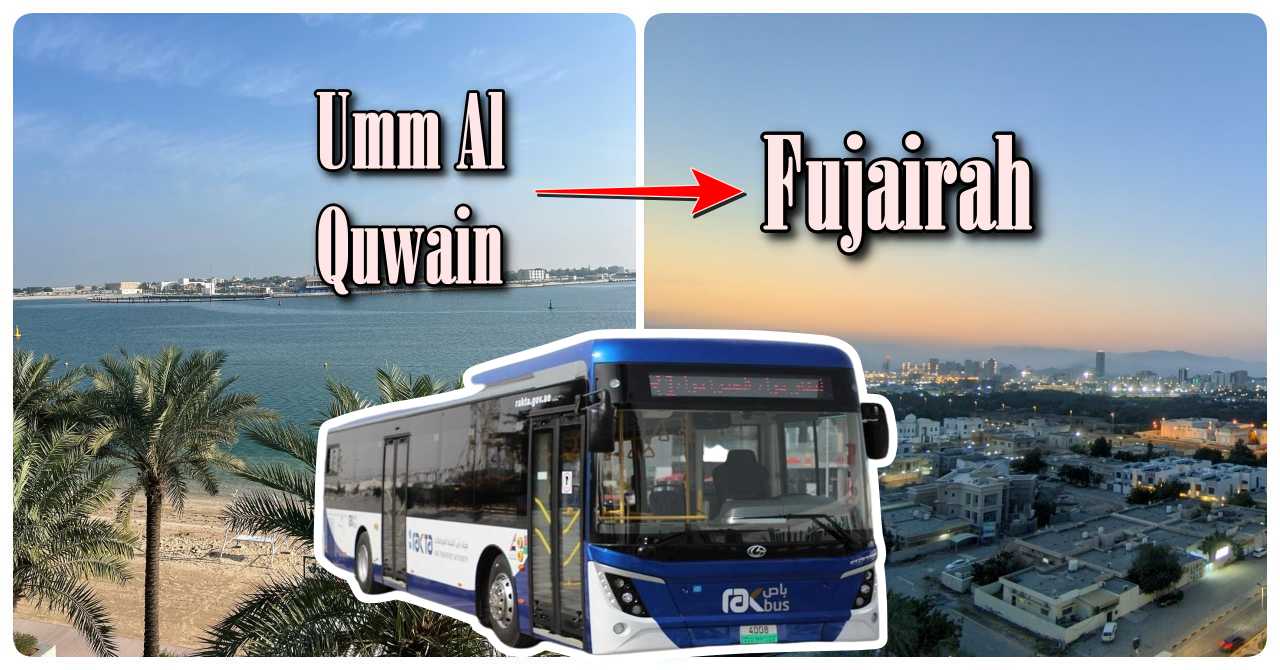 When embarking on your journey from Umm Al Quwain to Fujairah, you're not only venturing between two vibrant emirates, but you're also opening the door to a world of captivating experiences.
Fujairah's unique geography, facing the Gulf of Oman instead of the Persian Gulf, sets the stage for an extraordinary cultural encounter.
As you step onto its shores, you'll be greeted by the echoes of history resonating from landmarks like the ancient Al-Bidyah mosque, a testament to the emirate's rich heritage dating back to the 15th century.
The formidable Fujairah Fort, meticulously restored to its former glory, and the graceful Al-Hayl Castle, once the dwelling of the ruling family, provide a glimpse into Fujairah's storied past.
Nature enthusiasts will find themselves enthralled by the rugged allure of the Hajar Mountains, offering exhilarating hiking trails and breathtaking panoramic vistas.
The enchanting Wadi Wurayah, adorned with waterfalls and teeming with wildlife, invites you to immerse yourself in the tranquility of nature's embrace.
Dive beneath the crystal-clear waters, and you'll uncover Fujairah's underwater wonders – vibrant coral reefs, graceful turtles, and even the majestic presence of sharks.
The allure of water sports and diving adventures in these pristine seas is unparalleled.
But Fujairah doesn't only whisper its stories through landscapes; it resounds with a vivacious cultural symphony.
The Fujairah International Arts Festival, a celebration of artistic expression, infuses the air with creativity.
Museums like the Fujairah Museum offer a gateway to the emirate's past, while markets like the bustling Friday Market invite you to partake in the vibrant tapestry of local life.
Visiting Fujairah isn't just a journey; it's an exploration of the intricate threads that weave together its geography, culture, history, and vibrant present.
Map
Here is the map of the route taken by buses plying between Umm Al Quwain and Fujairah. Do note, though, that there is no direct bus service between these emirates. The entire bus journey will take a little over 6 hours and 45 minutes, with 2 bus transfers.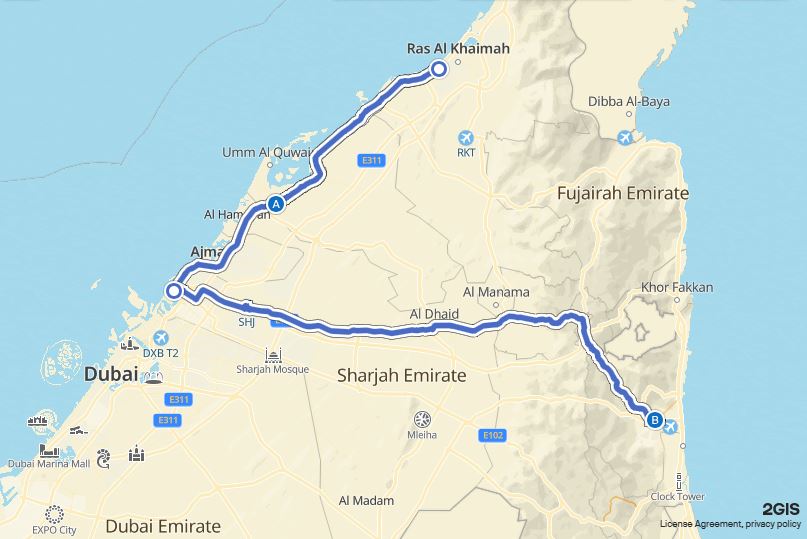 Route
1. Umm Al Quwain, Public transport
Address: Umm Al Quwain Main Street, Umm Al Quwain, UAE
Notable Landmark: Umm Al Quwain Clock Tower – An iconic symbol at the heart of the city.
>> Take Bus 115 to Al Hamra 1 RAK
2. Ras Al Khaimah Bus Station
Address: Al Nakeel, Ras Al Khaimah, UAE
Notable Landmark: Tower Links Golf Club – A scenic golf course nearby, offering a picturesque view.
>> Get off at the next stop
3. Al Jubail Bus Terminal 3
Address: Al Jubail, Sharjah, UAE
Notable Landmark: Al Jubail Park – A well-known park providing relaxation and recreation.
>> Transfer to the next terminal
4. Al Jubail Bus Terminal 4
Address: Al Jubail, Sharjah, UAE
Notable Landmark: Sharjah Mega Mall – A large shopping destination with a wide range of stores.
>> Take Bus 116 / 611
5. Sharjah Airport Terminal
Address: Sharjah International Airport, Sharjah, UAE
Notable Landmark: Sharjah Airport Free Zone – A hub for business and trade, adjacent to the airport.
6. Dhaid, Post Office
Address: Dhaid Main Street, Dhaid, Sharjah, UAE
Notable Landmark: Dhaid Heritage Village – A cultural attraction showcasing Emirati heritage.
7. Dhaid, Central Region Department
Address: Dhaid, Sharjah, UAE
Notable Landmark: Dhaid Sports Complex – A recreational facility promoting sports and wellness.
8. Masafi, Police Station
Address: Masafi, Fujairah, UAE
Notable Landmark: Masafi Friday Market – A bustling market offering fresh produce and local crafts.
>> Get off after «Masafi, Police Station»
9. Fujairah Bus Station, External
Address: Hamad Bin Abdullah Road, Fujairah, UAE
Notable Landmark: Fujairah Fort – A historic fortress that's a symbol of the city's heritage.
Bus Schedule and Timings
Bus 115
Regular Operating Hours: Bus 115 operates consistently from the early hours of the morning until late in the evening, ensuring that you have access to transportation throughout the day. The regular schedule hours for Bus 115 are from 5:17 AM to 10:11 PM, providing ample time for your commuting needs.
Daily Schedule: Bus 115 maintains a regular and predictable schedule every day, making it easy to plan your travel. Here's a breakdown of the operating hours and frequency for each day:
Sunday to Saturday:

Operating Hours: 5:35 AM – 10:35 PM
Frequency: Every 1 hour
With a frequency of one bus every hour, you can confidently rely on Bus 115 to arrive at your designated stop, allowing you to manage your time effectively and reach your destination without any hassle.
Bus 116
Monday to Sunday:
Starts: 05:30 AM
Ends: 11:00 PM
Frequency: Buses operate on a regular schedule, providing convenient options for travelers throughout the day.
Morning Schedule:

Buses start running at 05:30 AM, offering an early option for commuters and early risers.

Daytime Schedule:

Buses continue to operate every 30 minutes, ensuring frequent and accessible transportation during the daytime.

Evening Schedule:

The last bus departs at 11:00 PM, accommodating passengers who may need transportation during the evening hours.
Bus Fare and Other Features
Bus 115
Affordable Fare:
The fare for a one-way journey on Bus 115 is AED 27.
This budget-friendly fare makes Bus 115 an economical choice for your travel needs.
Duration of Journey:
Embark on a journey that spans approximately one hour and 45 minutes.
Relax and unwind as you traverse through the picturesque landscapes and vibrant cityscapes.
Comfortable Seating:
Bus 115 is equipped with comfortable seating, ensuring you have a pleasant and relaxing ride throughout your journey.
Ample legroom and cushioned seats contribute to a comfortable travel experience.
Scenic Views:
As you travel on Bus 115, take in the captivating sights outside your window.
From city streets to serene landscapes, you'll have the opportunity to appreciate the diverse scenery during your ride.
Onboard Amenities:
Bus 115 is designed with passenger comfort in mind.
Enjoy air-conditioned interiors, providing a cool and refreshing environment even on warm days.
Timely Schedule:
Bus 115 operates on a punctual schedule, ensuring you reach your destination on time.
Plan your travel with confidence, knowing that Bus 115 adheres to a reliable timetable.
Accessibility:
Bus 115 is committed to providing accessible travel options for all passengers.
The bus is designed to accommodate passengers with mobility challenges, ensuring inclusivity for everyone.
Well-Maintained Fleet:
Bus 115 is part of a well-maintained fleet that undergoes regular maintenance and inspections.
This commitment to safety and reliability ensures a smooth and worry-free journey.
Bus 116
Affordable Bus Fare: Travelling by Bus 116 from Sharjah to Fujairah proves to be the most budget-friendly option. As of this writing, a one-way ticket for this route is priced at an incredibly low 27 AED. This makes it an ideal choice for both residents and tourists seeking to explore the scenic route without breaking the bank.
Enhanced Features: SRTA's commitment to passenger comfort and convenience is evident in the well-equipped Bus 116. You can expect a range of enhanced features designed to make your journey enjoyable and stress-free:
Air Conditioning: Step into a bus with a refreshing and comfortable environment. The onboard air conditioning ensures a pleasant temperature throughout your ride, regardless of the weather outside.
Information Screens: Stay informed and entertained during your journey with strategically placed information screens. These screens provide updates about the route, upcoming stops, and other essential information, keeping you engaged throughout the trip.
Priority Seating for Women and Children: Bus 116 takes into consideration the needs of women and children by offering dedicated priority seating. This thoughtful feature ensures a safe and comfortable space for those who require it.
Special Needs Facilities: SRTA is committed to inclusivity, and Bus 116 is equipped with facilities to accommodate passengers with special needs. Accessibility ramps and designated seating areas cater to the requirements of all passengers.
Other Transportation Options
Taxi Ride:
Duration: Around 1 hour and 25 minutes
Cost: AED 250 – AED 300 (approximate range)
Steps:

Book a taxi service or find a taxi in Ras Al Khaimah.
Inform the driver of your destination: Fujairah City.
Sit back and let the driver navigate the route.

Benefits:

Quicker travel compared to other options.
Door-to-door service, eliminating the need for transfers.
Suitable for travelers seeking a comfortable and personalized experience.
Self-Drive Adventure:
Duration: Approximately 1 hour and 25 minutes
Cost: AED 45 – AED 70 (approximate range, considering fuel costs)
Steps:

Ensure your vehicle is in good condition for the journey.
Navigate the roads from Ras Al Khaimah to Fujairah City using a GPS or navigation app.
Enjoy the flexibility of stopping at your preferred sights along the way.

Benefits:

Complete control over your travel itinerary.
Ability to explore detours and attractions at your own pace.
Recommended for travelers who enjoy driving and wish to customize their route.
Before embarking on your journey, consider your priorities: budget, time, and personal preferences. Each transportation option offers a unique experience, allowing you to tailor your travel to your needs.
Comparing ticket prices, travel times, and the overall experience will help you make an informed decision. Whether you opt for the scenic bus journey, the convenience of a taxi, or the freedom of self-driving, your adventure from Ras Al Khaimah to Fujairah City is bound to be filled with discoveries and memorable moments.
Tips for Traveling Between Emirates in the UAE
Plan in Advance: Prior to commencing your journey, conduct thorough route research, familiarize yourself with bus timetables and fares, and take note of significant landmarks and halts en route. Thoughtful planning empowers you to efficiently manage your time and steer clear of unexpected eleventh-hour surprises.
Verify Timetables: Inter-emirates bus services adhere to fixed schedules. It's imperative to remain informed about departure and arrival times, as well as any potential time deviations. This ensures timely arrival at your destination, whether it's for work, leisure, or exploration.
Secure the Correct Fare: Guarantee that you possess the accurate fare or a suitable payment mode (such as a preloaded card) before stepping onto the bus. This minimizes disruptions and guarantees a seamless entry onto the bus.
Carry Identification: It's prudent to consistently carry a valid form of identification, such as your Emirates ID or passport, whenever you undertake inter-emirates travel. This is pivotal for security and verification purposes.
Prioritize Hydration and Comfort: Inter-emirates buses are equipped with air conditioning, so be equipped for fluctuating temperatures. Transport a water bottle to remain adequately hydrated during the voyage. Dress in comfortable attire and bring along any essentials you might require, such as a lightweight sweater or reading material.
Respect Local Traditions: Each emirate boasts its distinct cultural norms and traditions. While journeying, it's vital to demonstrate respect for local practices and customs. This heightens your travel experience and fosters a positive ambiance for all passengers.
Observe the Schedule: Punctuality is crucial when arriving at bus stops. Buses adhere rigorously to schedules, and missing your bus can result in unwarranted delays. Arriving a few minutes ahead of time ensures you catch your ride.
Safeguard Valuables: Ensure the security of your belongings throughout the expedition. Utilize backpacks or bags with secure closures, and maintain proximity to valuable possessions throughout the journey.
Stay Well-Informed: Remain updated regarding any alterations in schedules, routes, or travel advisories. Keep track of official transport authority social media accounts or leverage transportation apps for real-time notifications.
Embrace the Journey: Inter-emirates travel provides an opportunity to admire the UAE's diverse panoramas, from bustling urban landscapes to tranquil coastal retreats. Bask in the scenery, capture moments through photographs, and fully immerse yourself in the majesty of the Emirates.
Frequently Asked Questions
1. How often do buses run between Umm Al Quwain and Fujairah?
Buses operate at regular intervals throughout the day, offering convenient options for travelers. The schedule is designed to cater to various travel needs, whether it's for work, leisure, or exploration.
2. How long does the bus journey from Umm Al Quwain to Fujairah typically take?
The bus journey from Umm Al Quwain to Fujairah generally takes around 6 hours and 45 minutes, accounting for traffic conditions and stops along the route.
3. Are there express bus services available for this route?
Unfortunately, there are no express bus services available yet for commuters seeking a direct bus journey from Umm Al Quwain and Fujairah. Chek back with this blog regularly to get updates about direct bus services in the UAE.
4. Can I find real-time updates on bus schedules?
Yes, real-time updates on bus schedules can be obtained through official transportation apps or by checking with the relevant authorities. These updates ensure that you stay informed about any changes or delays.
5. Are there different fare options for Umm Al Quwain to Fujairah bus travel?
Yes, there are various fare options available to suit different preferences. Standard fares as well as discounted rates for specific categories, such as students or seniors, may be offered.
6. Are there night buses between Umm Al Quwain and Fujairah?
Night bus services are available on certain routes, providing travelers with the option to commute during late hours. It's advisable to check the specific bus schedule for night services.
7. Can I use my Nol card or other payment methods for the bus fare?
Yes, commonly accepted payment methods such as Nol cards or other similar payment cards may be used for the bus fare. This provides a convenient and cashless way to pay for your journey.
8. Are there any scenic spots or landmarks along the Umm Al Quwain to Fujairah bus route?
Yes, the bus route between Umm Al Quwain and Fujairah offers glimpses of picturesque landscapes, urban vistas, and cultural attractions. Keep an eye out for notable landmarks and points of interest during your journey.
Summary
In conclusion, the journey from Umm Al Quwain to Fujairah reveals the beauty and convenience that bus transportation has to offer.
As a versatile mode of travel, buses seamlessly connect these two captivating Emirates, presenting an ideal option for both newcomers and familiar faces.
Whether you're embarking on an exciting adventure or simply commuting between these charming destinations, the well-structured bus timings for this route provide a reliable and budget-friendly choice.
We hope that this guide has empowered you to plan your trip between the beautiful emirate of Umm Al Quwain to the equally impressive Fujairah, whatever the purpose of your travel may be, whether with family or as a solo traveler. Have a safe trip!
READ NEXT: 12 Things to Do in Fujairah