Previously, we've discussed the Umm Al Quwain to Fujairah bus timings, ensuring you have a comprehensive understanding of the convenient transportation options available to you. Now, let's shift our focus to the equally vital Fujairah to Umm Al Quwain bus timings. Navigating between these two captivating emirates has never been more straightforward, and understanding the details of this route's schedule will undoubtedly enhance your travel experience.
Whether you're a resident, a tourist, or a frequent traveler, having accurate and up-to-date information on Fujairah to Umm Al Quwain bus timings will empower you to plan your journeys with utmost ease and care. In this guide, we will delve into the details of this route's timetable, ensuring that you're well-equipped to embark on your next adventure without the hassle.
When considering a visit to Umm Al Quwain, it becomes apparent that this emirate offers a unique blend of natural wonders and engaging recreational opportunities.
When planning a bus trip from Fujairah to Umm Al Quwain, the emirate's attractions beckon travelers with its rich coastal mangroves along the Arabian Gulf and a captivating array of islands gracing its eastern shores.
Among these islands, the largest, Al Seniah, serves as a haven for Arabian gazelles, falcons, and turtles, creating an enchanting environment for wildlife enthusiasts and nature lovers alike.
Moreover, Umm Al Quwain stands as a haven for those seeking thrilling adventures and leisurely pursuits.
From sailing amidst the azure waters to experiencing the exhilaration of skydiving, the emirate caters to a wide spectrum of recreational preferences.
What's more, Umm Al Quwain celebrates its rich heritage through traditional activities like dhow building and enthralling sports such as falconry and camel racing.
These cultural experiences not only offer a glimpse into the region's history but also provide an immersive way to connect with the local traditions.
For those who seek family-friendly entertainment, Umm Al Quwain boasts the UAE's largest water park and resort, the Dreamland Aqua Park.
With its myriad of exhilarating slides, serene pools, and exciting attractions, it has become a must-visit destination for visitors of all ages.
As you embark on your journey from Fujairah to Umm Al Quwain, the emirate's rich offerings beckon you to explore its coastal marvels, engage in thrilling activities, and immerse yourself in its vibrant cultural tapestry, creating an experience that is both enriching and unforgettable.
Map
Here's a map of the route taken by buses traveling between Fujairah and Umm Al Quwain. As you can tell, this route is shorter than the opposite direction, only taking a little over 4 hours, depending on road and weather conditions. Moreover, there's only one transfer needed for this trip.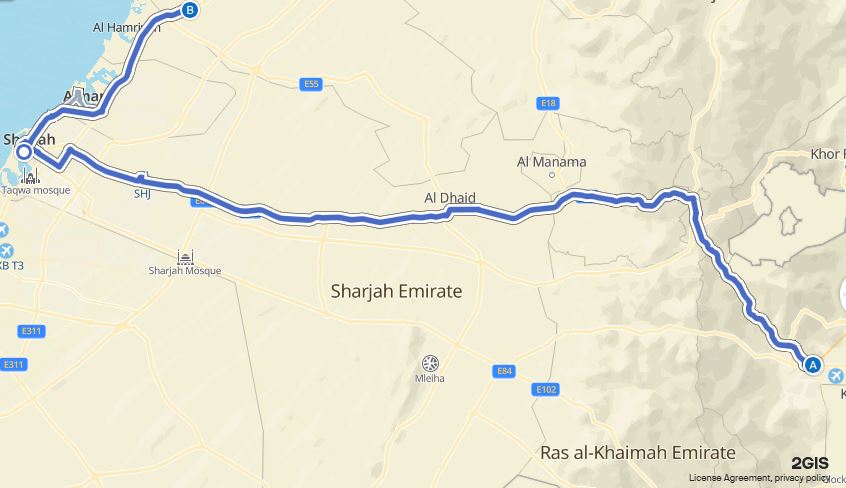 Route
1. Fujairah Bus Station
Address: Fujairah Bus Station, Fujairah, UAE
Nearby Landmarks: Fujairah City Center, Sheikh Zayed Mosque, Fujairah Fort
>> Take Bus 116 / 611
2. Masafi Police Station
Address: Masafi Police Station, Masafi, UAE
Nearby Landmarks: Masafi Park, Masafi Friday Market, Al Muntaser Billah Mosque
3. Dhaid Central Region Department
Address: Dhaid Central Region Department, Dhaid, UAE
Nearby Landmarks: Dhaid Fort, Dhaid Wildlife Park, Dhaid Market
4. Dhaid Post Office
Address: Dhaid Post Office, Dhaid, UAE
Nearby Landmarks: Dhaid Heritage Village, Al Qara Mountain, Dhaid Palace
5. Sharjah Airport Terminal
Address: Sharjah International Airport, Sharjah, UAE
Nearby Landmarks: Sharjah Aviation Museum, Sahara Center Mall, Sharjah Golf and Shooting Club
>> Get off after «Sharjah Airport Terminal»
6. Al Jubail Bus Terminal 4
Address: Al Jubail Bus Terminal 4, Sharjah, UAE
Nearby Landmarks: Sharjah Aquarium, Al Noor Island, Khalid Lagoon Corniche
>> Go to the next terminal
7. Al Jubail Bus Terminal 3
Address: Al Jubail Bus Terminal 3, Sharjah, UAE
Nearby Landmarks: Sharjah Mega Mall, Al Mahatta Museum, Al Majaz Waterfront
>> Take Bus 115
>> Get off at the next stop
8. Umm Al Quwain Public Transport
Address: Umm Al Quwain Public Transport, Umm Al Quwain, UAE
Nearby Landmarks: Umm Al Quwain Corniche, Umm Al Quwain Museum, Dreamland Aqua Park
Bus Schedule and Timings
Bus 115
Operational Hours: Bus 115 operates consistently from the early morning hours until late evening, guaranteeing continuous transportation accessibility throughout the day. The regular timetable for Bus 115 spans from 5:17 AM to 10:11 PM, offering ample time to cater to your commuting requirements.
Daily Timetable: Bus 115 adheres to a consistent and foreseeable schedule on a daily basis, simplifying your travel planning. Here's a breakdown of the operational hours and frequency for each day:
Monday to Sunday:
Operating Hours: 5:35 AM – 10:35 PM
Frequency: Every 1 hour
With a bus arriving every hour, you can confidently depend on Bus 115 to reach your designated stop, enabling efficient time management and seamless journey towards your destination.
Bus 116
From Monday to Sunday, the bus service operates consistently, commencing its services at 05:30 AM and concluding at 11:00 PM. The buses adhere to a regular timetable, ensuring a range of convenient choices for travelers throughout the entire day.
In the morning, the buses initiate their routes at 05:30 AM, catering to early commuters and individuals who rise early. As the day progresses, the service maintains a frequency of every 30 minutes, guaranteeing frequent and easily accessible transportation options during daylight hours.
The service extends its accessibility until 11:00 PM, marking the departure of the final bus, a provision that accommodates passengers requiring transportation during the later hours of the evening.
Bus Fare and Other Features
Bus 115
Affordable Fare:
The cost for a single journey on Bus 115 amounts to AED 27.
This economically priced fare establishes Bus 115 as a pocket-friendly selection for your travel requirements.
Duration of Journey:
Set out on a voyage spanning approximately an hour and 45 minutes.
Unwind and relax as you traverse through charming landscapes and bustling urban panoramas.
Comfortable Seating:
Bus 115 features comfortable seating arrangements, ensuring a pleasant and soothing ride for the entirety of your expedition.
Generous legroom and cushioned seats combine to provide a cozy and contented travel experience.
Scenic Views:
En route aboard Bus 115, absorb the enchanting vistas beyond your window.
From city avenues to tranquil landscapes, you'll have the chance to revel in the diverse scenery during your journey.
Onboard Amenities:
Bus 115 is meticulously fashioned to prioritize passenger comfort.
Indulge in air-conditioned interiors, offering a refreshing and cool ambiance even on warmer days.
Timely Schedule:
Bus 115 operates in accordance with a punctual timetable, ensuring your punctual arrival at your destination.
Forge your travel plans with confidence, secure in the knowledge that Bus 115 adheres to a dependable schedule.
Accessibility:
Bus 115 is dedicated to providing accessible travel choices for every passenger.
The bus is thoughtfully designed to cater to passengers with mobility challenges, ensuring inclusiveness for all.
Well-Maintained Fleet:
Bus 115 is a proud member of a meticulously maintained fleet that undergoes regular upkeep and assessments.
This unwavering commitment to safety and dependability guarantees a seamless and worry-free expedition.
Bus 116
Affordable Bus Fare: At present, the fare for a single journey along this route stands at an exceptionally affordable 27 AED. This renders it an optimal selection for both residents and tourists aiming to experience the picturesque journey while keeping their expenses in check.
Enhanced Amenities: SRTA's dedication to ensuring passenger comfort and convenience is evident in the well-appointed Bus 116. Anticipate an array of improved amenities thoughtfully designed to enhance your travel experience and alleviate stress:
Cooling System: Step aboard a bus boasting a rejuvenating and cozy ambiance. The onboard air conditioning guarantees a delightful temperature throughout your voyage, irrespective of the external weather conditions.
Information Displays: Stay well-informed and engaged throughout your trip through strategically positioned information screens. These screens furnish updates regarding the route, upcoming halts, and other essential details, ensuring an engaging journey.
Priority Seating for Women and Children: Bus 116 takes into account the requirements of women and children by providing dedicated priority seating. This considerate provision ensures a secure and comfortable area for those who need it.
Special Accommodations: SRTA's commitment to inclusivity shines through, with Bus 116 being equipped with amenities catering to passengers with special needs. Access ramps and designated seating zones cater comprehensively to the diverse requirements of all travelers.
Other Transportation Options
When it comes to traveling from Fujairah City to Umm Al Quwain, there are several transportation choices to consider beyond the previously discussed bus route. Whether you're seeking the most cost-effective option or a unique travel experience, these alternatives offer diverse ways to make the journey.
Cheapest Option: Driving
If you're looking for a budget-friendly way to reach Umm Al Quwain from Fujairah, driving is an excellent choice.
Covering a distance of approximately 122.8 kilometers, the journey typically takes around 1 hour and 17 minutes, depending on traffic conditions.
With an estimated cost ranging from AED 50 to AED 73 for fuel and tolls, driving offers convenience and flexibility, allowing you to explore the scenic route at your own pace.
Bus via Ajman
While this option may take more time compared to other methods, it provides a unique opportunity to experience multiple emirates during your journey.
Taking the bus from Fujairah to Umm Al Quwain via Ajman offers an enriching travel experience that allows you to immerse yourself in the local culture.
The approximate travel time for this route is around 6 hours and 4 minutes, with ticket prices ranging from AED 63 to AED 87.
While it may require more patience, this option grants you the chance to witness the diverse landscapes and cityscapes of the UAE.
Explore Ride-Sharing and Carpooling
In addition to traditional transportation modes, consider exploring ride-sharing and carpooling options available in the region.
These services allow you to share rides with fellow travelers heading to Umm Al Quwain, helping to reduce costs and promote a more sustainable way of travel.
By leveraging ride-sharing platforms, you can potentially find travel companions and contribute to minimizing the environmental impact of your journey.
As you plan your trip from Fujairah City to Umm Al Quwain, weigh the pros and cons of each transportation option based on your budget, schedule, and preferences.
Whether you opt for the convenience of driving, the cultural immersion of a bus journey via Ajman, or the camaraderie of ride-sharing, each choice offers a distinct way to reach your destination and make the most of your travel experience.
Tips for Traveling Between Emirates in the UAE
Plan Ahead: Before embarking on your trip, engage in thorough route research, acquaint yourself with bus schedules and fares, and take note of prominent landmarks and stops along the way. Meticulous preparation empowers you to effectively manage your time and avoid unforeseen last-minute surprises.
Confirm Schedule Details: Intercity bus services strictly adhere to fixed schedules. Staying well-informed about departure and arrival times, as well as potential deviations, is crucial. This ensures you reach your destination punctually, whether it's for business, leisure, or exploration.
Ensure Correct Payment: Ensure you possess the correct fare or an appropriate payment method (such as a preloaded card) before boarding the bus. This minimizes disruptions and ensures a smooth boarding process.
Carry Identification: Carrying valid identification, such as your Emirates ID or passport, consistently when traveling between emirates is advisable. This is essential for security and verification purposes.
Prioritize Comfort and Hydration: Since intercity buses are air-conditioned, be prepared for varying temperatures. Bring a water bottle to stay adequately hydrated during the journey. Dress comfortably and pack any essentials you may need, such as a light sweater or reading material.
Respect Local Customs: Each emirate has its own distinct cultural norms and traditions. While traveling, it's important to show respect for local practices. This enhances your travel experience and fosters a positive atmosphere for all passengers.
Follow the Schedule: Being punctual when arriving at bus stops is crucial. Buses strictly adhere to schedules, and missing your bus can lead to unnecessary delays. Arriving a few minutes early ensures you catch your bus.
Safeguard Your Belongings: Ensure the safety of your belongings throughout the journey. Use backpacks or bags with secure closures and keep a close eye on your valuable items.
Stay Informed: Stay updated about any changes in schedules, routes, or travel advisories. Monitor official transport authority social media accounts or use transportation apps for real-time updates.
Enjoy the Experience: Intercity travel offers a chance to admire the diverse landscapes of the UAE, from vibrant urban scenes to serene coastal getaways. Embrace the scenery, capture memories with photographs, and fully immerse yourself in the beauty of the Emirates.
Frequently Asked Questions
1. How long does the bus journey from Fujairah to Umm Al Quwain take?
The duration of the bus journey from Fujairah to Umm Al Quwain varies depending on the route and stops. Typically, it takes around four hours to reach your destination.
2. Are there any stops or landmarks along the Fujairah to Umm Al Quwain bus route?
Yes, there are several stops and landmarks along the way, including Fujairah City Center, Sheikh Zayed Mosque, and Dhaid Heritage Village, among others.
3. What is the approximate bus fare for traveling from Fujairah to Umm Al Quwain?
The bus fare for traveling from Fujairah to Umm Al Quwain is approximately AED 52, making it a cost-effective option for travelers.
4. Are the bus timings fixed, or do they vary throughout the day?
Bus timings are generally fixed, with departures scheduled at specific times. It's important to check the bus schedule in advance to ensure accurate timing.
5. Is there a specific bus number or route that operates between Fujairah and Umm Al Quwain?
No, as of this writing, there are no direct buses yet for this route between Fujairah and Umm Al Quwain.
6. How often do the buses run between Fujairah and Umm Al Quwain?
Buses between Fujairah and Umm Al Quwain typically run every 30 minutes to 1 hour, offering regular options for travelers.
7. Are there any additional amenities or features on the intercity buses for passenger comfort?
Yes, intercity buses often offer amenities such as air conditioning, priority seating, and information screens to enhance passenger comfort and convenience.
8. How can I stay updated about any changes in bus timings or schedules?
To stay informed about any changes in bus timings or schedules, you can follow official transport authority social media accounts or use transportation apps for real-time updates.
Summary
In conclusion, our exploration into the intercity bus timings between Umm Al Quwain and Fujairah has provided a comprehensive perspective on the seamless transportation options available.
The accessibility and convenience offered by these bus services have simplified the process of traversing between these captivating emirates.
As we've delved into the specifics of the Fujairah to Umm Al Quwain bus schedule, it becomes evident that having a firm grasp of these details significantly enriches your travel endeavors.
Whether you find yourself as a resident seeking efficient commuting, a tourist exploring the Emirates, or a seasoned traveler embarking on frequent journeys, accurate and up-to-date knowledge of bus timings becomes an invaluable asset.
READ NEXT: Places to Visit in Umm Al Quwain, UAE