Good news for those traveling between Umm Al Quwain to Sharjah! A direct bus service is available, providing a convenient and efficient mode of transportation for commuters and travelers. Whether you're a resident of Umm Al Quwain looking to explore the neighboring emirate of Sharjah or a visitor eager to experience the cultural and economic vibrancy of Sharjah, this bus service offers a hassle-free way to reach your destination. With its regular timings and comfortable amenities, the Umm Al Quwain to Sharjah bus service caters particularly to the needs of first-time travelers and even long-time residents, ensuring that the journey is not only convenient but also easily understandable.
Let's jump right into the details of the bus timings, routes, and facilities for this bus service, making your travel experience as smooth as possible. Discover Sharjah's beauty and scenic destinations when taking the bus for your next trip between these two emirates. Read on.
For those traveling between Umm Al Quwain and Sharjah, a visit to Sharjah holds a world of captivating experiences.
Renowned for its architectural heritage and cultural treasures, Sharjah invites visitors to delve into a rich tapestry of history and modernity.
The allure of historical areas such as the Heart of Sharjah unveils the emirate's deep-rooted past, allowing travelers to wander through cobblestone streets lined with centuries-old buildings and vibrant markets.
But the journey doesn't end there; modern marvels like Al Qasba and Al Majaz waterfront beckon with their contemporary charm, offering a delightful contrast to the historical sites.
This diverse landscape is a treasure trove for travelers and those seeking to immerse themselves in a cultural and architectural extravaganza that bridges the gap between past and present.
The Umm Al Quwain to Sharjah bus service ensures a seamless transition between these two worlds, promising a journey that is not only convenient but also highly informative, catering to the unique needs of diverse travelers.
Map
Here's a map of the route taken by bus 115 from Ras Al Khaimah passing through Umm Al Quwain Public Transportation to Al Jubail Station in Sharjah. The entire bus trip will take approximately 3 hours and 7 minutes, with 1 transfer.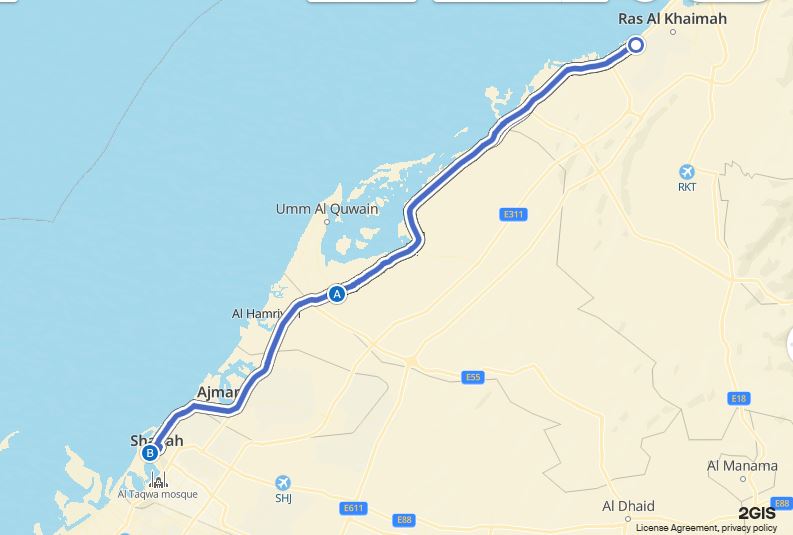 Route
Here's the entire bus route taken by Bus 115 from Ras Al Khaimah to Sharjah.
1.      Ras Al Khaimah Bus Station
Address: Al Muntasir Road, Ras Al Khaimah, UAE
Nearby Landmarks: Al Nakheel, Ras Al Khaimah Police Headquarters
2.      RAK Traffic Department
Address: Al Qusaidat, Ras Al Khaimah, UAE
Nearby Landmarks: RAK Hospital, RAK Public Prosecution
3.      Ice Land Water Park RAK
Address: Al Jazeera, Ras Al Khaimah, UAE
Nearby Landmarks: Al Hamra Mall, Al Hamra Golf Club
4.      Al Jizirah Al Hamra RAK
Address: Al Jazirah Al Hamra, Ras Al Khaimah, UAE
Nearby Landmarks: Al Jazirah Al Hamra Fort, Al Hamra Marina & Yacht Club
5.      RAK Ceramics
Address: RAK Ceramics Road, Ras Al Khaimah, UAE
Nearby Landmarks: Julphar Towers, Sheikh Khalifa Specialist Hospital
6.      Dreamland Aquapark
Address: Sheikh Mohammad Bin Salem Road, Umm Al Quwain, UAE
Nearby Landmarks: Emirates Motorplex, Umm Al Quwain Shooting Club
7.      Umm Al Quwain Traffic Department
Address: Sheikh Zayed Road, Umm Al Quwain, UAE
Nearby Landmarks: Umm Al Quwain Police Station, Umm Al Quwain Museum
8.      Al Salma R/A in Umm Al Quwain
Address: Intersection of Al Salma Road and Sheikh Zayed Road, Umm Al Quwain, UAE
Nearby Landmarks: Umm Al Quwain Beach, Pearl Beach Hotel
9.      Hamdha Bridge Sharjah
Address: Hamdha Bridge, Sharjah, UAE
Nearby Landmarks: Sharjah Aquarium, Sharjah Maritime Museum
10. Jubail Station Sharjah
Address: Al Jubail Bus Station, Sharjah, UAE
Nearby Landmarks: King Faisal Mosque, Sharjah Fish Market
Bus 115 Schedule and Timings
Bus Timetable:
Monday to Sunday: The bus service operates every day of the week, allowing you the flexibility to travel at your convenience.
Bus Operating Hours:
Starts at 06:00 AM: The bus service kicks off early in the morning, making it convenient for those who prefer to start their journey at the break of dawn.
Ends at 11:00 PM: The last bus of the day departs at 11:00 PM, providing you with ample time to reach your destination.
Frequency of Buses:
Between 6:00 AM to 8:00 AM: During this time frame, the buses run with a frequency of every 60 minutes. This interval is ideal for early risers looking to begin their journey in the morning hours.
Between 8:00 AM to 8:00 PM: Throughout the day, from 8:00 AM to 8:00 PM, buses operate at an interval of every 45 minutes. This schedule caters to a wider range of travelers throughout the day.
Between 8:00 PM to 11:00 PM: In the evening hours, from 8:00 PM to 11:00 PM, the buses resume running at an interval of every 60 minutes. This schedule allows for a smooth transition between day and night travel.
Bus Fare and Other Features
When it comes to convenient and budget-friendly travel, hopping aboard SRTA Bus 115 from Sharjah to Ras Al Khaimah is your best bet. With a mere one-way ticket price of 27 AED (approximately USD 7), you can explore the journey without straining your wallet.
Comfortable Seating: One of the standout features of Bus 115 is its thoughtfully designed seating arrangements. Settle into the plush and comfortable seats that have been carefully designed to offer you a soothing and relaxing ride throughout your journey. Whether you're a frequent traveler or embarking on a new adventure, the comfort of the seats will ensure that your travel experience is enjoyable from start to finish.
Interactive Screens: The journey is not just about reaching your destination; it's also about the experience along the way. Bus 115 enhances your travel with interactive screens strategically placed throughout the bus. These screens provide real-time updates on the route, upcoming stops, and other essential details. Stay informed about the progress of your journey, making the ride more engaging and dynamic.
Generous Legroom and Cushioned Seats: Say goodbye to cramped spaces and discomfort. Bus 115 prioritizes your comfort by offering generous legroom and cushioned seats. Stretch out and relax, knowing that you have ample space to enjoy your travel. The combination of well-padded seats and the extra legroom ensures a cozy and contented journey that caters to your comfort needs.
Other Transport Options
If you're looking for alternative travel options from Umm Al Quwain to Sharjah, there are two convenient choices that offer flexibility and ease of transportation.
1. Taxi Option: Duration: Approximately 24 minutes Distance: About 29 km Cost: AED 260 – AED 310 (approximately)
Taking a taxi is a straightforward and comfortable way to travel between Umm Al Quwain and Sharjah. Taxis provide the advantage of a dedicated driver who knows the routes well, ensuring a hassle-free journey. You can enjoy the scenic drive as you travel through the emirates, and you'll be dropped off directly at your destination in Sharjah.
2. Driving Option: Duration: Approximately 24 minutes Distance: About 29 km Cost: AED 11 – AED 17 (approximately, excluding fuel)
If you prefer to have more control over your travel schedule, driving is a viable option. The journey by car allows you to set your pace and enjoy the flexibility to make stops along the way. Keep in mind that fuel costs are separate, but the convenience and freedom to explore make this option appealing. Make sure to have a valid driving license and adhere to traffic rules for a safe and enjoyable trip.
Both of these alternative options offer a travel time of around 24 minutes, covering a distance of approximately 29 km. Whether you choose the ease of a taxi or the independence of driving, you'll find yourself with a variety of ways to travel between Umm Al Quwain and Sharjah. Make your decision based on your preferences and the convenience that suits you best.
Tips for Intercity Bus Travels in the UAE
Plan Your Route in Advance: Before embarking on your journey, research the routes, timings, and bus stations. Familiarize yourself with the schedules to ensure you catch the right bus at the right time.
Check Bus Timings: UAE intercity buses run on fixed schedules. Make sure to check the bus timings, as they may vary on weekdays, weekends, and public holidays. Timetables are usually available online or at bus stations.
Arrive Early: Arriving at the bus station a little early gives you time to purchase tickets, find your platform, and board comfortably. This is especially important during peak travel times.
Purchase Tickets: You can buy tickets either at the bus station or online through official transportation websites. Having your ticket in advance saves time and avoids any last-minute hassles.
Carry Valid Identification: Always carry a valid identification document, such as a passport or Emirates ID, as it may be required for ticket purchase and security checks.
Stay Updated: Stay informed about any updates or changes to bus schedules or routes, especially during holidays or special events. Follow official transportation authorities on social media for real-time updates.
Pack Essentials: Pack essentials such as water, snacks, a charger for your devices, and any necessary medications. Keep in mind that UAE buses are generally equipped with air conditioning.
Dress Modestly: While the UAE is cosmopolitan, it's respectful to dress modestly, particularly if you're visiting religious or conservative areas. Opt for comfortable, weather-appropriate clothing.
Respect the Rules: Follow bus rules and regulations. Smoking, eating, and drinking are typically not allowed on intercity buses. Use headphones for any audio devices.
Keep Noise Levels Down: Be considerate of fellow passengers by keeping noise levels to a minimum. Use headphones for music and phone conversations.
Watch Your Belongings: Keep an eye on your belongings at all times. While UAE is generally safe, it's always wise to be cautious about your personal items.
Be Patient: Intercity travel might involve stops and pickups along the route. Be patient and understanding, as these stops are essential for other passengers.
Enjoy the Scenery: Intercity bus journeys offer beautiful views of the UAE landscape. Take the opportunity to enjoy the scenery and capture some memorable moments.
Frequently Asked Questions
1. What are the operating hours of the Umm Al Quwain to Sharjah bus service?
The Umm Al Quwain to Sharjah bus service operates from early morning to late evening, typically starting around 6:00 AM and running until around 10:00 PM. Timings may vary, so it's advisable to check the latest schedules.
2. How frequently do the buses run between Umm Al Quwain and Sharjah?
Buses on this route usually run at intervals of around 30 to 60 minutes, depending on the time of day. During peak hours, the frequency might increase to accommodate higher demand.
3. Are there buses available during weekends and public holidays?
Yes, the Umm Al Quwain to Sharjah bus service operates on weekends and public holidays as well. However, it's recommended to check the specific schedules for these days, as they might differ slightly.
4. Where can I find the bus schedule and timings?
You can find the Umm Al Quwain to Sharjah bus schedule and timings on official transportation websites, at bus stations, or through dedicated mobile applications. These sources provide accurate and up-to-date information.
5. Do the bus timings change during Ramadan?
Yes, bus timings might be adjusted during the holy month of Ramadan. Buses could start operating a bit later in the morning and might have extended service hours in the evenings due to the Iftar mealtime.
6. Is the Umm Al Quwain to Sharjah bus service punctual?
Generally, UAE intercity buses strive to maintain punctuality. However, factors like traffic congestion or unforeseen delays might occasionally affect the bus schedule. Arriving a bit early can help you avoid any inconvenience.
7. Can I rely on real-time updates for bus timings?
Yes, some official transportation apps provide real-time updates on bus timings. These apps can be particularly helpful in case of unexpected delays or changes in the schedule.
8. Are there any specific bus amenities for non-native English speakers?
UAE buses usually display route information and announcements in both Arabic and English. This ensures that non-native English speakers can easily understand the schedule and navigate their journey.
Summary
The direct bus service between Umm Al Quwain and Sharjah heralds good news for travelers seeking a seamless journey between these two emirates.
This convenient and efficient mode of transportation is a boon for both residents of Umm Al Quwain and visitors eager to explore the cultural and economic dynamism of Sharjah.
The availability of regular bus timings and the inclusion of comfortable amenities ensure that the travel experience is tailored to meet the needs of all, from first-time travelers to long-time residents.
READ NEXT: Sharjah Public Transportation: Getting Around