Now that we've seen the bus timings from Umm Al Quwain to Sharjah in one of our previous posts, let's explore the reverse journey. Discover the convenient bus timings and seamless transportation options for traveling from Sharjah to Umm Al Quwain.
Whether you're a resident of Sharjah planning a day trip or a visitor eager to explore the attractions of Umm Al Quwain, this guide will provide you with valuable information to ensure a smooth and enjoyable journey. Let's take a look at the details of Sharjah to Umm Al Quwain bus timings, routes, and facilities, allowing you to make the most of your travel experience. Let's get started!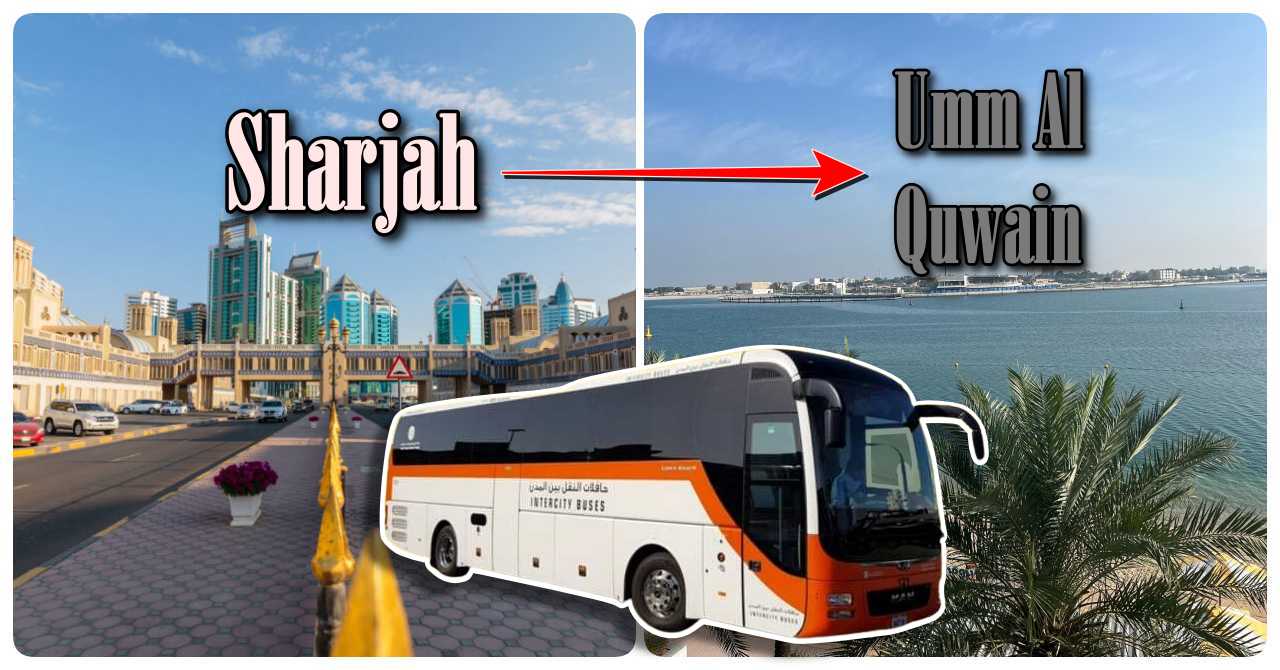 In continuation of our exploration, let's delve into why a visit from Sharjah to Umm Al Quwain is an enticing prospect.
Umm Al Quwain boasts captivating coastal mangroves along the Arabian Gulf, along with a cluster of picturesque islands to the east.
The largest among them, Al Seniah, offers an opportunity to encounter Arabian gazelles, falcons, and turtles in their natural habitat.
This unique ecological setting is a draw for nature enthusiasts and those seeking to experience the Emirates' diverse wildlife.
Moreover, Umm Al Quwain's allure extends beyond its natural beauty.
The emirate provides an array of recreational activities that cater to various interests.
From sailing the tranquil waters to the exhilaration of skydiving, visitors can partake in thrilling adventures.
Preserving its heritage, traditional activities like dhow building, as well as falconry and camel racing, showcase the emirate's cultural richness.
Notably, the acclaimed Dreamland Aqua Park, the UAE's largest water park and resort, offers an exhilarating retreat for all ages, making Umm Al Quwain a well-rounded destination that beckons travelers from Sharjah and beyond.
Map
Here's a map of the route taken by buses plying from Sharjah to Umm Al Quwain, then continuing to Ras Al Khaimah. The entire trip without any transfers will take only 50 minutes depending on road and weather conditions.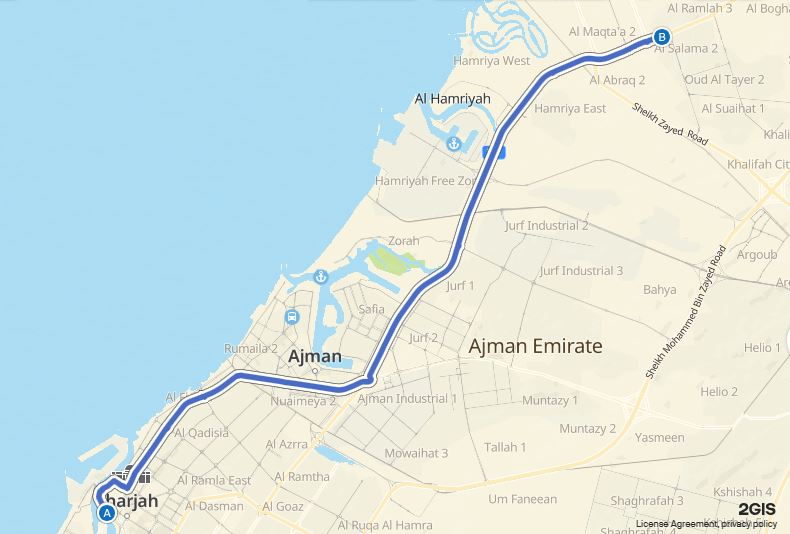 Route
1. Jubail Station Sharjah
Address: Al Jubail Bus Station, Sharjah, UAE
Nearby Landmarks: King Faisal Mosque, Sharjah Fish Market
2. Hamdha Bridge Sharjah
Address: Hamdha Bridge, Sharjah, UAE
Nearby Landmarks: Sharjah Aquarium, Sharjah Maritime Museum
3. Al Salma R/A in Umm Al Quwain
Address: Intersection of Al Salma Road and Sheikh Zayed Road, Umm Al Quwain, UAE
Nearby Landmarks: Umm Al Quwain Beach, Pearl Beach Hotel
4. Umm Al Quwain Traffic Department
Address: Sheikh Zayed Road, Umm Al Quwain, UAE
Nearby Landmarks: Umm Al Quwain Police Station, Umm Al Quwain Museum
5. Dreamland Aquapark
Address: Sheikh Mohammad Bin Salem Road, Umm Al Quwain, UAE
Nearby Landmarks: Emirates Motorplex, Umm Al Quwain Shooting Club
6. RAK Ceramics
Address: RAK Ceramics Road, Ras Al Khaimah, UAE
Nearby Landmarks: Julphar Towers, Sheikh Khalifa Specialist Hospital
7. Al Jizirah Al Hamra RAK
Address: Al Jazirah Al Hamra, Ras Al Khaimah, UAE
Nearby Landmarks: Al Jazirah Al Hamra Fort, Al Hamra Marina & Yacht Club
8. Ice Land Water Park RAK
Address: Al Jazeera, Ras Al Khaimah, UAE
Nearby Landmarks: Al Hamra Mall, Al Hamra Golf Club
9. RAK Traffic Department
Address: Al Qusaidat, Ras Al Khaimah, UAE
Nearby Landmarks: RAK Hospital, RAK Public Prosecution
10. Ras Al Khaimah Bus Station
Address: Al Muntasir Road, Ras Al Khaimah, UAE
Nearby Landmarks: Al Nakheel, Ras Al Khaimah Police Headquarters
Bus 115 Schedule and Timings
Monday to Sunday: The bus service is available every day of the week, giving you the flexibility to journey at your convenience.
Bus Operating Hours:
Commences at 06:00 AM: The bus service starts its operation early in the morning, catering to those who prefer embarking on their travels at daybreak.
Concludes at 11:00 PM: The final bus departs at 11:00 PM, ensuring you have ample time to reach your intended destination.
Frequency of Buses:
From 6:00 AM to 8:00 AM: Within this time window, buses run every 60 minutes, providing an option for early risers commencing their journey during the morning hours.
From 8:00 AM to 8:00 PM: Throughout the day, spanning 8:00 AM to 8:00 PM, buses operate every 45 minutes, accommodating a wider array of travelers throughout the day.
From 8:00 PM to 11:00 PM: During the evening, from 8:00 PM to 11:00 PM, buses resume their service with a 60-minute interval, facilitating seamless transitions between day and night travel.
Bus Fare and Other Features
For a convenient and cost-effective travel experience, consider taking SRTA Bus 115 from Sharjah to Ras Al Khaimah. With a pocket-friendly one-way fare of just 27 AED (approximately USD 7), you can explore the journey without straining your budget.
Enjoy Comfortable Seating: A notable highlight of Bus 115 lies in its carefully designed seating arrangement. Settle into the plush and comfortable seats tailored to provide you with a soothing and relaxing ride throughout your journey. Whether you're an experienced traveler or embarking on a fresh adventure, the seating comfort ensures your travel is delightful from beginning to end.
Engaging Interactive Screens: The journey is more than just reaching your destination; it's about the experience en route. Bus 115 elevates your travel with strategically placed interactive screens onboard. These screens offer real-time updates about the route, upcoming stops, and other essential details. Stay well-informed about your journey's progress, making the ride more dynamic and engaging.
Ample Legroom and Cushioned Seats: Bid farewell to cramped spaces and discomfort. Bus 115 prioritizes your comfort by providing generous legroom and well-cushioned seats. Stretch out and unwind, knowing you have ample space to enjoy your travel. The combination of well-padded seats and extra legroom guarantees a snug and content journey that caters to your comfort preferences.
Other Transport Options
If you're seeking alternative travel choices from Sharjah to Umm Al Quwain, you have two convenient alternatives that provide flexibility and ease in transportation.
Taxi Option: Duration: Around 24 minutes | Distance: Approximately 29 km | Cost: AED 260 – AED 310 (approx.)
Opting for a taxi presents a direct and comfortable mode of travel between Sharjah and Umm Al Quwain. With a knowledgeable driver navigating the routes, your journey is made hassle-free. Enjoy the picturesque route as you traverse the emirates, and benefit from the convenience of being dropped off directly at your Umm Al Quwain destination.
Driving Option: Duration: Around 24 minutes | Distance: Approximately 29 km | Cost: AED 11 – AED 17 (approx., excluding fuel)
If you prefer control over your travel schedule, driving offers a viable alternative. Your own vehicle allows you to determine the pace and even make stops en route. Remember to factor in fuel costs separately, but the liberty to explore at your leisure makes this choice appealing. Ensure you possess a valid driver's license and adhere to traffic regulations for a secure and enjoyable trip.
Both these alternatives propose a travel duration of roughly 24 minutes, covering a distance of about 29 km. Whether you favor the convenience of a taxi or the autonomy of driving, various options are at your disposal for traveling between Sharjah and Umm Al Quwain. Your decision hinges on your preferences and the level of convenience that aligns with your needs.
Tips for Intercity Bus Travels in the UAE
Plan Your Route Ahead: Ensure a smooth journey by researching routes, timings, and bus stations in advance. Familiarize yourself with schedules to catch the right bus.
Check Bus Schedules: UAE intercity buses adhere to fixed schedules. Verify timings for weekdays, weekends, and holidays online or at stations.
Arrive Promptly: Arriving early at the bus station allows ticket purchase, platform identification, and comfortable boarding—especially during peak hours.
Buy Your Tickets: Secure tickets online or at stations to save time and avoid last-minute complications.
Carry Valid ID: Always have valid identification like a passport or Emirates ID for ticket purchase and security checks.
Stay Informed: Stay updated on route or schedule changes, especially during special occasions. Follow official transportation channels for real-time alerts.
Pack Essentials: Pack water, snacks, device chargers, and medications. UAE buses are air-conditioned.
Dress Respectfully: Dress modestly, especially in religious or conservative areas. Choose comfortable attire suitable for the weather.
Observe Rules: Adhere to bus regulations—smoking, eating, and drinking are generally prohibited. Use headphones for audio devices.
Be Considerate: Minimize noise levels to respect fellow passengers. Use headphones for music and calls.
Keep Your Belongings Safe: Watch your belongings closely. Though UAE is safe, caution is prudent.
Practice Patience: Understand that intercity travel involves stops for other passengers. Patience ensures a smooth journey.
Enjoy the Views: Experience UAE's scenic beauty during bus journeys. Capture memorable moments amid picturesque landscapes.
What to Look Forward to When Visiting Sharjah
Embark on a captivating journey as you discover what awaits you when visiting Sharjah. Known as the "Cultural Capital of the UAE," this emirate offers a blend of tradition and modernity, creating a unique and enriching travel experience. Here's what to look forward to:
Cultural Heritage: Immerse yourself in Sharjah's rich cultural heritage. Explore the historic Heart of Sharjah, with its charming alleys, restored buildings, and vibrant markets that transport you to the past.
Museums and Art: Sharjah boasts a variety of museums that offer insights into history, art, and science. Don't miss the Sharjah Art Museum, Sharjah Museum of Islamic Civilization, and the Sharjah Science Museum.
Al Qasba: Experience the contemporary side of Sharjah at Al Qasba, a modern waterfront development. Enjoy leisurely strolls along the canal, explore the Eye of the Emirates Ferris wheel, and indulge in delicious cuisine.
Cultural Festivals: Sharjah hosts numerous cultural festivals throughout the year, celebrating literature, art, music, and heritage. The Sharjah International Book Fair and Sharjah Heritage Days are highlights.
Sharjah Corniche: Relax and unwind along the picturesque Sharjah Corniche. Enjoy scenic views, lush gardens, and recreational activities for a tranquil escape.
Al Majaz Waterfront: Discover the vibrant Al Majaz Waterfront, offering an array of dining options, family-friendly attractions, and scenic boat tours along the waterfront.
Central Market: Explore the bustling Central Market (Blue Souk), a treasure trove of traditional and modern shops offering jewelry, textiles, handicrafts, and more.
Nature and Wildlife: Sharjah's natural beauty shines at the Arabian Wildlife Center and the Sharjah Desert Park. Get up close to diverse species of animals and explore captivating desert landscapes.
Educational Experiences: Sharjah's edutainment attractions like Sharjah Aquarium and Sharjah Discovery Center offer interactive learning experiences for visitors of all ages.
Culinary Delights: Savor the flavors of Sharjah's diverse cuisine. From traditional Emirati dishes to international delights, the emirate offers a range of dining options to satisfy every palate.
Traditional Souks: Discover the authentic charm of traditional souks like Souk Al Arsah and Souk Saqr. Shop for souvenirs, spices, textiles, and unique handicrafts.
Architectural Marvels: Admire the stunning architecture of mosques like Al Noor Mosque and King Faisal Mosque, which showcase Islamic artistry and cultural significance.
Educational Institutions: Sharjah is home to prestigious universities and educational institutions, contributing to a vibrant academic atmosphere.
Natural Reserves: Explore the protected natural reserves in Sharjah, such as Wasit Wetland Centre, offering opportunities for birdwatching and eco-tourism.
Frequently Asked Questions
1. What are the operating hours of the Sharjah to Umm Al Quwain bus service?
The Sharjah to Umm Al Quwain bus service typically operates from early morning until late evening, with buses running from around 6:00 AM to 10:00 PM. Exact timings may vary, so it's recommended to check the latest schedules.
2. How often do the buses run from Sharjah to Umm Al Quwain?
Buses on this route usually have intervals of approximately 30 to 60 minutes between each departure. During peak hours, the frequency might be higher to accommodate increased passenger demand.
3. Is the bus service available on weekends and public holidays?
Yes, the Sharjah to Umm Al Quwain bus service operates on weekends and public holidays. However, it's advisable to verify the specific schedules for these days, as they might have slight variations.
4. Where can I find the bus timings and schedules for Sharjah to Umm Al Quwain routes?
You can access the Sharjah to Umm Al Quwain bus timings and schedules through the SRTA website, at bus stations, or by using dedicated social media pages or app of the SRTA. These sources provide accurate and up-to-date information.
5. Are there any changes in bus timings during the holy month of Ramadan?
Yes, during Ramadan, bus timings might be adjusted to accommodate the fasting period. Buses may start operating a bit later in the morning and might have extended service hours in the evenings due to Iftar time.
6. Can I rely on real-time updates for accurate bus timings?
Yes, some official transportation apps offer real-time updates on bus timings. These apps are particularly useful to stay informed about any delays or changes in the schedule.
7. Are there specific facilities for non-native English speakers using the bus service?
Generally, UAE buses display route information and announcements in both Arabic and English. This helps non-native English speakers understand the schedule and navigate their journey with ease.
8. Do buses provide amenities like air conditioning during the journey?
Yes, UAE buses are equipped with air conditioning to ensure passenger comfort throughout the journey.
Summary
In conclusion, transitioning from our earlier exploration of Umm Al Quwain to Sharjah bus timings, we now embark on the reverse adventure.
Whether you're a Sharjah resident seeking a day of exploration or a curious visitor eager to uncover Umm Al Quwain's offerings, this guide equips you with essential insights for a hassle-free and enjoyable journey.
As you delve into the details of Sharjah to Umm Al Quwain bus timings, routes, and amenities, you're poised to make the most of your travel experience. Let's set out on this exciting journey together!
READ NEXT: 8 Best Reasons Why Umm Al Quwain Is Perfect for Peaceful Getaways