Buses are a frequent and favored choice for commuting in Ajman, providing an accessible means of travel between emirates, supplementing private transportation options. Amidst the convenience of taxis and personal vehicles, buses emerge as an economical and user-friendly inter-emirate conveyance, thanks to reliable services such as the Ajman to Ras Al Khaimah bus timings.
This guide will look into the comprehensive details of the Ajman to Ras Al Khaimah bus service, providing essential insights for those seeking an efficient and budget-conscious travel alternative.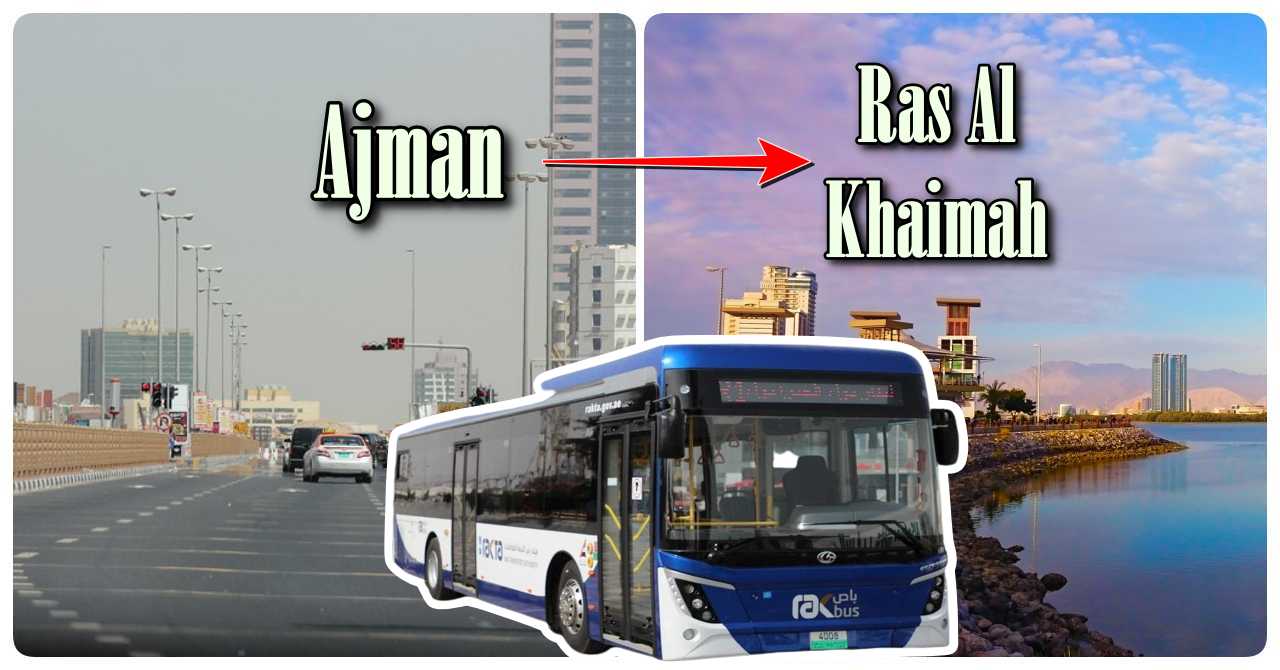 Nestled within the embrace of its ancient heritage, Ras Al Khaimah unfolds as a treasure trove of history spanning back an astounding 7,000 years.
The 13th and 14th centuries witnessed the rise of a thriving port that would eventually blossom into the modern Ras Al Khaimah.
Named Julfar in that era, this vibrant enclave emerged as a distinguished trading nexus along the Arabian Gulf, renowned not only for its bustling commerce but also for its alluring pearls that captivated hearts far and wide.
The recent unearthing of rare Chinese pottery in 2019 stands as a testament to the bustling trade routes that once crisscrossed this land of yore.
With its historical tapestry woven intricately, Ras Al Khaimah boasts a wealth of around 1,000 archaeological sites.
These enclaves, each holding a piece of the emirate's past, have earned their place on the esteemed 'UNESCO Tentative List for World Heritage'.
Amidst this historical canvas, the emirate proudly showcases Al Jazirah Al Hamra, an impeccably preserved traditional fishing village that resonates with echoes of a bygone era.
Gracing the landscape is the solitary sentinel of history, the Dhayah Fort, an 18th-century testament to the tenacity of time.
Yet Ras Al Khaimah is not just a realm of antiquity; it is also an ascending star on the firmament of tourism.
The emirate unfolds its vistas, revealing diverse landscapes that dance between rolling sand dunes, tranquil coastal strips, salt flats that gleam in the sun's embrace, the secretive embrace of mangroves, and the cradle of mountains that cradle its heart.
And if that isn't inviting enough for you to visit, then nothing else is! If you're ready to take a trip to the majestic emirate of Ras Al Khaimah by bus, then keep on reading.
Map
Here is a map taken by inter-city buses that ply between Al Mussalla Bus station in Ajman to Al Hamra Bus station in Ras Al Khaimah, and vice versa. Take note that there are no stops along this trip, which takes about 1 hour and 45 minutes, one-way.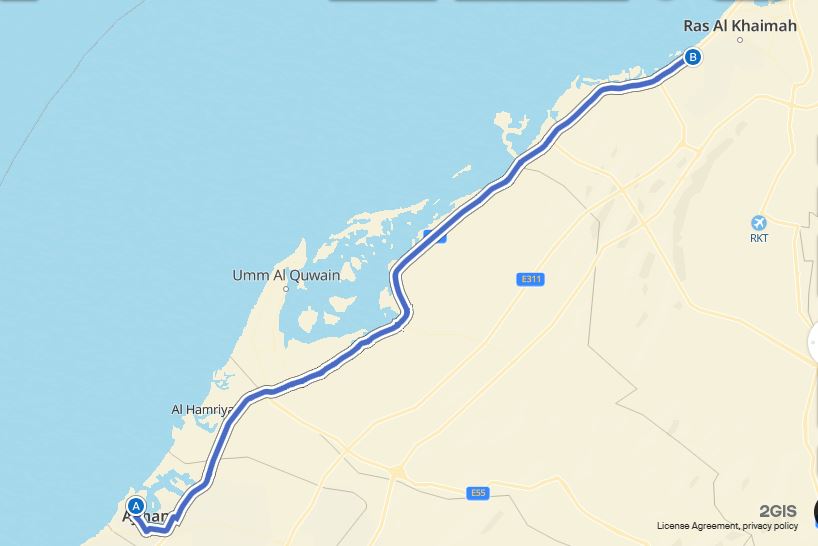 Route
1. Ajman Al Musalla Bus Station 1
Address: Ajman Al Musalla Bus Station 1, Al Bustan, Ajman, United Arab Emirates.
Nearby Landmarks:
Sheikh Khalifa Hospital: A well-known hospital providing medical care to residents and visitors.
Al Bustan Park: A serene green space perfect for relaxation and leisure activities.
Ajman Corniche: A picturesque waterfront area offering scenic views and a pleasant atmosphere for strolls.
2. Ras Al Khaimah Bus Station
Address: Ras Al Khaimah Bus Station, Al Nakheel, Ras Al Khaimah, United Arab Emirates.
Nearby Landmarks:
Manar Mall: A prominent shopping destination offering a range of stores, dining options, and entertainment.
RAK Hospital: A leading healthcare facility known for its advanced medical services.
Al Naeem Mall: Another popular shopping center with various shops and eateries.
Bus Schedule and Timings
For those planning to travel between Ajman and Ras Al Khaimah, the bus service provides a convenient and affordable mode of transportation.
The bus timings have been designed to cater to various schedules, making it easier for passengers to choose a suitable time for their journey.
Here are the available bus timings:
– 05:30 am: An early morning option, perfect for early risers or those who need to reach Ras Al Khaimah at the start of the day.
– 07:00 am: A great choice for those who prefer a bit more sleep but still want to get an early start to their day.
– 09:00 am: If you're looking for a mid-morning journey, this timing allows you to avoid the rush hour traffic while still reaching your destination in good time.
– 11:00 am: A convenient time for a relaxed morning, suitable for travelers with flexible schedules.
– 01:00 pm: Planning for a midday excursion? This timing is ideal for those who want to explore Ras Al Khaimah during the day.
– 03:00 pm: An afternoon option for travelers who want to set out after lunch, ensuring a leisurely journey.
– 05:00 pm: If you're aiming to reach Ras Al Khaimah by the early evening, this timing provides ample time to enjoy the surroundings upon arrival.
– 07:00 pm: For those who want to experience the charm of Ras Al Khaimah in the evening, this bus is a perfect fit.
– 09:00 pm: The last bus of the day, catering to night owls or those who need to make a late journey.
Remember that these timings are subject to change, so it's always a good idea to check with the bus service provider for any updates or adjustments. Whether you're commuting for work, leisure, or exploration, the Ajman to Ras Al Khaimah bus timings offer flexibility and convenience for your travel needs.
Bus Fare and Other Features
Bus Fare Options: When it comes to affordability, buses are a standout choice. The bus fare for your journey hinges on whether you possess a Masaar card or not. Here are the two fare options available:
Masaar Card: AED 20 – This card offers a discounted rate for your bus trip, making it a wallet-friendly choice for frequent travelers.
Without Masaar Card: AED 25 – For those without a Masaar card, this fare option provides a slightly higher rate but still remains cost-effective compared to other modes of transport.
Travel Distance and Duration: The distance between the Ajman bus station and Ras Al Khaimah spans approximately 50 to 70 kilometers. Under normal traffic conditions, this route can take over an hour to traverse by car. However, opting for the bus not only saves you money but also valuable time. The bus journey is efficiently completed in less than two hours for a pocket-friendly cost, making it a swift and practical way to reach your destination.
Ticket Purchase Locations: Acquiring your bus tickets is a straightforward process. To embark on your journey from Ajman to Ras Al Khaimah, you can purchase your tickets at Al Musalla Bus Station. For the return leg of your trip, tickets can be conveniently obtained at Ras Al Khaimah Bus Station. This arrangement ensures a seamless travel experience, allowing you to focus on enjoying your exploration rather than worrying about ticket procurement.
By opting for the bus, you unlock a budget-friendly and time-efficient mode of travel that ensures a comfortable and convenient journey between Ajman and Ras Al Khaimah.
Whether you're a frequent traveler or embarking on a spontaneous trip, the bus service caters to your needs while affording you the luxury of relaxation and exploration.
Tips when Traveling between Ajman and RAK
Embarking on a journey from Ajman to Ras Al Khaimah unveils an enticing opportunity to explore the distinct charms of these Emirates and immerse yourself in their captivating offerings.
To ensure a seamless, enjoyable, and stress-free travel experience, here are vital pointers to consider:
Confirm Bus Schedules and Frequency: Prior to commencing your trip, familiarize yourself with the bus timings and frequency connecting Ajman and Ras Al Khaimah. This knowledge will enable you to efficiently plan your journey and minimize waiting time at the bus station.
Secure Your Tickets in Advance: If you're utilizing the RAKBUS app or RAKTA's website for ticket booking, consider making advance reservations to secure your seat. This step is particularly crucial during peak travel periods to guarantee your space on the bus.
Carry Valid Identification: When journeying between Emirates, carrying valid identification such as an Emirates ID or passport is imperative for security checks and verification purposes.
Arrive Early at the Bus Terminal: To avoid eleventh-hour rushes or confusion, arrive at the bus terminal slightly ahead of the departure time. This will afford you ample opportunity to purchase your ticket, locate your bus, and settle in comfortably.
Strategize Your Itinerary: Prior to embarking, outline a rough itinerary of the places you intend to explore in Ras Al Khaimah. This approach aids in effective time management and maximizing your visit.
Hydrate and Snack Thoughtfully: While onboard, it's advisable to have a water bottle and light snacks on hand to stay hydrated and invigorated during the journey.
Dress for Comfort: Opt for attire and footwear that prioritize comfort, ensuring a relaxed experience as you go on this journey. Given the potential duration of the bus ride, comfort remains important.
Observe Local Traditions and Etiquette: Both Ajman and Ras Al Khaimah boast rich cultural traditions. Express respect by adhering to local customs, dressing modestly, and demonstrating mindful behavior.
Leverage the RAKBUS App: Make the most of the RAKBUS app's features, including route planning, tracking, and ticket reservation. These tools contribute to a seamless and efficient travel process.
Revel in the Scenic Vistas: While en route, take pleasure in the scenic beauty and captivating views that unfold between Ajman and Ras Al Khaimah. The journey itself can become a cherished aspect of your escapade.
Plan for Your Return: As you organize your itinerary, factor in arrangements for your journey back to Ajman. Ensure you possess details concerning bus schedules and routes for your return.
Stay Informed: Remain updated about any modifications or changes pertaining to bus services or schedules. Stay connected through official channels and refer to the RAKTA app and website for pertinent information.
Taking into consideration these guidelines ensures a rewarding and memorable voyage from Ajman to Ras Al Khaimah, allowing you to savor every moment of your travel while discovering the unique allure of these Emirates.
Frequently Asked Questions
1. What are the bus timings for traveling from Ajman to Ras Al Khaimah?
Bus timings for the Ajman to Ras Al Khaimah route typically start at 05:30 am and continue throughout the day until 09:00 pm.
2. How long does it take to travel by bus from Ajman to Ras Al Khaimah?
The bus journey between Ajman and Ras Al Khaimah usually takes around one hour, providing a swift and convenient travel option.
3. Is there a night bus from Ajman to Ras Al Khaimah?
Yes, there is a bus departing at 09:00 pm, offering a travel option for those who prefer to journey during the evening.
4. Are there any peak hours for the Ajman to Ras Al Khaimah bus service?
While specific peak hours may vary, it's advisable to consider avoiding travel during the morning and evening rush hours to ensure a smoother and more comfortable ride.
5. Can I buy tickets for the Ajman to Ras Al Khaimah bus online?
Yes, tickets for the Ajman to Ras Al Khaimah bus can be purchased online through the RAKBUS app or RAKTA's website, providing a convenient option to secure your seat in advance.
6. Where can I buy bus tickets for the Ajman to Ras Al Khaimah route?
Tickets for the journey can be purchased at Al Musalla Bus Station in Ajman. For the return trip, you can obtain tickets at Ras Al Khaimah Bus Station.
7. Do bus timings remain consistent throughout the week, including weekends?
Yes, the bus timings generally remain consistent throughout the week, including weekends. However, it's advisable to check for any potential schedule variations or updates.
8. Are there any stops or breaks during the Ajman to Ras Al Khaimah bus journey?
The bus journey is typically non-stop, offering a direct route between the two Emirates. It's recommended to have any necessary refreshments or facilities utilized before boarding.
Summary
In conclusion, the prevalence of buses as a popular mode of transportation in Ajman reflects their pivotal role in facilitating seamless inter-emirate travel.
As an economical and easily navigable option, buses offer a valuable supplement to private means of transport, catering to both residents and visitors alike.
The convenience of the Ajman to Ras Al Khaimah bus timings exemplifies the commitment to providing reliable and accessible services.
Whether embarking on an exploratory adventure or a routine commute, the bus service stands as a testament to the interconnectedness and accessibility that modern transportation strives to achieve.
READ NEXT: 12 Things to Do in Ras Al Khaimah