A tragic accident has occurred along Mohammed bin Zayed Road (bound for Sharjah) which left 8 people dead, and 6 injured. According to a post from the official Facebook Page of the Dubai Police, a 14-passenger minibus rammed into a truck which was stationary on a road shoulder.
Also Read: 1 Dead and 3 Injured in Gas Leakage Explosion in Mankhool, Bur Dubai
The accident happened in MBZ Road, before Mirdif City Centre road Exit at 4:54 am on a Monday – September 30, 2019. All the victims of the crash were of Asian nationalities.
Traffic Accident in MBZ Road as Minibus Rams into Truck
To all drivers, please be careful and stay alert while on the road.
Below is the said post from the Dubai Police FB Page:
Eight dead, six injured after minibus rams into lorry
Eight people were killed and six others seriously injured in a traffic accident between a 14-pasenger minibus on Sheikh Mohammed bin Zayed Road- Sharjah Bound, before Mirdif City Centre Exit.
The incident happened today (Monday) at 4:54 a.m. when the minibus driver rammed into the lorry, which was stationary on the road shoulder.
Brigadier Saif Muhair Al Mazroui, director of Dubai Traffic Police said the minibus driver and seven passengers died on the scene while two passengers sustained serious injuries and four others sustained moderate injuries, all were taken to Rashid Hospital. "The crash victims are all Asian nationals, "he added.
Brig. Al Mazroui pointed out accidents involving buses or heavy lorries usually cause greater damage and casualties, revealing that these kind of vehicles caused 34 accidents over the last eight months, resulting in one death and 48 injuries. Among those victims, five were seriously injured, 16 suffered moderate injuries and 27 suffered minor injuries.
"35 accidents occurred during the same period last year, resulted in 12 deaths and 87 injuries, 11 of them suffered severe injuries, 27 suffered moderate injuries and 38 suffered minor injuries." Brig. Al Mazroui added.
Brig. Al Mazroui urged drivers to be careful when driving and obey speed limits, traffic signs, and signal.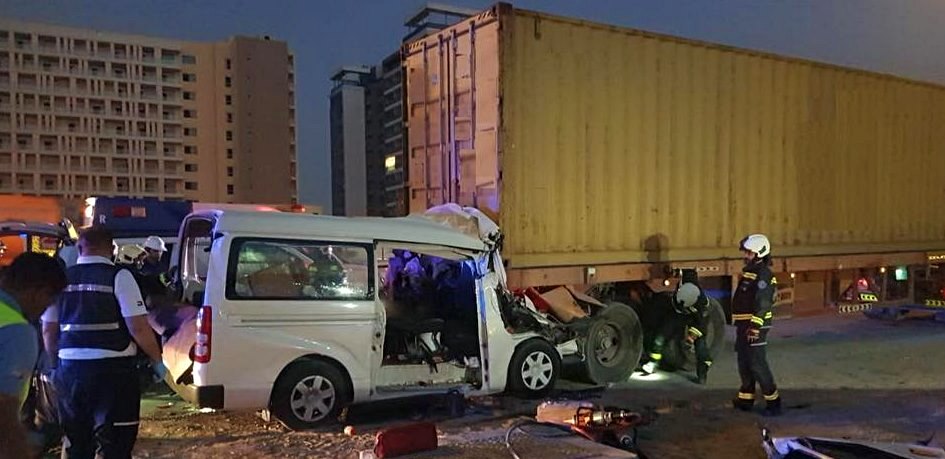 Here's a similar post from the official Twitter Account of Dubai Police:
#أخبار | وفاة 8 أشخاص وإصابة 6 آخرين في اصطدام بليغ بين "ميني باص" وشاحنة
التفاصيل:https://t.co/NvMhk57Ahp #أمنكم_سعادتنا #شرطة_دبي #نتواصل_ونحمي_نبتكر_ونبني pic.twitter.com/M8WicYhDX5

— Dubai Policeشرطة دبي (@DubaiPoliceHQ) September 30, 2019