I had a blast climbing a wall and going through an Obstacle course in the adventure zone of AdventureHQ in Times Square Center – Dubai. During a day off from work, we went to this mall in Dubai to check out a couple of activities one can do especially when you want to work up a sweat.
Location: Adventure HQ, Time Square Mall, Dubai
Nearest Metro Station: Noor Islamic Bank – Red Line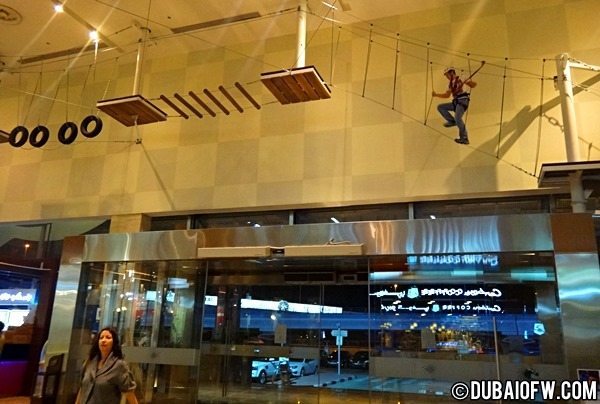 above the Time Square center in Dubai
I still had an Entertainer coupon which gave us a buy one take one discount for the entrance fee which was 50 AED.
Adventure Zone Pass: 50 Dirhams
We signed some forms to acknowledge the danger of the activity and had a guide help us wear our safety harness. After an introduction of the set-up and some guidelines,  we were ready to try out the adventure zone.
Adventure Zone Obstacle Course
The obstacle course is composed of a series of challenges that would test your coordination and strength. It's like a high-platform playground. You need to jump, hop and hold tight while you climb and overcome these challenges.

above the ground floor
At the beginning, I had difficulty and my knees were shaking. I wasn't used to the height and how effective the safety harness was. I was only holding on to a piece of rope that is connected to the cable, and this was the only thing preventing me from falling in case I make a wrong move.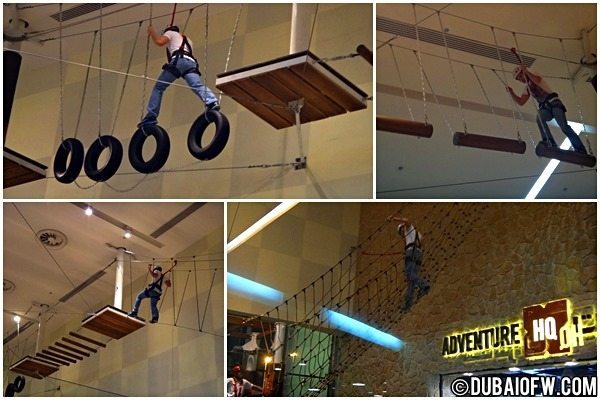 climb and climb
I was in a high platform (almost at the ceiling) and I could see the people below me on the ground floor. People would be looking at me but I didn't mind as I was too focused to make sure I would get to the finish line safely. When I did, I was trembling.
We proceeded to the wall climb activity next.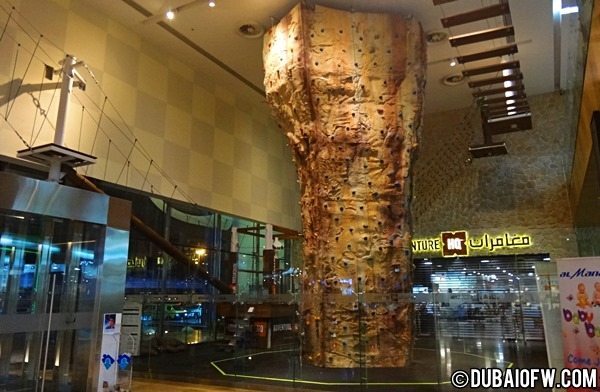 Dubai Wall Climb in Adventure HQ
Wall Climb in Adventure HQ
The climbing facility was great as they have different levels. You simply have to follow the color of your rock while you climb the wall. This was pretty tricky and at one of the levels, I fell and did not make it through. Maybe next time I'll be able to do it.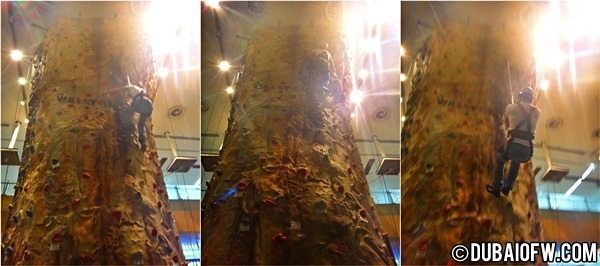 UAE Wall climb facility
For those who want to defy gravity and work up a sweat, I suggest you try out the facilities in AdventureHQ. This is a quick fix to those who want a short adventure in the middle of Dubai city.
How to Get There:
Ride the metro heading to Noor Islamic Bank. When you exit, you can either hail a taxi or ride a bus to Time Square Mall. We opted to take the taxi since it was much faster.
Location: AdventureHQ, Times Square Mall
Nearest Metro Station: Noor Islamic Bank – Red Line
AdventureHQ Contact Details:
Telephone Number: +971 4 346 6824
Toll free: 800-ADVENTURE (238368873)
Email: info@adventurehq.ae
Website: www.adventurehq.ae
AdventureHQ Store Hours:
Saturday – Wednesday 10 am to 10 pm
Thursday – Friday 10 am to Midnight
Social Media Pages:
Facebook: www.facebook.com/adventurehqme
Twitter: www.twitter.com/adventure_hq
Instagram: www.instagram.com/adventurehq
YouTube: http://www.youtube.com/user/AdventureHQ