There are days when I feel I want to celebrate and treat people a small meal and I thought about ordering food from Domino's Pizza. I had an Entertainer coupon discount that would entitle me a free Medium-Sized Pizza for a Medium-Sized pizza bought. Basically, it's a Buy One Take One offer.
I tried calling for delivery but it turns out, the Entertainer offer was only valid for Take-Out transactions. I called the nearest Domino's Pizza branch which was in Dubai Healthcare City and asked them to prepare my orders of Pepperoni and Philly Cheese Steak Pizzas so that when I would arrive, everything would be ready.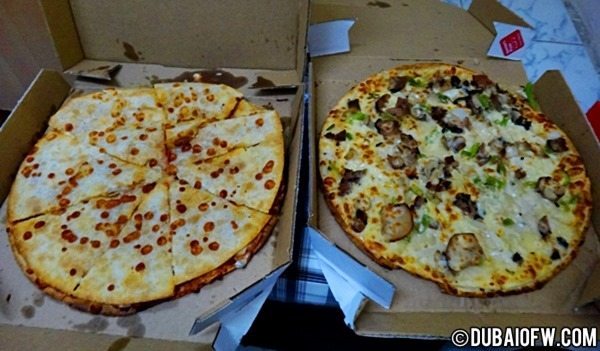 Domino's Pizzas
The Domino's Pizza staff recommended to upgrade to a Crispy Melt crust for the pepperoni and an Italian Crust for the Philly Cheese Steak. I agreed because I have never eaten the pizza from Domino's.
Domino's Pizza in Dubai Health Care City
I was in a hurry and hailed a taxi thinking that Dubai Health Care city was just near Al Karama metro station. It's near, but it's not that near. I was thinking I'd pay only 10 Dirhams for the taxi. Instead, I paid around 15 for one way. The thought that having the staff deliver the pizza would cost almost the same as what I spent for the taxi ride. Oh well, maybe next time.
Anyway, we ate the pizza and it was really delicious! I especially loved the Crispy melt!
delivery pizza in Dubai!
I spent more than what I actually thought but I learned my lesson. Still, I'll maximize the remaining Entertainer coupons before the year ends.
Domino's Pizza Menu
Meatzza Feast, Peperroni Feast, Extravaganzza Feast, Philly Cheese Steak, Deluxe Feast, Italiano Feast, Chicken Legend, Tex-Mex Fedast, Vegi Feast, Hot & Spicy, Hawaiian Feast, Barbecue Feast, Superb Cheese
Types Domino's Pizza Crusts:
Double Melt, Cripsy Melt, Crunchy Thin Crust, Italian Crust, Classic Hand Tossed
Other Contact Details
Dubai Domino's Pizza Telephone Numbers:
Jumeirah – (04) 345 5151
Muraqqabat – (04) 265 1212
Barsha – (04) 374 0600
Al Mizhar – (04) 287 4243
Discovery Gardens – (04) 423 3822
Al Qusais – (04) 257 9779
Health Care City – (04) 440 4900
Knowledge Village – (04) 440 8989
Sharjah Domino's Pizza Telephone Numbers:
Abu Dhabi Domino's Pizza Telephone Numbers:
Khalidiya – (02) 666 4545
Hamdan Street – (02) 633 0088
Samha (02) 562 0207
NOTE: Delivery Charge is 5 Dirhams