Are you craving for some pepperoni pizza, panini mozzarella, and meatball spaghetti? Head to Burjuman Mall and indulge in authentic Italian cuisine at Mercato Centrale, our very own slice of Italy, right here in Dubai!
The restaurant's Italian chefs are cooking up special dishes, using classic recipes that have been passed down from generation to generation. Get ready to sample their healthy salads, delicious paninis, pizzas, and of course, homemade pasta! Mercato Centrale offers dine in, takeaway, and delivery options… so you can enjoy their food whenever, wherever you may be!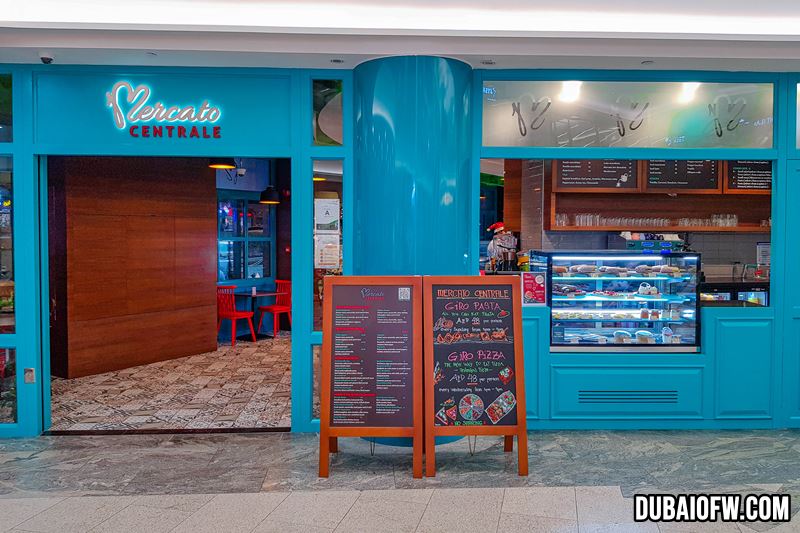 Mercato Centrale Bujuman mall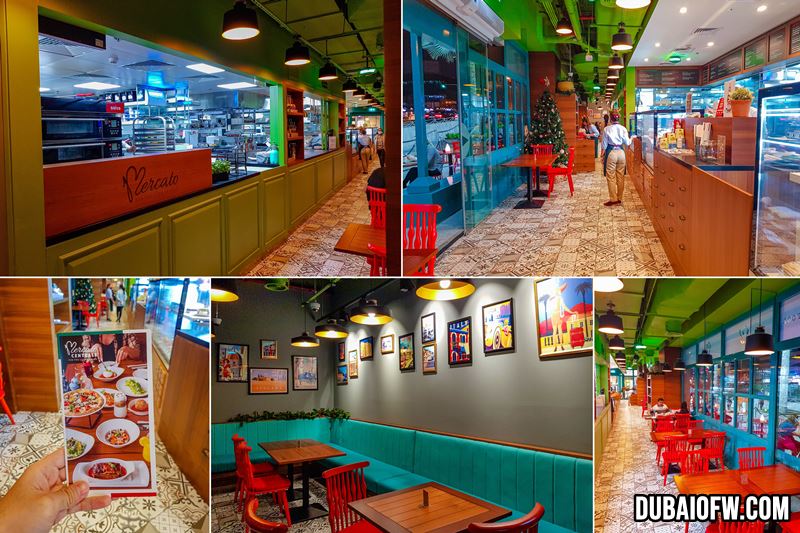 inside Mercato Centrale Dubai
Festive Food Experience with a Taste of Italy at Mercato Centrale
We got to visit this restaurant on a Sunday. As soon as you enter, Mercato Centrale welcomes you with traditional Italian decor, reminiscent of the cozy little eateries you'll find along the streets of Italy. You'll also be greeted by the tantalizing aroma of freshly baked dough, tomato sauce, cheese, and other mouth-watering ingredients.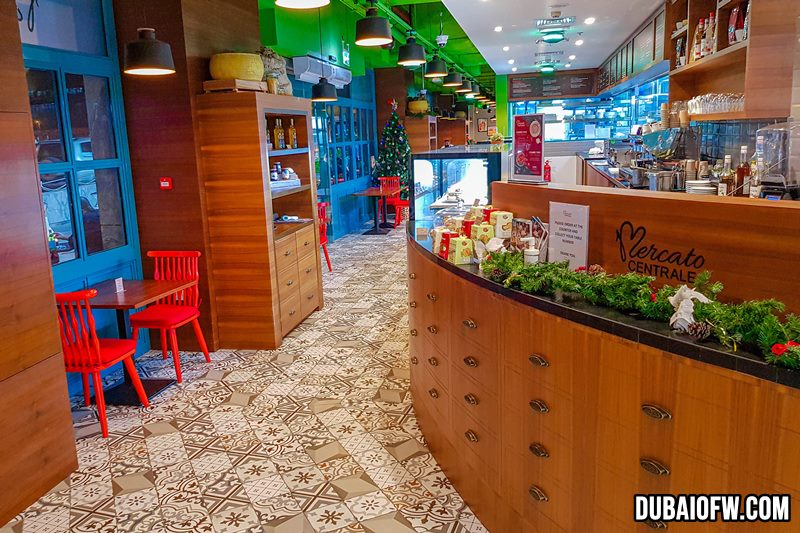 entering the restaurant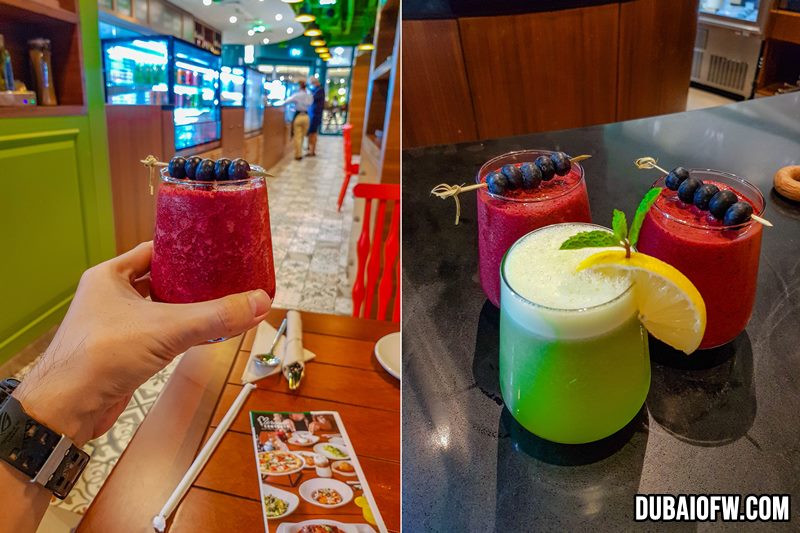 fresh fruit drinks
For starters, you could try the Mercato Salad, which combines kale, spinach, lettuce, avocado, orange, and pumpkin seeds, topped by agave dressing. Or you could sink your teeth into a Panini Milanese, containing pan-fried breaded chicken breast, fresh tomato, butter lettuce, and tartar sauce. The Panini Tomato Mozzarella is worth a try, too!
3-Course Festive Set Menu at AED 65 per person
We sample the Festive Set Menu which is fitting for the Christmas holiday season. This is a 3-course menu which includes a Pumpkin and Cinnamon Soup with Crunchy Parmesan toast, Christmas Roasted Chicken, and a Chocolate Christmas Log dessert with vanilla custard.
The Festive Christmas menu has a price of AED 65 for one person.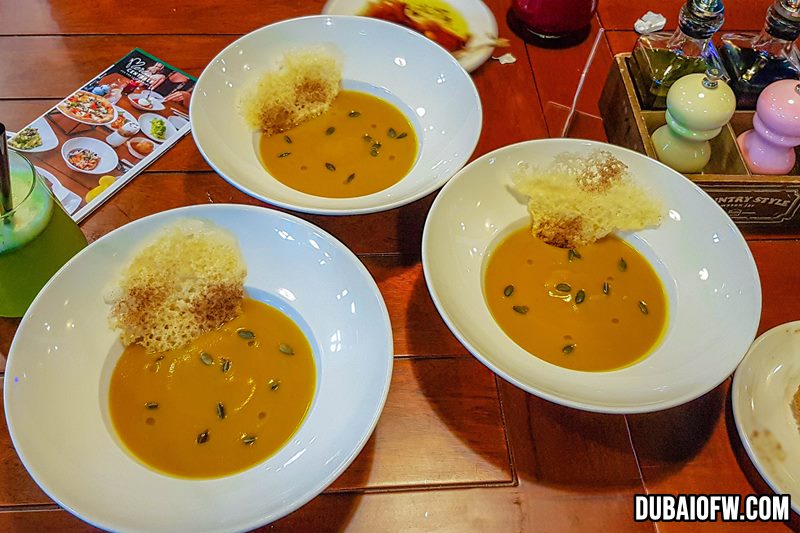 Pumpkin and Cinnamon Soup with Crunchy Parmesan toast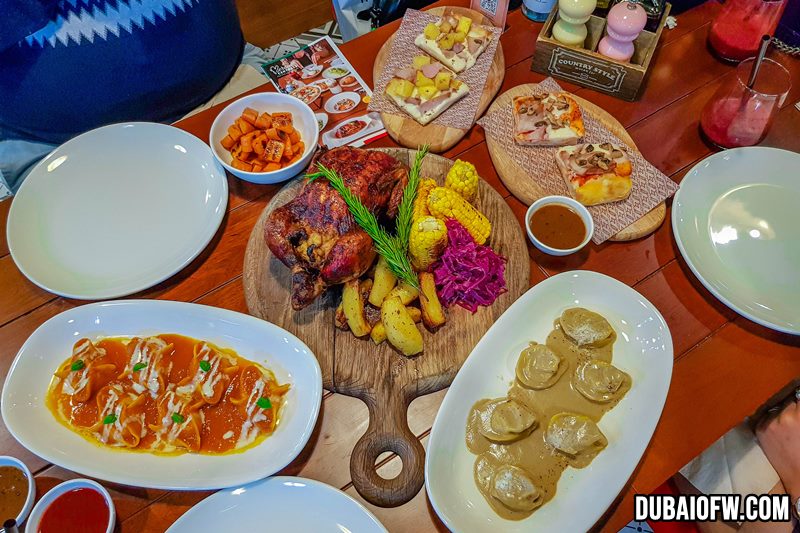 The Festive Menu includes a Christmas roasted chicken with dry pineapple and cranberries stuffing, sweet and sour red cabbage, sweet corn, honeyed carrots and parsnips, roast potatoes, tangy plum and cranberries sauce, pan gravy
If you're up for a breakfast meal, the Mercato Big Breakfast is available from 7:30 am until 3:00 pm. It comes with two eggs (cooked any way you want), veal bacon, roasted potatoes, baked beans, sauteed mushrooms, and grilled tomatoes. The Avocado Eggs Benedict is also a popular choice — poached eggs on toast, with chicken ham, avocado, and Hollandaise sauce.
As for the main course, you're in for a treat! The menu includes Pollo Parmigiana, featuring crispy crumbed chicken, topped with tomato sauce and melted mozzarella. Meanwhile, seafood lovers will love the Salmone & Pesto, with its crispy seared Norwegian salmon, served with grilled vegetables and basil pesto sauce. Yum!
AED 48 Unlimited Pasta Sundays
Of course, an Italian meal would not be complete without pizza and pasta, and Mercato Central offers plenty! Homemade pasta, anyone? Try the Classic Fettucine Pesto, Penne Arrabbiata, or the Spinach & Mushroom Tortellini.
Every Sunday, there is an eat-all-you-can pasta from 5pm to 9pm for just AED 48.
AED 48 Unlimited Pizza Wednesdays
Aside from the usual Pepperoni and Meat Lover pizzas, there's Sicilian Eggplant, Chicken Romana, and Classic Margherita.
Every Wednesday, there is an eat-all-you-can pizza from 5pm to 9pm for just AED 48.
Tortellini Spinach Ricotta with Mushroom Cream Sauce
Burrata Cheese Ravioli – Tomato Sauce and Burrata Cream
Roman Pizza Slices
Mercato Centrale also has treats to satisfy anyone's sweet tooth: Tiramisu, Raspberry Panna Cotta, Absolute Chocolate (chocolate mousse), and Red Velvet (sponge cake with cream cheese and fresh strawberry).
We sampled the Chocolate Christmas Log with vanilla custard, Leche Flan in a Jar, Chocolate Trio in a Jar, and Pineapple Pie.
Wash everything down with a cup of — you guessed it — Espresso, Macchiato, or Cappucino coffee. Earl Gray, Peppermint, and Jasmine teas are also available, along with other beverages.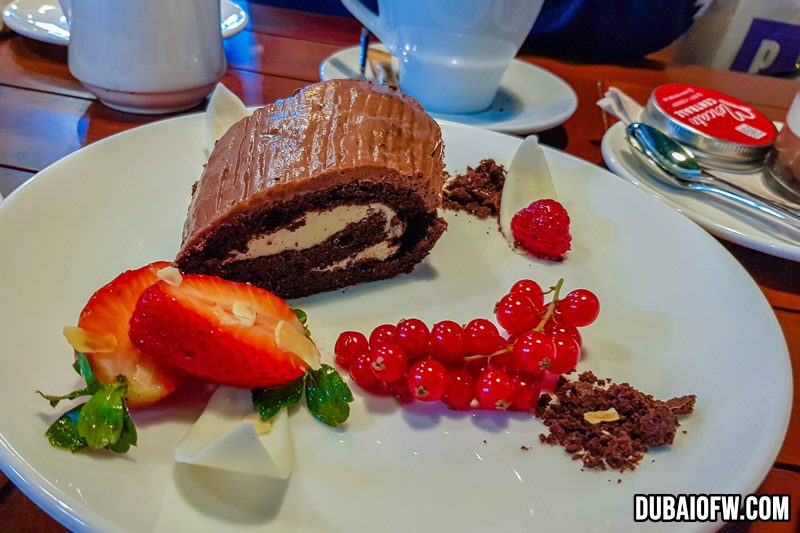 Christmas Log – part of the Festive menu set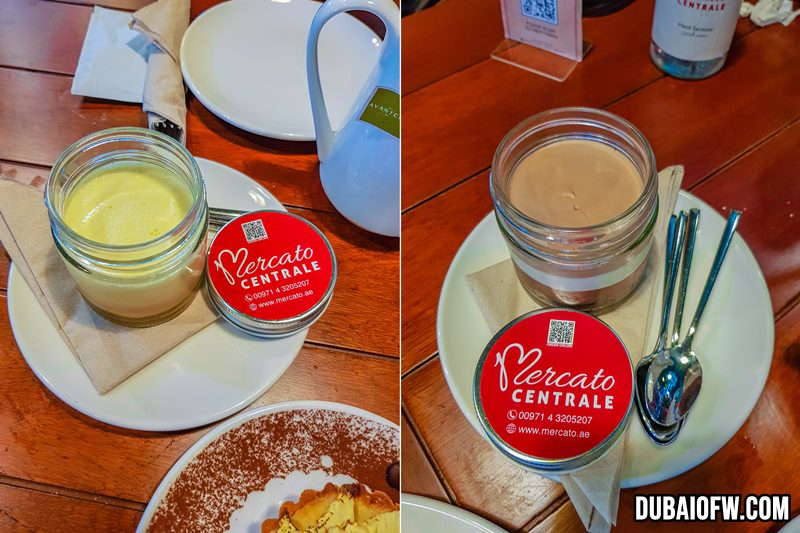 Leche Flan in a Jar – Chocolate Trio in a Jar
Pineapple Pie
Opening Hours and Prices
Mercato Centrale is open daily, from 7:30 am until 12:00 midnight. On average, a meal for two would cost around AED 140. The restaurant also offers a Box Menu, which is perfect for takeout and delivery!
The Light Lunch, containing a pizza slice or sandwich, half soup, and dessert, is priced at AED 38. There's also The Lunch Box (AED 54) which includes half pasta or sandwich, soup or half salad, and dessert, as well as The CEO Lunch Box (AED 78), with one pasta or main course, soup or half salad, and dessert.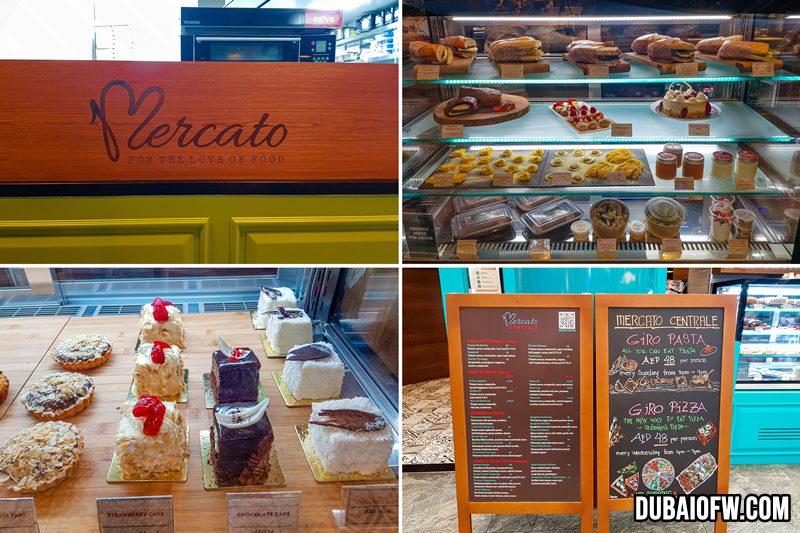 Mercato Dubai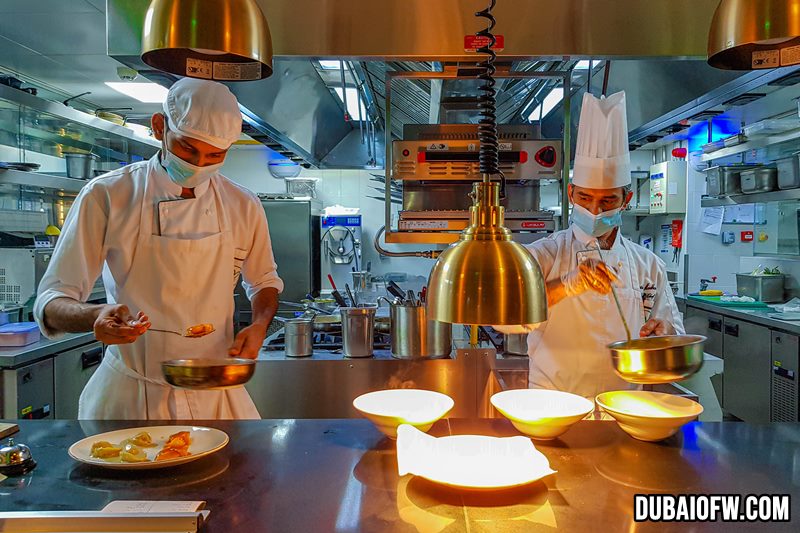 chefs preparing freshly-made pasta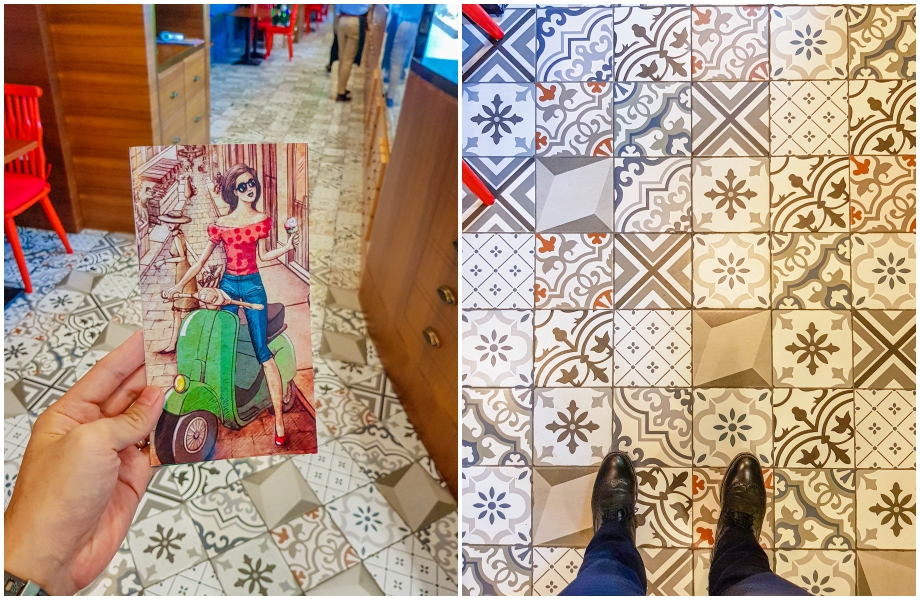 lovely tiles and design
Video: Mercato Centrale Dubai
To know more about Mercato Centrale, here's a quick video based on our experience:
Contact Information – Mercato Centrale
Address: Ground Level, Burjuman Centre, Mankhool, Dubai
Telephone: +971 4 320 5207
Email: info@mercato.ae
Website: https://www.mercato.ae/
Instagram: https://www.instagram.com/mercatoae/
Facebook: https://facebook.com/Mercato.Dubai/
Google Map Location
Below is the location of Mercato Centrale on Google Maps, for your reference:
Aside from Italian cuisine, are you also craving for some classic Pinoy dishes? Here's a list of the
best Filipino restaurants
in Dubai, where you can enjoy some good-ole'
sinigang
,
sisig
,
kare-kare
,
lechon kawali
,
tinola
,
adobo
, and other Pinoy favourites.