Dubai, as a one of the world's top cities, has been at the forefront of cultural, lifestyle, and tourist attractions. This is physically validated by the innovations laid out by the government in terms of its structural facilities, systems, as well as legislative efforts carried out by authorities throughout the emirate.
ALSO READ: Visit Burj Khalifa & Other Dubai Attractions for AED 200 Only
This time around, the spotlight is focused on Dubai's artistic facet which contributes to its charm as a modern lifestyle and city living destination.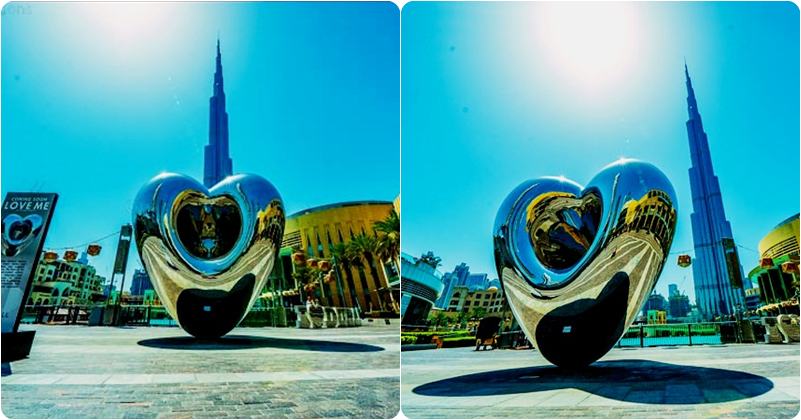 [LOOK] Art Emaar Introduces New Heart Sculpture in Dubai
In line with this,  British master sculptor Richard Hudson has returned to Downtown Dubai with a bigger and better offering for citizens and lovers of the city.
Hudson's three-dimensional, mirrored-steel 'Love Me' heart sculpture which first appeared at the Dubai Mall in February has been recreated – but this time on much larger scale.
The new 'Love Me' sculpture, which is the latest piece to be added to Emaar's growing community art portfolio, is so massive that it had to be transported in pieces to its new home and assembled on site.
At a towering height of five metres and equal width, 'Love me' has a depth of 3.8 metres and weighs over 7,000 kg. Described by Hudson as a symbol of encompassing love and peace – an icon which transcends all physical boundaries, the art piece resonates with people from all walks of life and fittingly alludes to the nation's theme for 2019, "Year of Tolerance".
The sculpture, in its new spot in Downtown Dubai, has been strategically positioned to reflect the sky-high Burj Khalifa on its mirrored steel surface making it the perfect companion to the two captivating LED shows lighting up the iconic tower throughout the holy month of Ramadan.
Hudson's works have been exhibited around the world including shows across Europe, the Americas and Asia. He has curated private collections for the likes of Sir Elton John, Claudia Schiffer, Michael Douglas and Catherine Zeta-Jones, among others.
The Dubai Mall continues to provide quality shopping experience by setting up top of the line attractions and events that will not only showcase the mall itself but also the city as a tourist destination and modern city attraction.
To find out more about the latest offerings by Art Emaar, as well as other happenings in Dubai, you may check out their official website.
ALSO READ: [VIDEO] Louvre Abu Dhabi to Showcase Rare Photos from the Region