Will you be traveling outside the country soon? If so, be careful what you put inside your luggage, as it might be banned when you have checked in through Dubai International Airport.
ALSO READ: Banned Items When You Arrive in UAE
On Twitter, the Dubai Police has just released a list of items that you shouldn't pack into your luggage when traveling outside the UAE. Please take note that this is different from the list of items that are banned from being brought into the country.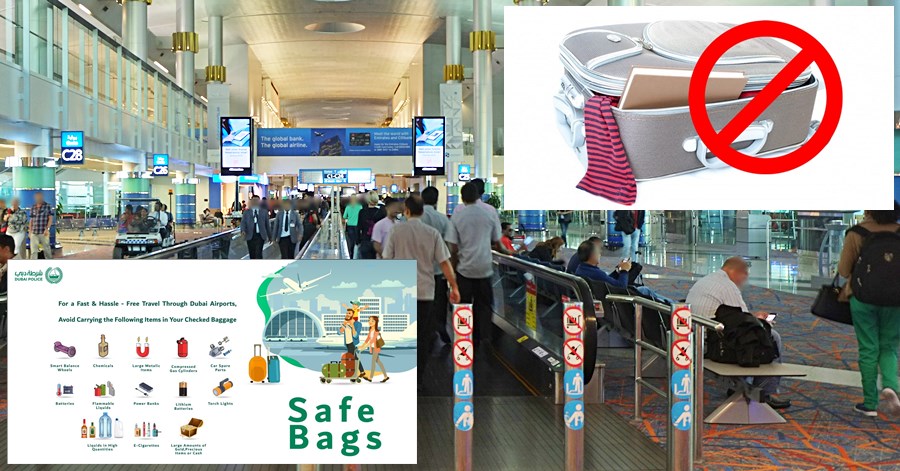 What NOT to Pack When Flying Outside Dubai
For safety reasons, there are some items that are obviously banned in most airports, like chemicals, flammable liquids, and the like. On the other hand, some items, though seemingly harmless, may also be banned (or restricted) — like liquids in high quantities, for example.
So while you may be tempted to put a dozen bottles of your favourite cologne or perfume inside your bags, think again, because you might encounter some problems at the airport.
Through its official Twitter page, the Dubai Police shared the following items that you should never include in your checked luggage:
Smart Balance Wheels (more commonly known as "hoverboards")
Chemicals
Large Metallic Items
Compressed Gas Cylinders
Car Spare Parts
Batteries
Flammable Liquids
Power Banks
Lithium Batteries
Torch Lights
Liquids in High Quantities
E-cigarettes
Large Amounts of Gold, Precious Items, or Cash
What Not to Pack in your checked baggage for happier travels?#DubaiPolice#SmartSecureTogether#YourSecurityOurHappiness pic.twitter.com/ODF7mTmWmW

— Dubai Policeشرطة دبي (@DubaiPoliceHQ) December 4, 2019
ALSO READ: Passenger and School Minibuses Soon to be Banned in UAE
Keep this list in mind for a swift and hassle-free travel through Dubai Airports. After all, these restrictions are for everybody's safety, including yours! And speaking of banned items, here is a list of banned medicines in the UAE that you should be aware of before you travel.