If you are planning to go to the UAE, or if you have friends who are coming to visit, then you should avoid bringing items that are banned in the country. Depending on the kind of item, carrying them with you could lead to a hefty fine and even imprisonment or deportation.
This article presents items that are banned or strictly prohibited by the UAE government. So before you pack your bags and head to the airport, make sure that you are not carrying any of these with you!
Related Post: List of Banned Medicines in the UAE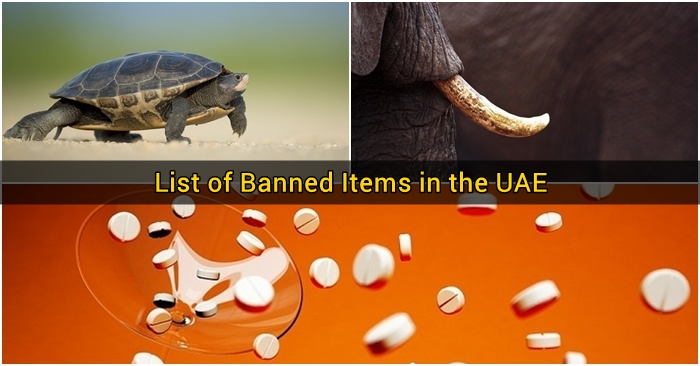 Travel Advisory: Do Not Bring These Things Into the UAE
Here is a list of banned items in the country:
Chemical and organic fertilizers
Certain drugs, narcotics, and chemicals
Endangered animal species
Fireworks
Ivory (from elephant husks)
Laser pens, radar jammers, and other communication devices that aren't authorized
Non-Islamic religious books, sculptures, objects, and other materials
Pornographic materials
Weapons and ammunition
Additional Reminders
Upon arriving at the Dubai Airport, take note that:
Inbound /Outbound travelers should declare any cash that is worth more than AED 100,000.
Adult non-Muslims are allowed to buy alcohol and cigarettes as per Dubai Customs Laws.
Liquids must be placed in transparent, resealable plastic bags with less than 1-liter capacity.
Baby food and medicine should be placed in checked-in luggage. However, if you need to take them during your flight, make sure that you have supporting documents with you.
Based on guidelines from the Ministry of Health, travelers are not allowed to bring more than three month's supply of medicine.
Make sure that your medicine does not contain any banned or restricted substances. However, if you need it for medical reasons, see to it that you are also carrying a medical prescription from a doctor licensed in the UAE. If you were treated abroad, then you should have a medical report along with the doctor's prescription, which should be duly attested.
Aside from the UAE, some of the items and guidelines listed here are banned or restricted in other countries, too. This is to prevent illegal possession and activities, as well as to help keep all passengers safe during their travel and stay in the country.