Dubai is home to a diverse culinary landscape, offering a myriad of international flavors to satisfy the palate of its cosmopolitan residents and visitors. Amidst this culinary tapestry, one cuisine stands out for its rich heritage and delectable offerings: German cuisine. The city boasts a selection of the best German restaurants that transport diners to the heart of Germany, delivering an authentic and unforgettable dining experience.
From traditional Bavarian delights to mouthwatering bratwursts and hearty pretzels, establishments like Ernst Biergarten, Doner Deli, and Smart Brat, among others, have earned their reputation as the best German restaurants in Dubai. Prepare to embark on a gastronomic journey as we explore the vibrant world of German cuisine within the bustling metropolis of Dubai.
Contact number:
Address: 10th St – Al Zahiyah – Abu Dhabi – United Arab Emirates
Google Map Location:
For a dining experience with a difference, head to Brauhaus, Abu Dhabi's original German restaurant, where guests can indulge in an authentic culinary journey through Germany's diverse flavors.
Brauhaus prides itself on serving traditional German cuisine alongside a refreshing selection of draft hops, including renowned brands such as Warsteiner, Krombacher, Beck's, Paulaner, and Bitburger.
The menu at Brauhaus features a tempting array of rustic dishes that cater to both meat lovers and vegetarians, ensuring there's something for everyone.
Whether you choose to dine in the charming beer garden, complete with a trickling stream and breathtaking terrace views, or opt for the cozy bar and indoor dining area with its dark wooden interiors, Brauhaus promises a warm and lively atmosphere.
This vibrant venue is perfect for spending a relaxed evening with colleagues or friends, where every moment is filled with excitement.
Furthermore, Brauhaus Garden transforms into a buzzing stadium, featuring a monstrous 5 x 3-meter wide screen, creating an unforgettable experience for sports enthusiasts and entertainment seekers alike.
2. Doner Kebab
Contact number: +97145146858
Address: Cluster W – Jumeirah Lake Towers – Dubai – United Arab Emirates
Google Map Location:
German Doner Kebab offers a tantalizing selection of German food that is sure to delight the taste buds of its customers.
Their renowned kebabs are crafted using premium ingredients that are exclusive to Doner Kebab Restaurants, ensuring a high standard of quality.
The secret to their exceptional taste lies in their signature sauces, which set their products apart from competitors.
To maintain consistency and authenticity, lean and succulent beef, as well as pure chicken fillets, are directly imported from Germany.
The commitment to freshness extends to the locally sourced vegetables, which are delivered and prepared daily.
The crowning jewel of their kebabs is the specially crafted "Doner Kebab" bread, adding a unique touch to every bite.
German Doner Kebab takes pride in their distinctive approach to kebab-making, employing tried and tested methods that differ from other operators.
The result is a truly gourmet food experience that can be savored day or night, leaving customers craving for more.
Contact number: +97143690000
Address: Marasi Dr – Business Bay – Dubai – United Arab Emirates
Google Map Location:
Located in Business Bay, Dubai, Brothaus Bistro & Bakery is a charming establishment known for its delightful German food offerings.
The bistro's interior showcases a homey and intimate design, providing a cozy atmosphere for guests to indulge in their culinary delights.
In addition, during the summer months, visitors can relish the European-style garden experience in the comfort of the indoor air-conditioned space.
Brothaus is the perfect spot to start the day with a delectable breakfast, offering an array of freshly brewed coffee, breads, and delightful bakery treats.
For lunch or dinner, guests can opt to dine in or conveniently take away nutritious salads and sizzling hot dishes.
Whether it's a quick bite or a leisurely meal, the menu caters to various tastes and preferences.
Furthermore, Brothaus enhances the dining experience with their daily Happy Hour, beginning at 5 pm.
Guests can unwind and enjoy their favorite beverages while catching live sports events, creating an engaging and lively ambiance.
With its inviting atmosphere and scrumptious German fare, Brothaus Bistro & Bakery promises a memorable culinary experience for all who visit.
Contact number: +97142102511
Address: 25hours Hotel Dubai One Central – Trade Center St – Dubai – United Arab Emirates
Google Map Location:
Ernst is a renowned establishment, known as a traditional Bavarian Biergarten & Wirsthaus, where German food enthusiasts can indulge in an authentic culinary experience.
Situated in Dubai, Ernst offers a wide selection of German beers on draught, satisfying the thirst of beer aficionados.
The highlight of their menu is the highly acclaimed schweinshaxe, considered to be Dubai's best, alongside their freshly baked pretzels that perfectly complement the Bavarian flavors.
The vibrant atmosphere of Ernst attracts sports enthusiasts as they can enjoy live matches from around the world on multiple screens while savoring their favorite German dishes.
With a generous seating capacity of up to 429 guests, both indoors and outdoors, Ernst ensures ample space for visitors.
Additionally, guests can look forward to regular live entertainment, engaging quiz nights, and enticing seasonal specials.
For those seeking an exclusive experience, Ernst also offers a private dining room capable of accommodating up to 20 guests, creating an ideal setting for a true Bavarian banquet.
5. Munich Finest Bakery
Contact number: +971585221966
Address: LULU Superstore, محمع دبي للإستثمار 1 – Dubai – United Arab Emirates
Google Map Location:
Munich Finest Bakery takes pride in its exceptional German food offerings, particularly renowned for their outstanding Deutsches Brot.
With a commitment to delivering the freshest products, the bakery bakes their signature bread several times throughout the day, ensuring that customers can indulge in oven-fresh goodness at any time.
The secret to their bread's exceptional taste lies in the meticulous long fermentation process.
This process not only imparts a delightful depth of flavor to the frisches Brot but also enhances its nutritional value.
Munich Finest Bakery understands the importance of providing customers with an authentic German culinary experience, and their commitment to quality shines through in every loaf.
Whether it's a traditional breakfast, a satisfying lunch, or an evening snack, patrons can savor the rich flavors and impeccable freshness that Munich Finest Bakery brings to Dubai's culinary scene.
6. Baker's Kitchen Destination Restaurant
Contact number: +971562612192
Address: 160 Sheikh Zayed Rd – Al Wasl – Dubai – United Arab Emirates
Google Map Location:
Baker's Kitchen, your oasis in Dubai for wholesome, lovingly prepared fresh food and drinks, takes pride in its exceptional German food offerings.
With a focus on quality and authenticity, Baker's Kitchen brings the flavors of Germany to the vibrant culinary scene of Dubai.
Their Wheat Breads and Buns are a delightful blend of wholemeal wheat sourdough, wholemeal wheat flour, rock salt, special filtered water, and a minimal amount of baking yeast.
These breads boast an aromatic taste derived from sourdough fermentation and feature a soft, juicy texture.
Perfect as a sandwich base or toasted, they closely resemble the renowned German White Bread, while their easy digestibility and nutrient absorption make them an excellent choice.
For those seeking the goodness of rye, Baker's Kitchen presents its Pure Rye Breads.
Made with 100% rye, these breads showcase wholegrain rye sourdough, rye flour, rock salt, and special filtered water.
The result is a slightly sour, juicy bread with a fluffy interior and an aromatic crust.
Notably, the long fermentation process makes this bread suitable for individuals with baking yeast allergies, and it is praised for its digestibility and suitability for diabetic and allergic persons.
Baker's Kitchen also offers Wild Breads, a variation of Rye Breads that combines rye flour with a smaller portion of wheat flour.
With rye sourdough, rock salt, filtered water, and a touch of baking yeast, these breads exhibit a slightly sour rye taste, fluffy and moist interiors, and a flavorful broken crust.
Ideal for sandwiches and loved by children, these Wild Breads evoke a sense of nostalgia and authenticity.
The Heide Breads and Buns from Baker's Kitchen feature a mix of wholegrain rye sourdough, wheat and rye flour, filtered water, rock salt, and a minimal amount of baking yeast.
Roasted rye flour contributes to their aromatic taste, resulting in a natural, slightly sour bread with a fluffy interior and an inviting crust.
Reminiscent of typical farmer white bread, these versatile breads can be enjoyed with a variety of toppings, making them an excellent choice for any time of the day.
Those seeking gluten-limited options will find satisfaction in Baker's Kitchen's Seed Breads.
These vegan breads are crafted solely from wholegrain grains and seeds, without any baking yeast. Packed with important nutrients, they offer numerous health benefits, including a lower risk of diabetes, heart disease, and high blood pressure.
Seed Breads pair perfectly with a wide range of toppings and can be enjoyed as is or toasted, delivering both flavor and digestive wellness.
For individuals following a KETO diet or seeking low-carb options, Baker's Kitchen presents their KETO and Low Carb Breads.
These vegan breads, made from gluten-free ingredients such as flax seeds, chia seeds, and various fruits, vegetables, or nuts, cater to both KETO and non-KETO enthusiasts alike.
Supporting your health and reducing certain health risks, these breads can be enjoyed with savory or sweet toppings, providing a delicious and nutritious alternative.
To complete their diverse range of bread offerings, Baker's Kitchen presents traditional Baguettes, crafted according to a French recipe.
These full-fermented sourdough breads come in Wheat, Spelt Quinoa, or Heide variations, providing ample space for an array of delectable toppings.
7. Brotzeit Restaurant
Contact number: +97143885044
Address: Mina Jebel Ali – Jebel Ali Freezone – Dubai – United Arab Emirates
Google Map Location:
Located in the heart of JAFZA Jebel Ali Freezone, Brotzeit Restaurant offers a delightful haven for those seeking an authentic German dining experience.
With a warm and inviting atmosphere, guests are encouraged to relax and make themselves at home while enjoying the soothing melodies of relaxing music.
Whether it's breakfast, lunch, or a quick break in between, Brotzeit Restaurant has a tantalizing array of freshly prepared homemade snacks to choose from, all crafted following traditional family recipes.
Each dish is expertly spiced up with organic herbs sourced from the Brotzeit Garden, ensuring a burst of flavors with every bite.
To complement the culinary delights, Brotzeit Restaurant proudly serves their award-winning cappuccino and a selection of freshly prepared Lavazza coffees.
For a healthy and refreshing boost, guests can indulge in their range of rejuvenating juices and smoothies, with the Apple-Orange-Ginger Juice stealing the spotlight.
Tea enthusiasts will be delighted by Brotzeit's signature tea collection, featuring loose, organic tea leaves meticulously sourced from the world's finest plantations.
Contact number: +97143333013
Address: ENOC Patrol Station, Marrakech Rd – Dubai – United Arab Emirates
Google Map Location:
Doner Deli, an esteemed German restaurant in Dubai, takes pride in its exceptional food offerings that transport diners to the vibrant streets of Germany.
Renowned for its delicious doner, this establishment goes above and beyond in delivering an authentic culinary experience, even for those who are not in Germany.
The doner, prepared with utmost care and attention to detail, impresses with its flavorful and tender meat, complemented by a variety of fresh and tantalizing toppings.
Additionally, one cannot overlook the enchanting delight that is the rice pudding, an absolute must-try at Doner Deli.
Customers rave about its amazing taste, as it captures the essence of this beloved dessert in a truly captivating way.
The dedicated and friendly staff ensures that every visit is met with warm hospitality and exceptional service, creating a perfect dining experience that truly deserves five stars.
Doner Deli is a place where German food enthusiasts can indulge in the best flavors Dubai has to offer, leaving them grateful and satisfied after each visit.
9. Le Burger (Dubai)
Contact number: +97148808989
Address: Mall of The Emirates – 1 Sheikh Zayed Rd – Al Barsha – Al Barsha 1 – Dubai – United Arab Emirates
Google Map Location:
Le Burger, located in the Mall of the Emirates, is renowned for its delectable burgers and enticing German food offerings.
The restaurant prides itself on delivering quality and satisfying meals that leave patrons craving for more.
With a range of options for both meat lovers and vegans, Le Burger ensures that there is something for everyone.
The dining experience at Le Burger is designed to be seamless and efficient.
Each table is equipped with a bell, eliminating the need to seek the attention of waitstaff through traditional means.
The attentive and knowledgeable staff contribute to the overall experience, providing friendly service and offering insights into the menu.
The restaurant's modern and quirky decor creates a cozy and relaxing atmosphere, perfect for enjoying a hearty meal.
Whether indulging in a flavorful carrot soup, savoring a Schnitzel with crispy fries and onion rings, or devouring the mouthwatering Farmhouse or Cheesy burgers, guests are guaranteed a memorable culinary adventure.
10. Smart Brat Restaurant – German Bratwurst Grill
Contact number: +971505515430
Address: Kite beach – Umm Suqeim – Umm Suqeim 1 – Dubai – United Arab Emirates
Google Map Location:
Smart Brat is a haven for German food enthusiasts in Dubai, offering an unparalleled dining experience that closely replicates the authentic flavors of Germany.
With their delicious and exquisite sausages, Smart Brat takes pride in serving traditional German fare that leaves patrons craving for more.
The friendly and welcoming staff adds to the overall charm of the establishment, ensuring that every customer feels right at home.
From the moment you step through the doors, you are greeted with a wide selection of German dishes, prepared with precision and served with a smile.
Whether it's the perfectly grilled sausages or the delectable condiments and exemplary fries, every aspect of the meal is carefully curated to deliver an unforgettable culinary experience.
Nestled near Kite Beach, Smart Brat also offers a picturesque setting where guests can relish their meal amidst beautiful scenery while enjoying clean and comfortable seating arrangements.
If you're seeking a true taste of Germany in Dubai, Smart Brat is a must-visit destination that promises to exceed your expectations.
Top German Dishes Worth Trying
Germany is renowned for its hearty and flavorful cuisine, which showcases a delightful blend of regional specialties and traditional recipes.
Whether you're a food enthusiast or a traveler looking to explore the culinary treasures of Germany, here is a guide to the top German dishes that are definitely worth trying, even if you are in Dubai:
Bratwurst: A German classic, bratwurst is a succulent grilled sausage made from finely minced pork or beef. Served with sauerkraut and mustard, it's a staple at festivals and beer gardens.
Schnitzel: A breaded and fried cutlet, typically made with pork or veal. The crispy coating and tender meat make it a mouthwatering delight. Try it with a squeeze of lemon juice and a side of German potato salad.
Sauerkraut: Fermented cabbage that adds a tangy and slightly sour flavor to dishes. Often served as a side dish, sauerkraut pairs well with sausages and pork dishes.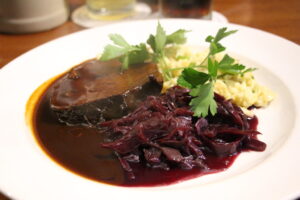 Sauerbraten: A pot roast made from marinated beef, typically served with a rich gravy. The meat is tender and flavorful, having soaked up the marinade over several days.
Pretzels: Soft and chewy, pretzels are a popular snack in Germany. They come in various sizes and are sprinkled with coarse salt. Enjoy them with mustard or as a side with your favorite German beer.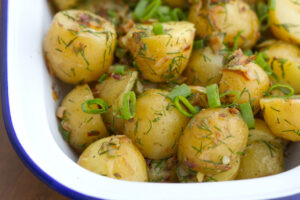 Kartoffelsalat: German potato salad is a cold salad made with boiled potatoes, onions, and a tangy dressing. It can be served as a side dish or enjoyed on its own.
Spätzle: Soft egg noodles that are often served as a side dish or as a main course with a creamy sauce. They pair well with meat dishes and are a comfort food favorite.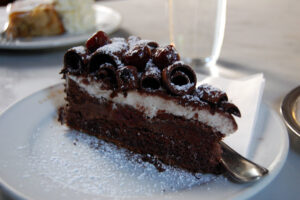 Black Forest Cake (Schwarzwälder Kirschtorte): Indulge your sweet tooth with this iconic German dessert. Layers of chocolate cake, whipped cream, and cherries make for a luscious and decadent treat.
Rouladen: Thinly sliced beef wrapped around a filling of onions, bacon, and pickles, then braised until tender. It is traditionally served with red cabbage and potatoes.
Lebkuchen: German gingerbread cookies with a rich blend of spices and honey. They are often enjoyed during the Christmas season and come in various shapes and sizes.
Remember, this list only scratches the surface of the diverse German culinary landscape. Exploring these top German dishes will provide a delicious introduction to the country's vibrant food culture.
So, immerse yourself in the flavors of Germany and savor these mouthwatering delights that have stood the test of time. Guten Appetit!
5 Things to Look for in a Great German Restaurant
When searching for an authentic German dining experience, it's important to find a restaurant that embodies the essence of German cuisine and culture. Here are five key things to look for when seeking a great German restaurant:
1. Authenticity:
A great German restaurant should strive for authenticity in its dishes and atmosphere.
Look for menus that feature traditional German dishes prepared with genuine ingredients and techniques.
The presence of German-speaking staff or decorations that reflect German culture can also contribute to the restaurant's authenticity.
2. Quality of Ingredients:
German cuisine is known for its emphasis on quality ingredients.
A great German restaurant will prioritize sourcing high-quality meats, fresh produce, and authentic German ingredients.
Pay attention to the restaurant's commitment to quality, as it greatly influences the flavor and overall dining experience.
3. Variety of Dishes:
German cuisine offers a wide range of culinary delights from different regions.
A great German restaurant will have a diverse menu featuring popular dishes like bratwurst, schnitzel, sauerkraut, and more.
Look for a restaurant that offers a balance between classic German favorites and regional specialties, allowing you to explore the breadth of German cuisine.
4. Warm and Welcoming Atmosphere:
German hospitality is renowned, and a great German restaurant should reflect this warmth in its atmosphere.
Look for a cozy and inviting setting that evokes a sense of Gemütlichkeit (coziness) and makes you feel at home.
Friendly and attentive staff who can provide insights into the dishes and offer recommendations also contribute to a memorable dining experience.
5. Cultural Experience:
A great German restaurant goes beyond just the food and aims to create a cultural experience.
Consider establishments that embrace German traditions, such as hosting themed events, live music performances, or celebrating German festivals like Oktoberfest.
These elements enhance the overall ambiance and allow you to immerse yourself in German culture while enjoying your meal.
Summary
In conclusion, Dubai's best German restaurants offer a gateway to the rich flavors and culinary traditions of Germany within the vibrant cityscape.
Whether you're seeking a taste of traditional Bavarian delicacies, savoring mouthwatering bratwursts, or indulging in hearty pretzels, the esteemed establishments on our list deliver an authentic and unforgettable dining experience.
Dubai's diverse culinary landscape becomes even more enchanting with the presence of these top German restaurants that have earned their reputation among locals and visitors alike.
So, whether you're a resident or a traveler in Dubai, be prepared to embark on a gastronomic journey through the best German restaurants, immersing yourself in the vibrant world of German cuisine within the bustling metropolis of Dubai. Prost!
READ NEXT: Learning to Cook in Dubai