Government employees in the UAE will have a long nine-day break after the end of Ramadan (including the two weekends). According to a report from official news agency WAM, based on the directives of His Highness Sheikh Khalifa bin Zayed Al Nahyan, President of the UAE, the UAE Cabinet chaired by His Highness Sheikh Mohammed bin Rashid Al Maktoum, Vice President and Prime Minister of the UAE and Ruler of Dubai, has approved Eid Al Fitr holiday for Ministries and Federal entities, starting from 28 of Ramadan 1437 Hijri year, corresponding to Sunday, July 3, with work resuming on Sunday, July 10, 2016.
Related Post: UAE Private Sector Employees Get 2 Paid Holidays on Eid Al Fitr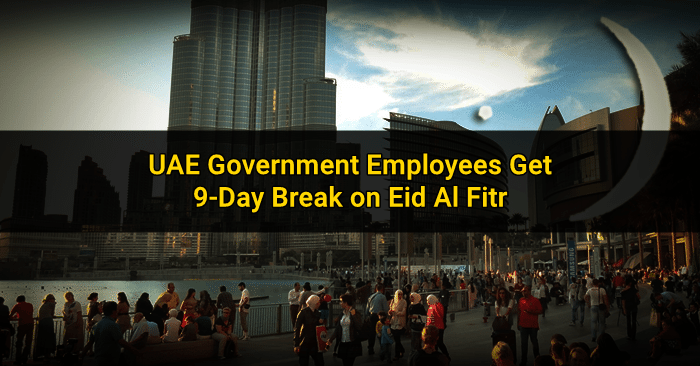 Eid Al Fitr 2016:  Nine-Day Holiday for Public Sector
Eid Al Fitr is approaching next week and this marks the end of the fasting month. Federal entities will have a have a five-day holiday starting July 3 and will resume work on July 10. When coupled with the 2 weekends before and after the 5-day holiday, this will be a total of 9-day break for government employees.
As for the private sector, employees will have a 2-day paid holiday from July 6-7. When the weekend is included, it will become a 4-day break for them.
Eid Al Fitr is the day that marks the end of the fasting month of Ramadan. The actual day will depend on the sighting of the moon.
News Source: