If you've always wanted to visit and take photos from the top of Burj Khalifa, now is your chance. You'll be able to see the world's highest building in person and get a significant discount this summer season!
The At The Top experience in Burj Khalifa is an opportunity to see the view from world's highest. Visitors can enjoy stunning views of Dubai and the surrounding area from the 124th &125th floors of the tower. In addition to the wonderful views, visitors will also have access to a multimedia exhibit that tells the story of Burj Khalifa and Dubai.
What: AED 60 Entry to At the Top of Burj Khalifa (Summer Discount Promo)
Who: valid for UAE Residents only (Emirates ID required!)
When: July 7 to September 2022 (from 9 am to 11 pm)
Where: At The Top, Burj Khalifa Level 124+125

UAE Residents Offer – At the Top, Burj Khalifa
This is an exclusive UAE residents' summer offer so make sure to bring your valid Emirates ID during your visit. You can book tickets online by going to the website here – https://tickets.atthetop.ae/
From the original price of AED 159, you can experience world-class views of Dubai for only AED 60! Offer valid from 7th July to 30th September 2022 from 9 am to 11 pm only. Terms and conditions apply
How to Book Tickets?
In order to book the tickets with the discount, you can:
2. Choose the UAE Residents Offer. Click "Book Now"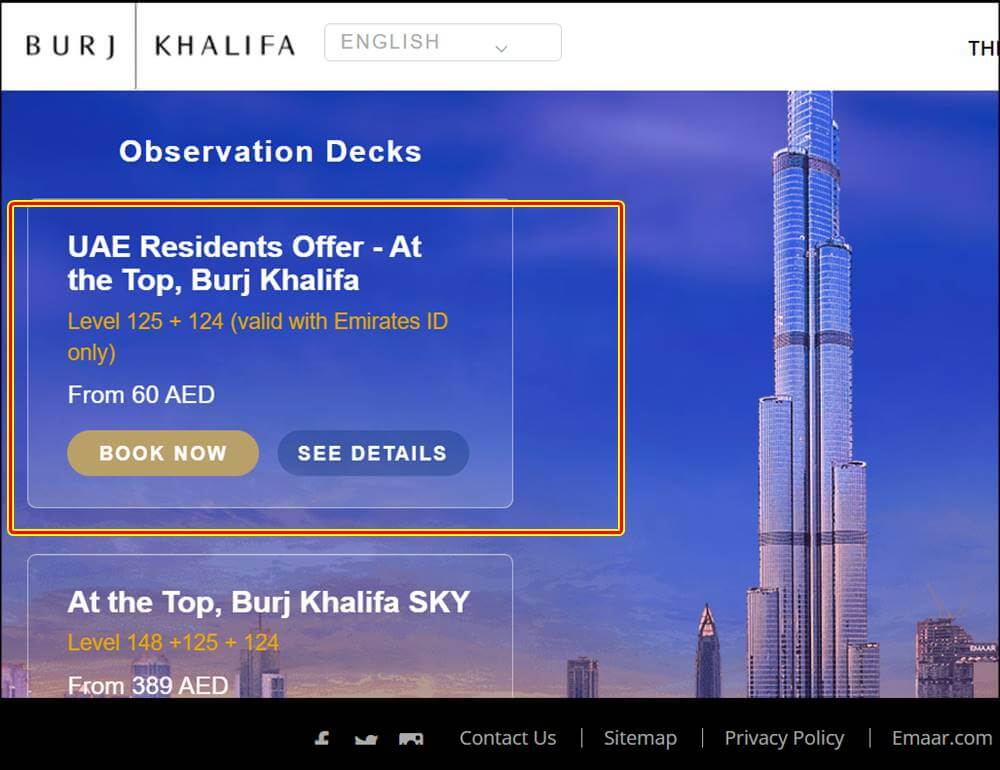 3. Choose your preferred date.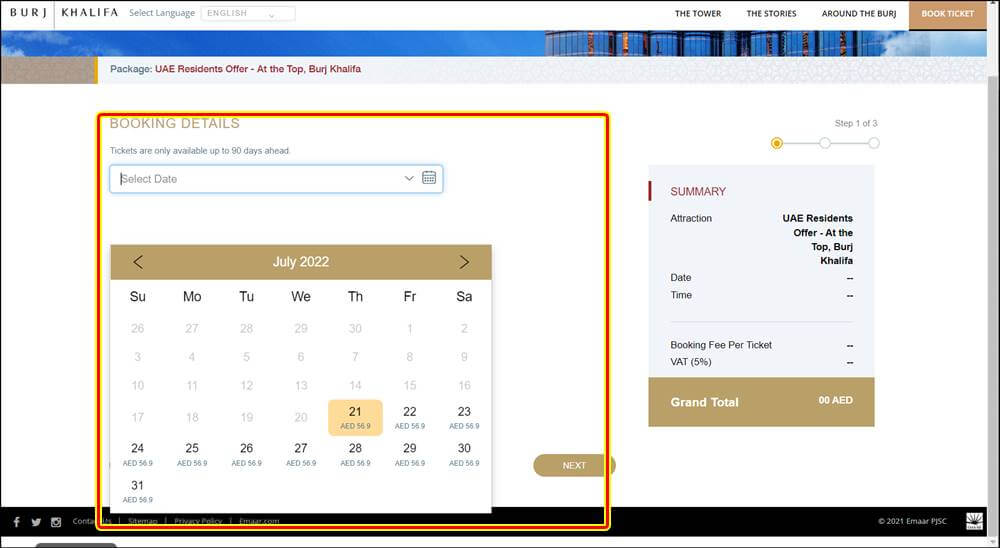 4. Choose your preferred time slot.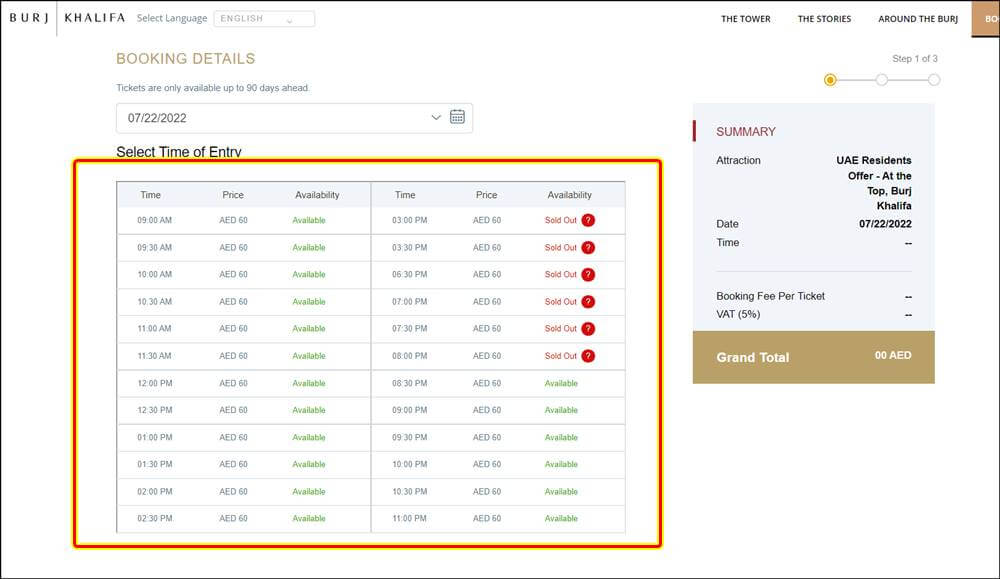 5. Enter the number of tickets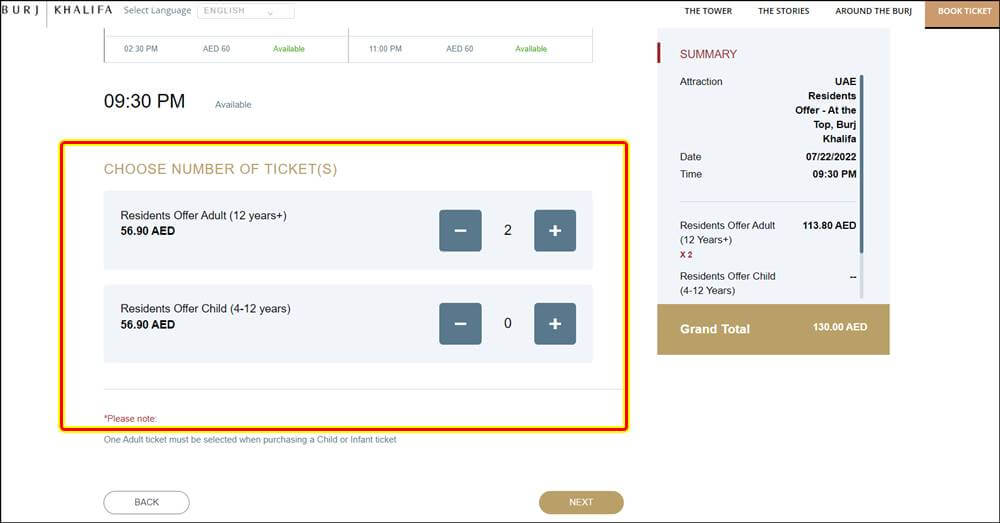 6. Enter your personal details.
7. Make the payment.
That's it! Once you have the tickets, you can proceed to the attraction on the day of your schedule.
Note: Alternatively, you can also book on the site although the schedule may vary depending on the availability of slots. Just make sure to bring your Emirates ID during your visit!
What to Expect
The tour will start with an elevator ride up to the 124th level, where you'll be able to see the magnificent views of Dubai. You can stay as long as you want on this floor to take photos and enjoy the view. There is also a multimedia exhibit that tells the story of Burj Khalifa and Dubai.
After spending some time on the 124th floor, you will then proceed to the 125th floor, which is the highest observation deck in the world. Here, you'll be able to experience a 360-degree view of Dubai. There is also a glass-enclosed area where you can get an even better view of the city.
Video: Burj Khalifa At the Top Tour and View
Want to have an idea on what it's like in this Dubai attraction? Please check out this video clip tour below:
Terms and Conditions
Offer valid for all UAE Residents upon presenting a valid UAE Emirates ID.
Offer runs from July 7 to September 30, including Public Holidays
Not valid in conjunction with any other offer.
At the Top general terms and conditions apply
So that's it! If you're looking for an amazing view of Dubai, make sure to check out this offer as it's really a great deal. Again, don't forget to bring your Emirates ID during your visit!