Raise your hands if you've always wanted to take photos from the top of Burj Khalifa (me, me!). Well, now is your chance to visit the tallest tower in the world — and get a huge discount!
The entrance fee to the observation deck of the Burj Khalifa is now at 50 percent off for Dubai Metro users, Gulf News reported. The Roads and Transport Authority (RTA) has confirmed that commuters can enter Levels 124 and 125 of the tower for only AED 75 (down from AED 135)!
Make your daily trip on the #DubaiMetro even more fun! Now you can get 50% discount vouchers, from 14 selected metro stations, to enter the amazing world of Modhesh and enjoy a family fun day at Burj Khalifa. pic.twitter.com/WIdX1c12r5

— RTA (@RTA_Dubai) July 31, 2018
Major Offer on Burj Khalifa Entry for Metro Commuters
While we can always gaze up at the Burj Khalifa from the ground, the view from the top is an entirely different experience. There's an observation deck on Level 124, which provides 360-degree views of Dubai, the desert, and the ocean beyond!
Meanwhile, the signature telescopes up on Level 125 presents "Dubai – A Falcon's Eye View" experience. Standing at 456 metres high — this is something you wouldn't want to miss!
How can Dubai Metro commuters avail of the discount? Here's a step-by-step guide:
Go to any of the select Dubai Metro stations (see below).
Present your Emirates ID and collect a discount voucher. The offer is valid from 9am to 2pm and from 9pm to 11pm daily.
Present your discount voucher to the ticket counters of At the Top, Burj Khalifa. You will find them on the lower ground floor of The Dubai Mall.
Take the high-speed elevator to the Burj Khalifa observation deck. Enjoy the view!
NOTE: The discount offer can be availed of until 30th September 2018.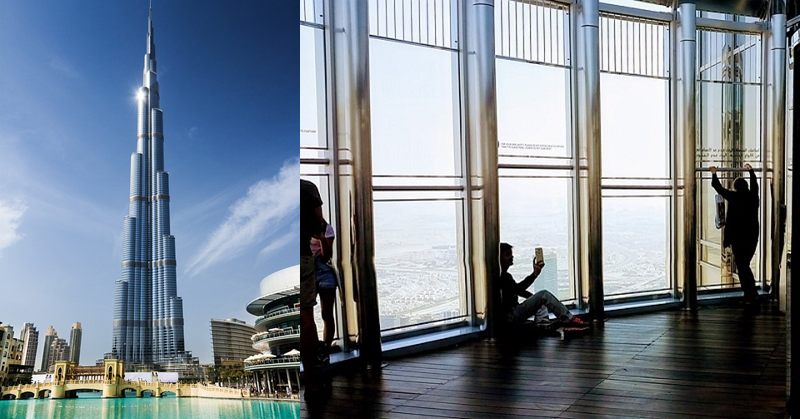 List of Dubai Metro Stations
Discount vouchers may be collected from any of the following stations:
Abu Baker Al Siddiqui
ADCB
Al Fahidi
Al Ghubaiba
Baniyas Square
Burj Khalifa / Dubai Mall
Burjuman
Danube
Deira City Centre
Dubai Internet City
Ibn Battuta
Jaffliya
Mall of the Emirates
Salah Al Din
Stadium
Union
Which @RTA_Dubai Metro route do you use to commute every day? Find At the Top's discount vouchers at selected Metro stations and get your tickets to visit our observation decks At the Top and @ModheshWorld for just AED 75 only! pic.twitter.com/zXYjvVY0by

— At the Top (@Atthetop_tweets) July 22, 2018
If you haven't gone up the Burj Khalifa viewing deck, now is your chance to get there for a discounted price! In the meantime, check out these other ongoing promos: an end-of-season sale at Dubai World Trade Centre, and the back-to-school promo in selected Dubai malls.