Several years ago, the world's highest restaurant, At.Mosphere, opened on the 122nd floor of the Burj Khalifa in Dubai. Just recently, the iconic tower has reached another mind-blowing milestone — the launching of "The Lounge" — the highest lounge in the world!
ALSO READ: Burj Royale Residence Offers Views of Burj Khalifa & Dubai Fountain
The Lounge is spread across three floors, from 152 to 154, of the world's tallest tower; thus making it four to six storeys higher than the viewing platform of At The Top. Come to think of it, for a man-made structure, that's the highest anyone can ever go… literally!
"The Lounge" Opens at Floors 152 – 154 of Burj Khalifa
According to a representative of Emaar, the developer of Burj Khalifa, The Lounge is set to be "a destination that will delight residents and visitors," The National reported.
Interestingly, Burj Khalifa's "The Lounge" is:
Situated at 575 metres above the ground
Features an outdoor terrace (which At.Mosphere doesn't have)
Serviced by the Armani Hotel, which is located within the Burj Khalifa
Offering a wide selection of beverages, high tea, sundowners, and dinner menu
Each floor of The Lounge will showcase a different theme. The first floor is furnished with majlis-style coffee tables and couches. Meanwhile, the top floor includes cocktail tables only.
As for the timings, here is the daily schedule at The Lounge:
High Tea — 12:30 pm to 4 pm
Sundowners — 5:30 pm to 7 pm
Evening Cocktails — 7:30 pm to 12 am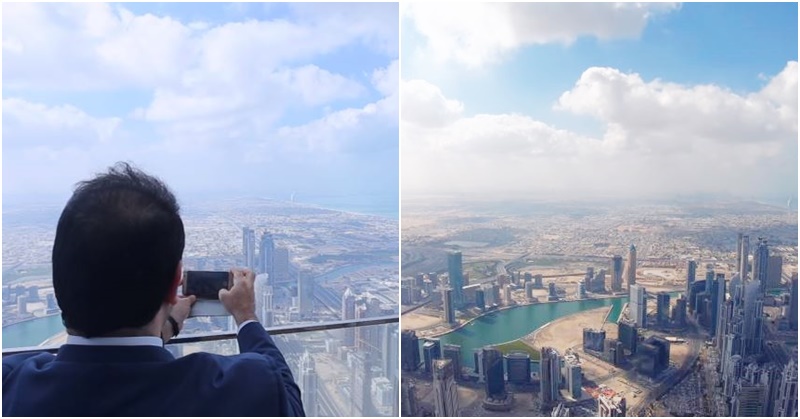 Guests can book different packages online. High tea, which comes with one house beverage and freshly baked goodies, costs AED 550 per person. On the other hand, the sundowner and evening cocktail experience costs AED 600 each, including one drink and unlimited canapes. Yay!
Check out this video featuring "The Lounge," shared on the Burj Khalifa Facebook page:
ALSO READ: Burj Khalifa, Dubai Metro, & Emirates Among UAE Pioneer Awardees
If you have always dreamed of being "on top of the world" — at least without having to go skydiving — a visit to the Burj Khalifa is definitely a must! Of course, you can always wait for the Dubai Creek Tower, an upcoming addition to the city's spectacular skyline… and soon to be the world's tallest!