Last month, Jada Pinkett-Smith, the wife of Hollywood star Will Smith, posted about her skydiving experience in Dubai. Just recently, another woman proudly shared her incredible "flight" over The Palm Jumeirah. Her name is Hilde… and she happens to be 82 years old!
ALSO READ: Hot Air Balloon Adventure in Dubai
During a visit to her family in Dubai, Hilde decided to do a "tandem skydive," which is one of the things on her bucket list, Skydive Dubai mentioned on their Instagram page.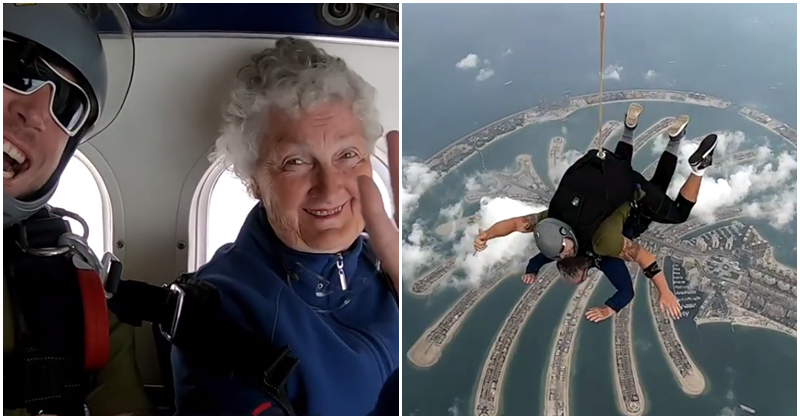 Fearless 82-year-old Goes Skydiving in Dubai
"Each year when I would come to Dubai to visit my family, I would watch your skydivers in the sky," Hilde shared. "It's something I've always wanted to do, and it was the last thing on my bucket list."
Sure enough, just before taking off, Hilde declared: "This is my first jump and my last thing on my bucket list." And then off she went, flying over The Palm Jumeirah!
Upon landing, she described her experience as "amazing." "The highlight for me was just being able to sail along, looking at the Palm from above," she said. "It was wonderful."
Plenty of enthusiasts go skydiving over Dubai, but this fearless 82-year-old definitely stands out. "Thank you for choosing to skydive with us, Hilde," Skydive Dubai wrote on their Instagram page. "We wish you many more adventures and may you continue to inspire!"
Watch this video of Hilde's amazing tandem skydive, as shared by @skydivedubai on Instagram:
ALSO READ: Aquaventure Waterpark in Atlantis, The Palm
Hat's off to you, Hilde, for your incredible feat! How about you, dear readers? Would you like to go skydiving over The Palm Jumeirah, too? Share your answers with us in the comments below!