Imagine a place where you can find the latest fashion trends, dine in the finest restaurants, watch blockbuster movies, and marvel at the world's largest fountain? You can do all of these and more at The Pointe, an iconic waterfront destination at the world-famous Palm Jumeirah.
ALSO READ: Dubai Among Top 10 World's Best Places to Visit
As the name suggests, The Pointe is located at the tip of Palm Jumeirah, just across the bay from Atlantis, The Palm. With over 80 restaurants, retail shops, and entertainment centres, the waterfront complex also features a 1.5-kilometre seaside promenade, along with The Palm Fountain, a spectacular attraction that recently made it to the Guinness World Records!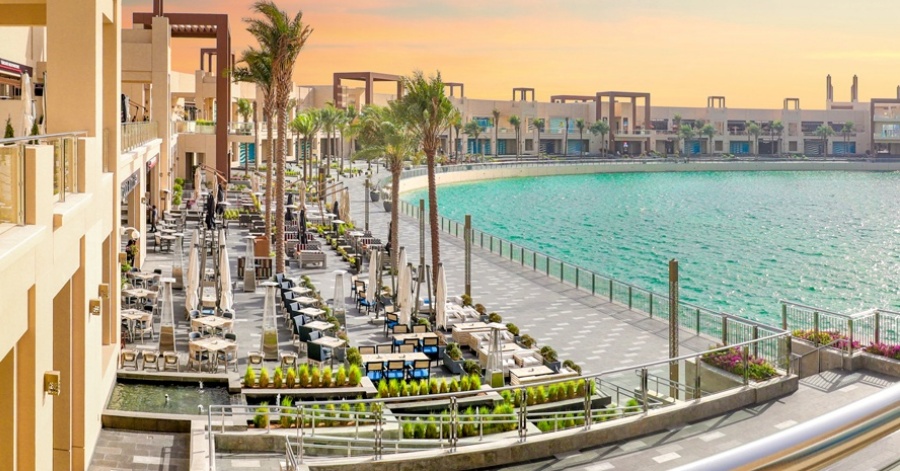 Visit The Pointe, an Iconic Waterfront Destination
The Pointe is basically as "one-stop destination" that every resident and tourist in Dubai shouldn't miss! Here, you will find casual family restaurants alongside gourmet dining options, a children's entertainment area, a supermarket, a dine-in cinema, and much more!
There's a seaside promenade where you can simply take a walk, relax, enjoy the cool breeze and gaze at beautiful views. The Pointe is also situated right across from the magnificent Atlantis, The Palm — setting the backdrop for Instagram worthy photos, whether it's day or night!
A. Shop 'til You Drop
You can begin your day at The Pointe with some serious shopping! Catch the latest trends in clothing, bags, and footwear. Choose from a variety of fashion accessories such as sunglasses, watches, wallets, jewelry, and more. The place also features a supermarket, salons where you can get your hair done, and money exchange centres for all your banking needs.
Notably, among the shops you will see at The Pointe are Oud Dubai, Palazzo Jewellery, and Union Coop. More shops and outlets will be coming soon!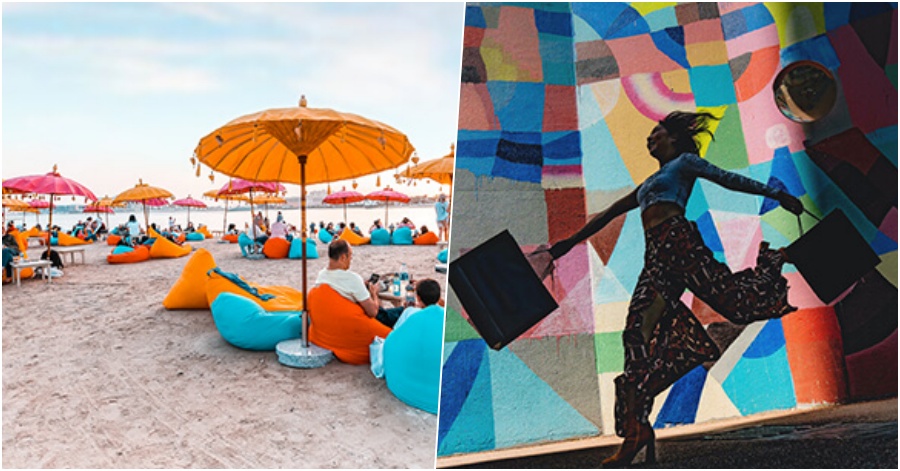 B. Satisfy Your Cravings
Foodies will enjoy the range of cuisines available at The Pointe, including Arabic, Asian, American, and Mexican food, among others. There are fast-food chains, cafes, casual family restaurants, and fine dining options — some of which offer a waterfront dining experience, with exclusive views of the mesmerizing Palm Fountain!
Some of the cafes and restaurants that you will find at The Pointe are: % Arabica, A Capella, Al Safadi, Amira's Deli, Argentina Grill Restaurante, Bareburger, Baskin Robbins, Bikanervala, Chalet Berezka, Chicago Meatpackers, Chuan Chinese Seafood Restaurant, Classic Rock, Coffee, Dinenest, Fnajeen, Guylian Belgian Chocolate Cafe, Hook & Cook, Ibn Hamido Restaurant, Icons Cafe, KFC, KYO, McDonald's, Meshico, Mongol Ger, Pizza Hut, Bella Vita, La Brioche, Le Pirate, Passagio, Phantom House, Rue Royale, Juiced, Shrimp Shade, and Starbucks.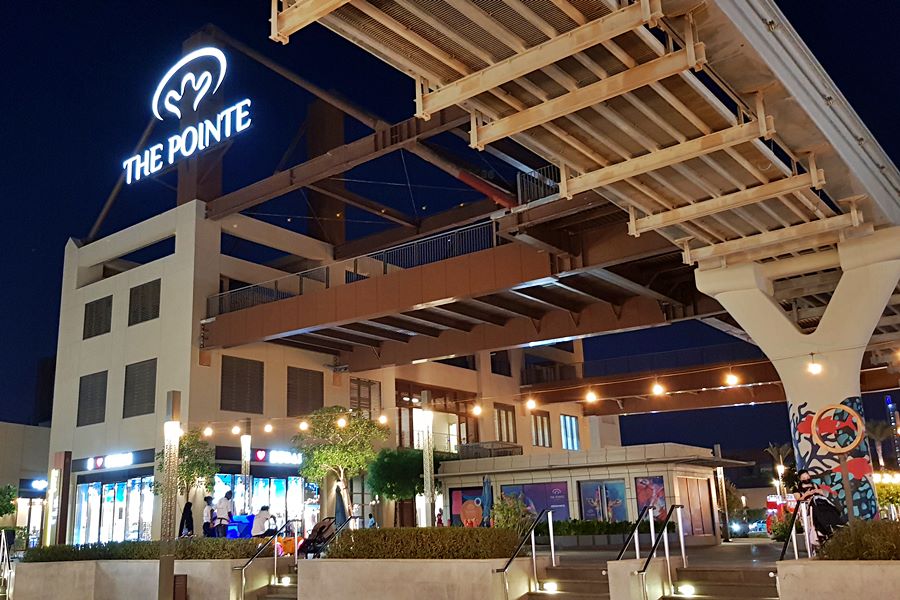 C. Enjoy the Best Services
Do you need to buy medicine, get a new pair of glasses, or perhaps get your hair and nails done? Don't worry because The Pointe offers pharmaceutical products and services. You can get your eyes tested for new glasses, or enjoy five-star treatment in one of the beauty salons.
What's more, if you're looking for a personal gift, there are printing services as well as embroidery services available at The Pointe. Whether you're planning to give t-shirts, bags, mugs, or towels, you can have a design customized and made for you in a jiffy!
Among the gift shops and services that you will find at The Pointe are: Al Ansari Exchange, I Love Dubai, Super Trim Gents Salon, Typo, and Yateem Optics.
D. Play and Enjoy
If you are planning to spend some quality time with the family, then you've come to the right place! The Pointe features cinemas, kid's play areas, fitness centres, and other packages.
Catch the latest movies at Reel Cinemas while enjoying classic American food, since it's a dine-in cinema! Meanwhile, your kids will enjoy playing at Cheeky Monkeys, where there are trampolines, slides, climbers, and other fun activities!
Planning to get some exercise done? Head to one of The Pointe's fitness centres (Fit Box Gym and Pinpoint Fitness), which include state-of-the-art equipment and workout programs. Likewise, if you are planning a special day out for your family and friends, you can also ask for a customized package from The Yellow Boats, a tour operator. This can include sightseeing, water sports, fishing tours, and other exciting activities.
E. Gaze at the View of the World's Largest Fountain
Just recently, The Palm Fountain at The Pointe made it into the Guinness World Records as the largest fountain in the world. It spreads over 14,000 square feet of seawater, with shooters that can blast water up to 105 metres high into the air! The fountain is also fitted with more than 3,000 LED lights that can "dance" to music from all around the globe.
There's an evening show at The Palm Fountain daily, from sunset until midnight. From Saturdays to Wednesdays, the first show starts at 7:00 pm and the last show at 10:30 pm. During Thursdays and Fridays, the first show begins at 7:00 pm and the last show at 11:30 pm. Each fountain show lasts for about 3 minutes and is played every 30 minutes.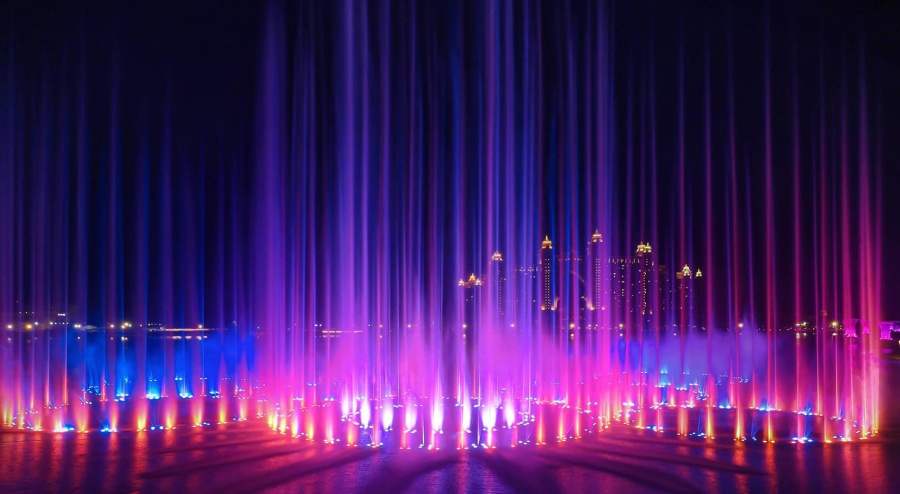 Video: Walk-through of The Pointe
In case you haven't seen it yet, here's a video featuring our visit to this new destination:
Just when you think a trip to the Palm Jumeirah couldn't get any better, The Pointe has made it even more exciting with all these shopping, dining, and entertainment activities! Don't miss a trip to this amazing destination on your next day off or during your vacation here in Dubai.
READ NEXT: 82-year-old Woman Goes Skydiving over The Palm Jumeirah
Contact Information – The Pointe
For more information about The Pointe, you can contact them through the following details:
Address: Al Mirziban, Palm Jumeirah, Dubai, UAE
Telephone: +971 4 390 9999
Email: info@nakheelmalls.ae
Website: https://www.thepointe.ae/en
Google Map Location
Below is the Google Map location of The Pointe. You can easily get there by car; don't worry because there are 1,600 parking spaces! You can also reach it by taking the bus or hailing a taxi. Soon, there is also going to be a Palm Monorail station and boat access that can reach the hotels, resorts, and attractions at Palm Jumeirah, including The Pointe.