A tragic bus crash occurred on Sheikh Mohammed bin Zayed Road which claimed the life of 17 passengers and left 5 injured. The Dubai Police shared the incident, updates, and announcements on Twitter.
During the Eid period, many residents look forward to going on holiday vacations with family and friends to nearby tourist destinations. Along with this, vacation goers need to plan their trips very carefully, and to pre-empt possible challenges that may come along their way.
However, one of the biggest challenges that no one could ever be ready for is when an accident occurs. Therefore, ample care and attention to safety and road cautions, if travelling by car or a land vehicle, must be exercised at all times.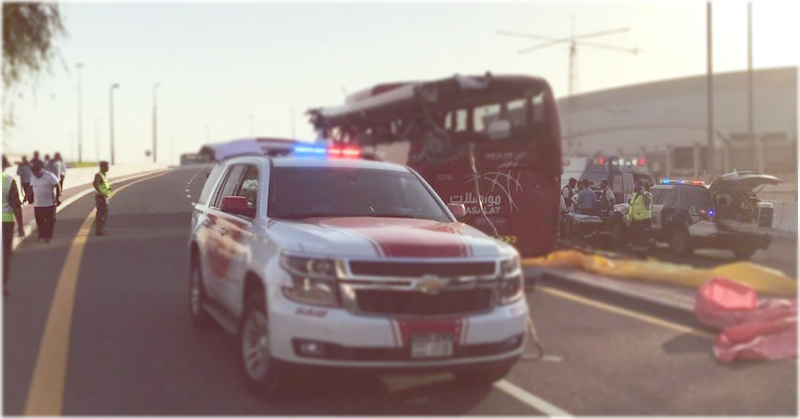 Horrific Bus Crash on Sheikh Mohammed bin Zayed Road Leaves 17 Passengers Dead, 5 Injured
Unfortunately, a group of vacation goers returning to Dubai from Oman after the Eid holidays have gotten in a horrific road accident, claiming the lives of 17 passengers while leaving five injured near Rashidiya exit on Sheikh Mohammed bin Zayed Road at 5: 40 pm on Thursday evening.
In a tweet, the Dubai Police confirmed that the accident had taken place when the bus carrying 31 people overran a traffic signal near the metro station. The police said 17 people of different nationalities had died in the accident while five were critically injured.
#هام | في تمام الساعة 5:40 من مساء اليوم، وقع #حادث مروري بليغ لباص مواصلات على متنه 31 راكب يحمل لوحة أرقام سلطنة عمان على شارع الشيخ محمد بن زايد وتحديدا (مخرج الراشدية) الى محطة المترو نتج عنه وفاة 15 راكب من جنسيات مختلفة وإصابة 5 أشخاص آخرون بإصابات بليغة. pic.twitter.com/ma5FRPW9OX

— Dubai Policeشرطة دبي (@DubaiPoliceHQ) June 6, 2019

As per police update, all victims and casualties have already been brought to the Rashid Hospital for critical care and treatment.
Meanwhile, the bus operator, Mwasalat has also released an official announcement regarding the unfortunate incident via a post on Twitter:
#بيان حول تعرض إحدى حافلات الشركة إلى حادث مؤسف بإمارة دبي مساء اليوم نتج عنه عدد من الوفيات والإصابات pic.twitter.com/xTi1yhHbu2

— مواصلات MWASALAT-عُمان (@mwasalat_om) June 6, 2019
According to a Dubai resident whose friend was among the injured passengers, the family of three was returning from Oman after celebrating the Eid holidays.
The resident shared that he got a call from his friend after the accident, noting that the man's wife and child were not seriously injured.
It's regretful to hear this kind of news, especially after a supposedly fun vacation during the holidays. However, this should be a strong reminder to everyone using public roads to comply with traffic rules and to always exercise caution, especially when servicing a large group of passengers.
ALSO READ: 5 Most Dangerous Roads in the UAE