2 people died while 12 were injured in a passenger bus crash along Sheikh Zayed Road in Dubai. The bus collided with a barrier on Al Manara bridge heading to Jebel Ali.
Also Read: 4 Steps to Take if you Get into a Car Accident in Dubai
According to a post from the Dubai Police, the 14-seater bus had collided with a road barrier around 8:30am on a Sunday, 12th July 2020, before the bus caught fire.
Due to the impact, the bus flipped over and set ablaze where two people have died and left 12 injured.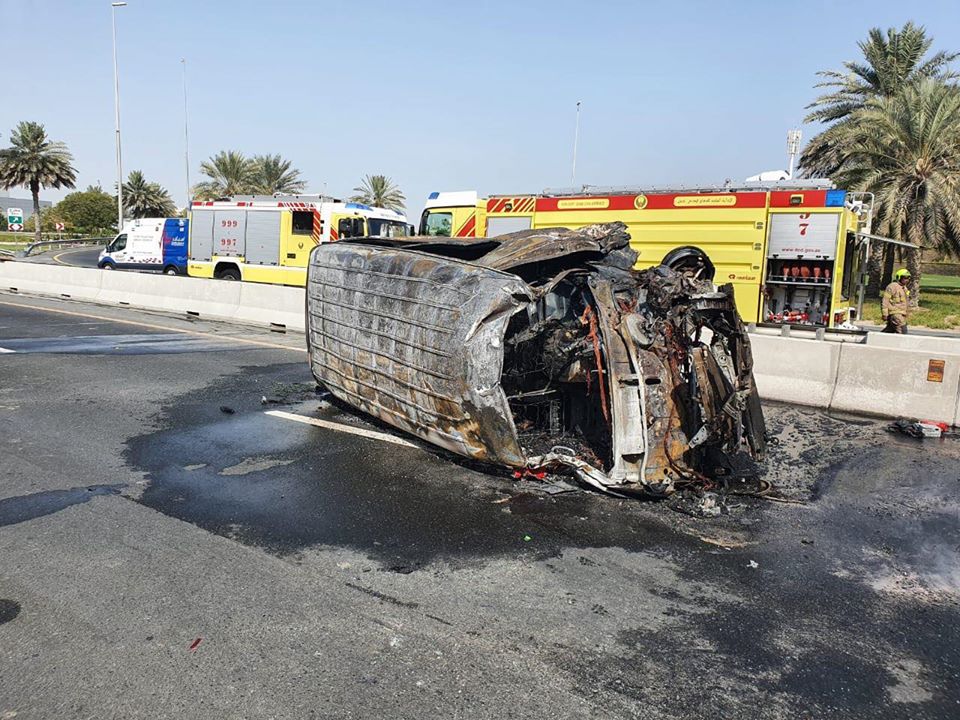 Emergency support rushed to the accident scene to transfer the injured to the hospital and to manage the traffic.
Investigations are ongoing as it is not certain what have caused the accident.
In a separate incident, Dubai Police received a report at 10:50am of a vehicle collision of a truck on Al Khawaneej Road where the driver was severely injured and trapped in the vehicle.
Emergency rescue headed to the accident site and was able to free the driver and bring him to the hospital.
Dubai Police authorities have advised residents to drive cautiously while on the road.
——————–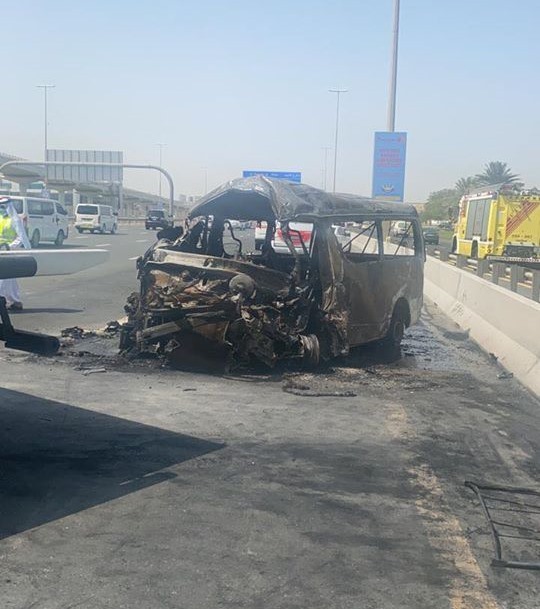 Translation:
2 people died and 12 others injured in a crash in Dubai
Two people were killed and 12 others injured in a traffic accident on Sheikh Zayed Road earlier today (on Sunday).
The accident happened when a 14-passenger minibus veered off and crashed into the cement barrier on the right side of the road before it caught fire.
According to Brigadier Saif Muhair Al Mazrouei, Director of Dubai Traffic Police, the Command and Control room at the General Department of Operations, received the accident report at 8:30 AM.
"The minibus went off the road and crashed into a cement barrier on Sheik Zayed Road at Al Manara Bridge towards Jabal Ali before it caught fire," he said.
Brig Al Mazrouei added that a team of traffic experts was immediately dispatched to secure the accident site, collect evidence and probe cause of the incident. "Traffic police patrols rushed to the scene and facilitated the transfer of the injured to Rashid Hospital for necessary treatment," Brig Al Mazrouei said.
Vehicle Crash
In a separate traffic accident, Brig Al Mazrouei said the Command and Control Centre received a report on an accident involving a private sedan that rammed into a lorry.
"At 10:50 a.m., we received an accident report on a motorist stuck in his vehicle after he had rammed into a lorry on Al Khwaneej road," "We immediately coordinated with the General Department or Rescue and Transport at the Dubai Police to rescue the injured motorist from the wreckage and transfer him to Rashid Hospital for treatment," Brig Al Mazrouei explained.
The director of Dubai Traffic Police advised members of the public to adhere to the legal speed limits and to avoid distractions while on the road.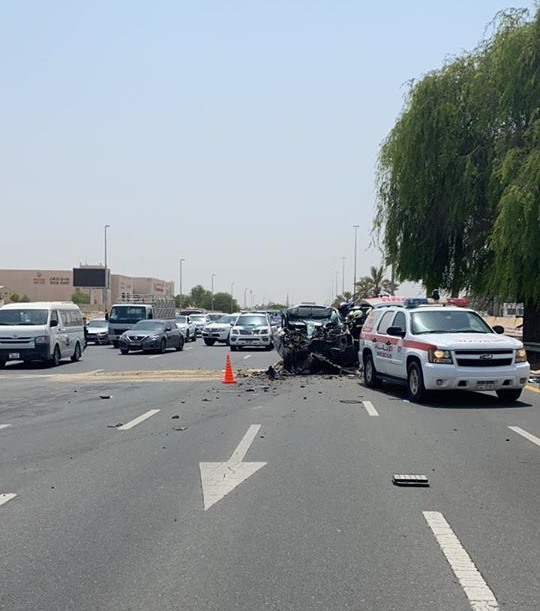 Post from Dubai Police: