Cayan Group has released a statement strongly condemning the act of a Russian model performing a daredevil stunt by hanging on the edge of the Cayan Tower roof top. Dubai Police are also probing into the issue.
This week, a video of Viktoria Odintcova surfaced on social media which shows her dangling on the rooftop of the twisted tower without any safety equipment, while holding onto the hand one of her male companions. This video, as well as pictures were published through her Instagram account. Based on the video that they've uploaded, they seem to have sneaked heir way into the rooftop of the tower without permission.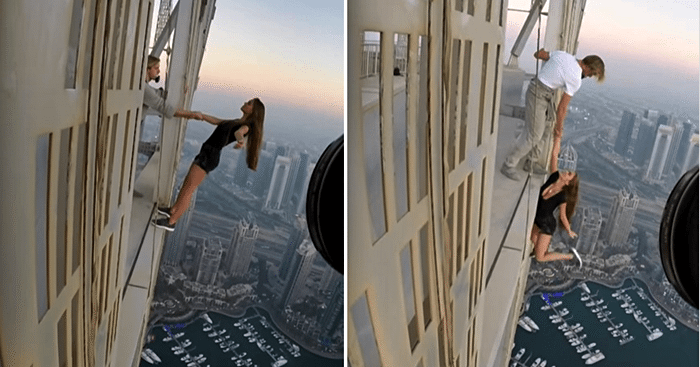 Cayan Group Issues Statement: Condemns 'Daredevil' Stunt
Extreme sports at the Cayan Tower have occurred in the past and were approved with security, safety and emergency measures in place. Highly-trained stuntmen were also selected for their professional skills during these life-threatening events. This recent stunt by Odintcova and her assistants had not sought permission from the group.
"The stunt was carried out without the approval or permission of authorities at Cayan Group, and is in no way a reflection of the Group's commitments to art, creativity, and the human spirit." says Gizel Daher, Director of Marketing & Communications of Cayan Group.
"Under no circumstances can we condone Ms. Odintcova's irresponsible actions, and we are in the process of reviewing our security procedures to understand and rectify where the lapse occurred and how to prevent such in the future," Gizel Daher said.
The full statement can be found here – Cayan Group Strongly Condemns of Russian Model's Daredevil Stunt
Dubai Police Launches Investigation of Russian Model Stunt
According to a report from GulfNews, the Dubai Police are also investigating the video which could result to prosecution of the offenders as they endanger the lives of pedestrians below.
"We are currently investigating the case. We have previously warned people to not perform such acts. They don't realise that it could cost them their life if something goes wrong," Major-General Khalil Ebrahim Al Mansouri, Assistant to the Dubai Police Chief for Criminal Investigation Affairs said.
"If people want to perform such stunts, they need to obtain a permission and inform the specialised authority. Such dangerous acts require specific safety measures to be taken and preparation in order to secure their lives. We will arrest individuals if they have not obtained a permission," Al Mansouri added.
Immediate actions are running regarding this incident and will cover the involved violators.