Dubai may oftentimes be perceived as an expensive city but there are also plenty of options for the budget-conscious. Take for example having dinner in small eatery shops selling shawarmas, burgers, etc. I passed by the supermarket the other day after I did some grocery. Afterwards, I decided to dropped by one the restaurants outside so I could grab some dinner. I chanced upon this restaurant called "NICE Burger".
Normally I would just buy a shawarma, but since I was feeling hungry, I chose to order a serving of half-chicken.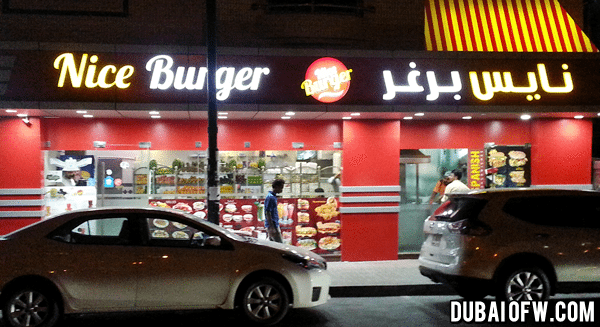 NICE restaurant
Nice Burger Restaurant Al Nahda 2, Dubai
The cashier advised me to sit down and wait for the food. They usually cook the food as you order so it comes out fresh. All the while, I could see the kitchen staff busily preparing orders for home deliveries in the area.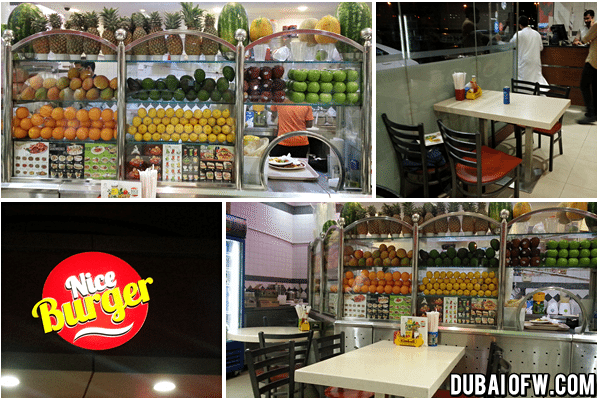 Nice Burger, fruits!
NICE Burger offers Arabic, Chinese, Indian, Filipino cuisines – I was surprised at the last part cause I didn't expect that they also serve Pinoy food. But they do have some chicken adobo, fried tilapya or bangus, and silog meals – and I didn't see any Pinoy staff.
They also prepare various drinks (fruit shakes, fresh juices, desserts), burgers and sandwiches, etc. You'd be surprised by how many dishes they can prepare despite the size of the eatery. I'm not entirely sure what type of restaurant this was, when I asked the cashier, he said this was a semi-Arabic restaurant, but more of a mix of everything.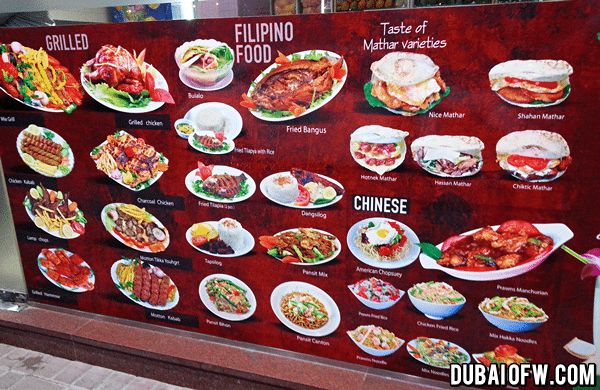 they cook various types of cuisines
When my food arrived, they gave me a salad with some pickles, humus, garlic paste, and bread. This is another thing I like about staying in Dubai. I noticed that in restaurants (most of them), they offer various starters like bread; even these small food shops. It raises your standards on what to expect when being served with food in at least a fine dining setting. I know back in my country, even in fine dining restaurants, they don't do this.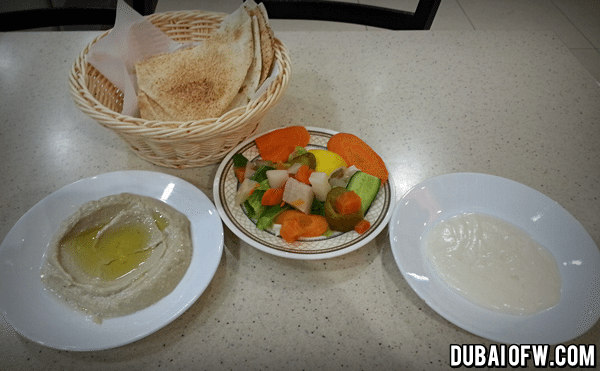 Arabic bread, humus, salad with pickles, garlic paste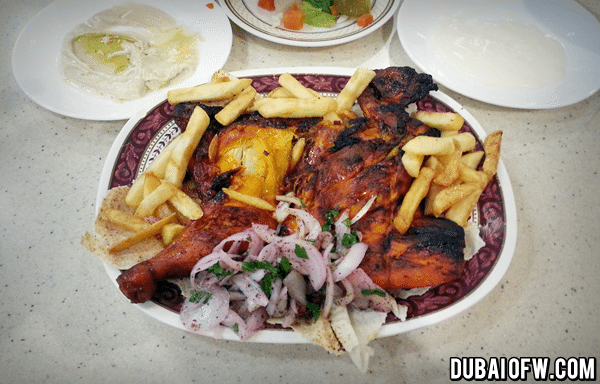 Charcoal grilled chicken with fries and onions!
Charcoal-grilled half chicken with fries, humus, garlic paste, salad and bread. This is already a packed meal and only costs 17 Dirhams. Needless to say, it's best to eat this meal using your hands.
You might want to try these eateries out. There are plenty of them when you check your local neighborhood.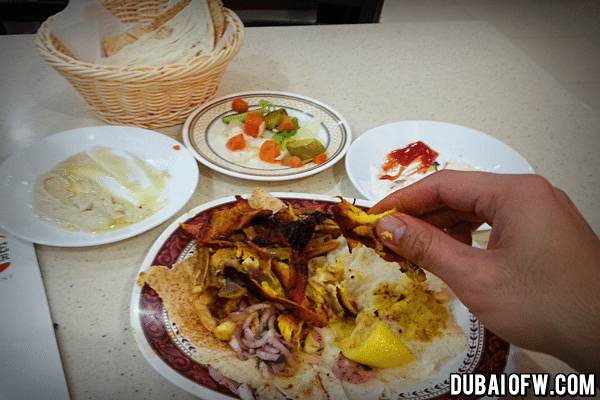 digging in!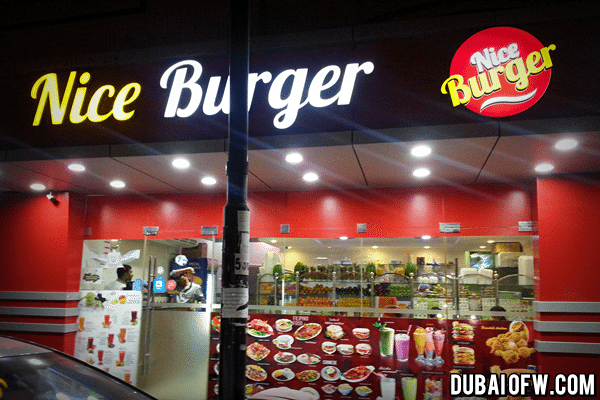 small eatery in Al Nahda 2
NICE Burger Restaurant
Opening Hours: 9am to 3pm
Home Delivery:  04 258 2007 / 04 258 2008
Address: Sunod Al Nahda Building, NMC Hospital Road, AL Nahda, Qusais – UAE
Want to share an experience? Share your everyday stories, food trips, travel, photo stories, or tips in Dubai to our growing community. More information here – Become a Dubai OFW Contributor!
---
About the Author: Raymond T. 

My name is Raymond. I am working as an IT engineer in a company in DAFZA. I like to take photos of places and I also enjoy food trips. I also like to play video games during my free time. I hope to share my stories here in Dubai OFW so I can learn to blog and practice sharing my thoughts.
---