Chito Miranda, Parokya ni Edgar frontman, proposes to long-time girlfriend Neri Naig and recorded the occasion. Chito asked Neri to star in a "music video" just so he could document the proposal without giving away his plans of asking for her hand in marriage.
Neri already knew it was only a matter of time until Chito was to propose since the Parokya ni Edgar lead singer had been very vocal about his plans to marry the love of his life.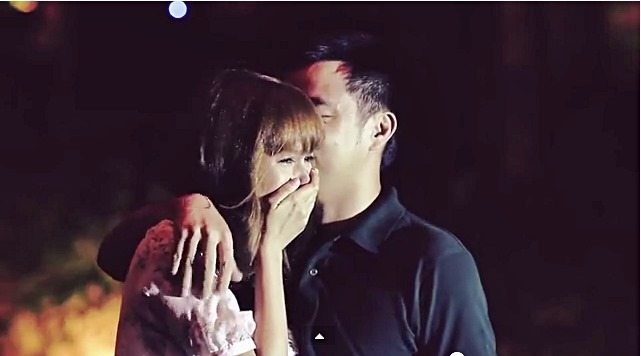 Filipino Celebrity couple: Neri and Chito
The plan worked as Neri was surprised to see a slide of the couple's photos. Soon after, Chito came out with a bouquet of flowers, hugged his girlfriend and asked her to watch the slide presentation. "I want you to watch this, baby. I prepared everything for you." Chito said. The slide showed a collection of photos and memories of the couple.
"Ako na ata ang pinaka swerteng lalaki sa buong Cavite… dahil mapapangasawa ko yung pinakamagandang babae sa Eastwood… kung papayag siya?"
Chito, then knelt and popped the question. "Wala na akong ibang sasabihin, I love you lang talaga. Will you marry me?" To which Neri replied "Of course, yes!"
Video of Chito Wedding Proposal to Neri
The video was produced by Nice Print Photography. Watch the video clip here:
This video is too good not to share.
Chito didn't make any big speeches and simply said what was in his heart.
Wala na akong ibang sasabihin, I love you lang talaga – Chito
Despite the unfortunate incident that happened to the couple last year, you can sense how they've become stronger. Just look at how emotional both of them were. Congratulations Chito and Neri!