One of the country's leading developers, Emaar, has confirmed the opening of "Creek Marina" this December. This state-of-the-art marina is part of the upcoming Dubai Creek Harbour, a premier waterfront development that is set to welcome its first residents early next year.
Dubai Creek Harbour's Creek Marina will include 81 berths for yachts, a gravity-defying interactive fountain, and a world-class yacht club — along with dining, shopping, and leisure outlets! As early as now, people are calling it "the new Riviera of the Middle East."
"Creek Marina" Opens on Dubai Creek Harbour in December
What would we see at Creek Marina? Measuring three-quarters of a kilometre long and a quarter wide, the marina will feature:
Oyster design — based on the city's pearling history
81 single-berths & double-berths for yachts
World-class yacht club
Fuelling services, upgraded power outlets, & pedestal units
286-room upscale lifestyle hotel
High-end dining, shopping, & leisure facilities
Gravity-defying interactive fountain
World-class art installations
Sculptural viewing deck
More than 1,500 parking spaces
"Where Style Meets Convenience"
The Creek Marina promenade will have plenty of shaded resting areas that are made from environment-friendly materials. Meanwhile, visitors are bound to be mesmerized by a gravity-defying fountain as well as numerous world-class art installations.
At the Creek Marina Terminus, there will be a sculptural viewing deck where visitors can enjoy breathtaking views of the entire marina, while gazing at the Dubai city skyline. The marina will also include Vida Harbour Point, an upscale lifestyle hotel "where style meets convenience."
Dubai Creek Harbour
As cited earlier, Creek Marina is part of Dubai Creek Harbour, a 6-square kilometre development brought to us by Emaar and Dubai Holding. Over the next few years, this area will be filled with world-class hotels, landscaped parks and gardens, and cultural attractions.
At the heart of Dubai Creek Harbour lies the Dubai Creek Tower, which is set to be the tallest structure in the world — and the world's next global icon, right here in Dubai!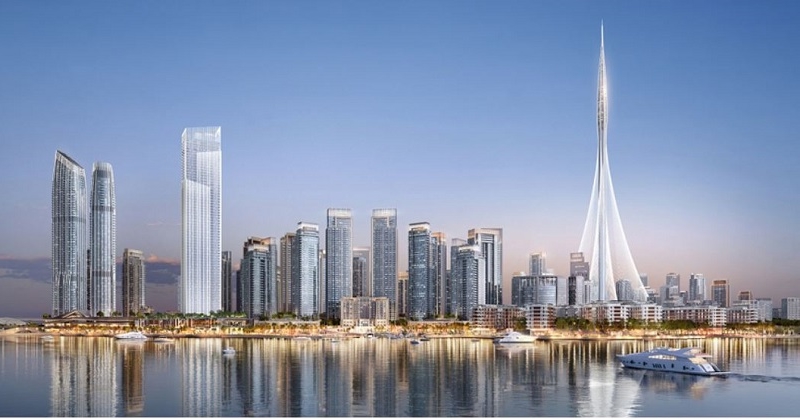 Without a doubt, Creek Marina will soon be "the place to be" in Dubai! We can't wait to enjoy strolling along its promenade while marveling at the sights and sounds of this metropolitan city!