Diwali celebration in Dubai is not just a festival; it is a vibrant tapestry of lights, colors, and joy that illuminates the city with a unique brilliance. As one of the most eagerly awaited celebrations in the United Arab Emirates, Diwali transcends cultural boundaries, bringing together people from diverse backgrounds to revel in the spirit of togetherness and harmony. Against the backdrop of Dubai's stunning skyline, this festival of lights takes on a grandeur like no other, creating a mesmerizing fusion of tradition and modernity.
Embraced by the Indian community and cherished by many others, the Diwali celebration in Dubai has evolved into an extraordinary spectacle that showcases the rich heritage and unity of the city's multicultural tapestry. Let's delve deeper into the enchanting festivities and the significance they hold for the residents of this cosmopolitan metropolis.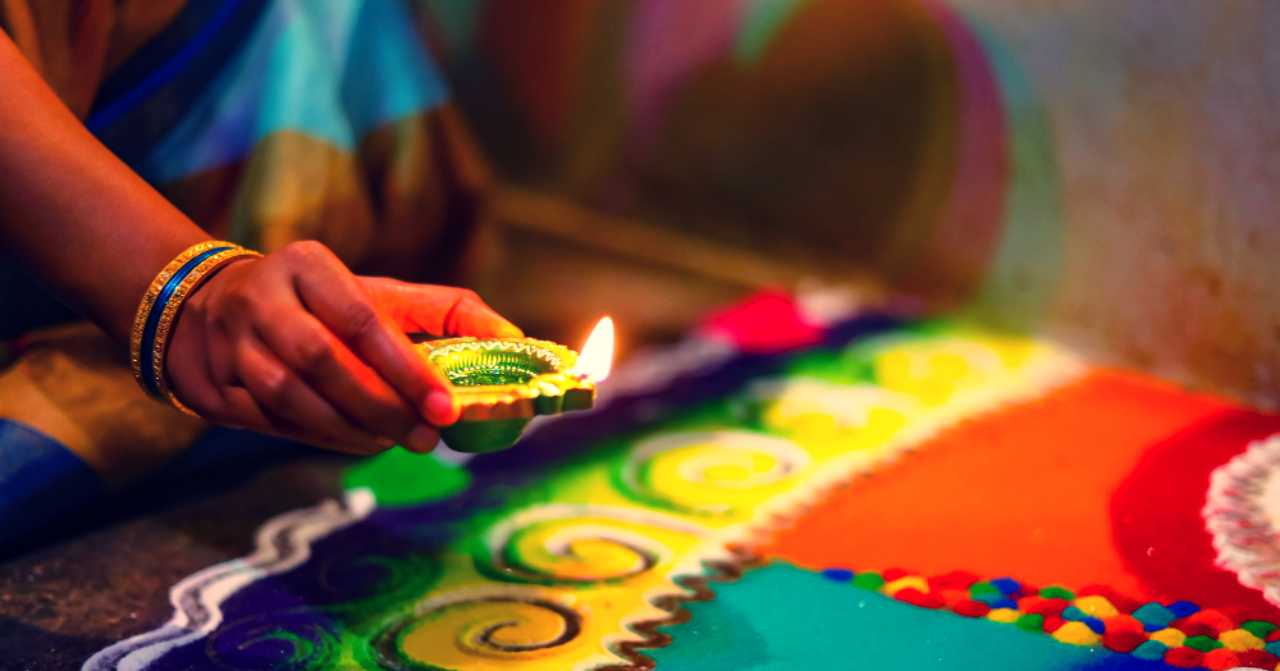 What is Diwali?
Diwali is a five-day festival celebrated in Dubai, with the main Diwali occurring on the third day during the New Moon.
Before Diwali, there are two festivals – Dhanteras and Choti Diwali, and after it, there are two more – Goverdhan Pooja and Bhai Dooj.
This auspicious occasion brings together people from diverse backgrounds to partake in the festivities and embrace the spirit of togetherness and joy.
The celebration holds significant cultural importance and showcases the city's multicultural tapestry, making it a grand and cherished event for the residents of Dubai.
Is Diwali widely observed in Dubai?
In the bustling city of Dubai, a significant number of Indians have made their home, enriching the cultural landscape and cuisine despite the city not being a part of India.
While Islam is the official religion, Dubai remains open and accepting of other faiths.
Among the various festivals celebrated by the Indian community, Diwali holds a special place, even though the Hindu population is relatively small.
Diwali in Dubai is a cherished Hindu Festival, symbolizing the triumph of Good over Evil and known as the Festival of Lights, where "light" signifies knowledge.
These joyous days are filled with music, dance, and delightful feasts, entwined with Hindu customs and traditions.
The celebration brings a vibrant tapestry of lights, colors, and happiness to Dubai, embracing the spirit of togetherness and unity among its diverse residents.
When is Diwali Celebrated?
Diwali, celebrated in 2023 on the 12th of October, is not merely a festival; it's a remarkable occasion filled with radiant lights, vibrant colors, and boundless joy.
How the Festival is Celebrated: A 5-Day Guide
Day 1: Dhanteras – Shopping Extravaganza
The Diwali festivities in Dubai kickstart with Dhanteras, a day of sacred shopping.
Embrace the spirit of the occasion by heading to the bustling markets of Dubai to purchase utensils made of brass, silver, or gold, symbolizing prosperity and good fortune.
Explore the vibrant markets adorned with decorations, lights, and an array of materials for daily use.
Indulge your sweet tooth at the flourishing sweet shops, brimming with delectable treats.
This is the perfect time to buy thoughtful gifts for your loved ones, ranging from delightful sweets to exquisite gold or silver jewelry.
Notable places for Diwali shopping include:
The Dubai Mall
Wafi Mall
Deira City Centre
Mall of the Emirates
Bur Dubai Souk
Day 2: Choti Diwali – Preparations and Sharing
Choti Diwali, the day before the main festival, is dedicated to making all the necessary arrangements for the grand celebration.
Engage in the joy of homemade sweet preparations, visit close family and friends, and exchange thoughtful gifts.
Witness the enchanting sight as households and buildings come alive with the glow of lights, diyas, and candles, setting the stage for the festive grandeur.
Day 3: Diwali – Auspicious Worship and Joyous Gatherings
The much-awaited Diwali arrives, and Dubai gets draped in its traditional Indian splendor.
Don your finest ethnic attire and gather with family and friends to worship Goddess Laxmi and Lord Ganesh, seeking blessings for prosperity and protection.
Embrace the warmth of togetherness as you spend the evening playing indoor games, such as cards, and engaging in joyful singing and dancing.
While fireworks are not allowed in households, keep an eye on the sky as Emirates light up the night with dazzling fireworks displays.
Day 4: Goverdhan Pooja – Offering Gratitude
The day after Diwali, Hindus in Dubai participate in Goverdhan Pooja, wherein they prepare a sumptuous vegetarian meal and offer it to Lord Krishna as a gesture of gratitude.
Across the city, langars are organized, where home-cooked vegetarian meals are served to celebrate the spirit of giving and sharing. Several Indian restaurants also curate special menus for this auspicious day.
Day 5: Bhai Dooj – Celebrating Sibling Bonds
Bhai Dooj is a day dedicated to celebrating the special bond between siblings and cousins.
Sisters sweeten the occasion by offering delectable treats to their brothers, who, in return, present them with thoughtful gifts and promise to protect them.
Embrace the love and affection that permeates this festive day as families come together to strengthen their bonds and create lasting memories.
With this guide to Diwali celebration in Dubai, immerse yourself in the joyous spirit of the festival, partake in the sacred rituals, and embrace the multicultural harmony that makes this occasion truly remarkable in the vibrant city of Dubai.
What to Expect on Diwali in Dubai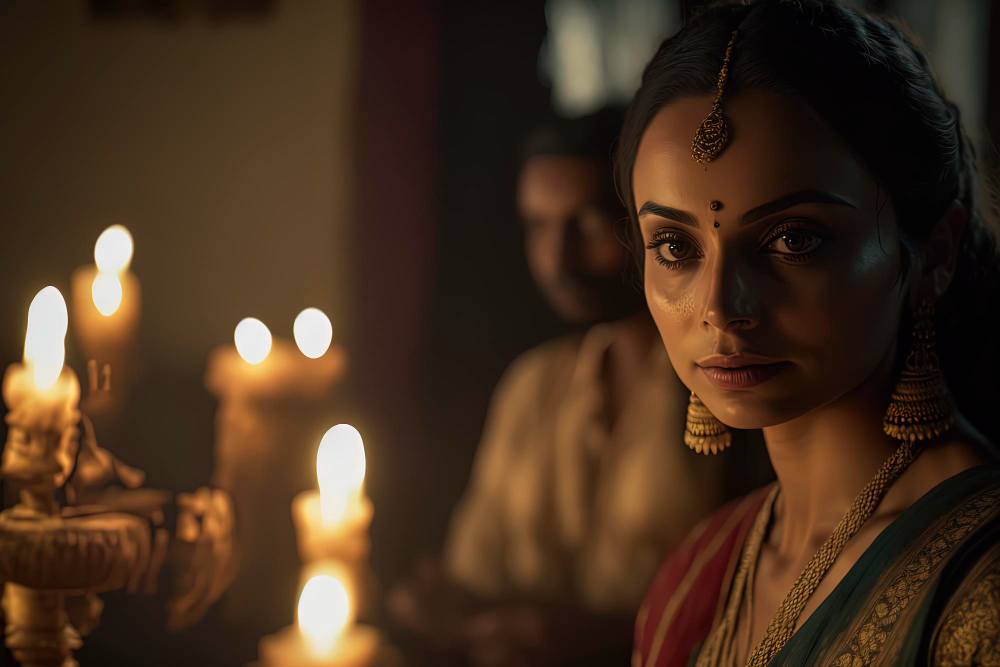 Preparations and Traditions
The festivities kick off with 'Dhanteras,' where homes are thoroughly cleaned and renovated to welcome the auspicious occasion. It's a time for discarding old and useless items and making way for new ones, such as kitchen appliances, electronics, clothes, and vehicles.
Lighting Up with Diyas
For the next five days, earthen oil lamps called 'diyas' are lit to symbolize the removal of darkness and the dispelling of evil. The second day is known as 'Chhoti Diwali,' marked by the exchange of Indian sweets and gifts among friends and family.
Main Diwali Celebrations
The third day, 'Main Diwali,' is the most festive and vibrant day of the celebration. People don their best outfits and organize fireworks displays, parties, and special events to mark new beginnings and share joy with loved ones.
Rangoli Art and Decorations
During Diwali, vibrant and intricate rangoli art is a popular way to decorate homes and public spaces. Rangoli involves using colored sand, flowers, or other materials to create stunning patterns and designs.
Grand Prizes and Shopping Bonanza
Dubai's Diwali celebrations offer a shopping extravaganza with exciting prizes to be won. Shoppers at Burjuman have a chance to win a 1-year-rent-free apartment with a minimum spend of Dh250. For gold jewelry enthusiasts, there are opportunities to win Dh150,000 in jewelry shopping vouchers.
Global Village India Pavilion
The Global Village in Dubai pays homage to Indian culture and heritage through its India Pavilion. Visitors can enjoy Bollywood shows, crafts, performances, and shop from over 240 stalls selling exquisite Indian handicrafts and artifacts.
Gold Shopping Traditions
Buying and gifting gold during Diwali is a cherished tradition. Across the UAE, popular jewelry stores offer attractive discounts and promotions on their latest collections, allowing shoppers to partake in the festival's tradition and enjoy significant savings.
Where to Celebrate Diwali in Dubai?
1. Dubai Creek for Fireworks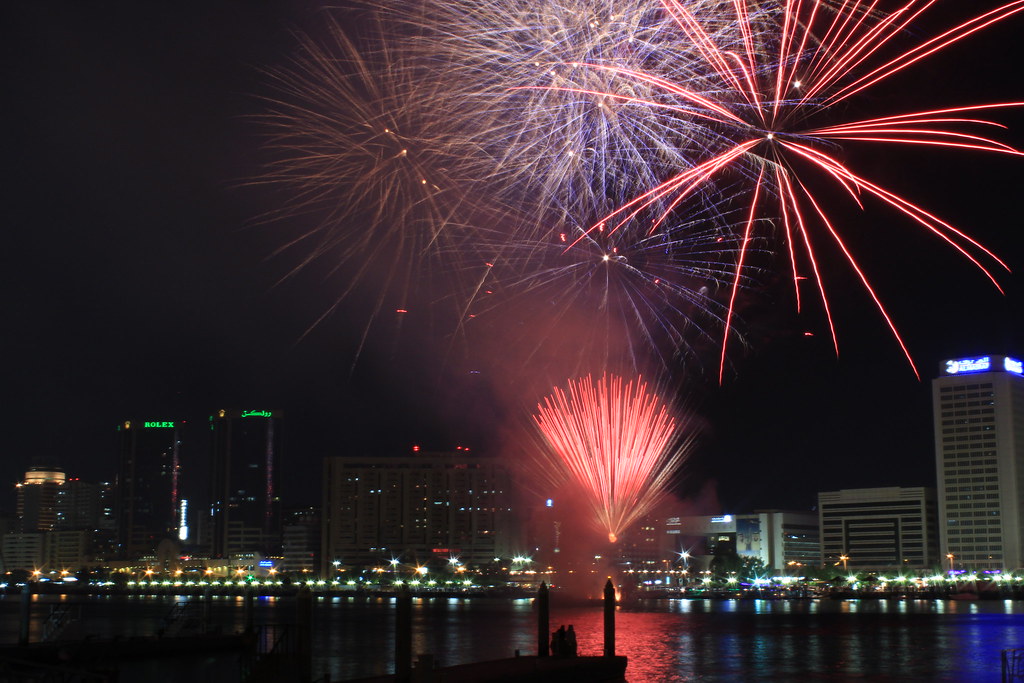 Dubai Creek becomes the epicenter of dazzling fireworks during Diwali. It's the only place in the city where fireworks are allowed throughout the festival. Thousands of people gather with their family and friends to witness the spectacular fireworks display, lighting up the night sky with mesmerizing colors.
2. Bollywood Parks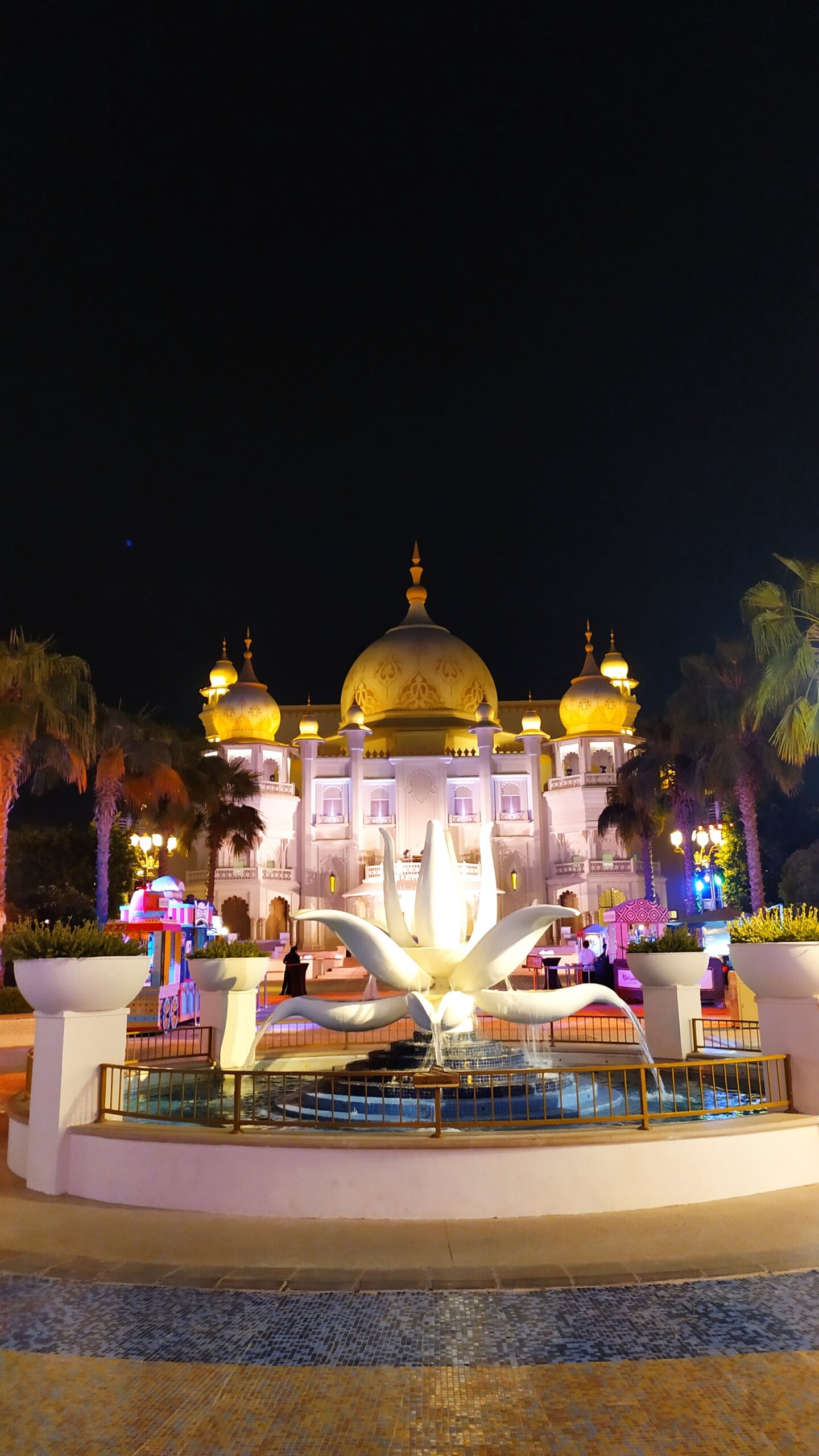 Step into the enchanting world of Bollywood at this themed park, which hosts various shows and events for an entire week during Diwali. Prepare to be captivated by performances from renowned Bollywood celebrities and concerts by famous singers. The park's theater screens beloved Bollywood movies, and a street food festival serves up delicious and authentic Indian cuisine.
3. Festivities at Al Seef
For a truly authentic Indian Diwali experience, head to Al Seef. Here, you'll find the Diya lighting ceremony, where the entire area is illuminated with the symbolic victory of good over evil. Al Seef organizes a vibrant Diwali Mela, featuring stalls selling and showcasing handmade diyas, decorative items, exquisite jewelry, and traditional clothing. Indulge in getting beautiful henna designs on your hands and participate in creating colorful rangolis. The festivities also include lively Bollywood performances and concerts with plenty of music and dancing to enjoy.
4. Waterfront Promenade at the Dubai Mall
Visit the Waterfront Promenade at the Dubai Mall to witness a unique floating art showcase. Boats use water as their canvas to display stunning scenes that captivate viewers. It's a serene and artistic way to celebrate Diwali amidst the vibrant energy of the city.
5. Al Mankool
This vibrant neighborhood in Dubai boasts a large expatriate community. During Diwali, the streets come alive with a mesmerizing display of sparkling lights, creating a festive ambiance that captures the essence of the festival.
6. Bur Dubai
Known for its bustling souqs and vibrant markets, Bur Dubai is a must-visit during Diwali. The area is adorned with colorful decorations, and you can witness a spectacular fireworks display, adding to the festive spirit. Additionally, Dubai Mall, Wafi Mall, Deira City Centre, Mall of Emirates, and Al Seef's Diwali Mela are other prominent shopping destinations where you can find everything you need for your Diwali celebrations.
7. Burj Khalifa
The iconic Burj Khalifa, the tallest skyscraper in the world, puts on a breathtaking show of lights and sound during Diwali. This awe-inspiring display sends out a heartwarming message, spreading the joy of the festival to the audience.
Dubai's Burj Khalifa lights up for #Diwali https://t.co/baX93ozfsJ pic.twitter.com/eXPVHaZxUp

— The National (@TheNationalNews) November 4, 2021
8. The Pointe at Palm Jumeirah
This picturesque location becomes even more enchanting during Diwali with its grand fireworks displays that leave onlookers in awe. It's an excellent spot to experience the magical charm of the festival.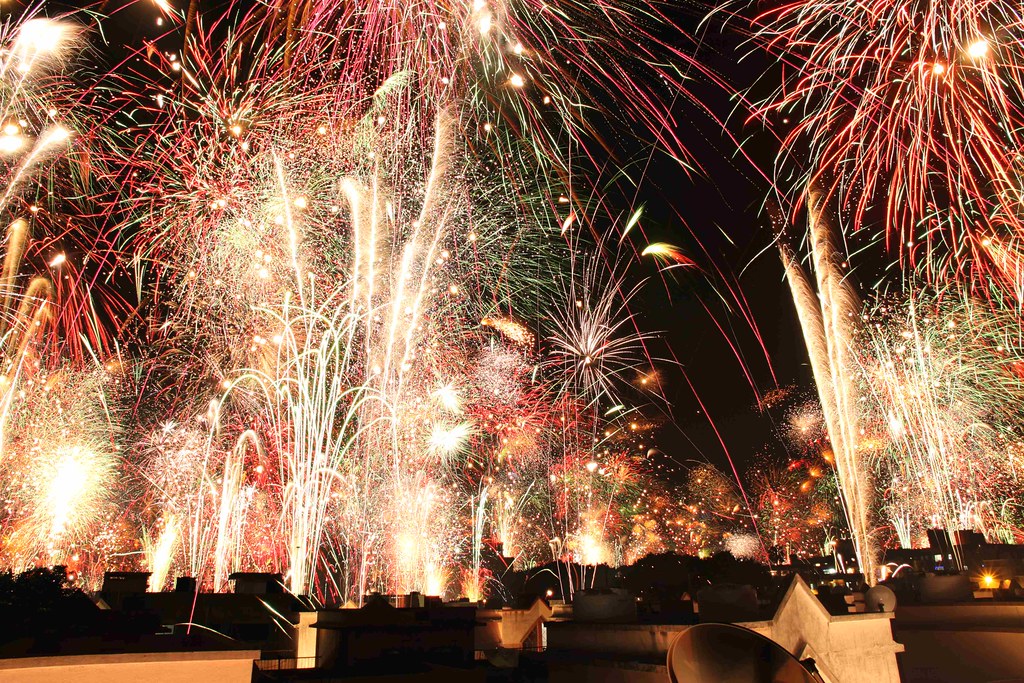 9. Hilton Yas Island
For a truly memorable Diwali experience, head to Hilton Yas Island's Capila Pool Bar & Grill, where you can enjoy cultural events, delectable food, and a stunning light show. At Yas Bay, be prepared to witness an animated 3D projection and a grandiose firework extravaganza that will leave you spellbound.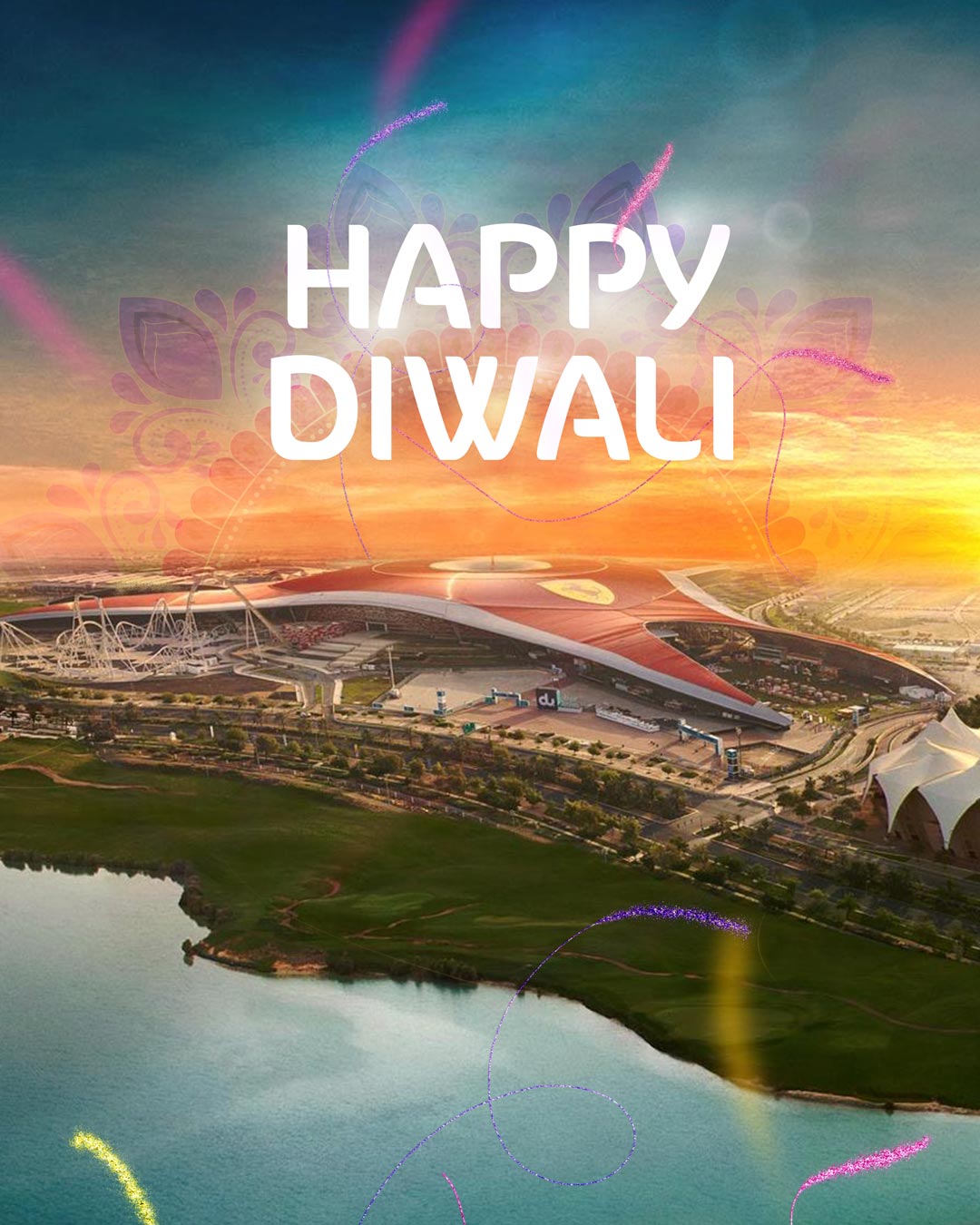 Dubai's Diwali celebrations offer a perfect blend of tradition and modernity, allowing visitors to experience the rich cultural heritage of India in a dynamic and cosmopolitan setting. From magnificent fireworks to Bollywood extravaganzas and traditional markets, Dubai has something special to offer everyone during this auspicious festival. So, embrace the spirit of Diwali and create unforgettable memories in the dazzling city of Dubai.
Tips to Consider when Observing Diwali in Dubai
Respect Local Customs and Regulations: While Diwali is celebrated with fervor in Dubai, it's essential to respect the local customs and regulations. Ensure you are aware of any specific guidelines or restrictions related to the use of fireworks, noise levels, and public gatherings during Diwali. Prioritize safety and adhere to the city's guidelines to have a trouble-free celebration.
Plan Your Schedule in Advance: Dubai hosts numerous Diwali events and festivities throughout the city. Plan your schedule in advance, including visits to specific locations, performances, and markets. This will help you make the most of your time and ensure you don't miss out on any exciting activities.
Experience the Fireworks at Dubai Creek: One of the highlights of Diwali in Dubai is the breathtaking fireworks display at Dubai Creek. As this is the only permitted area for fireworks during the festival, ensure you arrive early to secure a good viewing spot and enjoy the mesmerizing show of lights.
Explore Bollywood Parks: Bollywood Parks is a must-visit destination during Diwali. With captivating performances by Bollywood celebrities, concerts, movie screenings, and a delightful street food festival, this themed park offers a unique experience that combines Indian culture with entertainment.
Visit Al Seef for Traditional Celebrations: For a more traditional Diwali celebration, head to Al Seef. Witness the Diya lighting ceremony symbolizing the victory of light over darkness and explore the Diwali Mela, where you can shop for handicrafts, jewelry, and traditional attire. Participate in creating rangolis and enjoy lively Bollywood performances and music.
Respect Religious Places and Practices: If you plan to visit temples or religious places during Diwali, remember to dress modestly and observe any customs or rituals followed by the local community. Be mindful of photography restrictions, and always ask for permission before taking pictures.
Indulge in Diwali Specialties: Diwali is a time of culinary delights, so make sure to savor the authentic Indian cuisine available at various restaurants and food festivals. Try the traditional sweets and delicacies prepared exclusively for the festival.
Shop at Festive Markets: Explore the bustling festive markets that spring up during Diwali. These markets offer a wide array of Diwali-themed decorations, diyas, gifts, and clothing. It's an excellent opportunity to purchase souvenirs and immerse yourself in the festive shopping spirit.
Embrace the Spirit of Togetherness: Diwali is a festival that promotes unity and togetherness. Use this opportunity to connect with friends, family, and even new acquaintances. Share the joy of the festival with others and foster a sense of community spirit.
Video:  Diwali celebrations in Dubai
Here's a short clip of highlights from various Diwali celebrations in Dubai, as shared by Gulf News. Witness how this cultural celebration is observed not only by Indians but even those in the streets of the city. From this, we learn that Dubai is an open place for diversity, welcoming everyone with their religious and/or cultural expressions.
Frequently Asked Questions
1. What is the significance of Diwali celebration in Dubai?
Diwali holds great significance in Dubai as it brings together the diverse community of ex-pats and residents, promoting unity and harmony among different cultures. The festival is celebrated with grandeur, showcasing a fusion of tradition and modernity in the vibrant city.
2. Where are the best places to witness Diwali celebrations in Dubai?
Several places in Dubai offer fantastic Diwali celebrations, such as Al Mankool with its sparkling street lights, Bur Dubai's famous Souq area for shopping and fireworks, Burj Khalifa's captivating light and sound show, Dubai Creek for a breathtaking fireworks display, Bollywood Parks Dubai for Bollywood-themed festivities, The Pointe at Palm Jumeirah with its grand fireworks, Dubai Festival Mall's mesmerizing performance, and Hilton Yas Island's cultural events and firework extravaganza.
3. What kind of activities can one expect during Diwali in Dubai?
During Diwali in Dubai, one can expect a wide range of activities, including shopping at traditional souqs and modern malls, enjoying cultural performances, attending Bollywood-themed events, witnessing spectacular fireworks displays, and participating in various festive gatherings and celebrations.
4. Are there any special events or concerts during Diwali in Dubai?
Yes, Diwali in Dubai often features special events and concerts, especially at places like Bollywood Parks Dubai, where you can enjoy Bollywood movie screenings and live performances by favorite artists.
5. What is the best time to visit Dubai for Diwali celebrations?
Diwali dates vary each year, so it's essential to check the specific dates for the current year. However, visiting Dubai during Diwali usually offers a vibrant and festive atmosphere, making it an excellent time to experience the city's cultural diversity.
6. Is Dubai Creek the only place to watch fireworks during Diwali in Dubai?
While Dubai Creek is typically the designated area where fireworks are allowed during Diwali celebrations in Dubai, some other locations, like The Pointe at Palm Jumeirah, also host grand fireworks displays for onlookers
7. Do I need to be of a specific cultural background to enjoy Diwali celebrations in Dubai?
Not at all! Diwali celebrations in Dubai are open to people of all cultural backgrounds. The festival promotes inclusivity and welcomes everyone to join in the festivities and experience the joy of the occasion.
8. Are there any special dining options available during Diwali in Dubai?
Yes, many restaurants and hotels in Dubai offer special Diwali-themed dining options during the festival. Hilton Yas Island's Capila Pool Bar & Grill, for example, is known to provide scrumptious food and cultural events during Diwali. It's a great opportunity to savor traditional Indian cuisine and other festive delicacies.
Summary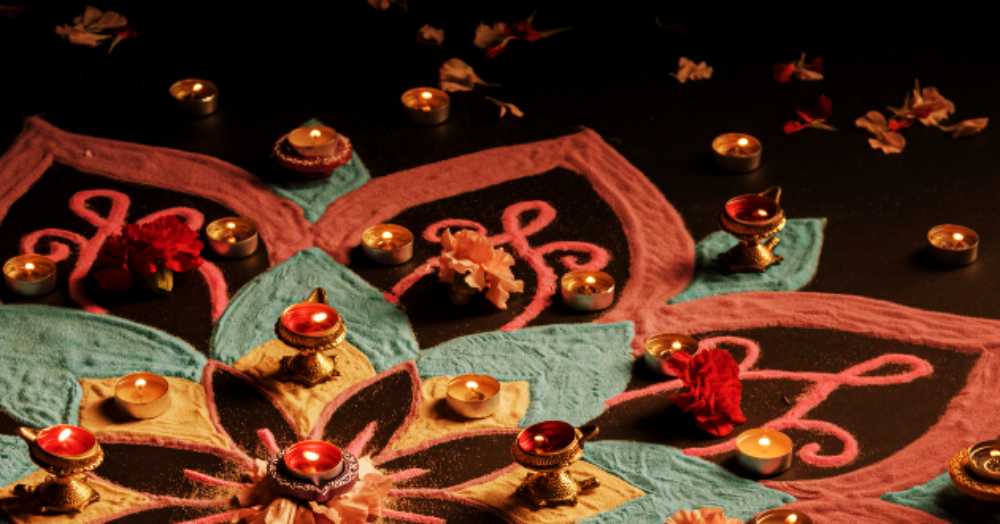 In conclusion, the Diwali celebration in Dubai is a truly enchanting experience that goes beyond being just a festival.
It is a celebration that ignites the city with a dazzling display of lights, colors, and exuberance, uniting people of various cultural backgrounds in the spirit of togetherness and harmony.
Against the backdrop of Dubai's magnificent skyline, Diwali transforms into a spectacle of grandeur, seamlessly blending tradition and modernity.
So, whether you are a resident or a visitor, experiencing Diwali in Dubai is an unforgettable journey into the heart of a multicultural celebration.
It is a time to witness the city's vibrant soul, where the lights symbolize hope, and the festivities symbolize the bonds that unite us all.
READ NEXT: 17 Indian Night Clubs and Dance Bars in Dubai