The list of UAE holidays in 2022 have been announced and much like the previous years, the holidays for both public and private sector have been unified. This means that employees from private companies will have the same number of holidays as government employees.
Also Read: What are the 7 Emirates of the UAE?
In today's article, we present the UAE public holidays for 2022. This helps you plan your vacations or if you have plans to travel outside the UAE, you can definitely plan ahead of time.
Please take note that some of these dates are still subject to moon sighting, so they could still change. We should also wait for the official announcement from the UAE government as each date/event draws near.
2022 Public Holidays in UAE
It's good that we are aware of what are the vacations listed in the UAE to make arrangements accordingly. Be advised that if you might be working on a holiday, you should receive proper salary/remuneration as per UAE labour.
Without further ado, here are the UAE public holidays in the coming year:
Holidays for the year 2022
1 January: New Year
29 Ramadan to 3 Shawwal: Eid Al Fitr
9 Zul Hijjah: Arafah Day
10,11,12 Zul Hijjah: Eid Al Adha
30 July: Islamic New Year
8 October: Prophet Mohammed's (PBUH) birthday
1 December: Commemoration Day
2 and 3 December: UAE National Day
NOTE: Dates above are still subject to change, depending on the sighting of the moon. Also, there may be holidays wherein the dates will be moved depending on the announcement by the UAE government. So please take note of that — this usually happens when the holiday falls a day before or after weekends (UAE may change the date to have more longer weekends).
#UAE announces holidays for public, private sector for 2021-2022.#UAE_BARQ_EN pic.twitter.com/vq7Aoy2RGQ

— UAE BARQ (@UAE_BARQ_EN) December 19, 2020
Working During a Holiday in UAE
Those who are working in offices and government entities would usually get the day off during holidays. Other employees of private companies may have to report to their jobs to continue their business operations. Some of these employees are in the Retail industry or Restaurant industry.
However, those who will be working during holidays should be aware that you should get proper holiday pay (normally double-pay) when you work during these dates. Ramadan season is not included as duty hours during Ramadan is usually lessened. Do verify with the Ministry of Human Resources & Emiratisation (MOHRE) or formerly known as Ministry of Labour for proper updates on this guideline.
مجلس الوزراء برئاسة صاحب السمو الشيخ محمد بن راشد آل مكتوم يعتمد أجندة العطلات الرسمية للعاملين في القطاع الحكومي والخاص لعامي 2021 و 2022، وذلك في إطار تنظيم سير العمل في القطاعين وضمان استمراريته مع مختلف القطاعات. #حكومة_الإمارات pic.twitter.com/UaU7tOdL9v

— UAEGov (@uaegov) December 19, 2020
Easy-Visa Travel Destinations Outside UAE with Less than 5 Hours Travel Time
In case you are wondering what are the nearest countries that have less than 5 hours of travel time and visa-processing is quite relaxed, easy, and sometimes visa-free, you can definitely travel to these destinations for a quick vacation and maximize the holidays.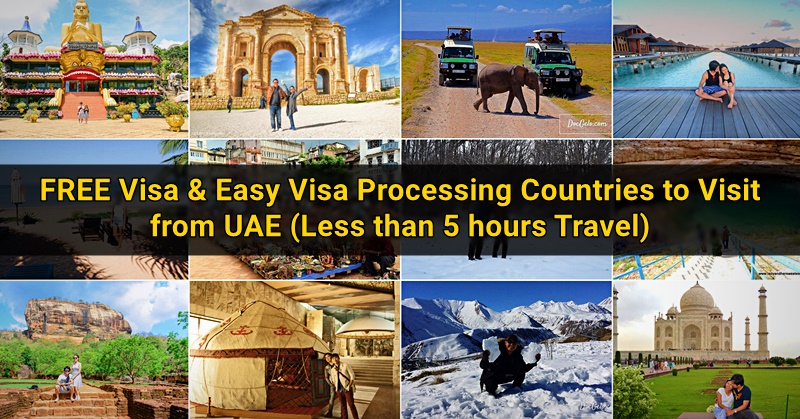 12 Visa Free and Easy Visa Processing Countries to Travel for Pinoys in UAE (Under 5 hours):
Sri Lanka
Turkey
India
Maldives
Nepal
Seychelles
Kyrgyzstan
Kenya
It is always good to be prepared for next holiday dates. And by keeping the above dates in mind, we can actually start making travel plans — and setting vacation leaves — as early as today!