Filipino residents in the UAE who love to travel, we have listed countries for you to visit that do not require visa or have easy visa processing and travel time takes less than 5 hours. Those who are thinking about going to a new place, you might consider these countries as your next destination of choice.
Related Post: Visa Free and Visa on Arrival Countries for Pinoys
UPDATE: The original article list was just 11 countries. But we've added another country after a tip from one of our blogger friends. We'll keep updating this list once we learn about other countries with the same valid criteria as the topic of this post. 🙂
With the remaining holidays in the UAE – Martyrs Day, National Day, Prophet's birthday, and New year's day – many tend to plan a little vacation to de-stress and spend some quality time with their friends and families. While the UAE offers a lot of beautiful places to go and a wide selection of hotels for staycations, going out of the country sounds more fun and exciting. However, most of us are discouraged with the hassle of applying a travel visa.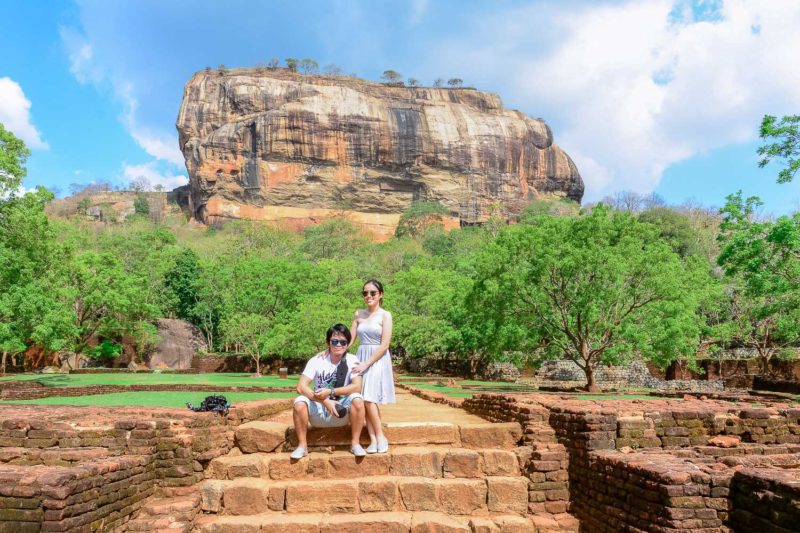 Sri Lanka
But guess what, all Philippine passport holders must rejoice! 🙂 Our passport can go a long way in letting us experience different cultures and meeting new people around the globe. In fact, there are some really exciting countries that maybe you didn't know you can travel to with an easy visa on arrival, can be applied online or without a visa at all! And I'm here to share them with you.
Here's a bulleted list for your reference when reading about these countries for easier navigation:

12 Short Flight Destinations to Travel for Filipino Residents in UAE
Some of these countries do not require visas as a Philippine-passport holder, while a few are visa on arrival and/or visa processing is quicker. We have listed these because the chances of getting approved to travel to these destinations are higher due to your UAE residence visa. Wee hope you find this guide helpful to you and making your travel plans. That there are definitely more places where our passports can take us even if it's not as powerful as other countries.
1.  SRI LANKA
Flight time from Dubai: 4:30 hours
Direct Airlines flying from UAE: Sri Lankan Airlines, Fly Dubai, Emirates, Air Arabia (Sharjah)
Visa: You can apply a Sri Lanka e- visa via this website http://www.eta.gov.lk/slvisa
Visa Cost: $20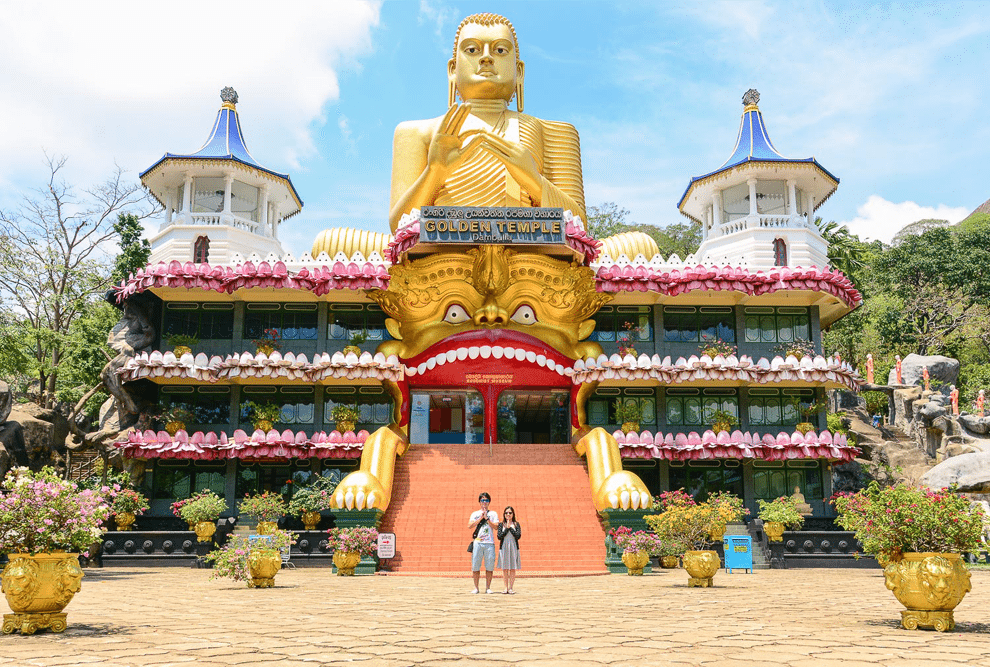 Golden Temple of Dambulla in Sri Lanka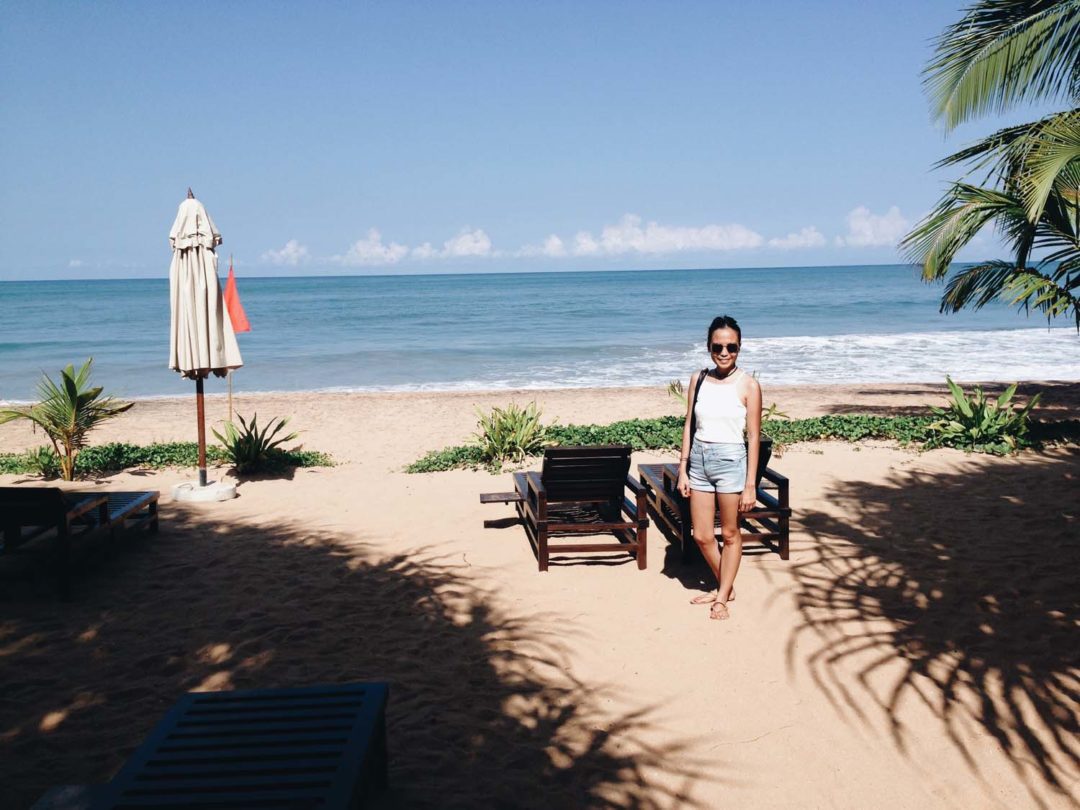 Myla of FindMeABreak in Sri Lanka
Things to Do:
— See the elephants at Pinnawala orphanage
— Visit the Tooth Relic temple
— Experience a Kandyan cultural show or an Anura village tour
— Take a photo with the Golden Dambulla and Sigiriya Lion's Rock – both are UNESCO world heritage sites
— Explore tea factories and plantations at Nuwaraeliya
Blogpost from Pinay Blogger in Dubai, Myla of FindmeABreak.com about Sri Lanka: Sri Lanka, Why so Beautiful? |Find Me a Break
2. GEORGIA
Flight time from Dubai: 3:30 hours
Direct Airlines flying from UAE: Fly Dubai, Air Arabia (Sharjah) to Tbilisi
Visa: Another visa free country for Philippine passport holders, as stated by Visa HQ.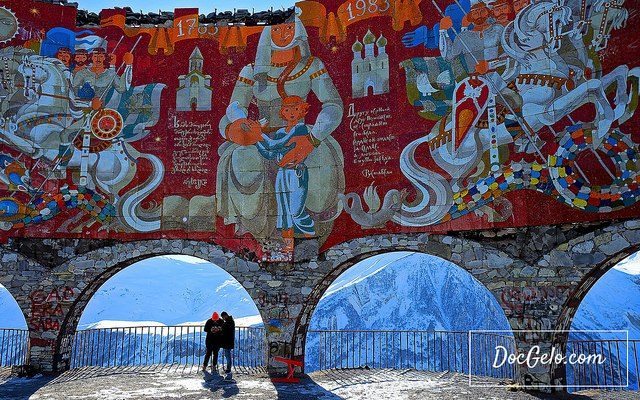 Tbilisi, Georgia
Photo Credit: DocGelo.com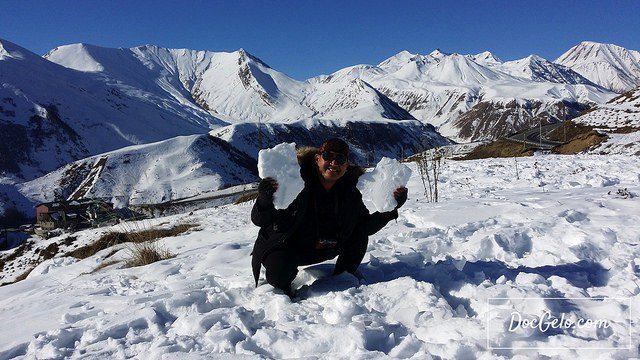 Gelo Santos of DocGelo.com in Georgia
Things to Do: Based on the official Georgia Tourism & Travel Site, you must visit the capital Tbilisi to admire the rich cultural heritages of the Georgian capital or go to Gudauri Ski Resort. You can also check out Lonely Planet, a reliable travel site which we used for years to find the top attractions advised by expert travelers.
Additional: Here's a blog post by one of our Filipino Blogger in Dubai, Gelo of DocGelo.com about his trip to Tblisi, Georgia: Georgia: Winter Break from Dubai to Tblisi | DocGelo.com
3. TURKEY
Flight time from Dubai: 5 hours
Direct Airlines flying from UAE: flydubai, Turkish Airlines, Pegasus, Emirates (Dubai to Istanbul)
Visa: Visa processing may take up to 4 days. Here's a post by blogger Sheila of ABandMe.com – How to Apply for Turkish Visa for Filipinos in Dubai | ABandMe.com. The visa approval may vary to some applicants especially during holidays. It's important that you also have complete requirements submitted to the Turkey embassy in Dubai for better chances of getting approved.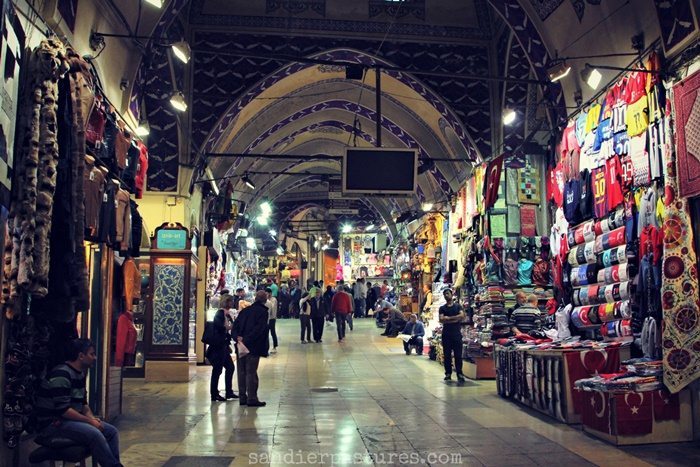 Grand Bazaar Market. Photo by Grace of SandierPastures.com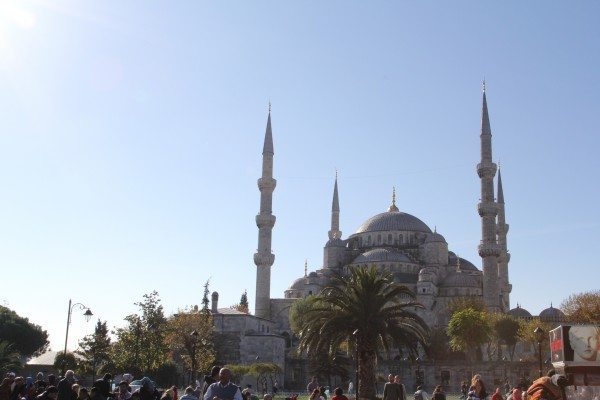 Blue Mosque. Photo by Sheila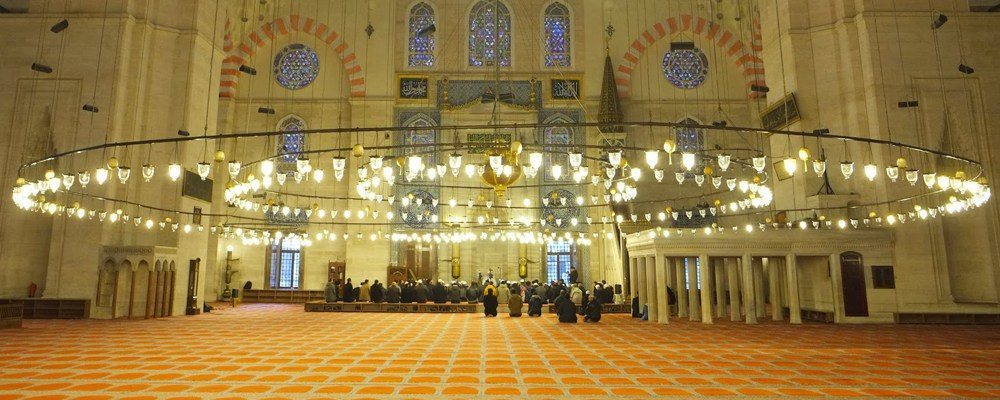 Suleymaniye Mosque. Photo by TheMomentKeepers.com
Things to Do: Visit the Grand Bazaar Market, tour the various mosques, museums and other historical places. Enjoy Turkish cuisine. If you have more time and want more adventure, you can head to Cappadocia and ride on a hot air balloon.
Sheila also shares her story here: Memories of Instanbul | ABandMe.com
Check out our articles about Turkey below:
4. INDIA
Flight time from Dubai: 3.5 hours
Direct Airlines flying from UAE: Indigo Air, Air India Express, Spice Jet, Jet Airways, Emirates, Air Arabia (Sharjah)
Visa: You can apply an India e-visa via this website: https://indianvisaonline.gov.in/visa/tvoa.html
Visa Cost: $60
Jaipur India, Photo by LadyandHerSweetEscapes.com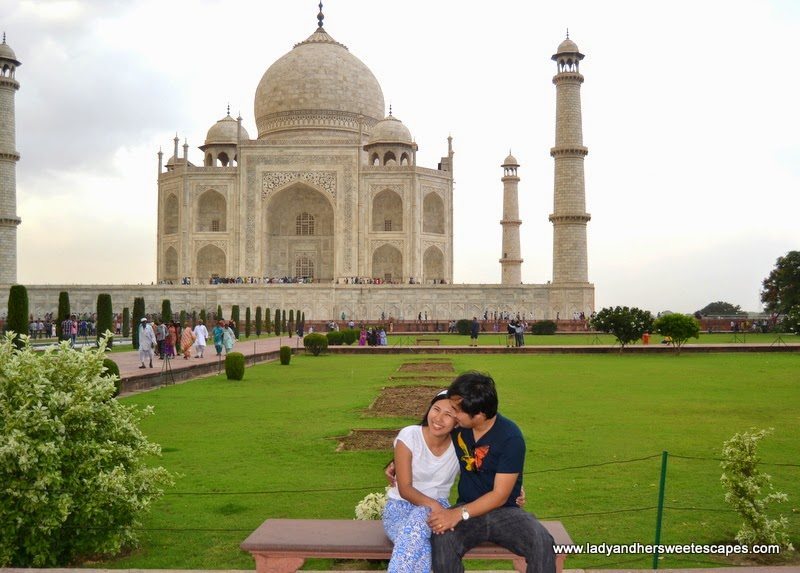 Ed and Lady in Taj Mahal
Things to Do: We'd chosen India to visit this upcoming Martyr's/National day and part of our golden triangle itinerary (Delhi, Agra, Jaipur) is to visit one of the seven wonders of the world – the Taj Mahal. India is a huge land of rich ancient history and deep cultural roots. Certainly, there's a lot of beautiful places and interesting things to do here. Follow our Instagram stories on November 30 to December 5 for live updates in India 🙂
Meanwhile, you can check out this post from Lady about their visit to the Taj Mahal: India: Taj Mahal – The Symbol of Eternal Love
5. MALDIVES
Flight time from Dubai: 4:30 hours
Direct Airlines flying from Dubai: Emirates, Fly Dubai
Visa: Hurray! It's a visa free country!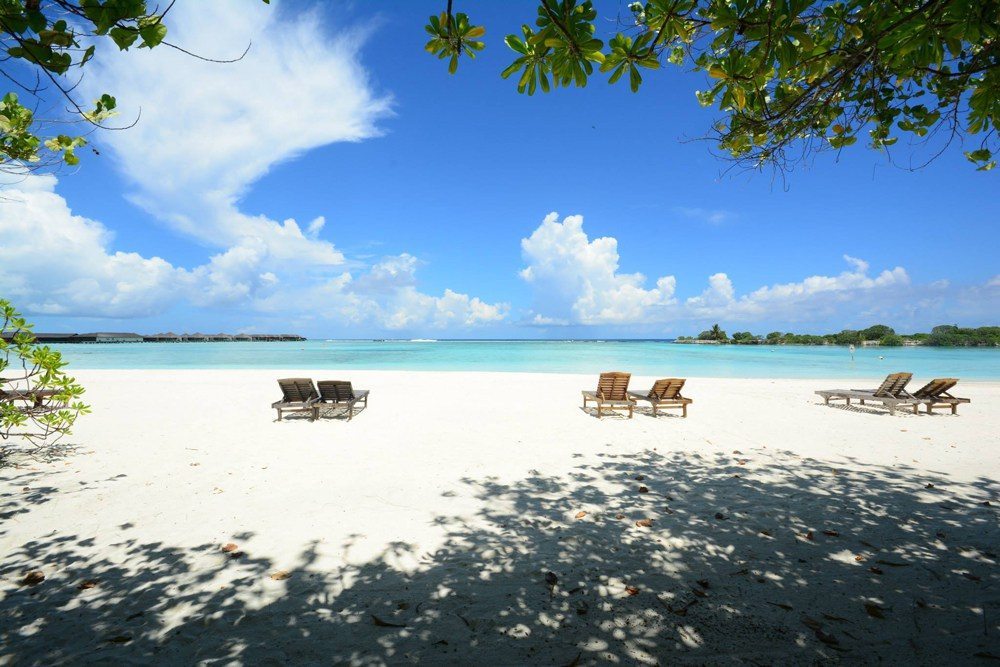 beach in Maldives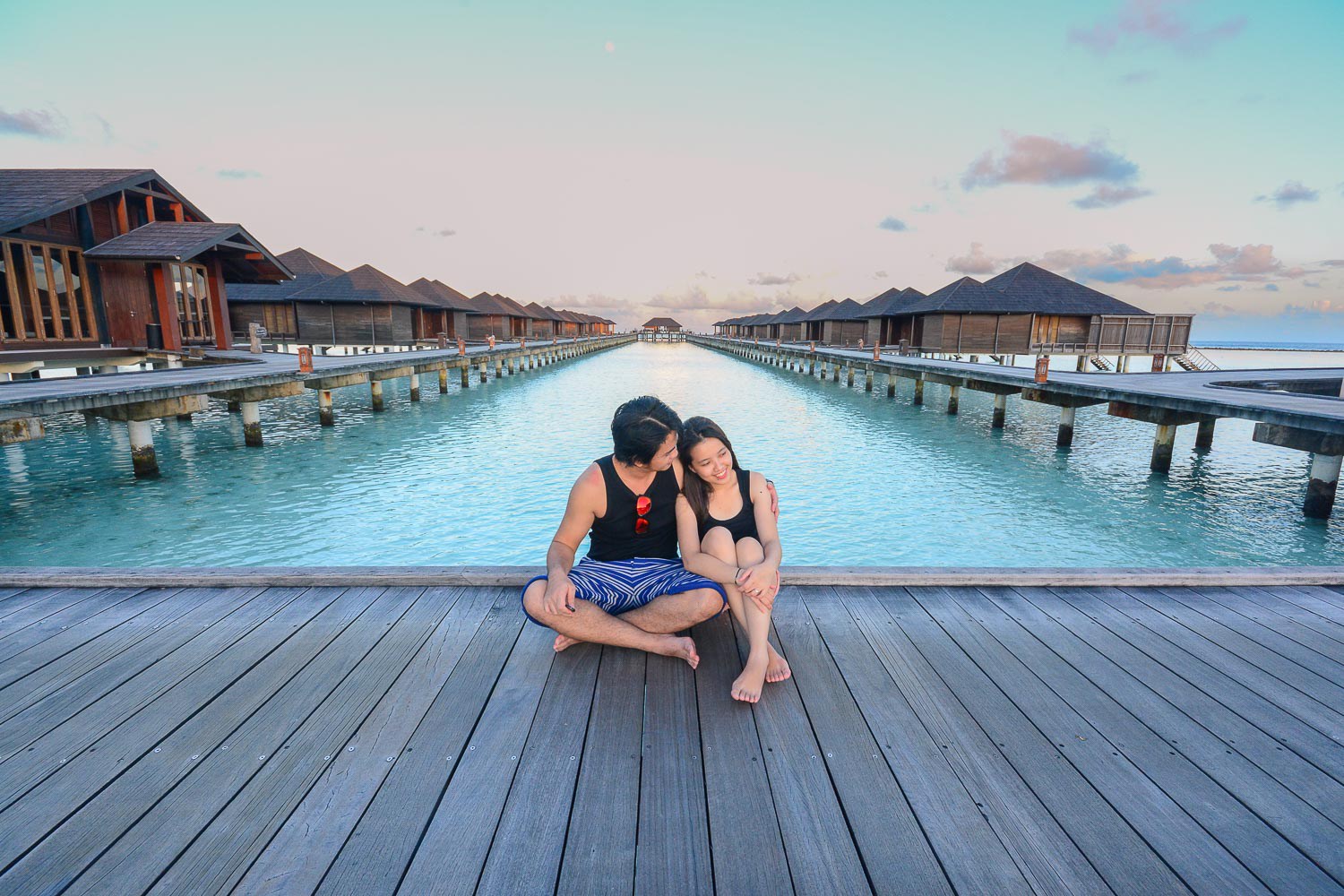 Jeremiah and Joanna of TheMomentKeepers in Maldives
Things to Do: If you are looking for a secluded place just to enjoy the beaches and the sun then head to Maldives and experience this piece of paradise! I would suggest you to stay in an island and not in the capital for a more peaceful and unforgettable experience 🙂
6. NEPAL
Flight time from Dubai: 4 hours
Airlines flying from UAE: Fly Dubai, Air Arabia (Sharjah)
Visa: Visa on arrival – 25 USD for 15 days.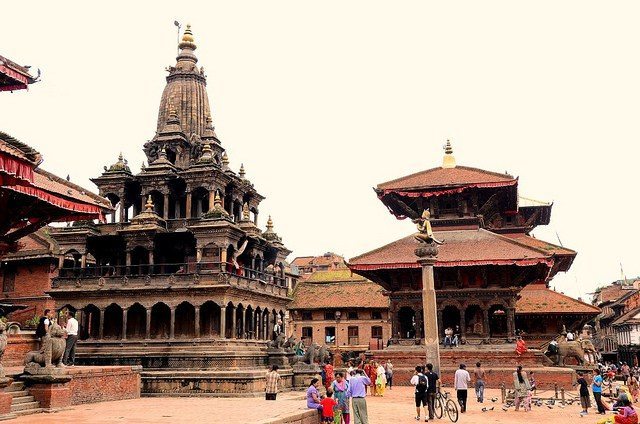 Nepal – Photo by DocGelo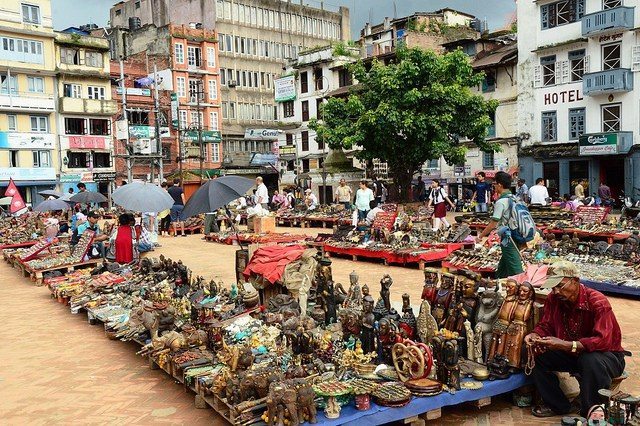 Nepal. Photo by DocGelo.com
Things to Do: Considered as one of the world's most alluring countries for the adventure traveler, talk about the hike to Himalayas Mount Everest! Nepal contains some of the most exciting and unique tours on the planet according to Trip Advisor. Beside the mountains, the country is rich in beautiful temples, monasteries and has some tranquil lakes. Here's a blogpost by DocGelo: Patan: The City of Fine Arts in Nepal | DocGelo.com
7. OMAN
Flight time from Dubai: 1 hour
Direct Airlines flying from Dubai: Emirates, Etihad, Oman Air, Fly Dubai or travel by road for 4-6 hours
Visa: UAE residence visa holder, a visa on arrival will be provided at Oman border (source: here)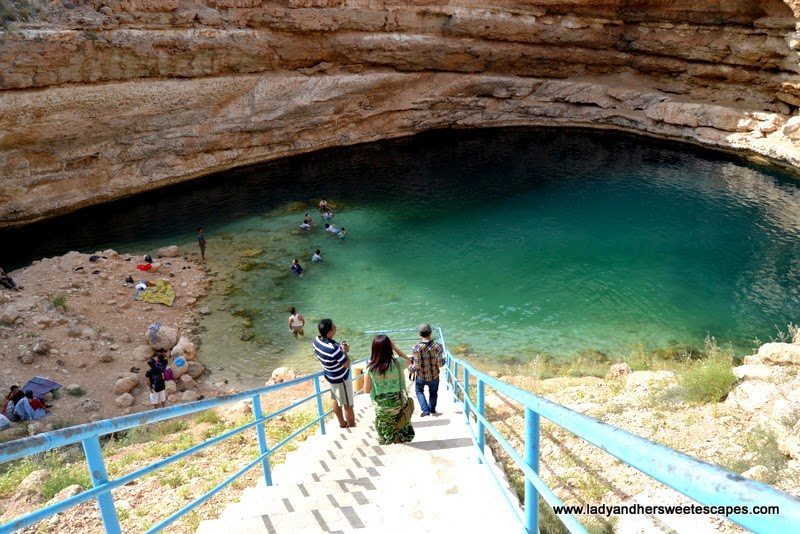 Bimma Sinkhole
Photo Credit: Lady and Her Sweet Escapes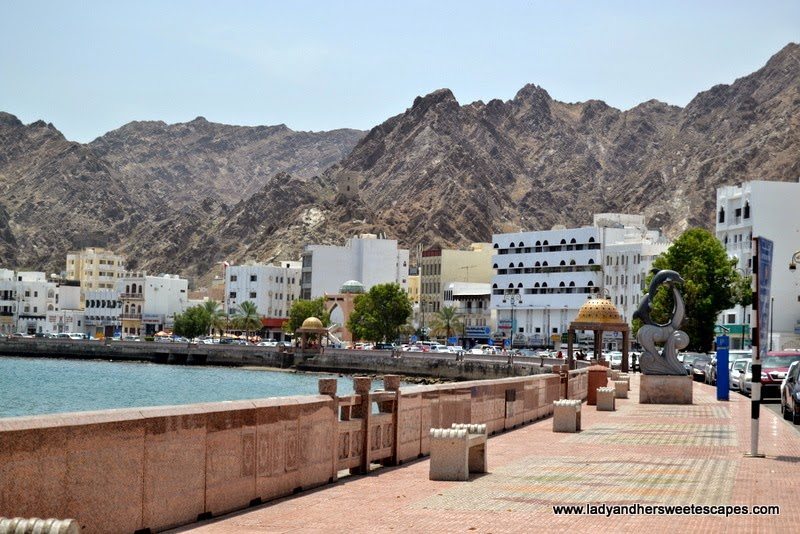 Mutra Corniche
Photo Credit: LadyandHerSweetEscapes.com

Things to Do in Muscat: You can visit Muttrah Souq, Sultan Qaboos Grand Mosque, Qurum beach and national park, Al Alam Palace, Al Jalali Fort and more! View the complete list in Tripadvisor.
Additional: Filipina blogger in Dubai, Lady of LadyAndHerSweetEscapes.com and her husband have visited Oman multiple times, here's one of her blogposts about the country: 10 Places to Visit in Oman Beyond Muscat | Lady and Her Sweet Escapes
8. SEYCHELLES
Flight time from Dubai: 4:30 hours
Direct Airlines flying from UAE: Emirates, Air Seychelles, Etihad
Visa: A visa to Seychelles is not required for Philippine passport holder as stated by Visa HQ.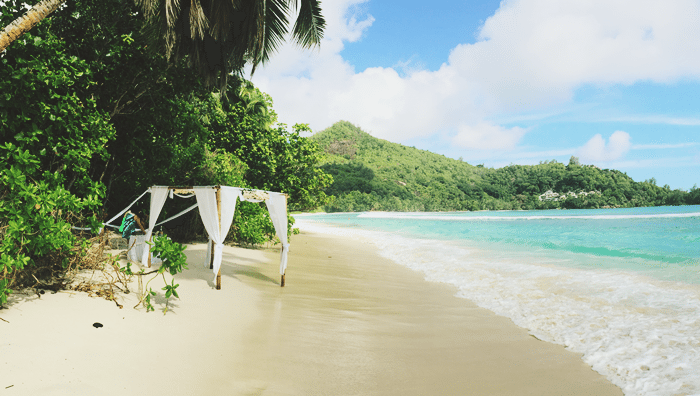 Seychelles, a great beach destination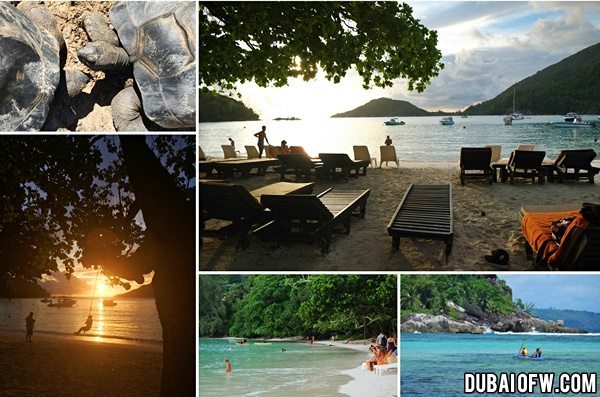 only 4 hours from Dubai
Things to Do: Same like Maldives, the country is boasting with beautiful and serene beaches. Certainly, you can enjoy a peaceful vacation of turquoise water, white sand, green jungle and stunning sunsets in Seychelles. Another thing that many expats in Dubai do is get married in Seychelles.
9. KYRGYZSTAN
Flight time from Dubai: 4 hours
Direct Airlines flying from UAE: FlyDubai (Dubai to Bishkek)
Visa: Visa on Arrival. Pay about 70 USD for the visa fee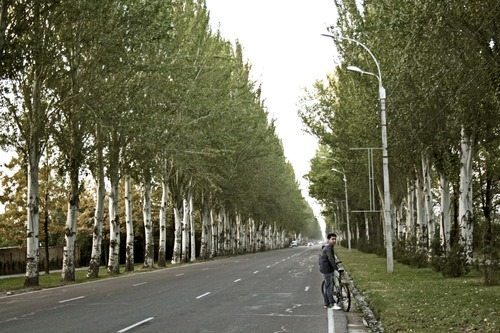 Bike to Ala Archa Photo by Kenneth Surat
Photo credit: KennethSurat
Things to Do: Go to Ala Archa National Park and Issyk kul Lake. Pinoy travel blogger, Kenneth of KennethSurat.com shares his trip in this country here: A Spontaneous Trip to Kyrgyzstan | KennethSurat.com
10. JORDAN
Flight time from Dubai: 4 hours
Direct Airlines flying from UAE: FlyDubai (Dubai to Amman)
Visa: Visa is very quick and so long as you have all the requirements, may take around 30 minutes only. You can apply for a Jordan tourist visa for 270 AED at the Jordan embassy in Bur Dubai. More details here – How to Apply for a Jordan Tourist Visa in Dubai

Arence and Jill at Jerash
sights in Jordan
Things to Do: Jordan offers many historical sites and adventures. Drive to Mount Nebo, trek the ancient city of Jerash, swim at the Dead Sea, visit Petra by Night and during the day too, camp overnight at the Wadi Rum. Best to visit during the cooler seasons.
Pinoy blogger Arence and his wife Jill shares a 4-day itinerary when you visit Jordan. Blogpost here 4-Day Jordan Itinerary: Top Places to Visit! | ArenceJean.com.
11. ARMENIA
Flight time from Dubai: 3 hours 10 minutes
Direct Airlines flying from UAE: Air Arabia (Sharjah to Yerevan)
Visa: Visa can be claimed upon arrival for Filipinos. Cost of visa is 3000 Armenian Dram (AMD). Equivalent in dollars is 7 USD and in UAE Dirham is 25 AED. You need to pay in AMD so it's good to have dollars when you arrive at the airport in Yerevan.
Geghard, Armenia . Photo by Lady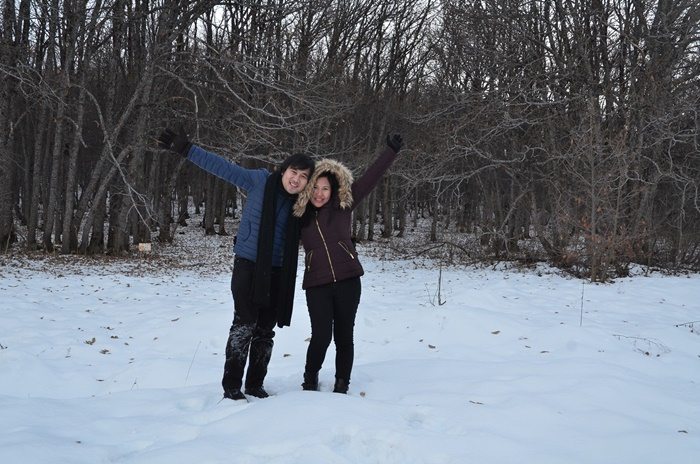 snow season in Tsakhkadzor, Armenia. Photo by Lady
Things to Do: Go on a day trip to Garni, Gegard and Lake Sevan, visit the Republic Square, Check out various museums, churches, markets, parks and art in the city. You might also want to book a winter holiday in Armenia. It's a 3-hour flight and you can see and experience actual snow!
Here's a travel guide written by Lady: Armenia Travel Guide: Tips for First Time Visitors
UPDATE: We added a country after we learned that one of our blogger friends in Dubai was able to get an eVisa with no hassle. We will continue updating this list as we learn about other countries. Remember that maximum travel time is 5 hours. 🙂
12. KENYA
Flight time from Dubai: 5 hours
Direct Airlines flying from Dubai: Emirates, Kenya Airways, Air Arabia
Visa: eVisa. Obtain one prior to arriving. Just visit the Kenya government website and folllow the steps. More details here – http://evisa.go.ke/ Approval may take up to 3 days.
Cost: 50 USD for Filipinos.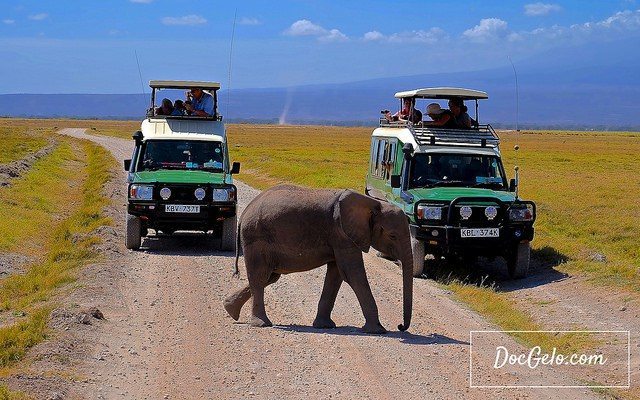 Safari trip. Photo by DocGelo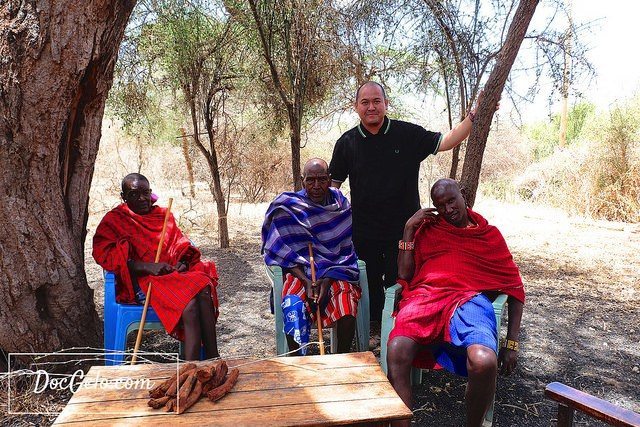 Doc Gelo in Nairobi, Kenya, with Masaai mara warriors
Things to Do: Kenya offers great animal encounters. Some of the things to do is go on a Safari trip/ gamedrive, visit an Elephant orphanage, try local food, go to public market, and interact with Masaai mara warriors. DocGelo has posted his experience traveling to Nairobi from Dubai and also shares awesome photos in his blog here: Kenya: My Short but Meaningful Journey from Dubai to Nairobi
————————–
Now, if you haven't decided where to go these upcoming holidays or even in your next vacation, hope this article will help you in planning and booking your next trip. Never be discouraged on exploring the world with our Philippine passports. It goes a long way, trust me 🙂
Did we miss anything? Do let us know in the Comments section and we might add it in this list. Remember, these countries take 5 hours or less to travel from the UAE and visas are either free or the process is very easy.
---
About the Author: Joanna

Joanna is a full time OFW from Dubai. An IT professional by day and an aspiring writer at night. She likes to see the world one at a time. Together with her husband, she shares her travel stories and inspirations in their blog – The Moment Keepers.
Facebook, Instagram, Twitter
---
Share your thoughts. Contribute an article to DubaiOFW.com
Want to publish your experience? Share your everyday stories, food trips, travel, photo stories, or tips in Dubai to our growing community. More information here – Become a Dubai OFW Contributor!