Hi everyone, here's another OFW interview. We are glad to feature Sheila who has been in Dubai for 13 years (!!!) and is working as a Sr. Business Development Coordinator in the UAE.
Sheila is also the blogger behind ABandMe.com where she writes about her thoughts and experiences in the city. "Love your work enough so you won't have to wake up every day feeling depressed." is something we picked up from her during this feature. True enough considering that majority of expats come here to work. Check out our interview as she shares her story, as well as other tips for OFWs wanting to come to the UAE for work.
OFW Profile: Sr. Business Development Coordinator in Dubai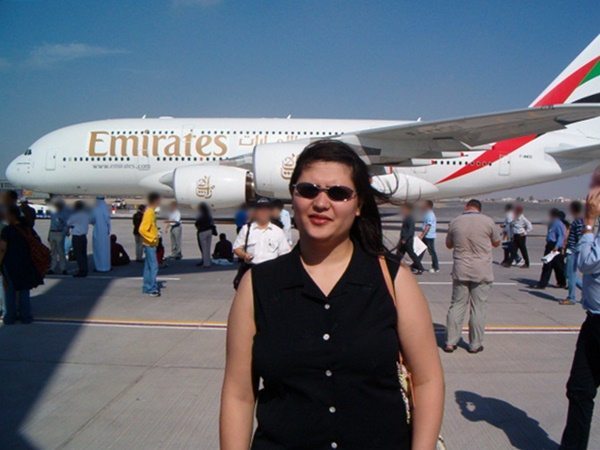 at the Dubai Airshow
Name: Sheila
Education: BS Tourism
How long in Dubai: 13 years
1. Tell me about yourself. Brief Introduction
My name is Sheila and I have been in Dubai for 13 years now. I graduated with Bachelors degree in Tourism. I wanted to be a flight attendant when I was young. However, the universe had other plans for me.

2. Why did you come to Dubai?
Just like any other Filipino, I wanted to have an opportunity earn more. After I graduated in College, I had a hard time looking for a job plus I was young (and so naïve!) that's why I convinced myself maybe should take it easy for the first year or two. I ended up not working for 4 years (!!)  One day, I just felt so useless that I decided that I should just pack and leave. My mother was very supportive of my decision… Ha Ha Ha!
3. What were your previous jobs?
In the Philippines, I was in sales mainly. In Dubai, I worked as a receptionist and slowly moved up from there.
4. How do you find your current job? Are you happy/satisfied with it?
I like the company I am in right now. They are very generous and most importantly, stable.  I can't say that this is my dream job, but I can't complain.:)
5. Are you able to save in Dubai? Why/How?
I was in debt for most of my time in Dubai. I had 4 credit cards at some point (all of them maxed out) and a personal loan. I have no regrets as I used the money for my family and of course for myself but looking back, I should have been more careful with my finances. I slowly but steadily paid off my cards and loan. Then I build my emergency fund and now I am starting to save up for my retirement by investing in the Philippine Stock Market following the Truly Rich Club way.
6. Is it difficult to live in Dubai? What are your struggles? What's life like outside work?
It wasn't really difficult for me because I was lucky enough to land good jobs so I am able to balance out my work and personal life. I used to go out a lot before, meet with friends over coffee and all of that but now I prefer to stay at home and update my blog (www.abandme.com) as much as I can.
7. What do you Like about Dubai?
Dubai is a very safe place. As long as you follow the rules of the country, then you should be alright. I also love that it is in the middle of everything! It's so easy to travel to anywhere when you're here.
8. What do you NOT Like about Dubai?
I would say the heat, most of all. A lot of people are complaining of high rents, careless drivers, etc. but it's the same anywhere else you go most of the time.
9. What are your plans in your career/family/future?
Once the time is right, I will be going back home and maybe start my own business there but for now, I'm still enjoying my time here.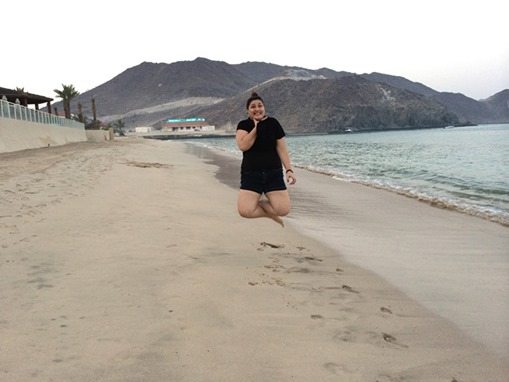 10. You have any tips for Kabayans when working/finding work/living in Dubai?
For those working, love your work enough so you won't have to wake up every day feeling depressed. We are all here to earn a living. If you feel are not earning enough, then maybe it's time to move on. Balance your work and personal life. Treat yourself once in a while but make sure you are securing your future financially.
For those trying to find work, don't lose hope. Keep trying and good luck!
For everyone else, be good boys and girls!!  Take care of yourself. Eat right and exercise.  🙂 ( should follow my own advice. Ha Ha Ha!!)
Connect with Sheila on Social Media
FaceboOK: https://www.facebook.com/abandme
Instagram: https://instagram.com/AB_ANDME/
Twitter: https://twitter.com/AB_andMe
Pinterest: https://www.pinterest.com/ABandMe/
———————————-
*Photos provided by Sheila
Are you a Pinoy Expat in Dubai? Do you want to be featured in the website? Send us an email telling us you want to be featured at admin@dubaiOFW.com and we will send you the set of questions! Let's help other Pinoys who want to come to Dubai understand what life in the UAE is like through your story.